"The Power of the Dog" Cinematographer Ari Wegner on Finding the Light in Jane Campion's Mythic Western
Auteur writer/director Jane Campion is known for being one of the few female filmmakers to garner a Best Director Oscar nomination, for 1993's The Piano, which won her an Oscar for Best Screenplay. Fans have been anxiously awaiting her first feature film release since 2009's Bright Star, and she'll do them proud with The Power of the Dog, an intense period drama starring Benedict Cumberbatch as bullying 1920s rancher Phil Burbank. Phil's comfort is threatened when his brother George (Jesse Plemons) brings home his new wife Rose (Kirsten Dunst) and her effeminate son Peter (Kodi Smit-McPhee), all of whom he emotionally torments with his menacing presence. The film is getting Oscar buzz for its powerful ensemble cast and exquisite production design and cinematography.
The Credits spoke to the film's cinematographer Ari Wegner about lensing the film, and how working with Jane Campion, one of the best directors of her generation, changed her.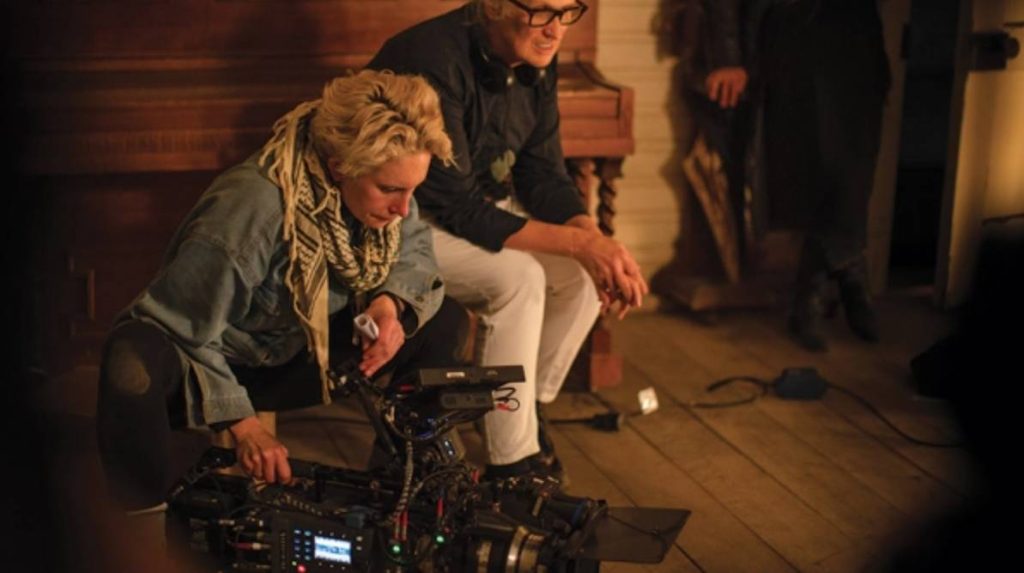 The Power of the Dog, in one respect, feels like a battle of light against dark. The terrain can be bleak and harsh. but also the characters face inward struggles of rising above or giving into their shadow selves. There are many moments where that is expressed in the lighting. What were some of the discussions around that?
When I first read the book, being Australian, I was attracted to this concept of a very bright exterior with interiors that are very dark. Because the outside is so bright, coming inside feels really dark, and I think both Jane and I really loved the juxtaposition of this brutal, harsh outside, where you see everything, then coming back inside where everything's a lot more shadowy, and maybe you only see glimpses of light. I think that's in the characters as well. They've got an exterior that they project, which is clear, and then their interior world is a lot more nuanced, and, at times, quite dark. We worked a lot with the production designer, Grant Major, who is a wonderful collaborator and an amazing artist with what he does, to make sure that the house we were designing had a dark interior, with floorboards and timber panels on the wall that are dark, to create a kind of claustrophobic grandeur. It is also a space where, especially for Rose, she's always hyper-aware of where Phil is. Within that darkness, you sometimes feel like he may be somewhere you can't see. There is a thriller or horror aspect to it, of this monster in the house where there's no escape.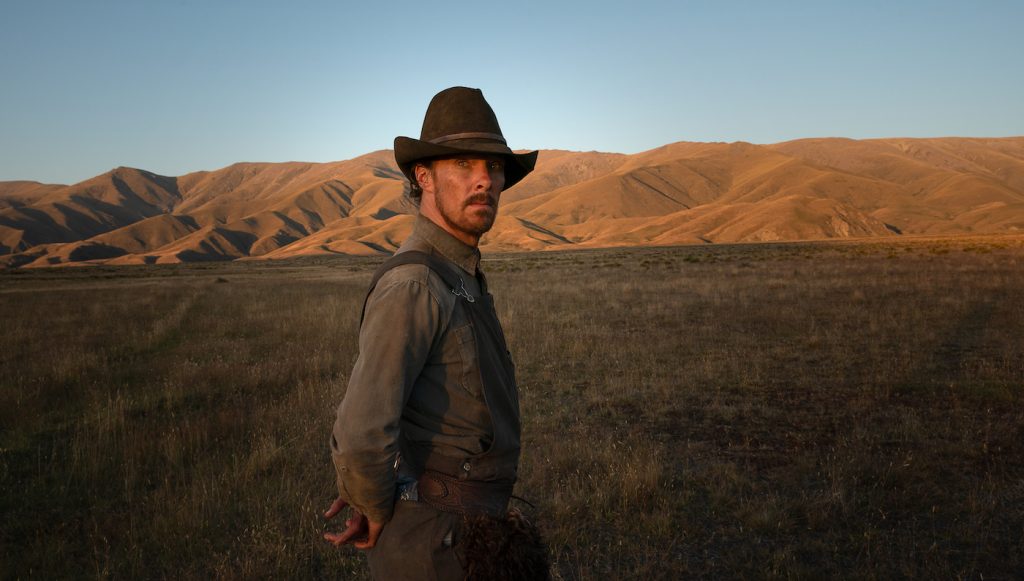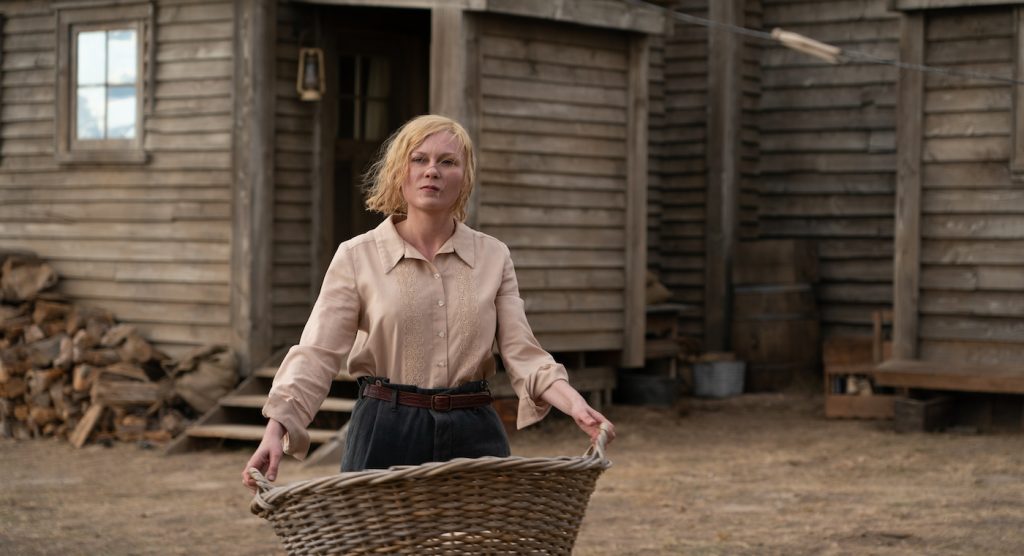 How does the light and dark inspire you as cinematographer?
On a personal level, I really love dark photography, because it allows you to really focus the eye where there is light. If you've got a very dark frame, and then a little pool of light or a little twinkle in the eye, it's just natural human instinct that that's where you look. It allows an elegance and minimalism, in a way, because your eye is really only focused on one particular part, usually the eyes. Basically, the actor's face becomes your sole focus, and the rest of the world drops away.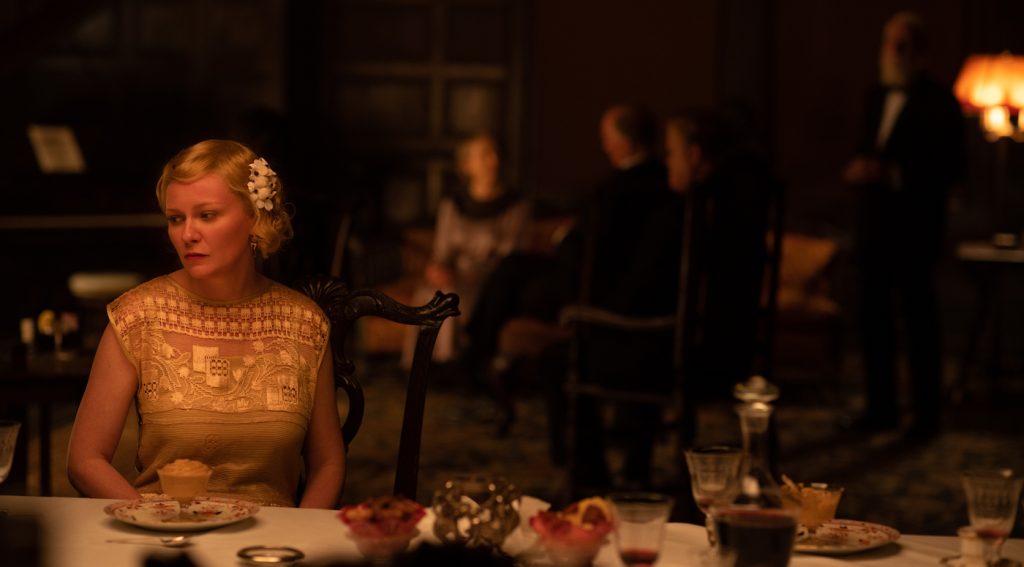 Some of the influences referenced in the film are Andrew Wyeth's color palette and the photography of Evelyn Cameron. What specifically did you take from Wyeth and Cameron that we see in the finished film? How did Cameron's work help you bring the spirit of 1920s Montana alive like it's another character in the film? 
When we discovered Evelyn Cameron's work, it was a real revelation, actually, because when you start any period film, the first thing you do is start researching and finding photographs from the time. There's some amazing photography, but her work in particular, and her diaries, actually, which I read and just lapped up, felt a lot more nuanced and specific. She is an English woman, so she had a foreigner's eye on this world. She's a woman who is a photographer. Reading her diary meant discovering the extreme effort she went to, to do her art. It's incredible in the context of today, let alone at the time. When you look at the actual photos, they're incredible observations. They stand apart from other photography of the time, because they're really delicate, and the things that she's interested in are not stock standard kinds of things that we know of the time. It's not just landscapes. It's really her personal observations and personal relationships.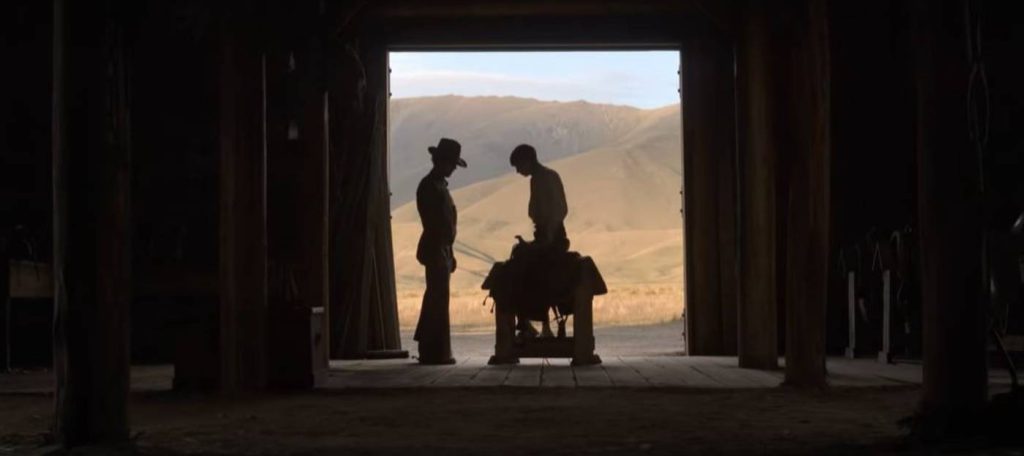 Jane Campion is spectacular at articulating desire cinematically. The scene with Benedict Cumberbatch bathing in his secret place at the creek is a perfect example of that, and it must have taken a lot of trust to work as well as it does. What was the collaboration between you, Jane, and Benedict for that scene? 
We always knew that the scenes in what we call 'The Sacred Place' were an exception to the rest of the film. I think of them as kind of an exhale from this tension that you've been experiencing as a viewer. We knew they would require a special kind of attention. You finally get to understand Phil, suddenly, in a lot more of a complex way. In a film that I think is a lot about first impressions, it's a scene where your impressions are forced to shift. We also knew that for it to feel authentic and resonate with an audience, there would need to be a level of trust, vulnerability, and freedom in the process of actually shooting it. Jane and Benedict had to be incredibly comfortable together and to be incredibly comfortable with a camera being present. What's so wonderful about Jane, one of her many amazing qualities, is she has a real ability to make people feel safe about being vulnerable. That scene seems really like the culmination of that. On the day we were shooting, it was just Jane, Benedict, and myself, shooting 15 or 20 minutes at a time. It was really just a dance between the three of us, with our ideas feeding off each other in a very vulnerable way.
How did making The Power of the Dog with Jane Campion change you as a filmmaker?
Before I started working with Jane, several people had described to me that working with her would be a life-changing experience, but I don't think I really was able to get that at first. You can never understand a statement like that until you've been through it. I think I was expecting to learn a lot specifically about filmmaking or directing a film, but I realized with her, in making a film, it's not compartmentalized in her life. That is just the way she lives. She lives her life the same way she makes films, which is incredibly vulnerable, open-hearted, and honest, and also incredibly strong. With a lot of directors, their director/producing teams are stuck inside a model that doesn't work for them, but there's an idea that it just has to be the way it's always been. The rules are the rules, and there's no flexibility. A director can really shine when the process works for them, and equally, they can be hampered when something about the process goes counter to how they think. Jane is just incredible about, from the very early days, being upfront about what works for her, and in a very gentle, respectful, but strong way, advocating for herself as to what she needs to do her job. That is something I learned a huge amount from for myself, both professionally and personally.
The Power of the Dog is in theaters nationwide and streams on Netflix starting December 1st.
For more on big titles on Netflix, check these out:
"Passing" Writer/Director Rebecca Hall On Navigating the Complicated History of Racial Identity
Cinematographer Alice Brooks Makes "tick, tick…BOOM!" Sing With Personal Memories
"Ozark" Season 4 Teaser Reveals the Beginning of the End
Halle Berry's Film "Bruised" Boasts First All-Female Hip-Hop Soundtrack
Featured image: THE POWER OF THE DOG (L to R): BENEDICT CUMBERBATCH as PHIL BURBANK, COHEN HOLLOWAY as BOBBY in THE POWER OF THE DOG. Cr. Courtesy Of Netflix