"Passing" Writer/Director Rebecca Hall On Navigating the Complicated History of Racial Identity
The complexity of bringing a thematically laced film like Passing to the screen isn't a simple one. For Rebecca Hall, who makes her directorial debut, it was also a personal journey, "an extended catharsis" that allowed her "to get to the bottom of a lot of mysteries" in her family.
The story, which is adapted by Hall from the 1929 novel by Nella Larsen, follows two Black women, Irene (Tessa Thompson) and Clare (Ruth Negga), both of whom can "pass" as white while living in 20th-century Harlem.
Hall, now 39, first connected with the material over thirteen years ago for reasons that may not be obvious to fans of her tremendous acting career that includes roles in Christopher Nolan's The Prestige, Ron Howard's Frost/Nixon, and Steven Spielberg's The BFG, among others.
Born in London, Hall's mother, Maria Ewing, was raised in Detroit during the 1950s by a white mother and a father of mixed race. Her grandfather "passed" as white and unfortunately died when Maria was only a teenager, creating confusion around Hall's racial identity. The novel helped her find some answers. "The book was such an access point and historical content for me and it also gave me a chance to feel compassion for my grandfather and the choices he made out of extreme fear and complication," the writer-director shares with The Credits over the phone.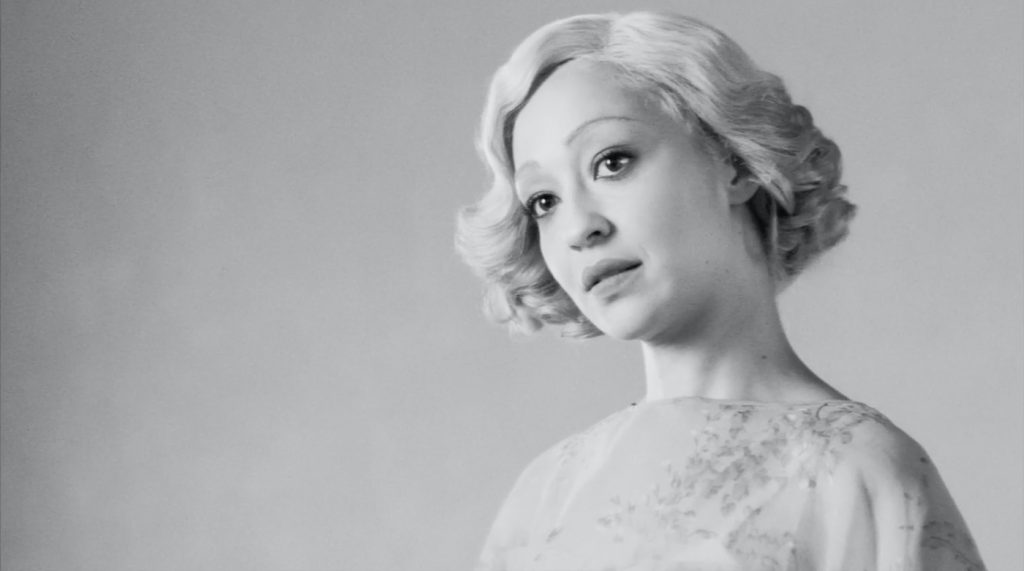 Adapting the script didn't take long–a mere ten days to write her first draft, but Hall had reservations before moving forward with the project which took another seven years to obtain financing. What pushed her was the love and compassion she has for her family and those who form their identities today in a society that may reject them.
What became evident in prep was developing a visual style that resonated with the material. Teaming with cinematographer Eduard Grau, they referenced lithographs, period photos, and Hitchcock films like The Night of the Hunter and Strangers on a Train to create a luminous monochromatic palette digitally shot using the old Hollywood standard (4:3) – the square frame being a catalyst to focus our attention on the characters while the black and white imagery aided in concealing skin tones.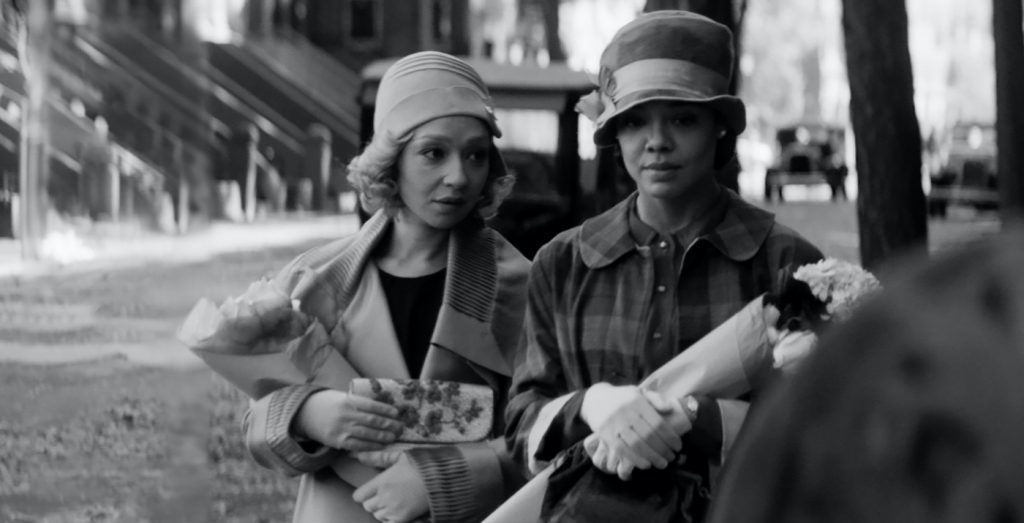 "We spoke a lot about the look," admits Hall. "Everyone is 'passing' in this movie and, in a way, everything in the film has to be too. There has to be a performative element to the film itself. The painterliness of it isn't a love out of excessive beauty but a comment on the heightened artifice of the world."
In the story, Irene and Clare are childhood friends who reunite under unexpected circumstances and we learn they chose two separate paths. Irene, with her doctor husband (André Holland), had two sons, while Clare is married to a rich, racist husband (Alexander Skarsgård) who has no idea she's Black. The film not only brings up questions about racial identity but explores marriage, repressed homosexuality, and self-exploration – all complex topics that can't be answered during its one-hour and thirty-eight-minute runtime.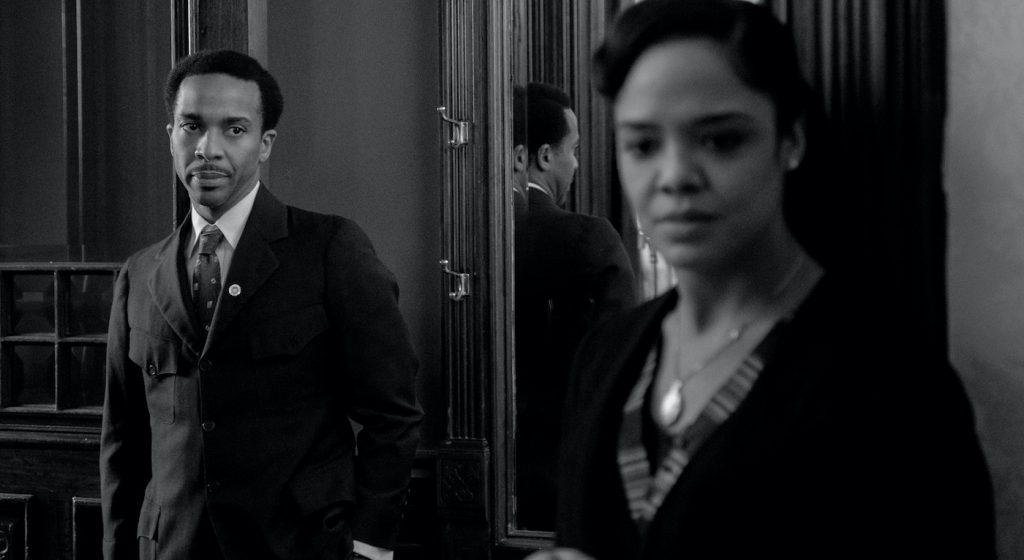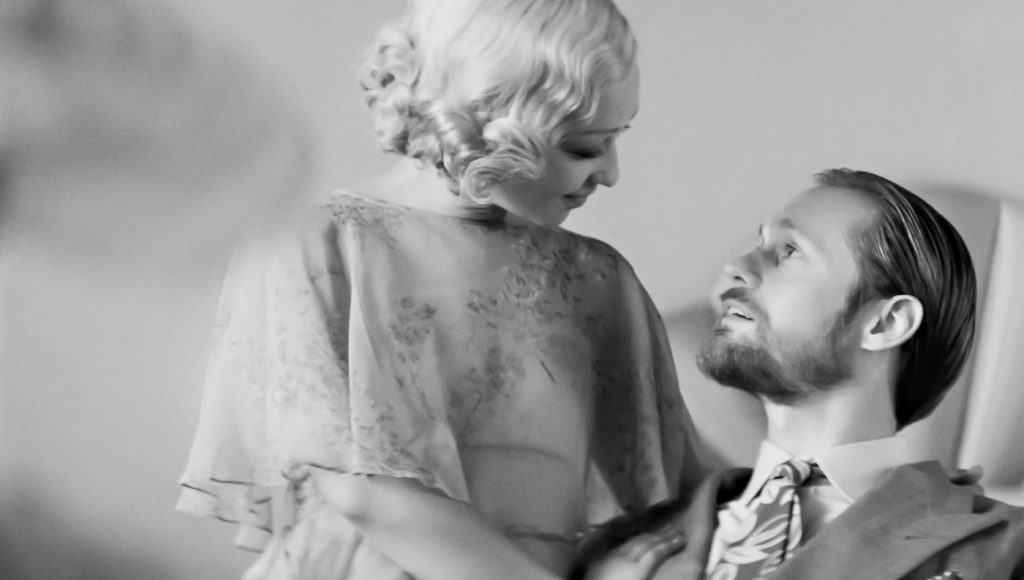 To balance the subtext on screen, Hall chose not to muddy the frame. "The film has a bit of a manifesto. Complexity through simplicity and we always wanted to pare it down. Keep it minimal and let the complexity shine through while not over characterizing," she says.
Immersing us in the world is a carefully considered opening sequence. "I kept thinking about the first three minutes figuring out a way to make the audience lean in and keep watching," she says. "The idea was to introduce the city and the jazz age, which is usually loud, in silence and hold on the image of feet so you're already thinking beyond that and imaging. You're honing in on what you have to pay attention to."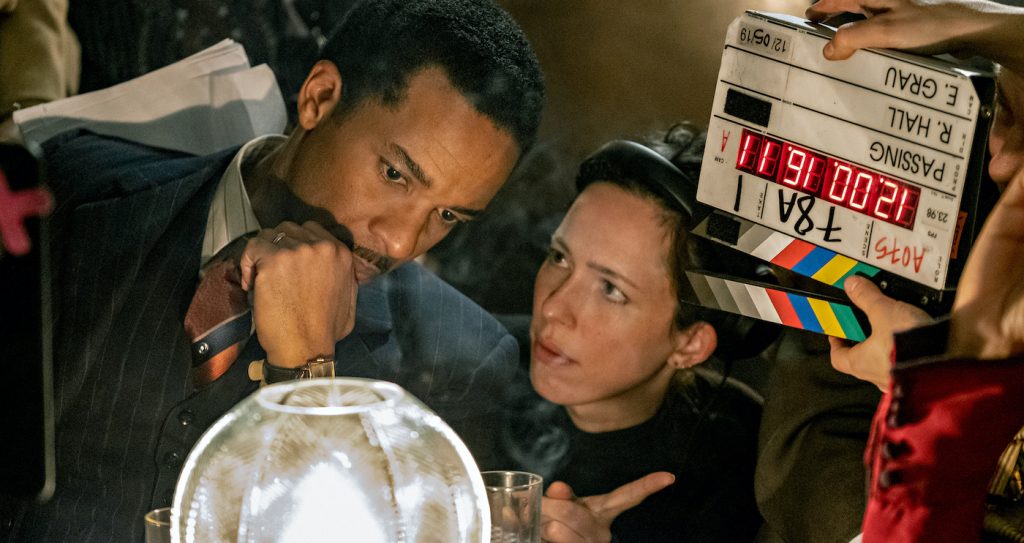 Showing the dichotomy of the characters was another task which the director embraced subtlety, mood tone, and sometimes, used foreshadowing. "With Irene, whose inferiority is so complex and not even available to her, some of that had to be externalized – playing with the idea of what she's seeing is not clear or becoming increasingly blurry. Sometimes she doesn't see what's really there and we tried to let the audience in on that. But also the symbolic things and gestures like the first time Irene sees Claire. She's looking at her legs crossing and it's kind of sensual." The director took it a step further, finding a visual language to show how potentially volatile Irene is despite the one being stable and secure. In doing so, we see Irene literally breaking things in different scenes before the climactic ending.
While the atmosphere of the book guided Hall, she admits that directing Passing ultimately boiled down to the frame in front of her. "There's a lucid, dreamlike quality in the book that's quite enigmatic. That was what I was looking for every time I looked at the frame or went into a scene. If I'm sniffing that then it's working, but at a certain point, you have to let everything fall by the wayside and listen to your gut and say, 'do I like what I am looking at and what I am feeling'."
Passing is available to stream on Netflix now.
Featured image: PASSING (L to R) TESSA THOMPSON as IRENE, RUTH NEGGA as CLARE and DIRECTOR REBECCA HALL. Cr: Emily V. Aragones/Netflix © 2021