"The Harder They Fall" Cinematographer Mihai Malaimare Jr. on Reimagining the Wild West
In The Harder They Fall, now streaming on Netflix, director Jeymes Samuel (who also co-wrote and scored the film) revisits the deserts, saloons, and lonely train cars of the Old West. Taking names if not the exact stories of real people from the region's history, the film follows Nat Love (Jonathan Majors) as he searches for Rufus Buck (Idris Elba), a villain's villain who opens the film by murdering Nat's parents and carving a cross into the young Nat's (Anthony Naylor Jr.) forehead.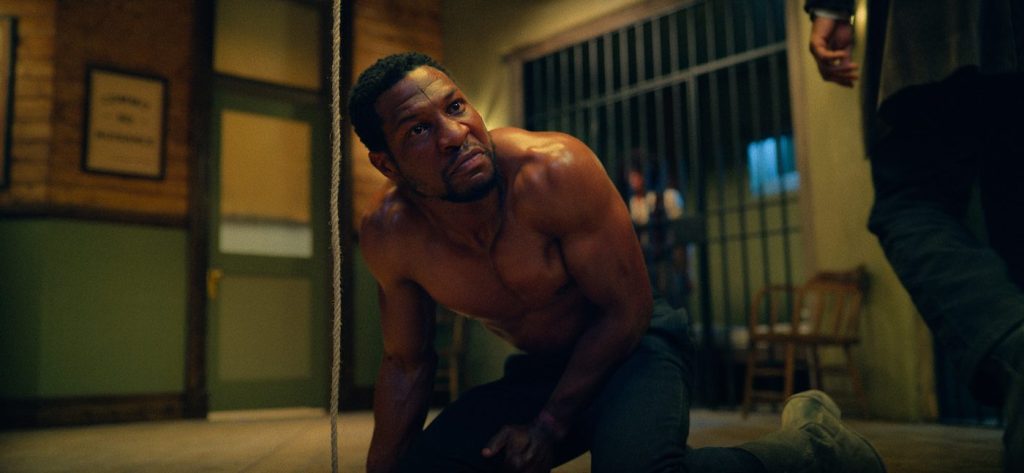 Working with Stagecoach Mary (Zazie Beetz, here reinvented as a youthful performer) and Bass Reeves (Delroy Lindo), taking a break from his career as a lawman and still the most upright of the bunch, Nat's group assembles in colorful, classically Western frontier towns as they track down Buck. Buck, meanwhile, has long been caught — he's in the process of being transported west by train, under a group of white soldiers moonlighting as his jailers. But his posse is on the move to free him, with the scene comprising one of the film's most memorable set pieces (among a number of images ready to double duty as still art). The bandit's right hand, Trudy (Regina King) rides onto the tracks, getting into one of the more regal games of chicken ever played and forcing the train to stop. She, Cherokee Bill (LaKeith Stanfield), and the rest of the group work their way from car to car until they get their man. With Rufus freed, all hell breaks loose, and the chase begins.
Buck's crew forcibly takes over a town. Nat's posse robs a bank. The bad blood between the two factions climaxes with a take-no-prisoners shoot-em-out. The Harder They Fall abandons any cloyingly obvious division between bad guys and good, while making the most of classic Westerns' scenically vast scope. The movie's take on violent outlaw justice is set against a stunning visual backdrop, from desert set pieces and historic trains to the shiny lighting of an all-white bank, seemingly a send-up of heaven itself. We spoke with the film's cinematographer, Mihai Malaimare Jr. (The Master, Jojo Rabbit), about working on location in New Mexico, the sources of visual inspiration he shared with director Samuel, and intentionally taking certain scenes over the top.
How did you work out what you wanted to keep from old Westerns versus aspects you to leave behind?
We had conversations really early on, Jeymes and I, and we realized we wanted to do something very different. But there's also something to paying tribute to the genre. Not only that, there is a certain framing that you will find yourself forced into by cowboy hats and gun-belts. By using anamorphic lenses — because some of them, they fall off so much from the edges — you're also forced into framing characters dead center. It's something that stylistically is very Western.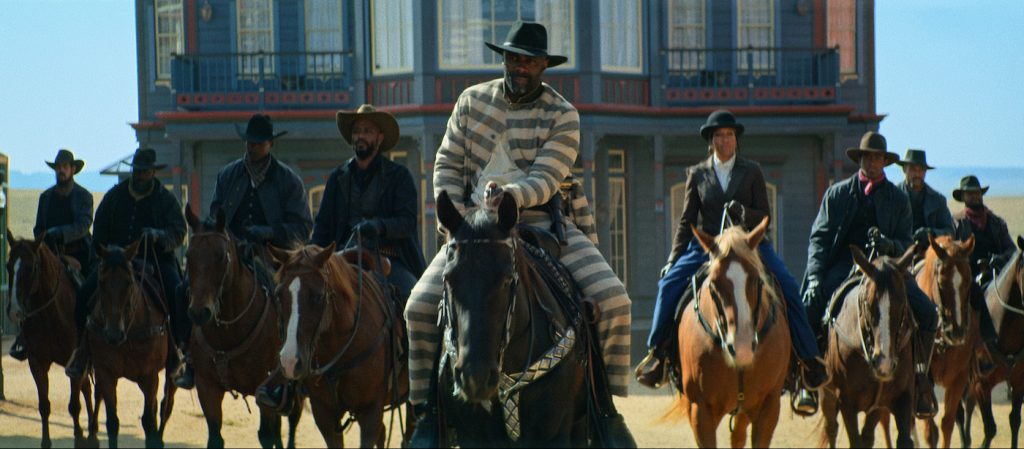 The symmetry is stunning — for example, Trudy astride a horse on the train tracks. Were these images intentional, or purely a result of the framing necessitated by the lenses?
One of our main references is this amazing painter called Kadir Nelson. He actually has a painting with a soldier on a horse. For our first meeting, Jeymes brought those visual references. At the time, I didn't know too much about Kadir Nelson, and I started looking into his work. It's very interesting, because a lot of times I'm trying to stay away from using references from other movies. I find myself attracted to still images or paintings, and the reason is, those were made to be looked at for hours, whereas still motion was made to work in conjunction with other stills and create a sequence. Sometimes they do have the same quality, but I find it's easier to just go through paintings and stills. We also found an amazing book called "Congo Tales." It's this photographer called Pieter Henket. He shot, on large format, popular tales from Congo. The lighting is quite theatrical but it has a certain beauty in it, and the color and the patterns he's using were so similar to what we wanted to achieve for The Harder They Fall. Those were our two main references. And both Jeymes and I, we both love symmetry. So it wasn't hard to go that route. Certain vistas, characters, horses, they all kind of push you into that symmetry, more or less.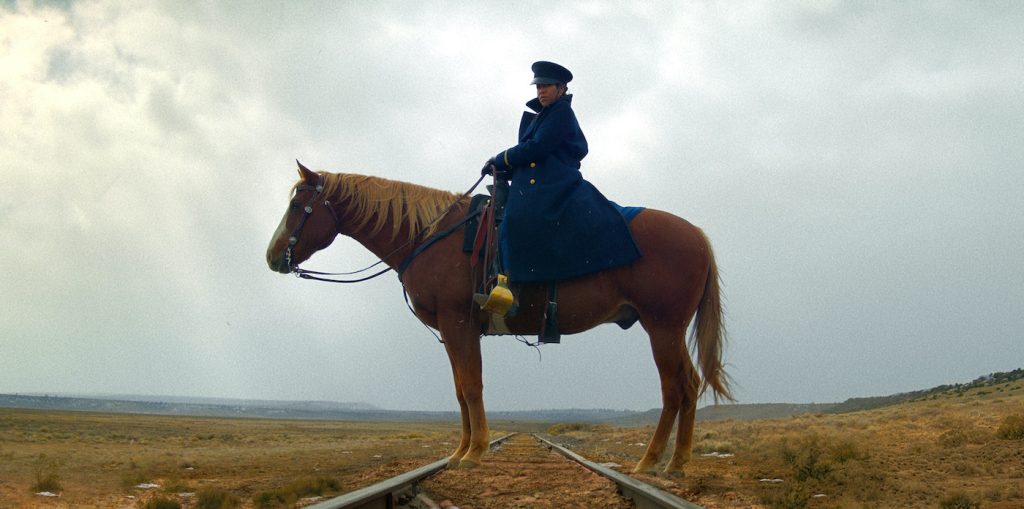 The scenes feel vast and theatrical, but plenty of people will be watching on Netflix. Did you try to adjust the cinematic aspect for home viewing?
A little bit, but we're trying to meet in the middle. Now, thinking about it, people have started having bigger and bigger screens, and it'll be a 2-4-0 aspect ratio, how we intended it, even on a smaller TV. If you think that way, then it's like, you learn to live with it. The only thing you can hope is that people won't be watching on their phones.
Where did some of the more over-the-top lighting come from? The all-white bank comes to mind.
I remember when we saw the first sketches from Martin, our production designer, we realized how amazing it could be. When Jeymes asked for only white horses and white gravel on the ground, I remember starting to laugh so much, because I knew it would be such an amazing scene. It's still one of my favorite sets. I think it played so well. Only afterward I realized it would be a little bit of a struggle to photograph that in harsh sunlight. But I think it was totally worth it.
Does shooting on location have an impact on your own process?
It does. The huge advantage is that when you're on a stage, you always try to replicate reality and try to figure out how if the sun hits this window, how will it look? For us, it was easier because being on location, even on the train, and scouting those locations multiple times, you observe how the sun hits certain areas. You try to replicate it and keep it consistent, but you get a lot of ideas by having a real set in the middle of nowhere.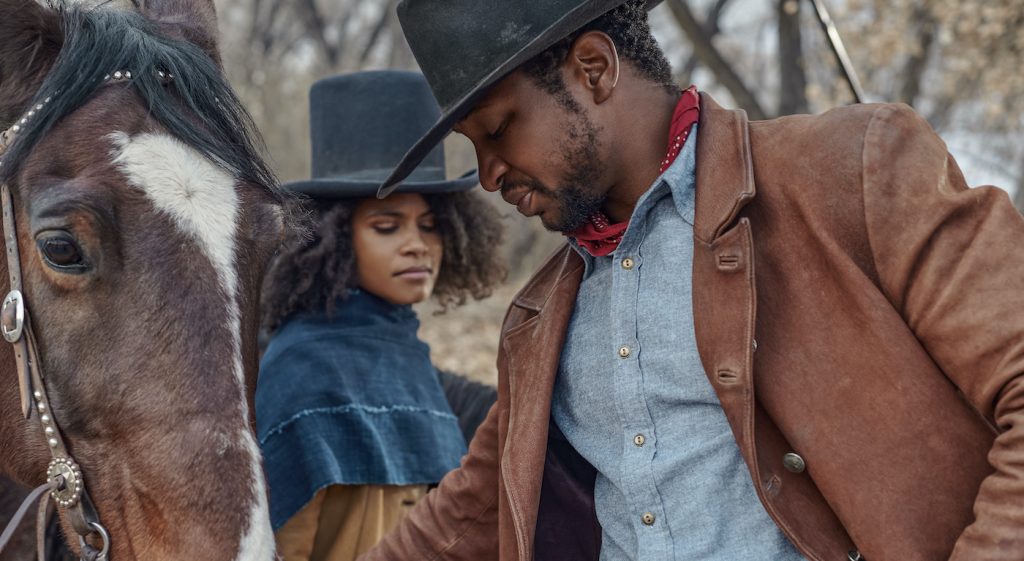 Were you able to use much natural light?
In certain shots, but it gets a little tougher. New Mexico is fabulous, but you're dealing with quite a bit of wind and clouds moving really fast, so you can't count on it for a longer scene. For small moments we did use natural light as much as possible. For the train, we observed it to light it, then we covered the sun to bring in our big lights to replicate that. I think we spent almost three days for those three train cars — we needed consistency.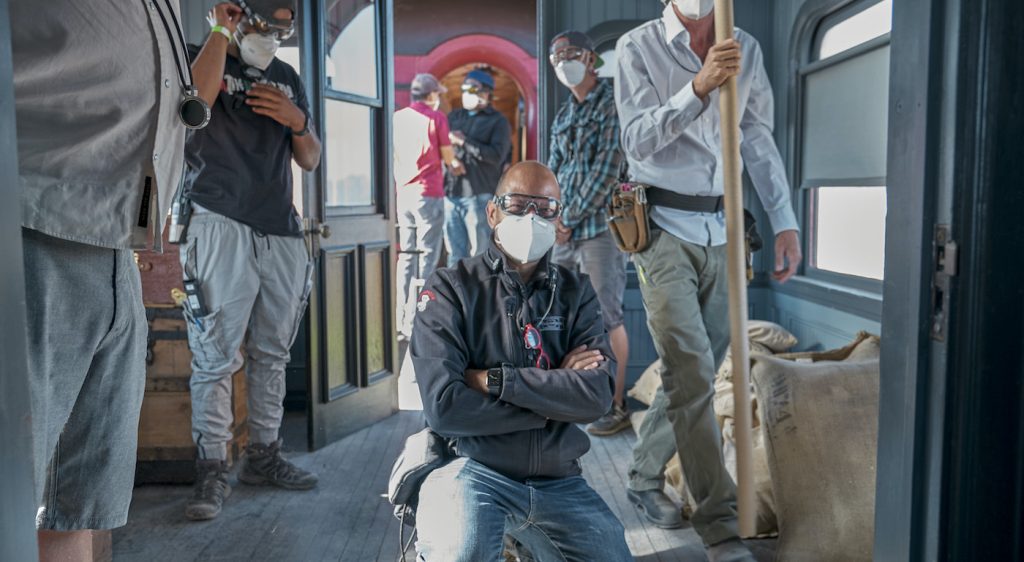 Obviously, there's a lot of brutality. Did you frame and light this in a way to highlight it?
There were certain things that were storyboarded and really precise, like the first scene after the credits with RJ [Cyler, playing Jim Beckworth] and Edi [Gathegi, playing Bill Pickett]. That was pretty heavily storyboarded because Jeymes was particularly into the way we wanted to capture the horseback riding. One thing he told me was that it's interesting in westerns, you usually don't get a feeling of how dangerous it is to ride a horse. We knew we wanted to place the camera as close to the horses as possible. The storyboards help, because you start visualizing all that, including the violence and the placement of the camera, and how much you want to emphasize certain things. But for other scenes, we just watched the rehearsal, then tried to take it from there. It's challenging but interesting. For us, we know right away that nothing is real, we're trying to make it look real, so you kind of take yourself out of that perspective and into the audience where you see it for the first time.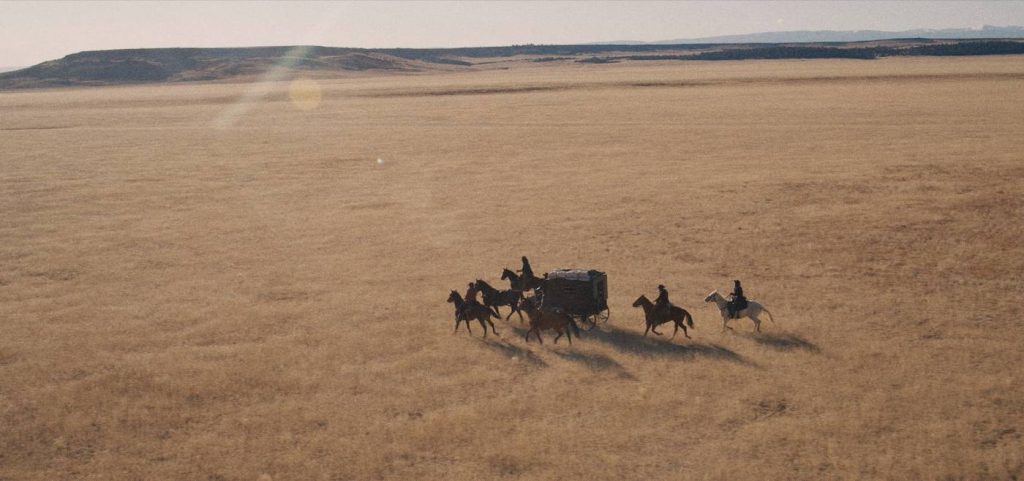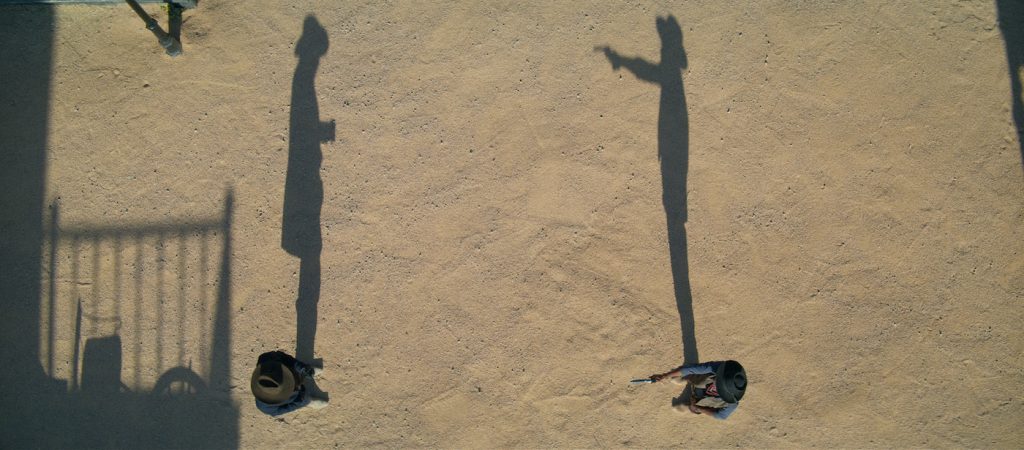 For more on big titles on Netflix, check these out:
Mixing History & Modernity in the Costumes of "The Harder They Fall"
"The Witcher" Season 2 Trailer is a Monstrous Good Time
"Red Notice" Official Trailer Reveals Dwayne Johnson, Ryan Reynolds & Gal Gadot's Caper
Featured image: THE HARDER THEY FALL: REGINA KING as TRUDY SMITH and LAKEITH STANFIELD as CHEROKEE BILL in THE HARDER THEY FALL Cr. DAVID LEE/NETFLIX © 2021