Mixing History & Modernity in the Costumes of "The Harder They Fall"
The Harder They Fall, Netflix's addition to the world of Westerns from director-writer Jeymes Samuel, is not a monochromatic throwback set on the dusty frontier. Honoring the names of historical characters like Nat Love (Jonathan Majors) and Stagecoach Mary (Zazie Beetz) while leaving most of their actual histories behind, the film is centered around a complicated, fictional rivalry between two outlaw gangs seeking revenge and vying for control of a frontier town called Redwood. It's a period piece with a modern twist, as well as a kaleidoscopic action movie.
For costume designer Antoinette Messam, Samuel had a mandate — the costumes were very much not supposed to be a throwback. "My director was like, I'm not making a dusty, dirty cowboy movie, and I want color," she recalls. Working with production designer Martin Whist to develop the film's overall palette, for Messam, the costumes were like puzzle pieces to fit the distinct moods of Douglastown and Redwood, the two frontier towns where most of the action takes place. In the former, Nat pays a visit to Stagecoach Mary's rollicking saloon, meets up with Bass Reeves (Delroy Lindo), and sets his plot against Rufus Buck (Idris Elba) in motion. Buck, meanwhile, rescued from prison and US Army soldiers by Trudy (Regina King) and the rest of their posse, is headed to Redwood, a wealthy town where he plans to take control.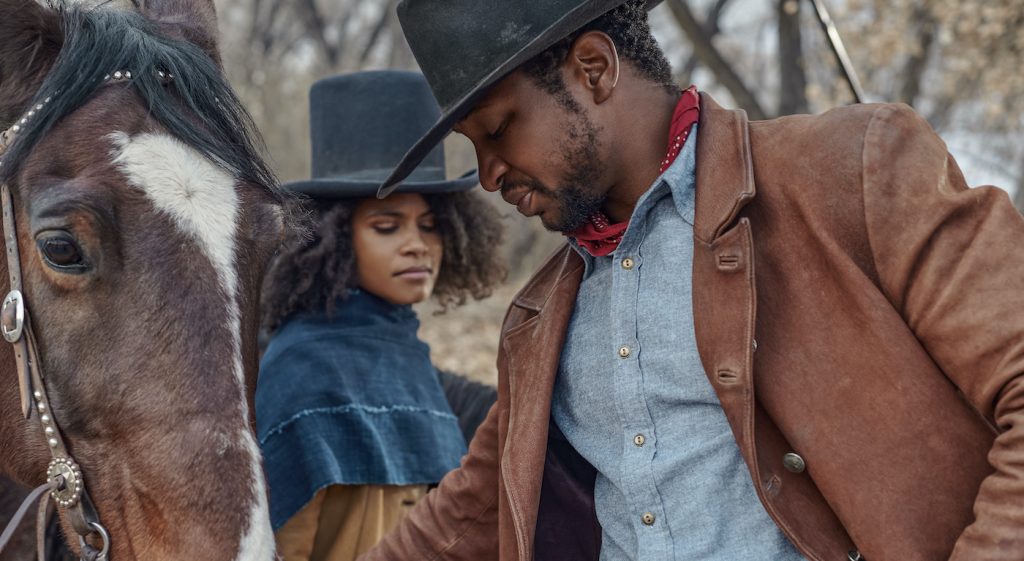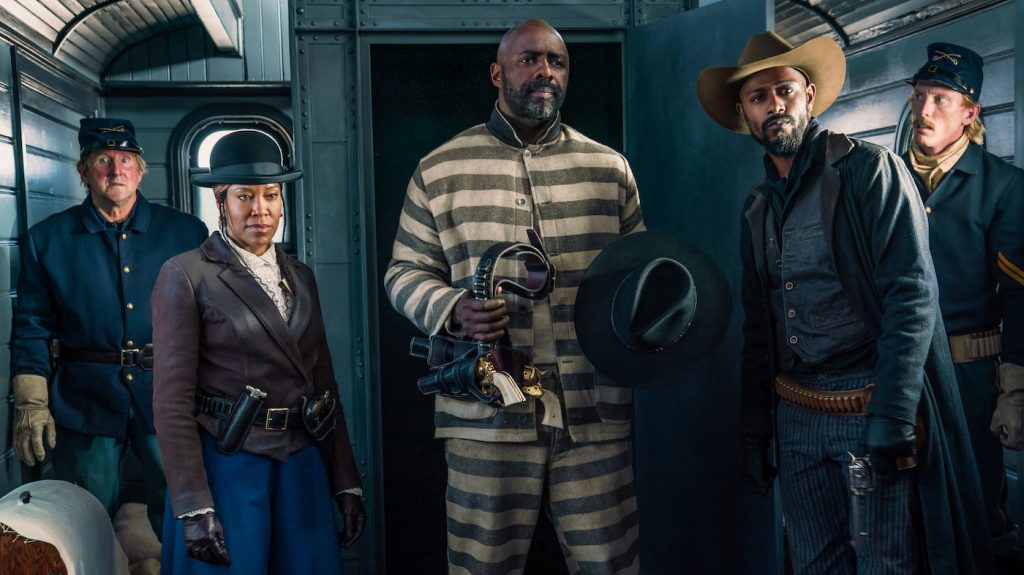 In Douglastown, "I wanted you to see the African influence, Asian influence, the Native Indian influences in that town. It's much more rustic, much more earthy," said Messam. "And then on the flip side, the other Black town, Redwood, it's affluent, it's colder, it's a merchant town. You don't see that camaraderie as much. You see it in the saloon, but who do you see it with? Ladies of the night with the guests." For the courtesans of each location, Messam did a deep dive into historic frontier looks. Some spent the workday in not much more than "a coat over their pantaloons and corset. Then there are others who look very refined and dressed," she said, pointing out that the job was one of few options available to women who weren't wives. "I tried to split it — it was important to me that these women did not look like they didn't care about themselves."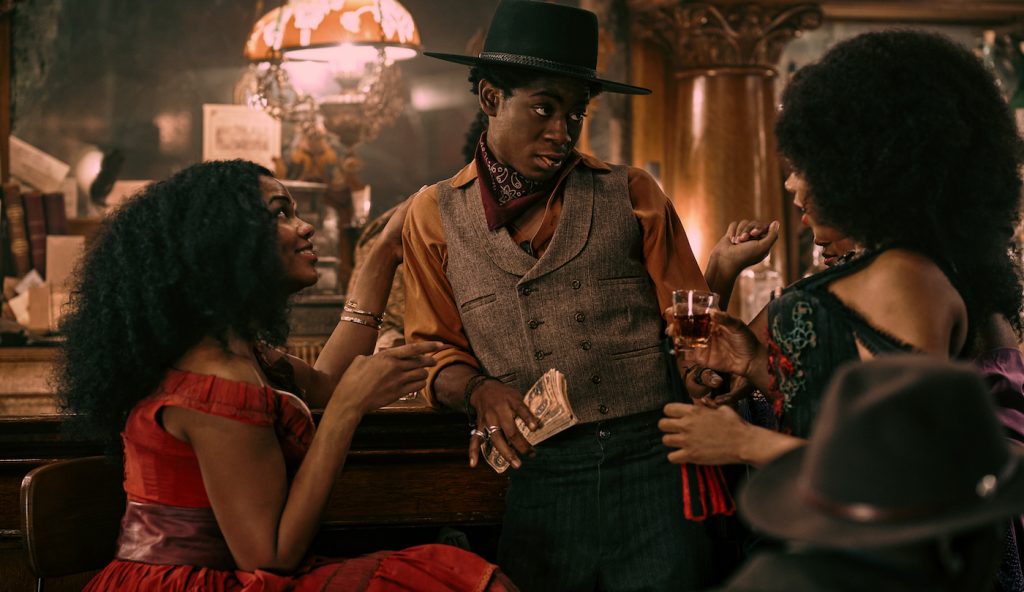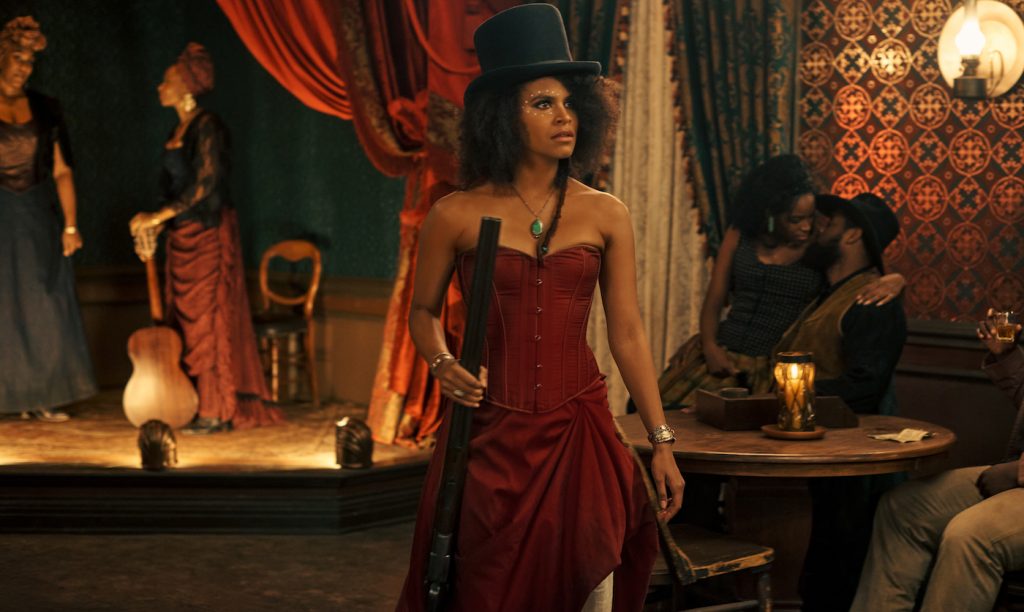 History and modernity also mix in the main characters' primary looks. "In order to give a silhouette that I thought worked for this movie, I picked between 1870 and 1890, which is just the tail end of Victorian," Messam explained, just before the era of huge sleeves on women's dresses and men in suits instead of long frock coats came into fashion. "For the women, I wanted the lines lean. Any earlier, the skirts were too big and any later, you'd have the very definitive sleeve and high neck." Where costumes do look contemporary modern at first glance — say, Trudy astride a horse in a long denim jacket — history comes through in the garment's cut. "It's just leaned out and not fussy, because [Trudy is] not a fussy character. The denim jacket is absolutely a riding coat, it's just made out of denim," Messam said.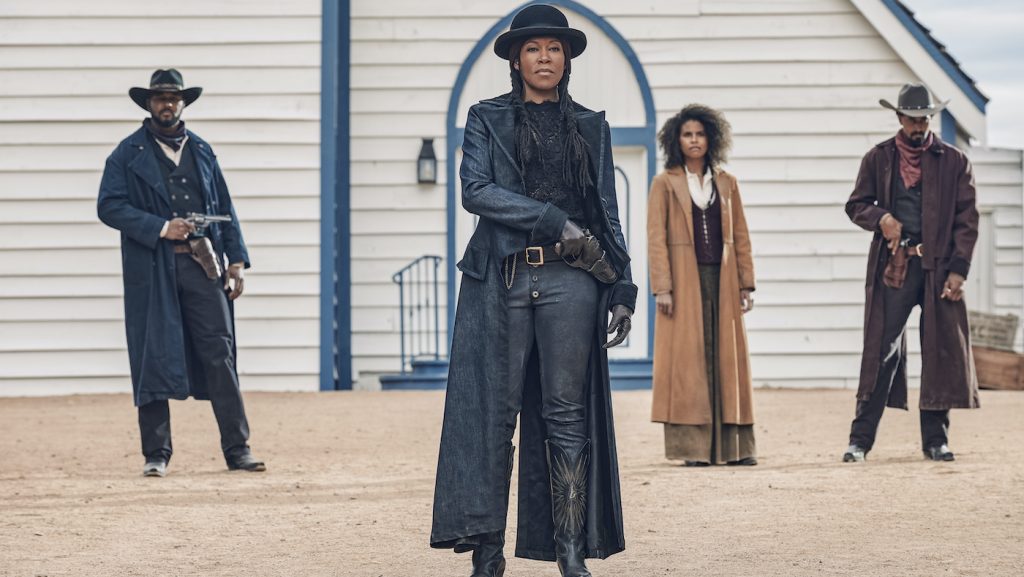 Fabrics, in general, were crucial, with the costume designer and her team recreating most of the main characters' outfits in stretch in order to accommodate the action. Even despite a no-dust mandate, dust organically made its way onto everything, thanks to primarily shooting on location in New Mexico. As for who was purpose-built versus bought, viewers might be surprised. "I got Jonathan Majors early, and he was the anchor, so we built him head to toe — hats right down to the boots," Messam said, but other characters, like Trudy, were clad in a mix of designer and high street pieces. The film's production started before the pandemic, stopped, and thanks to cast changes in the interim, Messam's team wound up split between outfitting actors in Los Angeles and on set in New Mexico, with Messam doing her first-ever virtual fittings before being able to tweak garments in person.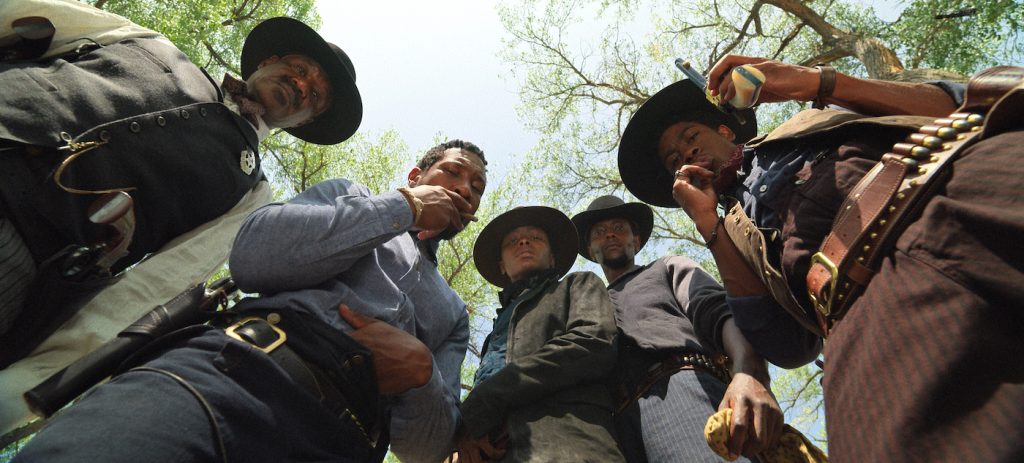 When a couple members of Nat's posse need to rob a bank, we see our first white Western town, here depicted in over-the-top sunlight and almost entirely white-hued set design. For the local residents, Messam's thought was, "let's desaturate the clothes, strip the color away, and have some texture against Martin's stark white set." Armed and disgruntled about being clad for the first time in women's clothes, Cuffee (Danielle Deadwyler) pops even more in her blood-red dress.
The scene also has another function, as a visual reminder to viewers of the historically inaccurate sea of white faces they might recall from vintage Westerns. Having grown up on Westerns herself, Messam pointed out that as a kid, "back then it didn't seem that this was weird," given that that was all the genre offered. "Then as you get older and do your research, you realize, hold on, up to 40% of the cowboys were Black." And while they weren't cowboys, in her own research, the costume designer stumbled on a rare photograph and a moment of documentation kismet. It's an image of a stately 19th-century Black couple, businessman James Davis and his wife, Sarah Forbes Bonetta, likely photographed due to Bonetta's status as Queen Victoria's goddaughter. He's in a long frock coat, she's in a full skirt with a lean bodice, both silhouettes you see reflected in The Harder They Fall. It was "an image that was perfect for Redwood," Messam pointed out, and when I shared it with my director, I found out it was Jeymes' ancestors."
For more on big titles on Netflix, check these out:
"The Witcher" Season 2 Trailer is a Monstrous Good Time
"Red Notice" Official Trailer Reveals Dwayne Johnson, Ryan Reynolds & Gal Gadot's Caper
What Mysterious Netflix Project is David Fincher Working On?
Featured image: THE HARDER THEY FALL: REGINA KING as TRUDY SMITH in THE HARDER THEY FALL. Cr. COURTESY OF NETFLIX © 2021