New "Spider-Man: No Way Home" Poster Reveals the Green Goblin
Sometimes it's the smallest detail that makes the biggest difference. This is the case in the new poster for Spider-Man: No Way Home, which features everyone's favorite web-slinger (Tom Holland) facing off against the supervillain Doc Ock (Alfred Molina), whose mechanical tentacles dominate the majority of the image. But, in the background, another legendary supervillain is visible—yup, that's Green Goblin.
This is technically the first bit of concrete proof that the Green Goblin, the villain in Sam Raimi's very first Spider-Man when Tobey Maguire was Peter Parker, will be in the film. Sure, we saw some of the Goblin's exploding pumpkin bombs and heard his laugh in the trailer, we but we never saw him. Now we do. And this Green Goblin reveal isn't the only hint in the poster—you'll notice a yellow lightning bolt, which is the prime color of Electro (Jamie Foxx), who we met in Marc Webb's The Amazing Spider-Man 2 when Andrew Garfield was Spidey. We're still waiting on confirmation that the man who played Green Goblin in the first Spider-Man, Willem Dafoe, is reprising his role. At least we know Goblin's in the film.
The reason these vanquished villains are able to return in No Way Home is because Peter Parker, in a desperate plea for help from Doctor Strange (Benedict Cumberbatch), accidentally opens up the multiverse and makes it possible. Beginning where Spider-Man: Far From Home left off, the new film opens with the world knowing Spider-Man's identity, so Parker turns to Doctor Strange to try and erase that knowledge from everyone who found out. An accident during the spell, however, unleashes the multiverse, and suddenly Peter Parker is forced to deal with villains from across said multiverse.
Check out the poster here: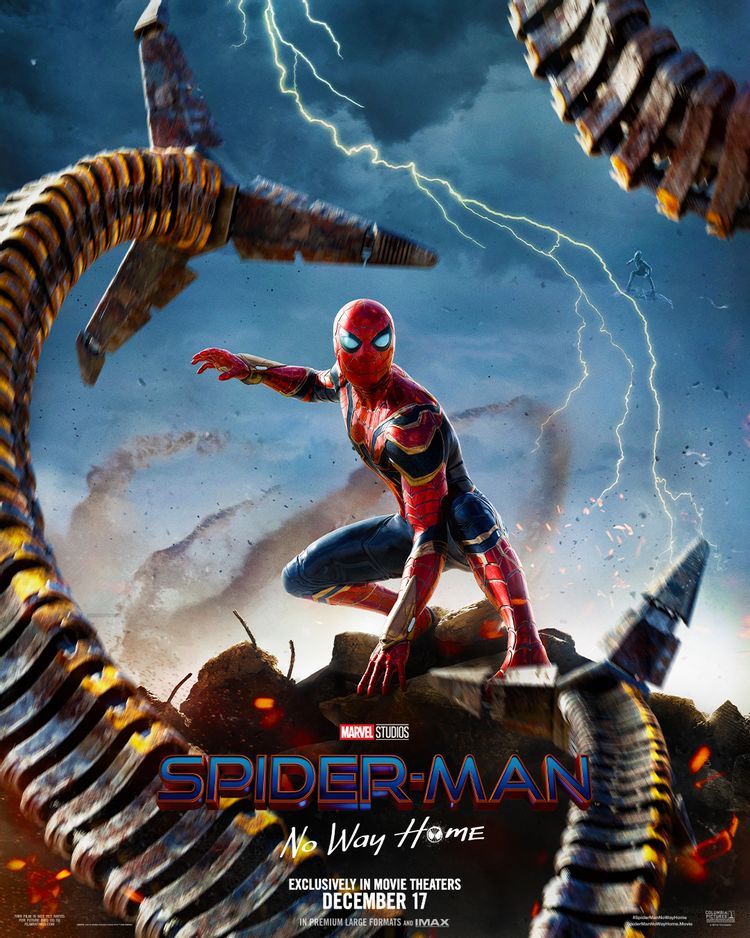 Here's the official synopsis for Spider-Man: No Way Home:
For the first time in the cinematic history of Spider-Man, our friendly neighborhood hero is unmasked and no longer able to separate his normal life from the high-stakes of being a Super Hero. When he asks for help from Doctor Strange the stakes become even more dangerous, forcing him to discover what it truly means to be Spider-Man.
Spider-Man: No Way Home swings into theaters on December 17, 2021.
For more on Spider-Man: No Way Home, check out these stories:
New "Spider-Man: No Way Home" Images Reveal Doc Ock
An Epic Crossover Awaits as Sony Unveils Their Spider-Man Universe
First "Spider-Man: No Way Home" Images Reveal Peter Parker's Multiverse Adventure
"Spider-Man: No Way Home" Trailer Reveals Peter Parker's Strange Trip
Featured image: Benedict Cumberbatch is Doctor Strange and Tom Holland is Peter Parker in Spider-Man: No Way Home. Courtesy Sony Pictures.