First "Spider-Man: No Way Home" Images Reveal Peter Parker's Multiverse Adventure
The first trailer for Spider-Man: No Way Home revealed that Peter Parker's about to have the strangest adventure of his life. Yes, pun included (Benedict Cumberbatch's Doctor Strange is a major player in the new film), but also, we mean it. Even though Peter Parker has, before even graduating high school, traveled to distant planets and fought intergalactic psychopaths (paging Thanos), none of his adventures were as mind-meltingly bizarre as what he's about to experience in No Way Home. Sony Pictures has released a few new photos from the film, revealing Peter's multiverse madness.
The reason for that is primarily Doctor Strange. Peter seeks out the good Doctor's help after the events from the last film, Far From Home, put him in the unenviable position of being a public pariah. When Peter fought and defeated the fame-hungry lunatic Mysterio (Jake Gyllenhaal) in Far From Home, his victory came at a great cost—Mysterio not only framed Peter for his murder but revealed Peter's identity to the world. Thus, when No Way Home begins, everyone knows that Peter Parker is Spider-Man. What's worse is that everyone believes Mysterio and thinks Peter's a murderer, and this means the lives of the people Peter loves—Aunt May (Marisa Tomei), Ned (Jacob Batalon), and MJ (Zendaya) are all upended, too.
This is where Doctor Strange comes in. Peter enlists the Sorcerer Supreme's help by asking if he can cast a spell that will reverse Mysterio's reveal. Although he's told not to do this in no uncertain terms by Wong (Benedict Wong), Doctor Strange feels a deep kinship to Peter considering all they've been through. Plus, he likes a good challenge. So, he agrees, and the result is that Peter is flung into the multiverse, or, more accurately, the multiverse is unleashed on Peter (and the world), and this is when things get really strange. Enter another doctor, no less strange but much less good—Alfred Molina's Doc Octopus from Sam Raimi's Spider-Man 2 when Toby Maguire was Peter Parker. But he's not the only villain from previous Spider-Man films who will appear. Jamie Foxx's Electro will also make an appearance, from The Amazing Spider-Man 2, when Andrew Garfield was Spidey.
And finally, the supervillain who helped start it all appears to be making his return. We're talking about Willem Dafoe's Green Goblin from Sam Raimi's 2002 Spider-Man. The new trailer all but confirms his return, as we hear the Goblin's laugh and see one of his pumpkin bombs roll across the street once the multiverse is unleashed.
Spider-Man: No Way Home hits theaters on December 17. Check out the first images from the film here: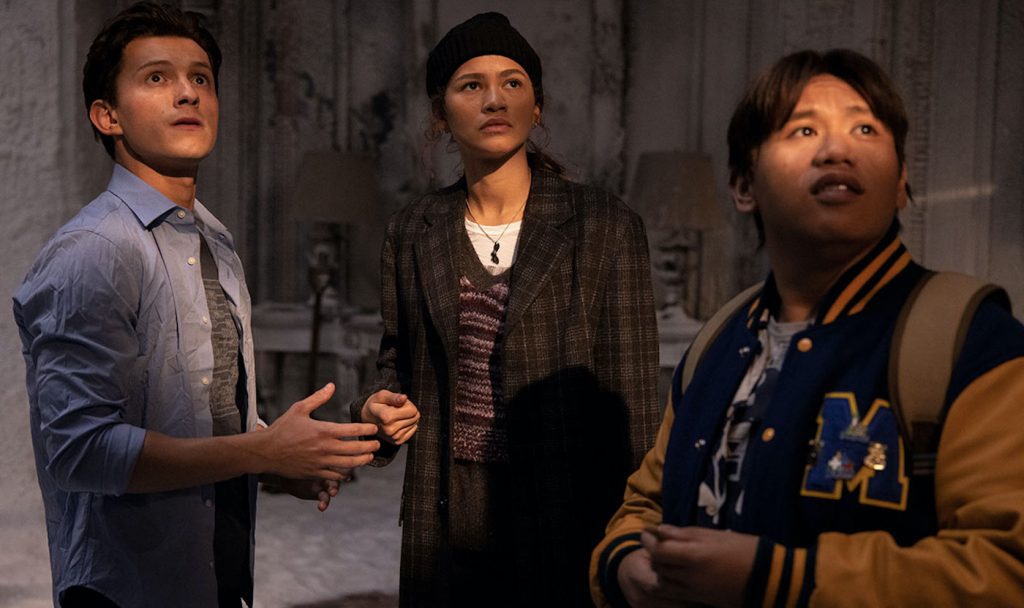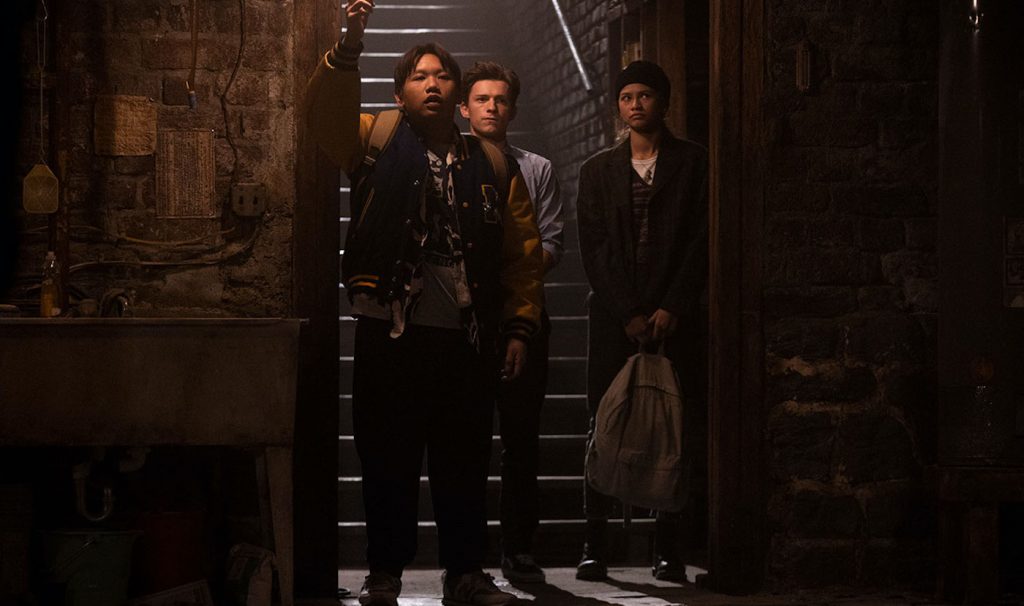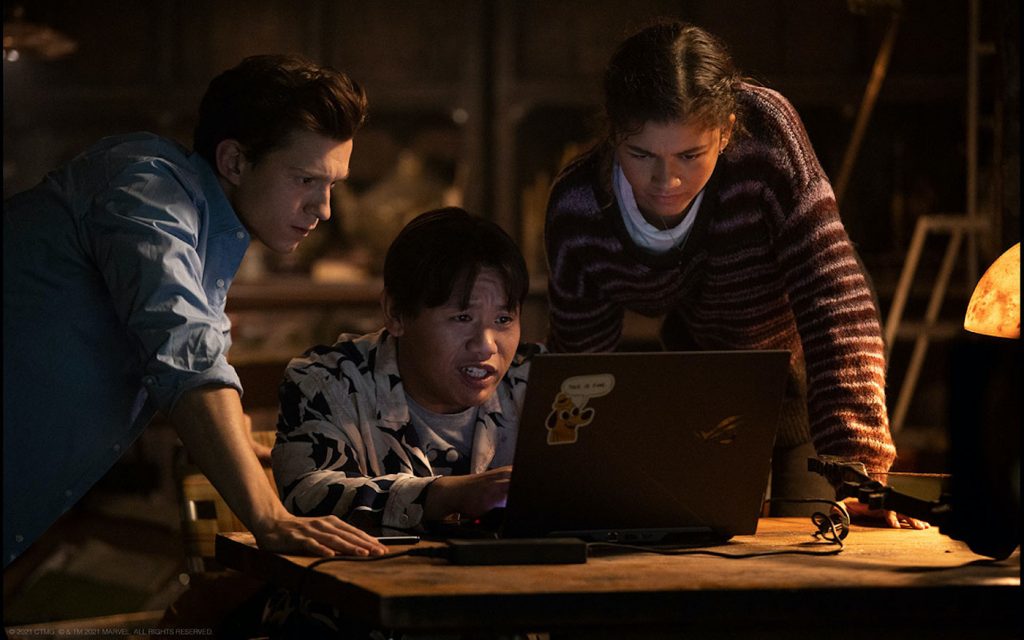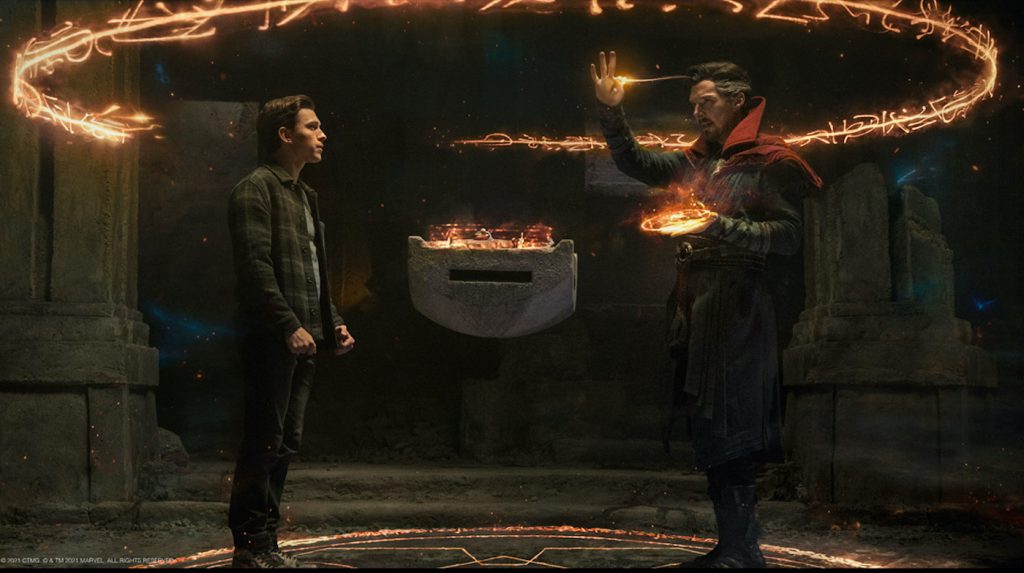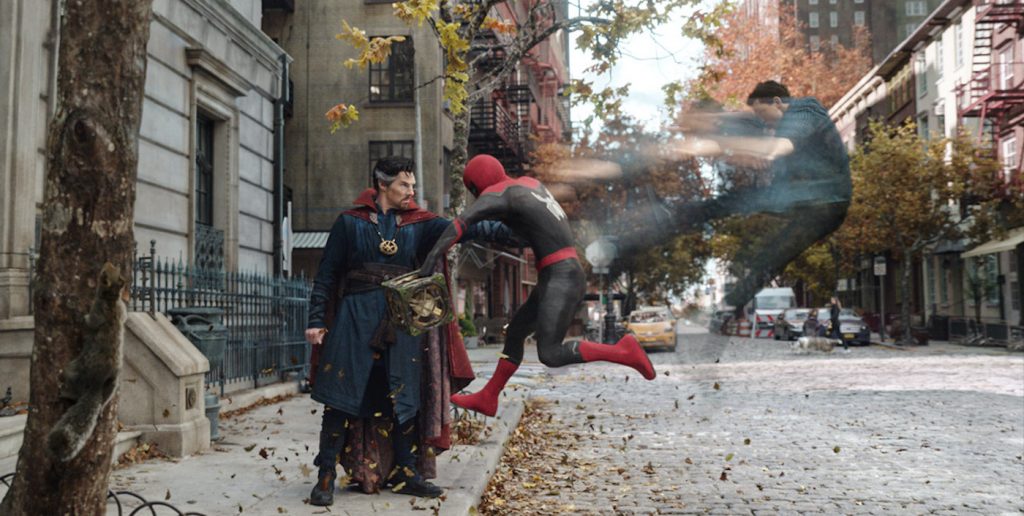 Here's the synopsis for Spider-Man: No Way Home:
For the first time in the cinematic history of Spider-Man, our friendly neighborhood hero is unmasked and no longer able to separate his normal life from the high-stakes of being a Super Hero. When he asks for help from Doctor Strange the stakes become even more dangerous, forcing him to discover what it truly means to be Spider-Man.
For more upcoming films from Sony Pictures, check out these stories:
"Spider-Man: No Way Home" Trailer Reveals Peter Parker's Strange Trip
Hold Your Breath During This "Don't Breathe 2" Trailer
A New "Venom: Let There Be Carnage" Featurette Reveals Fresh Footage
"Venom: Let There Be Carnage" Unleashes Official Trailer
Bond is Back In New "No Time To Die" Teaser
Featured image: Tom Holland is Peter Parker in Spider-Man: No Way Home. Courtesy Sony Pictures.