New "Spider-Man: No Way Home" Images Reveal Doc Ock
By now you know that in Jon Watts' upcoming Spider-Man: No Way Home, Peter Parker (Tom Holland) will be taking a trip down memory lane. Only they aren't really his memories, but those of Spider-men from across the multiverse, which is why our current Spidey will be facing off against villains from the past. Those include Willem Dafoe's Green Goblin from Sam Raimi's original Spider-Man starring Tobey Maguire, Alfred Molina's Doc Ock from Raimi's Spider-Man 2, and Jamie Foxx's Electro from Marc Webb's The Amazing Spider-Man 2, when Andrew Garfield was Spidey.
So how is this possible? In a word—Strange. Spider-Man: No Way Home will find Peter Parker enlisting the help of Doctor Strange (Benedict Cumberbatch) in an attempt to clean up the mess created by Mysterio (Jake Gyllenhaal) at the end of Spider-Man: Far From Home. In that film, Mysterio framed Spider-Man as a cold-blooded killer, exposing Peter Parker's identity to the world. When the events of No Way Home begin, Parker will go to Strange to see if there's a way for him to reverse Mysterio's frame job with a little of the good doctor's potent time-travel spells. It's the collaboration between Doctor Strange and Peter Parker that ends up unleashing the multiverse, and the villains from past films begin bursting into Peter's reality.
Now, courtesy of Empire Magazine, we have a couple of new images from Spider-Man: No Way Home, which director Jon Watts has said is Spider-Man: Endgame. The new images reveal one shot of Molina's Doc Ock in pursuit of Holland's Spider-Man.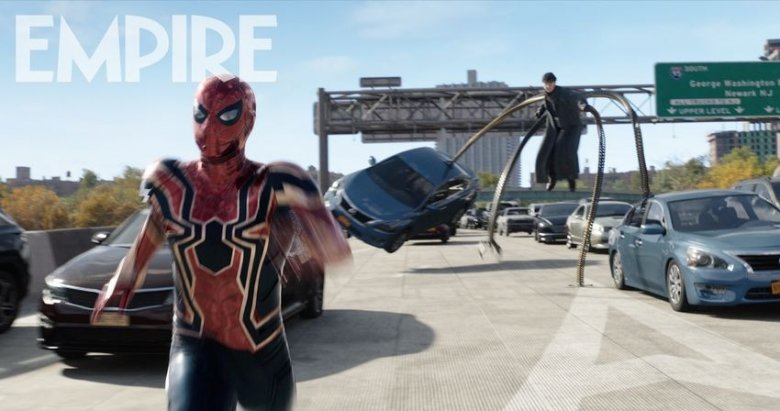 The Empire Magazine photo spread and interview include some pretty choice quotes from those involved. Holland himself said he never imagined No Way Home would actually come together. "When I was first pitched the idea, I was like, 'Wow, that would be awesome if we could pull it off. But there's just no way it's going to work," He told Empire. "You're just not going to be able to get everyone to do what they need to do. It's just not going to happen.' But it did happen. And it's crazy."
Check out the full story here.
Joining Holland, Molina, Dafoe, and Foxx are Zendaya, Jacob Batalon, Marisa Tomei, and Jon Favreau. Spider-Man: No Way Home is set to hit theaters on December 17, 2021.
Here's the official synopsis for Spider-Man: No Way Home:
For the first time in the cinematic history of Spider-Man, our friendly neighborhood hero is unmasked and no longer able to separate his normal life from the high-stakes of being a Super Hero. When he asks for help from Doctor Strange the stakes become even more dangerous, forcing him to discover what it truly means to be Spider-Man.
For more on Spider-Man: No Way Home, check out these stories.
An Epic Crossover Awaits as Sony Unveils Their Spider-Man Universe
First "Spider-Man: No Way Home" Images Reveal Peter Parker's Multiverse Adventure
"Spider-Man: No Way Home" Trailer Reveals Peter Parker's Strange Trip
Featured image: Tom Holland is Peter Parker in Spider-Man: No Way Home. Courtesy Sony Pictures.