"The Book of Boba Fett" Coming to Disney+ This December
The Book of Boba Fett will arrive via jet pack right before the end of the year. Disney+ has confirmed that The Mandalorian spinoff will premiere on December 29. The series features Temuera Morrison reprising his role as the titular bounty hunter, returning to Tatooine to take over the territory once ruled by the late, lecherous Jabba the Hutt and his crime syndicate. Disney+ also shared the admittedly excellent poster for the upcoming series, which features our be-helmeted hero sitting on Jabba's throne.
Boba Fett was, of course, an iconic character from the original Star Wars trilogy. He had a fairly small role, but it was an important one (at one point he took possession of Han Solo's frozen-in-carbonite body) and his presumed death, tossed into the Sarlacc pit by Luke Skywalker, felt to many fans a lame sendoff for such a cool character. Well, we've known for a while now Boba didn't die (somehow). The Book of Boba Fett will show us how that was possible, and what the bounty hunter has been up to since the events in the original trilogy.
Here's what director Robert Rodriguez had to say to Collider about the series: "Can't say anything about it at all right now, but it's coming out in December. Wait until you see what's coming. It's going to blow your mind. That's all I can say. That's all I can say. I can talk it up all I want because I know it over-delivers. It way over-delivers. So you're going to be, people are going to be so pumped up when they see it."
Here's the official release from Disney+:
"The Book of Boba Fett," a thrilling Star Wars adventure, finds legendary bounty hunter Boba Fett and mercenary Fennec Shand navigating the Galaxy's underworld when they return to the sands of Tatooine to stake their claim on the territory once ruled by Jabba the Hutt and his crime syndicate.
"The Book of Boba Fett" stars Temuera Morrison and Ming-Na Wen. Jon Favreau, Dave Filoni, Robert Rodriguez, Kathleen Kennedy, and Colin Wilson are the executive producers. Karen Gilchrist and Carrie Beck serve as co-executive producers, with John Bartnicki producing and John Hampian as co-producer.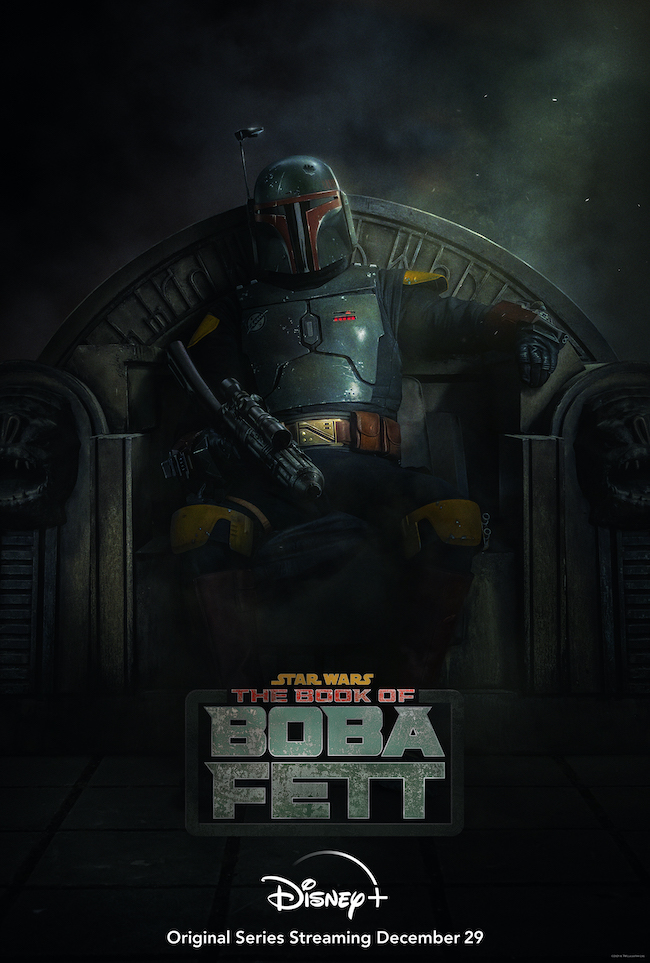 For more stories on Century Studios, Searchlight Pictures, Marvel Studios, and what's streaming or coming to Disney+, check these out:
Get Ready For More Nebula in Upcoming Marvel Movies
First "Nightmare Alley" Trailer Reveals Bradley Cooper & Cate Blanchett in Guillermo del Toro's Horror
"The Eyes of Tammy Faye" Screenwriter Abe Sylvia on Finding Grace in Disgrace
The Official Trailer for Steven Spielberg's "West Side Story" is Here
"Eternals" Will Take Us Back Long Before Thanos Was Born
Behold The First Trailer for Marvel Studios' "Hawkeye"
Featured image: "The Book of Boba Fett" key art. Courtesy Disney+.