"Eternals" Will Take Us Back Long Before Thanos Was Born
Every fresh MCU film offers both a continuation of a mega-narrative that began with 2008's Iron Man as well as something that hasn't been seen quite yet. Now, sure, you could argue that every Iron Man or Captain America or Thor film offers more of the same, but that's not entirely true. Each new early entrant presented new allies and villains, fresh twists, and, owing to the Moore's Law of tentpole filmmaking, every new MCU installment had to be more dazzling than the last. And this was before Ryan Coogler's Black Panther blew the MCU wide-open and created a cultural juggernaut in the process.
Since Black Panther, the MCU has widened its aperture on not only who the focus is on the screen and who the storytellers are off, but even rethinking its own characters. Taika Waititi's Thor: Ragnarok managed to completely (or semi-completely) change the nature of a long-standing MCU character, Chris Hemsworth's titular Thor, turning him into one of the funniest Avengers there is. Then the MCU finally gave us its first female superhero getting her own movie (Captain Marvel), the long-awaited solo film for Scarlett Johannson's Natasha Romanoff (Black Widow), and the first MCU film featuring an Asian-American superhero (Shang-Chi and the Legend of the Ten Rings). Oh, and then there's the fact that the MCU no longer operates on a single timeline, but in a multiverse, as evidenced by the time-traveling heroics in Avengers: Endgame, the time-traveling heroics in Loki (on Disney+), and the upcoming time-travel heroics in both Doctor Strange and the Multiverse of Madness and Spider-Man: No Way Home.
This brings us to Oscar-winner Chloé Zhao's Eternals, which will take the MCU back—all the way back—to a time before all of the superheroes who have been dominating the film world for the past 13-years were born (even Thor). While previous MCU films have traveled far and wide, both in the galaxy and across timelines, Eternals will give us a glimpse of a time before all of this occurred, as well as explain why the film's titular cosmic beings have been so quiet up until now.
In the upcoming September 16 issue of Total Film, Zhao reveals a bit of why her film's cosmic superheroes have been on airplane mode this whole time, including when Thanos obliterated half of all life in a single snap. "[The audience] will understand why," Zhao told Total Film. "Not only why, but how complicated not interfering made them feel. We explore that. You'll see that in the film. The Eternals were instructed not to interfere with any human conflict unless Deviants are involved. There's a reason why that's the case. And that was the instruction from the prime Celestial Arishem."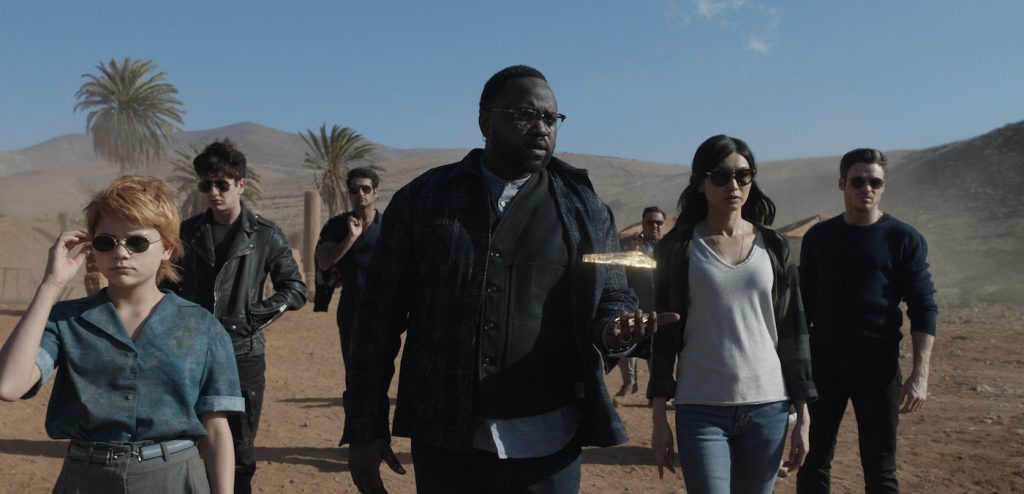 We've actually seen some of these Celestial beings before. Eson the Searcher, one such Celestial, was glimpsed in a flashback scene during Guardians of the Galaxy. Star Lord (Chris Pratt)'s father, Ego (Kurt Russell) was also a Celestial and was featured prominently in Guardians of the Galaxy: Vol 2. In Eternals, these beings will now be front and center. We've also seen in the Eternals trailers how it's the arrival of the Deviants after the events in Avengers: Endgame that finally rouses the Eternals to action. But Eternals will also look back, way back, to a time before even the Mad Titan.
"What excited me is the idea of going back in time, and exploring [the time] before Thanos was born, before anyone was born," Zhao told Total Film. "Where does the MCU go back in time? And that brings us to the mythology of the Celestials. Anything involving the Celestials is going to be at a huge scale level of complication, let's put it that way."
Needless to say, there's a tremendous amount of curiosity and excitement about what this talented, singular filmmaker will bring to MCU. Eternals hits theaters on November 5.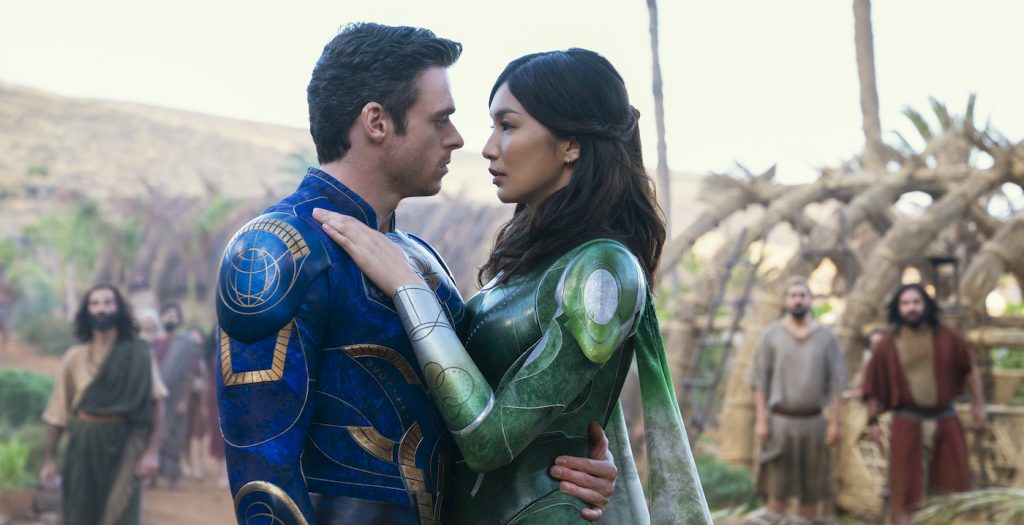 For more stories on Eternals, check these out:
Watch the Stunning Final Trailer For Marvel's "Eternals"
The First "Eternals" Poster Teases a Very Different Kind of Marvel Movie
The First "Eternals" Teaser Has Arrived
Marvel Teases First "Eternals" Footage in an Epic Trailer for Phase 4
Featured image: (L-R): Kingo (Kumail Nanjiani), Makkari (Lauren Ridloff), Gilgamesh (Don Lee), Thena (Angelina Jolie), Ikaris (Richard Madden), Ajak (Salma Hayek), Sersi (Gemma Chan), Sprite (Lia McHugh), Phastos (Brian Tyree Henry) and Druig (Barry Keoghan) in Marvel Studios' ETERNALS. Photo courtesy of Marvel Studios. ©Marvel Studios 2021. All Rights Reserved.