Behold The First Trailer for Marvel Studios' "Hawkeye"
Marvel Studios has revealed the first trailer for Hawkeye, a surprisingly cheery, definitely compelling glimpse at everyone's favorite grumpy archer, Clint Barton (Jeremy Renner). This is our first actual look at Marvel's next Disney+ series, which boasts a strong Christmas vibe, and the long-awaited reveal of another ace Marvel archer, Kate M. Bishop (Hailee Steinfeld), who teams up with Hawkeye for what looks to be one very busy Christmas season.
Hawkeye begins with our long-troubled Clint Barton returning to New York City after the events of Avengers: Endgame. All Clint wants to do at this point is get back to his family. The problem is, Clint went off the deep end in a major way before his best (and only?) friend Natasha (Scarlett Johansson) scooped him up and set him back on the hero course in Endgame. Clint made a lot of enemies when he was mucking about in the underworld, punishing every bad guy he could find as a way to vent his rage over losing his family in the Snap. So, Clint's return to New York, post repatriation of all those who had been snapped out of existence, is not just a chance for him to reconnect with his family, but also a chance for all his enemies to finally get their revenge.
This is where Kate M. Bishop steps in. The young archer wants to help Clint—and she sure is a good shot—and Hawkeye will center primarily around their relationship, as the grizzled veteran and the young hotshot team-up. The result, at least as far as this trailer shows, is an action-packed, Christmas-wrapped adventure series led by a pair of mismatched heroes, one that looks a touch lighter on its feet (and certainly more holiday-themed) than we might have imagined.
Check out the trailer below. Hawkeye hits Disney+ on November 14.
Here's the synopsis from Marvel:
Marvel Studios' "Hawkeye" stars Jeremy Renner as Hawkeye, who teams up with another well-known archer from the Marvel comics, Kate Bishop, played by Hailee Steinfeld. The cast also includes Vera Farmiga, Fra Fee, Tony Dalton, Zahn McClarnon, Brian d'Arcy James and newcomer Alaqua Cox as Maya Lopez. "Hawkeye" is helmed by Rhys Thomas and directing duo Bert and Bertie. "Hawkeye" debuts on Disney+ on Nov. 24, 2021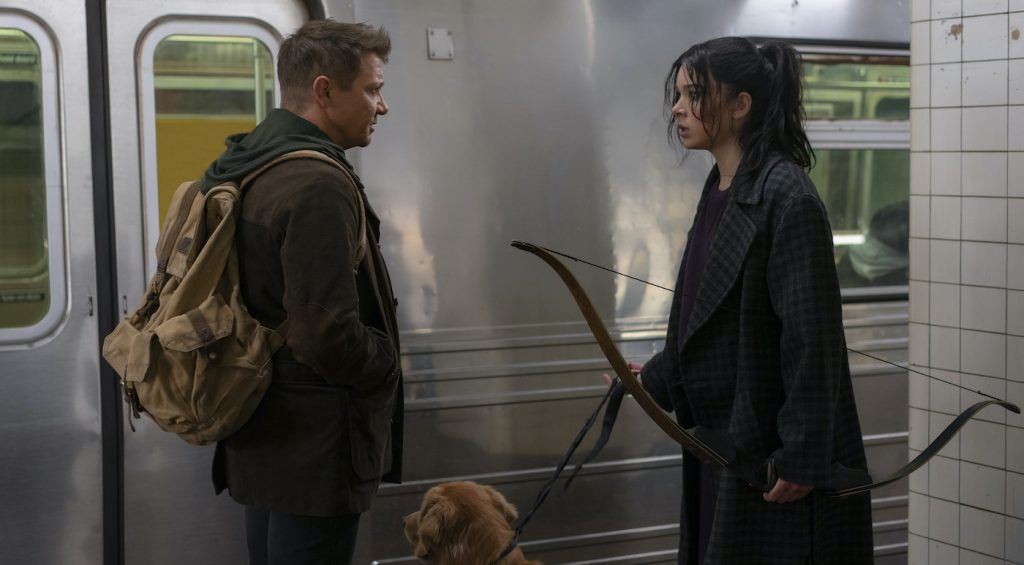 For more stories on Century Studios, Searchlight Studios, Marvel Studios and what's streaming or coming to Disney+, check these out:
"The Eyes of Tammy Faye" Review Roundup: Jessica Chastain Stuns in Heartbreaking Performance
"The King's Man" Red Band Trailer is Bloody Good Fun
Why The Action in "Shang-Chi and the Legend of the Ten Rings" is So Epic
New "Shang-Chi and the Legend of the Ten Rings" Video Teases a Power Stronger Than the Avengers—Combined
"Shang-Chi and The Legend of The Ten Rings" Reveals New Track From Swae Lee
Anthony Mackie is Suiting Up For "Captain America" 4
Featured image: (L-R): Hawkeye/Clint Barton (Jeremy Renner) and Kate Bishop (Hailee Steinfeld) in Marvel Studios' LOKI, exclusively on Disney+. Photo by Mary Cybulski. ©Marvel Studios 2021. All Rights Reserved.