Justin Lin Says "Fast & Furious" Saga Will End With One Chapter in Two Movies
It will be a very fitting coda for the Fast franchise that the most seasoned director in this pedal-to-the-metal universe, Justin Lin, will be seeing it through the finish line. Speaking with Collider, Lin said that right now, he thinks the franchise should end with one massive chapter told in two final films. That would likely mean shooting Fast 10 and 11 back-to-back, a massive undertaking and logistical challenge considering how long the cast and crew need to be available (this was the method used by Marvel for Avengers: Infinity War and Endgame). Lin certainly understands this. "There's an ambition of what we want to do and there's also real-world issues that we're encountering," he told Collider. But I feel like, for me, I don't want to be greedy. I want to do what's best for the process."
Lin has been with the franchise for a long time, well before there was any chance Universal would film a new installment and a sequel back-to-back. Yet now, given the massive success of the Fast saga, and the hunger for a proper sendoff, Lin thinks it's not only possible but advisable.
"The idea of the last chapter being two films is correct. I have to say, I'm so glad — because I think when I first entered this franchise, a sequel was not a given," he told Collider. "You had to earn it, you know? And so to be sitting here talking to you and go, 'Oh yeah, there's gonna be two more movies!' I'm like, 'Wow.' It means a lot. So, every day when I wake up, I'm trying to reconfigure and make sure hopefully whatever we're talking about process-wise is gonna yield the best result. But I think having one chapter in two movies is correct. That's where I sit today."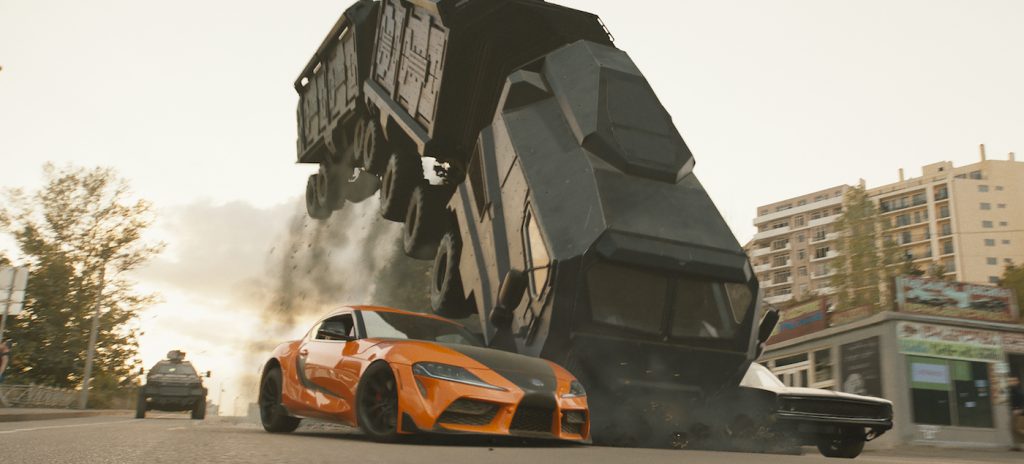 After F9 helped jumpstart the theatrical box office this summer with a big haul both domestically and internationally, it should surprise absolutely no one that F10 and F11 are in the works. Entertainment Weekly broke the news about the release date for F10, revealing that it's set to roar into theaters on April 7, 2023. Before Lin told Collider about his desire to possibly shoot the final two films back-to-back, Vin Diesel had revealed the possibility to EW. "Just wait for 10," Diesel told EW. "Let's just say, the fact that you guys know that the studio is saying we can't cover all this ground that needs to be covered in just one movie, you can only imagine what is to come."
So who's coming back for the final laps with Diesel? You can be sure that franchise stalwarts Michelle Rodriguez, Jordana Brewster, Tyrese Gibson, Chris Bridges, and Sung Kang will return. Newcomer John Cena hasn't said whether his character, Jakob Toretta (brother to Diesel's Dom) will get into the fray, and it's been widely reported that Dwayne Johnson is out. There's one other big name we feel is all but certain to come back—spoiler alert—Jason Statham's Deckward Shaw. If you caught F9 and stuck around for the mid-credits scene then you saw Statham's surprise return and the promise of a showdown between his Shaw and Sung Kang's Han.
For more on Universal Pictures and Focus Features projects, check out these stories:
The Final Trailer for "Halloween Kills" is a Grisly Thrill Ride
Emmys 2021: "The Crown," "Ted Lasso" & More Make History
A Few of Norm Macdonald's Funniest "SNL" Moments
How "Candyman" Composer Robert Aiki Aubrey Lowe Manipulated Madness Into Music
Featured image: John Cena as Jakob in F9, co-written and directed by Justin Lin. Courtesy Universal Pictures.