Cinematographer Kira Kelly on The Dark & Desperate World of "Y: The Last Man"
Y: The Last Man kicked off the fall TV season with a dramatic debut. Based on the DC Comics series, the show chronicles families in mourning, supply chains upended, and a democracy dominated by men dismantled when every person born with a Y chromosome suddenly dies. It's a shocking and abrupt event that leaves a mystery behind when Yorick Brown (Ben Schnetzer) realizes he is the only one left of his kind. Director of photography Kira Kelly, ASC captures the fallout of a world without men, which is a drastic departure from business as usual.
Kelly strategized with the director of the pilot episode, Louise Friedberg, on how to depict the details of an event that hacks the population in half. Their creative development ultimately hinged on distinguishing the before and after with excess and necessity. "Basically, once the event happens, we get into a world where there's no electricity," Kelly explained. "There's no food because most of the world's truckers are men. There's no food being delivered. We've suddenly run out of everything. [Friedberg's] idea visually was to go with this before event. For example, there's that party at the politician's house in the first episode. We really wanted to be like every light in the house is on, and not only every light in the house is on, but all the candles are lit. We really wanted the visual style to show this sort of excess before everything happens, and then once we get into what happens, there's this story of sparseness as far as food, as far as composition."
Each detail was thoroughly and logistically plotted. Everything on screen has a purpose in telling the story and speaks to the circumstances affecting each character. Some people have more abundant resources than others, but they're all facing a difficult new way of life. "Suddenly the job is about creating a world that has no electricity, with exception of the Pentagon," Kelly said. "They were able to keep power, but even there, we envisioned that The Pentagon is running on backup generators, so it's not like they have all the lights on. It was really a fun test to be able to go through and say in this scene, they have a lantern. We're going to use that lantern for the whole scene."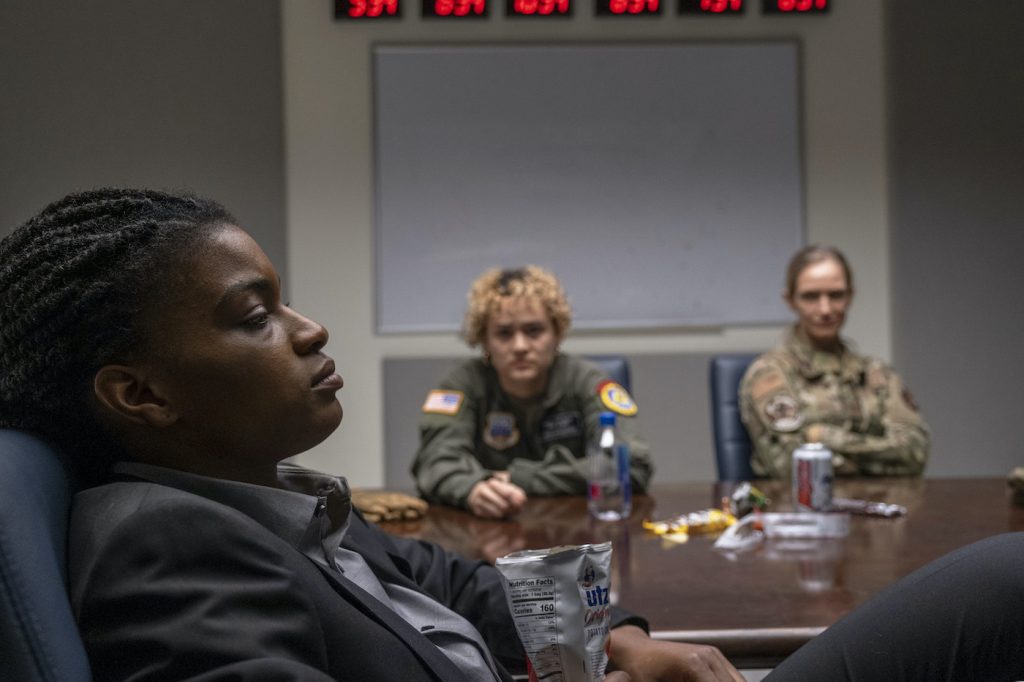 With electricity a rarity, Kelly works with a palette of darkness throughout the series. Nora Brady (Marin Ireland) and her daughter Mackenzie (Quincy Kirkwood) find themselves locked out of the White House despite Nora's previous high-ranking status as an advisor to the male U.S. President. Adrift and suddenly lacking allies, they are isolated and plunged into darkness. "I knew in that case [there was] a fireplace – they're going to have a fire running," Kelly noted. "Also, this house had these really great windows, so it's such a great opportunity to play with some color contrasts of cold moonlight coming in, then this intense heat from the fire. Also, just a lot of darkness there. I really want it to feel like this is the moment that Nora is being left behind."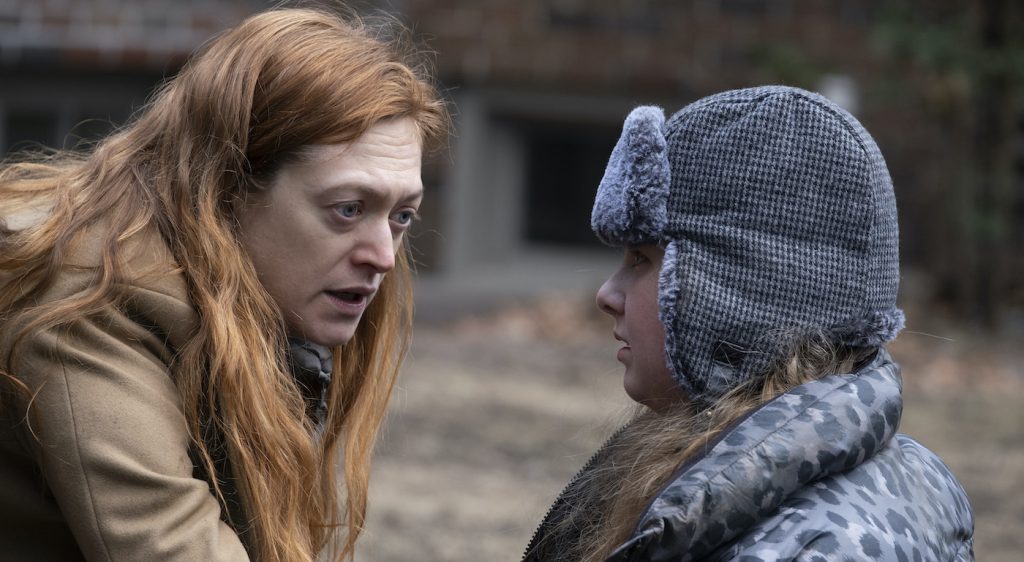 In the darkness comes danger. With a rush of desperation, characters take advantage of the elements to survive. "People start doing things that they traditionally wouldn't have done before," Kelly said. "I think that maybe a cause of shame and things that maybe you do have to hide in the shadows"
Throughout the series, there is a sharp sense of loss. Scenes are lively and filled with characters before the event occurs, but frames suddenly feel lonely when half the characters are killed. "That day, so many men died but so many women died too," Kelly noted. "There were all these accidents, planes falling out of the sky. We really wanted to lean into how traumatic that experience would be. Again, I think it kind of goes into something we really wanted to do in the compositions of the frames and focus on how do we show the audience whose scene this is and who it's about? If we do a shot of somebody, maybe we keep them a little bit in the other person's frame, but then keep their shot clean of somebody else. At the beginning of everything that happens, our characters are all spread out, but then once the story kind of culminates and gets together, we put them together in situations."
The show features shots from an Alexa Mini LF and Panavision G Series. Working with alternating DP Catherine Lutes, Kelly settled on a Panavision MAP55 lens for the scenes that take place after the extinction of men. That decision gives the post-apocalyptic world a gritty feel. "It's just one of these lenses that has so much character," Kelly described. "We ended up realizing that once the event happens, this is the lens for the world. Because we really love the quality of this idea of things just being messed up and I think a part of talking to Louise is figuring out this world of how do you make these images that are imperfect."
As Kelly and the creative team began planning the series, the real world was facing a global catastrophe. Days after flying to Toronto to begin filming, Kelly returned to L.A. in response to the coronavirus pandemic. Production was closed for four months, but they continued planning and preparations. Kelly, Lutes, Friedberg, the series showrunners, costume designer Olga Mill, and production designer Alex Schaller created a long-distance film club. "We watched films that we thought would influence the style of the show, then we would do Zoom calls and talk about it," Kelly recalled. "It was really sort of this lovely, extended prep, and actually an incredible time for us, to think about world-building and really think about the nuances of who has electricity or who doesn't and what does that look like. By the time we all started again in September, we were so much more prepared and had so much more of an idea of what that visual world looked like."
A reflection of the characters on screen, all episodes were directed by women and many department heads were female. With a robust resume that includes work on Insecure, Queen Sugar, 13th, and two Emmy nominations, Kelly is now able to help other cinematographers follow in her path. "For women who have made it to a certain position or people of color, it's our job to encourage other people," she said. "I think it's our job to bring other people with us and really whatever opportunities that I end up having, be able to share that and share my experience with other people."
Having Kelly on set for Y: The Last Man was a true gift to the fans. She began buying the series by Brian K. Vaughan and Pia Guerra from Midtown Comics when they debuted in 2002 and she collected all 60 issues. Kelly says she "badgered" her agent to keep an eye out for potential developments in adapting the series. She acknowledged that the story needed updating for 2021, which was adapted by showrunner Eliza Clark, but they tried to reward fans where possible. "We knew that we were doing something different, it was a different piece than the original comic, but anytime we could tip our hat to the fans with an image or something like a setup, I really wanted to make sure that we were able to do that," Kelly revealed. "The show itself has a different visual style, of course, than the comics did with the beautiful drawing that Pia Guerra did, but if we could tip our hats to a composition or something like that, we definitely tried."
Kelly has more than earned her place, but she is still remarkably humble for the opportunity to bring Y: The Last Man to the screen. "It's like the epitome of a dream job. If you had told me when I was that age when I was first buying the comics, that someday I would be shooting the pilot of it, it would be a little insane for me."
New episodes of Y: The Last Man are released on FX on Hulu every Monday.
Featured image: Y: The Last Man — "The Day Before" — Season 1, Episode 1 (Airs September 13) — Pictured: Ben Schnetzer as Yorick Brown. CR: Rafy Winterfeld/FX