"Self Made" DP Kira Kelly on Why Black Stories Matter
Cinematographer Kira Kelly shot Ava DuVernay's 2016 Oscar-nominated 13th documenting how American prisons target Black men. Then she filmed miniseries Self Made: Inspired by the Life of Madam C.J. Walker, named after the hair products entrepreneur who became the country's first Black female millionaire. Most recently, she shifted into rom-com mode for an episode of Insecure, set in South L.A. and featuring Emmy-nominated Issa Rae as a witty Black single woman trying to sort out her personal life. For Kelly, these projects exemplify the rich range of Black experiences that are finally becoming widely shared as mainstream entertainments. "In the past," she says, "it's like [Hollywood] tried to make one certain genre of Black movies or Black television. Now what's becoming more and more clear in our culture is that there are so many stories Black people can tell. There's an infinite number of stories."
Raised by a single mom, Kelly decided to become a filmmaker in high school after seeing The Godfather Part III at the local cineplex. "I know that's the worst Godfather," she laughs. "But then I rented the first two from the video store and went 'This is amazing. I want to go to film school and do movies.'"
Kelly attended Northwestern University on a scholarship, then moved to New York where she worked on non-union commercials and music videos as an electrician and later as a gaffer. "It was very diverse with a lot of women on the crews, and a lot of women of color on the crews," she says. Rising through the ranks, Kelly officially became a cinematographer in 2009 when she joined Local 600 in Los Angeles after shooting Hulu series East Los High. "In L.A. I was sometimes the only person of color on a crew or the only woman on a crew. But as DPs, we hire crews who want to work with us. You won't be hiring people who feel uncomfortable having a Black woman as a boss."
Speaking from Los Angeles, where she lives with her eight-year-old daughter, Kelly talks about capturing Black lives on camera.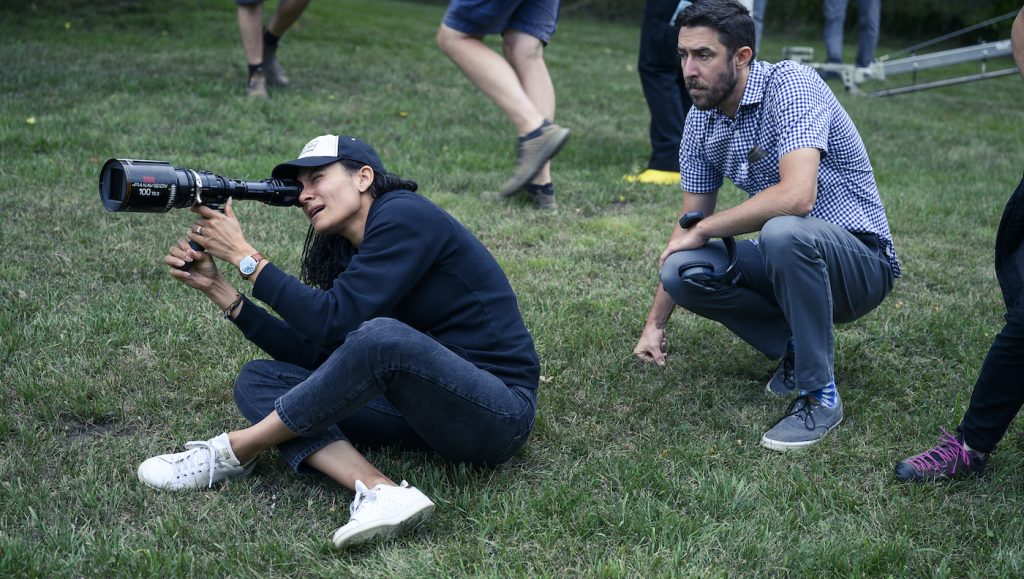 Sarah Breedlove, the woman at the center of Self Made, led a fascinating life but I imagine few people knew her name until the mini-series started streaming on Netflix. Is it gratifying to get involved in stories that haven't been told before?
For me, it's been great to help celebrate someone like Sarah Breedlove, but also be able to look at a modern relationship in Insecure and see the love there. In these times of Black Lives Matter, we're in a time now where people are hungry to see representation.
How is that hunger playing out in terms of hiring practices?
More and more, people are realizing that Hollywood has to change its hiring practices to reflect what the world looks like right now. I'm part of a group called Spora, which is a collective of Black DPs, gaffers, camera operators because right now the [low] number of Black people working behind the camera really needs to change. The fact is, there are plenty of Black cinematographers. There are plenty of Black female cinematographers. We just need to be seen.
Self Made paints a vivid picture of Black life in the 1920s through cinematography, costumes, and production design. What kind of color palette were you going for?
The showrunners didn't want Self Made to look like a typical sepia-toned period piece. They wanted vibrant, more saturated colors, with Great Gatsby references coming up here and there, and Beyoncé's Lemonade. Jewel tones — pretty sapphire, rubies – – that was the direction we took as far as the visuals for this story.
Octavia Spencer has usually played supporting roles in the past but playing Sarah Breedlove in Self Made, she's front and center. How did you work with directors Kasi Lemmons and DeMane Davis in composing the shots?
We shot Self Made anamorphic, which I love, so a lot of our approach had to do with having Octavia in the center of the frame, getting into her space, and allowing her to give a performance.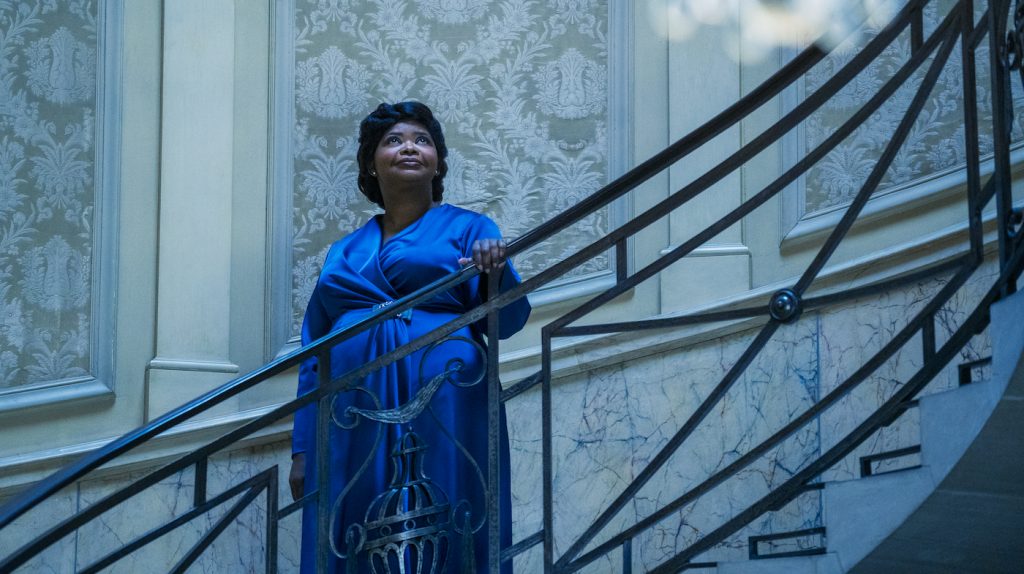 Octavia conveys so much emotion — shame, bitterness, exuberance, pride, anger. What's she like to work with?
Octavia can do so much just with the movement of her eyes or subtle changes in her expression. There'd be times after a take where the camera operator and the gaffer would come up to me and we'd all be like "Oh my God." We were shooting a ton of long days and she's in almost every scene, but Octavia was always professional and kind and generous with the crew.
Self Made includes fantasy sequences, like when Sarah imagines herself in a boxing match with her rival Addie (Carmen Ejogo) or pictures a pink-lit crew of Busby Berkeley-style dancers. How did you shape those scenes?
We wanted to give the audience a visual cue: "Okay, now we're going from reality into the inner workings of her brain." I shot the show with the Panavision Series 2 lenses, but for the interstitials, we got the C Series Anamorphic Prime Lenses and put glass and prisms in front of the camera to mess up the image a little bit. We played with different colors.
Technically, what tools did you use to transition from naturalistic lighting for the main narrative into the tinted interstitials?
We used the ARRI S60-C LED SkyPanel and the 360-C LED SkyPanel, which are LED lights where you can program in RGB colors. Our amazing Toronto gaffer Scotty Philips can reproduce any color by eye. So we used these modern lights to change the image from normal daylight white to saturated pink, for example, in the dance sequence.
You went directly from Self Made in Toronto to L.A. for this intimate episode of Insecure, where Issa Rae and her ex-boyfriend Lawrence [Jay Ellis] hash out their relationship over the course of one romantic night. From a visual standpoint, are two-handers tricky to shoot?
One big challenge is that we started with a six-page scene in a bar, just two people talking. We didn't want the audience to get tired of looking at the same thing [back and forth between] shot one and shot two so we used as many camera angles as possible, without exhausting the actors. We shot that scene over two nights, figuring out angles for very specific moments.
Then they leave the bar for a stroll where you captured their chemistry in a very unforced way.
We used a Steadicam to follow Issa and Lawrence through this Art Walk space, where you suddenly feel the emotion and the tone rise again. Insecure was very different from Self Made but for me, it was really exciting to play with this story about relationships.
Before working on her Queen Sugar series, you collaborated in 2016 with Ava DuVernay on her Oscar-nominated documentary 13th detailing how Black men are unfairly targeted by the United States prison system. Four years later, the systemic racism explored in that film has finally come to dominate the national conversation. What's your takeaway from 13th?
When I look back at my career, 13th will be at the top of the list of things I'm most proud of. I'm proud to have been a part of telling that story. At the same time, it's infinitely frustrating that it still needs to be told. The vitriol that comes out of the [current] administration is painful. So yeah, for me, it's a bittersweet thing.