"Black Widow" IMAX Screenings Will Boast 22 Minutes of Expanded Aspect Ratio
The fact that director Cate Shortland's Black Widow is a mere few weeks away from its premiere is reason enough to celebrate, but now our reasons for excitement have been enlarged by around 26%. Deadline reports that the film will open with an expanded aspect ratio on IMAX—22 minutes worth—meaning the biggest possible picture to watch Natasha Romanoff (Scarlett Johansson) face down her past.
IMAX revealed the news yesterday, which is only added incentive to see the film in theaters. Black Widow is the first film in Marvel's Studios Phase Four, and the first Marvel Cinematic Universe movie since 2019. It's been a long wait. What's more, the last time we saw Johansson's Black Widow, she was (spoiler alert!) sacrificing herself for the fate of humanity in Avengers: End Game. Black Widow represents what is likely the last time we'll get to see Johansson in the role in any substantial way.
The expanded ratio is exclusive for IMAX theaters—it's 1.90:1, which shows 26% more of the image onscreen. Considering most films are shown in CinemaScope aspect ratio of 2.40:1, which makes them wide but not tall, allows IMAX to show more of the original image that was caught by cameras while filming. The way this translates for a viewer is a screen that plunges you into the moviegoing experience, filling your vision with the moving image.
Utilizing IMAX's capabilities isn't new for Marvel. "Marvel and Imax have a really great partnership and we think we each complement each other's brand," IMAX CEO Rich Gelfond told Deadline. "We try to do something for the fans to celebrate the relationship."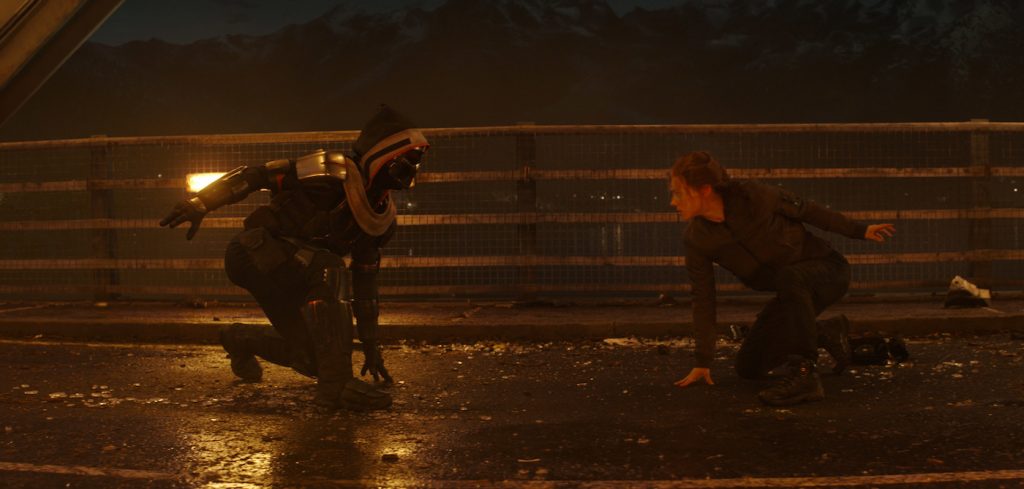 Black Widow is set between the events of Captain America: Civil War and Avengers: Infinity War. It follows Natasha as she faces people from her past, including Yelena Belova (Florence Pugh), a sister (of sorts) who seems just as capable as Black Widow at handling herself and any challenges that come her way. Natasha will also be reunited with Melina Vostokoff (Rachel Weisz) and Alexei Shostakov (David Harbour), who appear to be allies against the Taskmaster, a villain capable of matching any adversaries' skill sets, and who is hellbent on taking Natasha, and her family, down for good.
Black Widow hits theaters—including IMAX—and Disney + Premiere Access on July 9.
For more stories on what's streaming or coming to Disney+, check these out:
New Footage Revealed in Ripping "Black Widow" Featurette
"Thor: Love and Thunder" Wraps Filming as Taika Waititi Promises It's Craziest Film He's Ever Done
Production Designer Fiona Crombie on the Luxe World of "Cruella"
Behind the Costumes, Wigs, & Makeup of the Deliciously Punk "Cruella"
Emily Blunt & Dwayne Johnson Set Sail In 2nd "Jungle Cruise" Trailer
"WandaVision" Production Designer Mark Worthington on Creating Wanda's Ever-Changing Worlds
"WandaVision" Director Matt Shakman on Landing His Dream Job
Featured image: Black Widow/Natasha Romanoff (Scarlett Johansson) in Marvel Studios' BLACK WIDOW. Courtesy Marvel Studios.