Behind the Costumes, Wigs, & Makeup of the Deliciously Punk "Cruella"
When it comes to devilishly wicked Disney villains, Cruella de Vil is near the top of the list. So when the studio released the first trailer for Craig Gillespie's live-action film Cruella and ensuing soundtrack featurette that plays like a must-have compilation of popular music from the mid-1960s to early '80s, we laid eyes on a mischievous title character that's wholly reimagined and "ready to make a statement."
Cruella is an origin story that follows Estella (Emma Stone) from her tragic childhood as an orphan to an ambitious, fashion-obsessed trendsetter who lands a job working for the Baroness (Emma Thompson), an icon in the London fashion scene. The Baroness is downright chic yet insufferable as she unabashedly takes credit for her employees' work. Estella happens to be the muse she's preying on–a relationship that leads her to remake herself as Cruella de Vil.
Set in the backdrop of 1970s London during the height of the punk era, the visual indulgence behind the characters was led by costume designer Jenny Beavan (Mad Max: Fury Road) and hair and makeup designer Nadia Stacey (The Favourite). The teams not only had to create a visual style for the characters and what they wore but also the fashion they created.
For Beaven and her team, which included Sheara Abrahams, Sally Turner, and Sarah Young, they curated a number of looks that intertwined character personality while drawing inspiration from the biggest names in the industry.
Estella's metamorphosis was tuned to photographs of German punk rock singer Nina Hagena. Her style gives off a certain vintage quality that suggests she recycles clothing to create different looks. Darker colors were paired with oversized clothing as she gradually turns into Cruella who conveys a more deliberate and sophisticated appearance.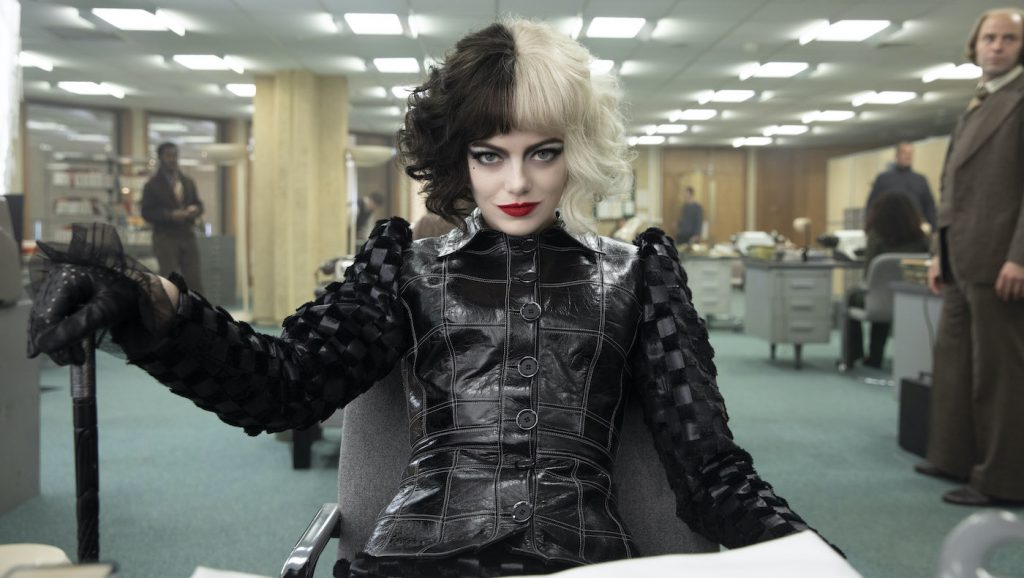 Cruella's signature looks were created from a palette of blacks, whites, grays, and reds–the most dazzling being the scenes when she upstages the Baroness at different events. At the Baroness's Black and White Ball, she arrives in a blood-red dress bought from a thrift shop that's concealed in a white cape that bursts into flames. Another, Cruella dons a lengthy skirt with hand-sewn petals that covers the Baroness's car as she stands atop the hood. She also crashes a red carpet wearing a dress with a 40-foot train where she's carried away attached to a garbage truck.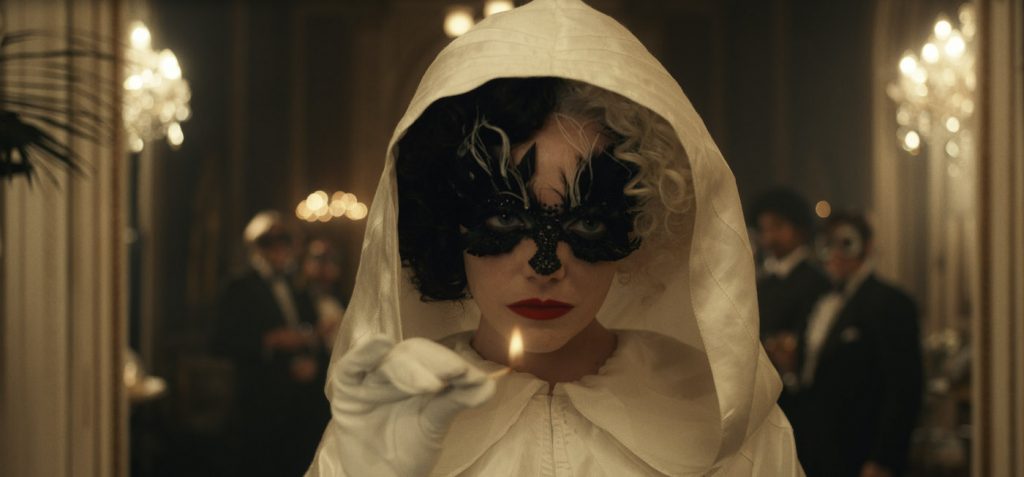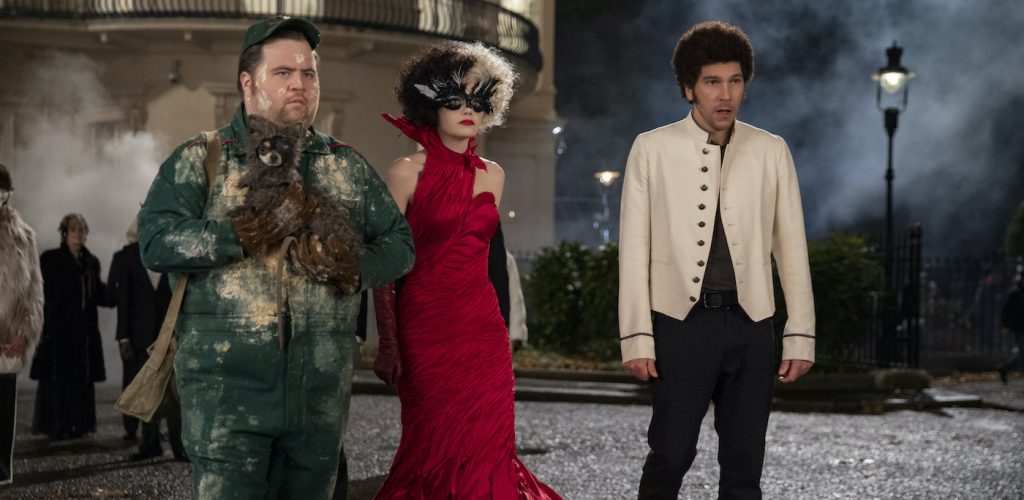 "The inspirations were various because she's so diverse in all her different looks," says Beaven during a press event. "I looked at so much stuff, and then out of it, you kind of pull what appears to be the narrative thread." Beaven created mood boards from designers Vivienne Westwood and Alexander McQueen as well as fashion labels like Bodymap, among others.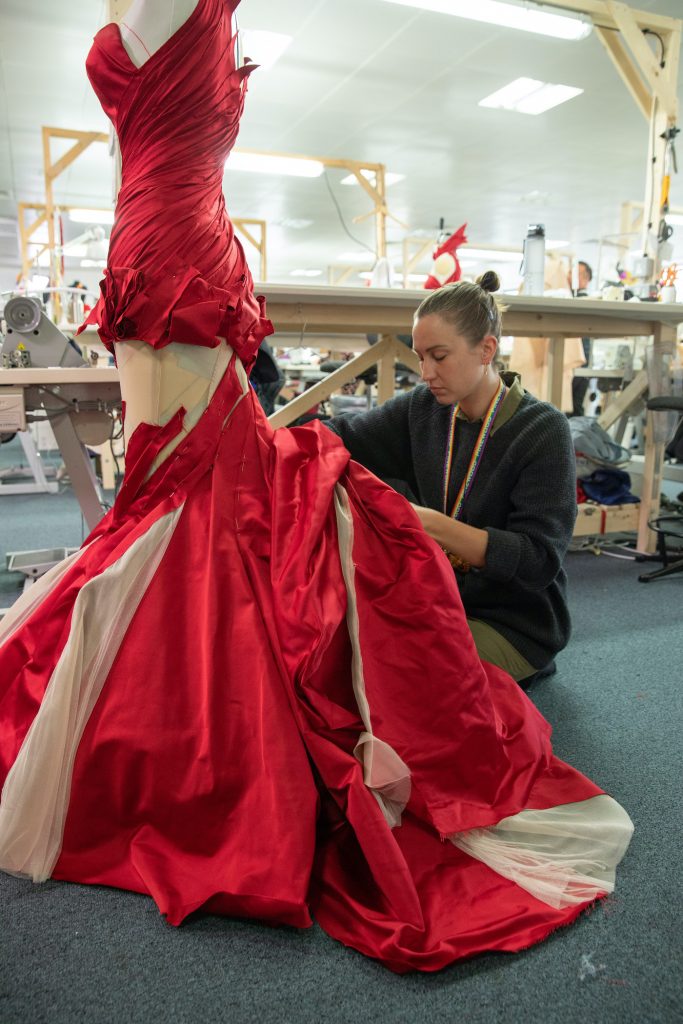 In contrast, the Baroness is more poised and slightly old-fashioned. Beaven leaned into a Dior-influenced visual style mending satins and silks with a color palette of warm browns and golds to play off the black and white flair of Cruella.
"I always say, in case people get the wrong impression, I'm not a fashion designer. I'm a storyteller with clothes. In fact, in my real life, I have no interest in clothes. I just love telling stories with them," says Beaven. "So there are these beautifully written characters that you get your teeth into, and with the Baroness, it's actually terribly clear once you get into that mindset of who she is and where her influences came from. She's a very good designer and slightly past her sell-by date. But working with costume maker Jane Law, we found a style that's symmetric and very fitted."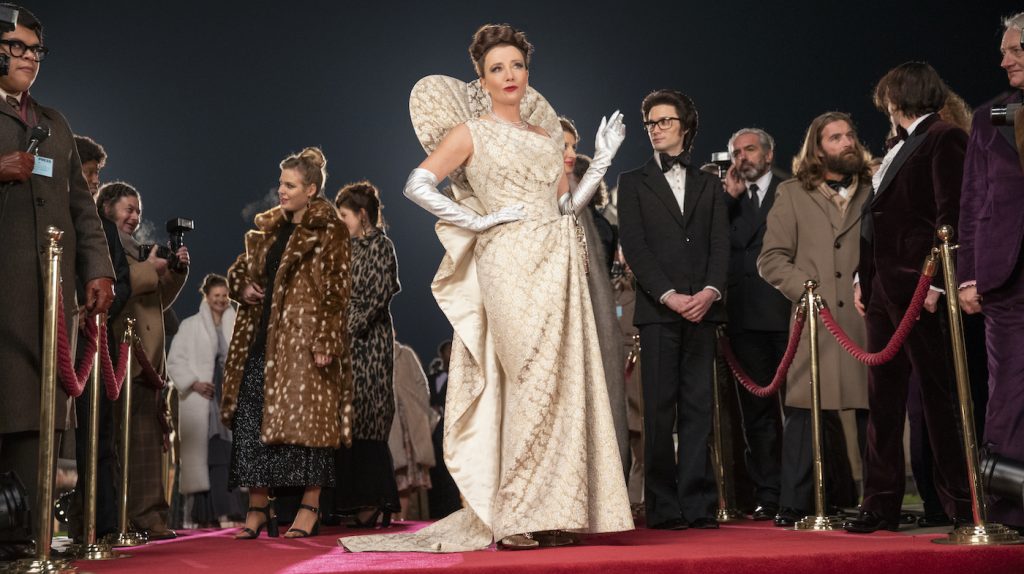 In all, the costume team went through 47 wardrobe changes with Emma Stone, and 33 with Emma Thompson—the most Beaven has ever done.
Adding meticulous nuance, hair and makeup designer Nadia Stacey was tasked with creating a number of styles, including designing over 200 wigs for the different gala scenes. The biggest challenge though was making Estella look different enough from Cruella so the Baroness wouldn't notice it was the same person.
"When we first see Estella, she needs to be believable that she's a girl that's growing up during that time in London, and then she's creating this persona in Cruella. So, when she first starts arriving at those red carpet moments, there's a kind of a mask-like quality in all the makeups as well, 'cause she has to disguise herself. I needed the difference to be huge between the two looks. I needed to keep Estella quite simple so that we could go big for Cruella."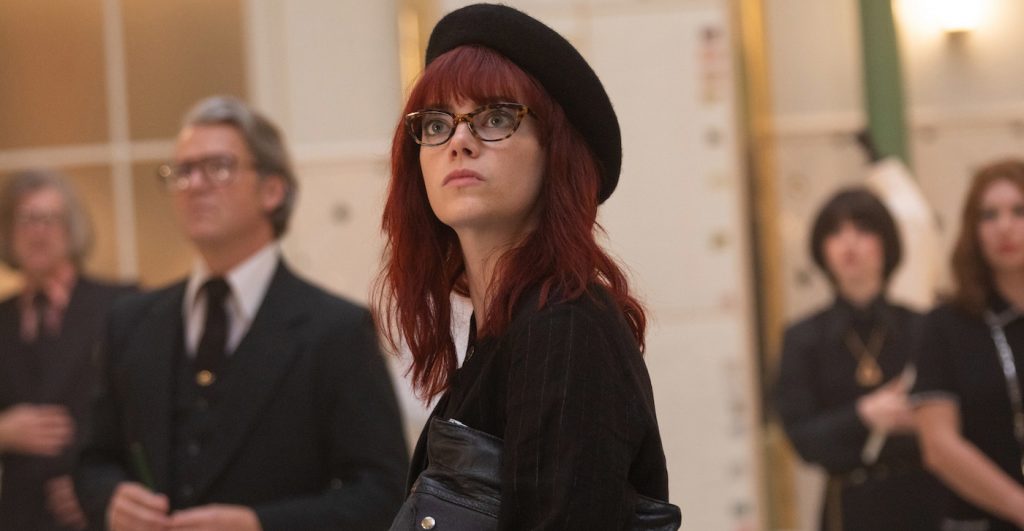 One of the more iconic looks in the film is when Cruella arrives at a fashion show by motorcycle with the words "the future" written across her face. The font was taken from the Sex Pistols album "Never Mind the Bollocks" and airbrushed on.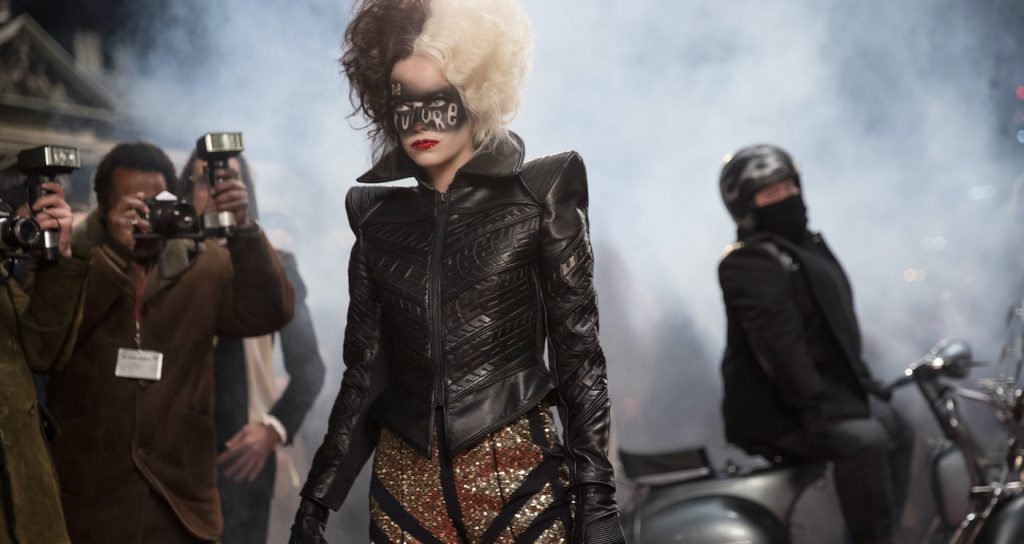 For the Baroness, hair and makeup artist Naomi Donne came in to tune the look under Stacey's direction, who wanted a very sculpted look. "I liked the idea that she's perfect," admits Stacey. "It's more of a 1950s reference for her and everything is kind of a variation on a theme, whereas Cruella, she's finding herself and testing and playing with things. There's a kind of chaos to Cruella's look, and then there's this completely clean, structured line to the Baroness."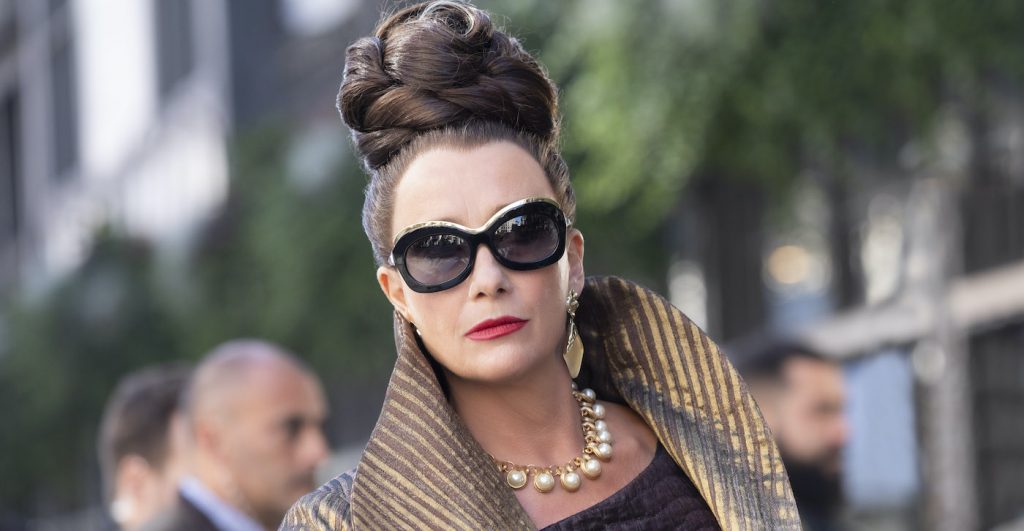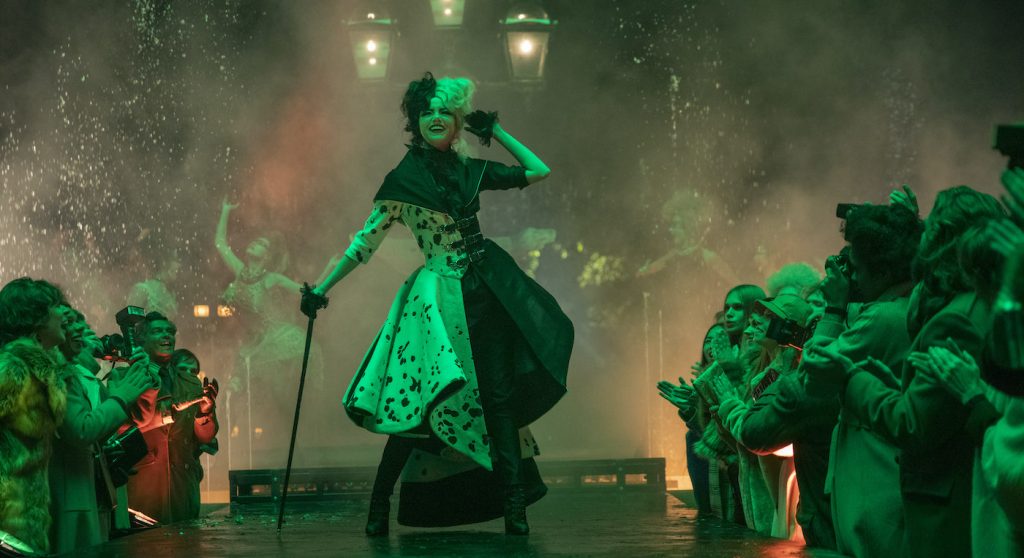 Disney's Cruella opens in theaters and comes out on Disney+ Premiere Access on May 28, 2021.
Featured image: Emma Stone as Cruella in Disney's live-action CRUELLA.