"WandaVision" Production Designer Mark Worthington on Creating Wanda's Ever-Changing Worlds
Unlike WandaVision director Matt Shakman or series creator Jac Schaeffer, production designer Mark Worthington does not consider himself a Marvel expert. "I'm not really a big Marvel person," he says, "but I was curious when Matt first called me about the show. He described the basic story as it being about Wanda's grief and how the whole series is motivated by that."
At first blush, WandaVision would seem like an almost straightforward challenge for someone with Worthington's skillset. The series is based on the premise that Wanda (Elizabeth Olsen) and Vision (Paul Bettany) are somehow living inside a sitcom. The basic aesthetics of a sitcom are lovingly recreated here—blemish-free suburbia, manicured lawns, era-specific design elements, the laugh track, the nosy neighbor—but Worthington wasn't actually recreating a sitcom set, despite how perfectly familiar WandaVision's evolving sets felt. He was designing a grief-stricken superhero's memory of what the sitcoms she loved growing up looked like. "The sitcom sets are satisfying and fun and cue memories for the viewer, but they come mainly from Wanda's response to her own grief and her inability to deal with it," Worthington says. "Deep-seated in her childhood, the most positive memory in terms of environment is this idyllic view of family life that was such a huge part of her childhood."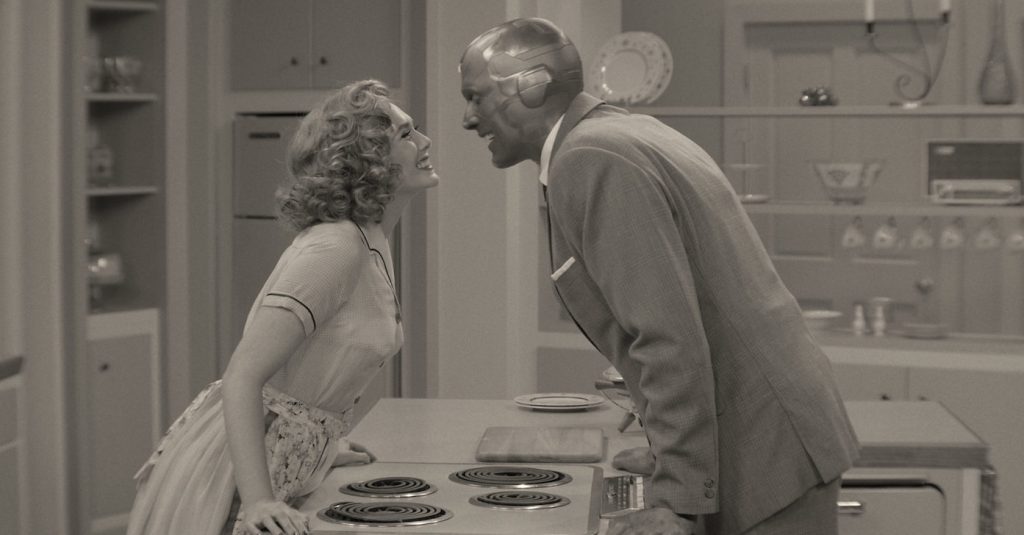 The viewer eventually learns that Wanda's literal last moments as part of a family were watching sitcoms in her native Sokovia. Then a bomb drops (built by Stark industries, no less), and Wanda's parents are killed. Childhood over. Yet this dark reveal is kept secret until deep into the season—up to that point, we can only intuit that the world Wanda and Vision live in, eventually called the Hex but what know as Westview, and everyone who lives in it (with the exception of their nosy neighbor, Agatha, played marvelously by Kathryn Hahn, who plays by her own rules) is under Wanda's control. This becomes clearer as the aesthetics change and the show moves seamlessly from black-and-white to color, and the sets change accordingly from the 60s and 70s to 80s, 90s, and onward.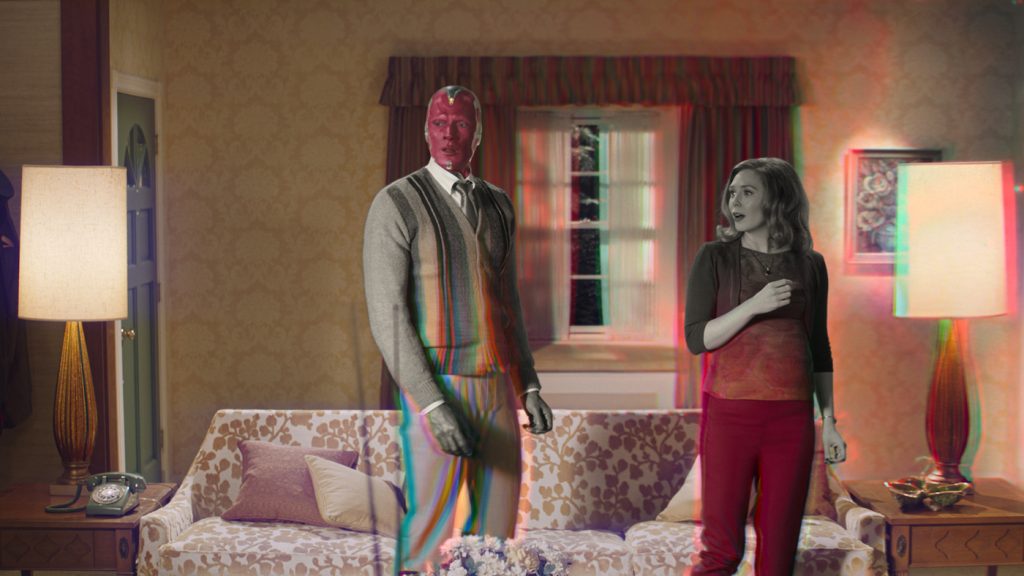 "In terms of juggling the tone, I think a lot of it was having a somewhat lighter hand and trusting the environments as written," Worthington says of building the various sitcom environments across the eras. "It's as much as learning what not to do as learning what to do and letting the action and the characters carry the ideas. The contrast [between sets] is so fantastic, especially the earlier sitcoms, which have the comedy and family environment of The Dick Van Dyke Show, then as we go through time, the environments start to change as sitcoms themselves changed, like Malcolm in the Middle and Modern Family. The environments get a bit darker as Wanda changes. That was our visual vocabulary."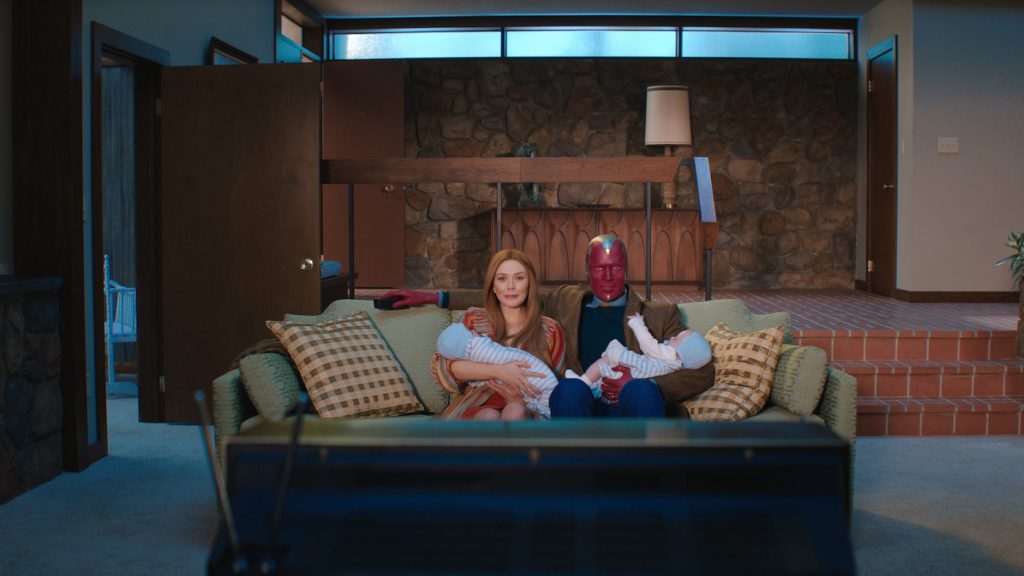 One key for all involved was that WandaVision was shot sequentially, which helped the performers inhabit their evolving roles and Worthington build out the sets. "We did that for obvious performance reasons, this is Wanda and Vision's journey through this experience, and sequence is critical to the drama," he says. "For the sets, we used some of the same builds, ripping everything out and repainting. For The Dick Van Dyke Show set, it's really sort of a hybrid of that era. Then for the 80s sitcoms, it's the same thing. As for the geography of the set, where the door is, where the kitchen is, that all remains effectively the same. It's very important to the audience that it's Wanda changing the environment for various reasons when she finds one era too constraining for what's going on. She's the one who resets everything."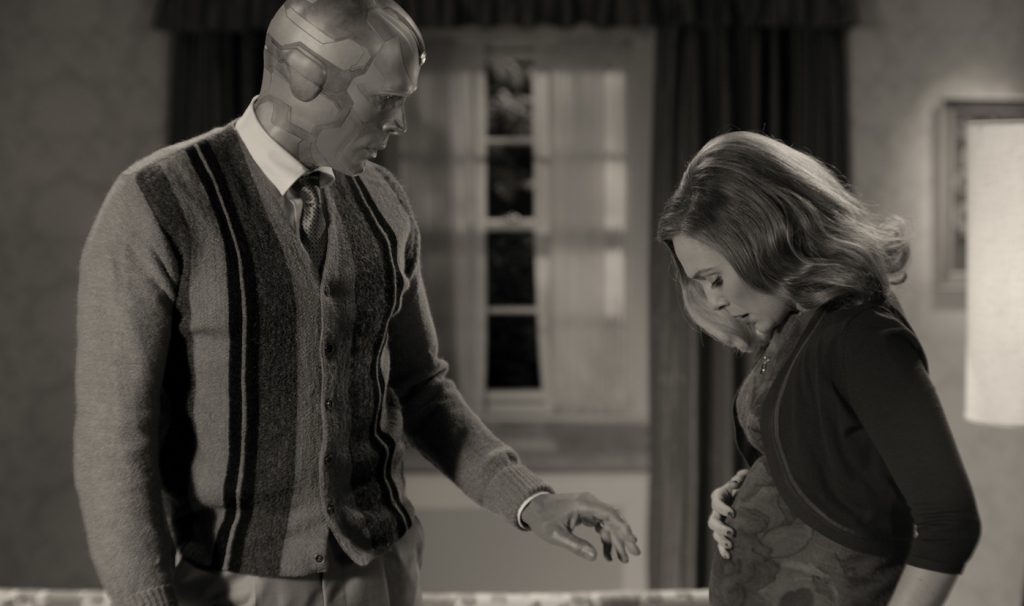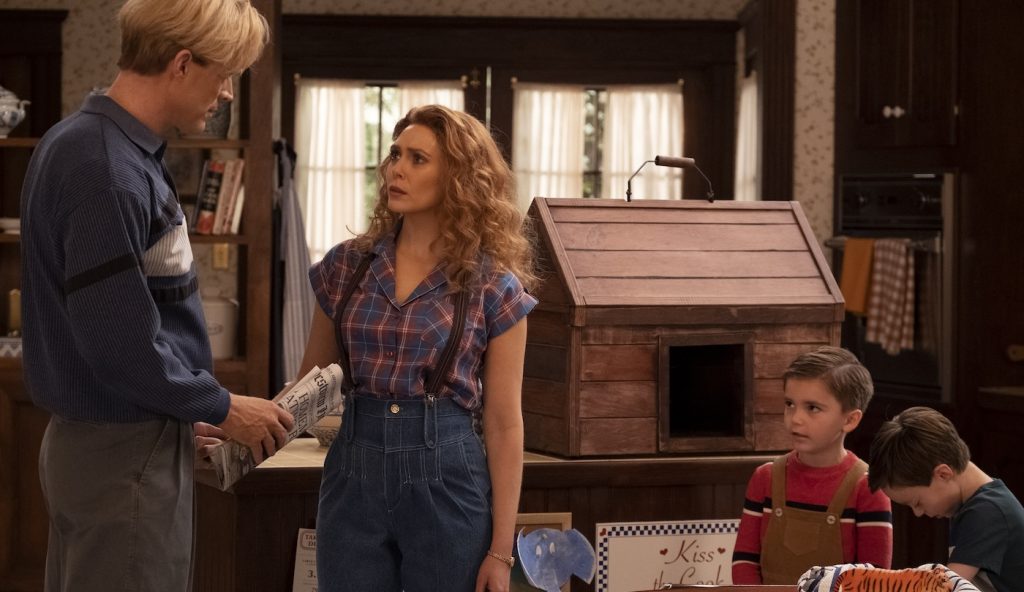 Because WandaVision shifts eras and sets based on Wanda's emotional landscape, interior and exterior are inextricably linked. Yet despite how perfectly Worthington and the WandaVision team nailed the look and feel of the sitcom worlds, the set building and dressing were more intuitive than dogmatic.
"You need to do a mountain of research looking at a variety of sitcoms from the era, and Matt [Shakman] is an expert, so he knew everything, but we weren't interested in taking a piece of set dressing from an iconic show and remaking it," Worthington says. "There are things that echo those sets, but none is dead-on, and that was consciously done. It's a show about many things—grief, trauma, denial, and a kind of unconscious amnesia on Wanda's part. It's about memory about as much it's about anything else, and everyone's memory is imperfect and reflected by their own personality, so her visions of the sitcoms weren't about replication, they were reflected by Wanda's character."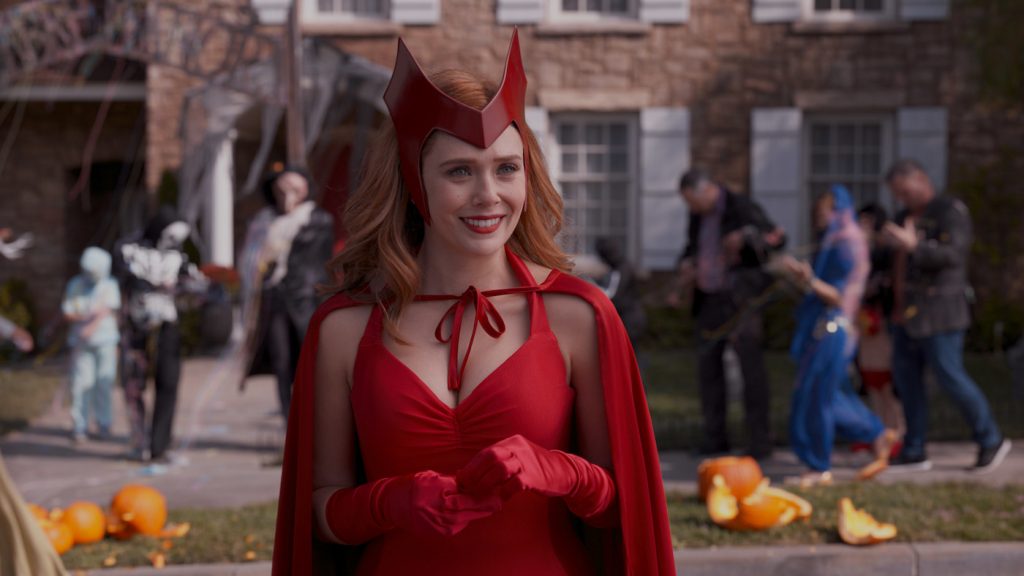 Rewatching the series, you'll notice how much important narrative stuff actually happens outside the ever-evolving WandaVision home and around the Westview neighborhood. If parts of Westview looked familiar to older viewers, that's because they'd seen it before. "We shot on Blondie Street at Warner Ranch, in Burbank," Worthington says. "Bewitched shot there, Father Knows Best, anybody who's watched that era of TV has seen that street, we know it in our collective memory, and we felt we could exploit that in a way to tell the story better. You immediately buy the sitcom aspect, it also has that flatness to it, which we wanted."
When Wanda's grief overtakes her (and the show), however, Worthington says that's when they needed to shoot on backlots. "We ended up at Disney Ranch and shot there," he says. Worthington's team had to change signage and storefronts to match the changing eras. For the S.W.O.R.D. base, outside of the Wanda-created Hex, where Monica Rambeau (Teyonnah Paris), Jimmy Wood (Randall Park), and Darcy Lewis (Kat Dennings) work, Worthington's team made sure it had the DNA of the Marvel Cinematic Universe. "Inside the Hex it's always 75 and sunny, and outside the Hex it's raining, it's wet, it's muddy, and those poor people are slogging through this really gritty reality."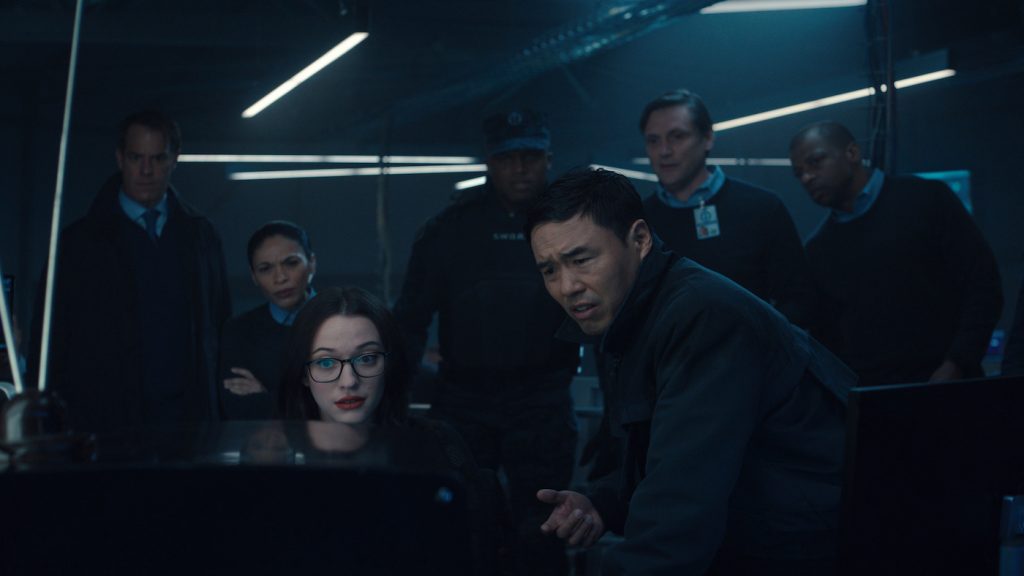 When I asked him if anything surprised him when he finally got to watch the series himself, he said despite having been there for the production, he was still walloped by how emotional the story is. "That penultimate scene, where Wanda is talking to Vision on the bed and he has that little monologue on the nature of grief, I think it's one of the best-written scenes in all of Marvel, it lands so well based on everything you've seen up to that point," Worthington says.
The line Worthington's recalling is the moment at the end, where Vision, reckoning with the reality that he's dead and that Wanda has created everything we've just seen just to spend more time with him, Vision says "What is grief if not love persevering?"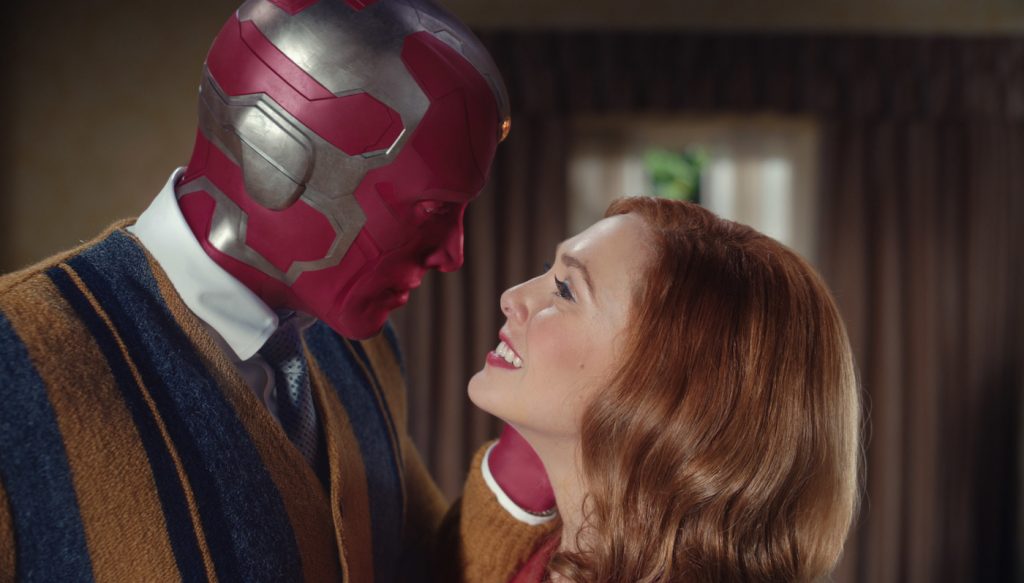 "It's always gratifying when everything you do leads to that," Worthington says. "Everybody comes to that moment and all of those elements come together to affect the audience so emotionally, it's so satisfying and it brought a tear to my eye."
Featured image: L-r: Elizabeth Olsen is Wanda and Paul Bettany is Vision in "WandaVision." Courtesy Marvel Studios