"WandaVision" Director Matt Shakman on Landing His Dream Job
So many of director Matt Shakman's worlds collided when he took on Marvel Studios WandaVision. "I come at it from this bizarre perspective, as I've been a lifelong Marvel fan, a comic book fan, I've been in the audience for all of Marvel's movies, but I'm also a sitcom kid, I grew up in Hollywood as an actor on sitcom sets," Shakman says of his fortuitous role as the series director. "It all felt like the weird coming together of all these parts of my life. Who could imagine filming a live TV show that was also a Marvel story?" [A few of WandaVision's early episodes were, in fact, filmed in front of a live studio audience, like sitcoms of yore.]
Shakman helped create the worlds-within-worlds that was WandaVision, a loving ode to a bygone era of sitcoms that was also a surprisingly deep, at times achingly touching meditation on grief. It was also, of course, a Marvel project, which meant it connected to Marvel films past and those yet to come.
The premise of WandaVision was ingenious—Wanda (Elizabeth Olsen) and Vision (Paul Bettany) are living the suburban idyl of a period sitcom as the series opens. We Marvel watchers know, of course, that this can't be—Vision is dead, by Thanos's literal hands, at the end of the brutal Avengers: Infinity War. So WandaVision teases us from the very start, asking us to be patient as Wanda and Vision's sitcom idyll changes eras, palettes, and verbal cadences, with Wanda's grief spilling out onto the sets bit by bit.
We spoke to Shakman about pulling off a series that was by turns funny, heartfelt, and heartbreaking. This interview has been edited for length and clarity. Yes, there are spoilers.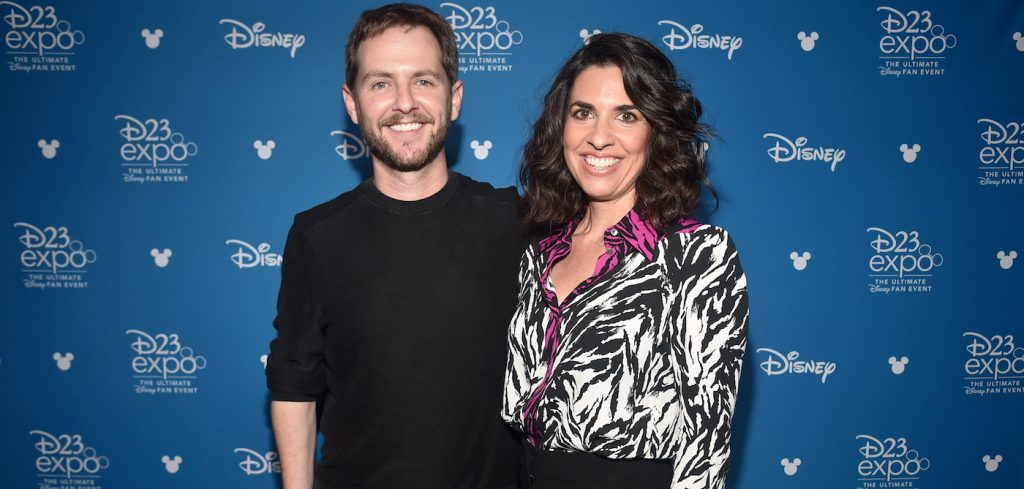 The series asked a lot of its stars—it's a comedy, it's a drama, it's a sitcom pastiche, it's a deep dive on grief—how did you prep them?
I approached the series very much like theater, in that we rehearsed together like a theater company. This helped us figure out the story we wanted to tell and make sure we were all living in the same world. We also got together and had a sitcom boot camp, where we watched old episodes and talked about what made those shows work. We looked at what was their approach to tone and comedy and how that shifted from generation to generation. It also was a chance to build camaraderie and make sure we were all pointing in the same direction. We worked with a wonderful dialect coach and a great movement coach so that we made sure we were really capturing how people spoke and walked in those eras. And then, in the end, it's also all about playing in that sandbox, once you put on those clothes and start moving around in those amazing sets, it's easy to be transported. The biggest thing for us was to take risks, and that's easier when you have the most amazing cast, people who are brilliant comedians and great dramatic actors. They can do it all.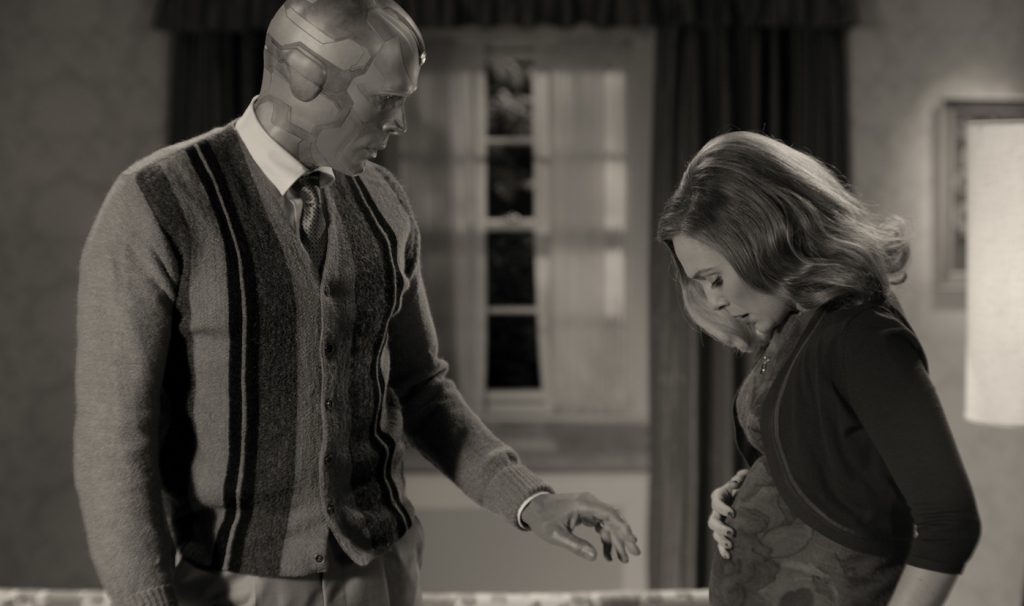 WandaVision gets into some very deep territory as it explores Wanda's grief over losing Vision, and this world, the Hex, she creates to try and have him in her life again. How did you approach this undercurrent of loss and sadness that runs through the series?
You're constantly talking about the subtext and what's happening beneath the surface in every scene. In this case, it's loss that's fueling this world that Wanda has created, and there are moments when the trauma sneaks out and affects the narrative. We always wanted to be reminded of that, it kept everything grounded, and it allowed us to play in this sandbox because, if you don't have that depth, you probably can't then be chased around set by a stork.
Oh man, that's funny, I forgot about that stork!
I learned that from Dick Van Dyke. People believed in him and Mary Tyler Moore as a couple, and that's what allowed Dick to tumble over ottomans. The best rule of life is the rule of improv comedy; you always say 'Yes, and.' You build something together as a company. You learn together. You might try a broader approach here, a more grounded approach there, and sometimes you don't dial it in until you're in the edit. But you've played around with it enough that you have what you need.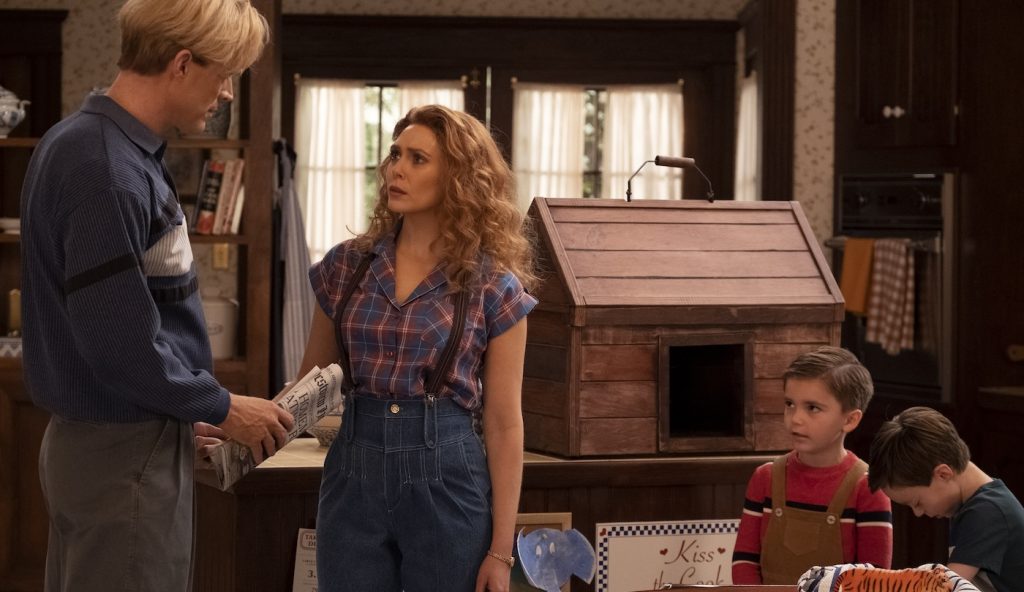 What's it like working on a Marvel project, where you're a part of this much larger narrative mega-thread?
Marvel is a wonderful place to work, and it feels like a relay race. You get handed this baton and you're running as hard and fast as you can, then you finish your part and pass that baton to the next group of filmmakers and then collapse in exhaustion. You just do the best you can with your part of the relay race.
WandaVision exists both in the Hex, the sitcom world Wanda created for the resurrected Vision, and in the "real world" where the Marvel S.W.O.R.D. base is located. Can you talk about the aesthetic choices you made for each?
I love Marvel movies. I was there on day one for Iron Man, it's a world that I love, so I was super excited to bring the more Marvel sections of the story to life. We wanted to make sure there was continuity in the broader Marvel Cinematic Universe. WandaVision is the first post-Avengers: Endgame entry since Spider-Man: Far From Home, and we wanted to make sure there was continuity there so that the Marvel sections felt like it was part of the same family. That included our lighting style and thew ay we shot the muddy field where the S.W.O.R.D. base is, and how that contrasted that with the inside of the Hex, where everything was 70-degrees and sitcom perfect.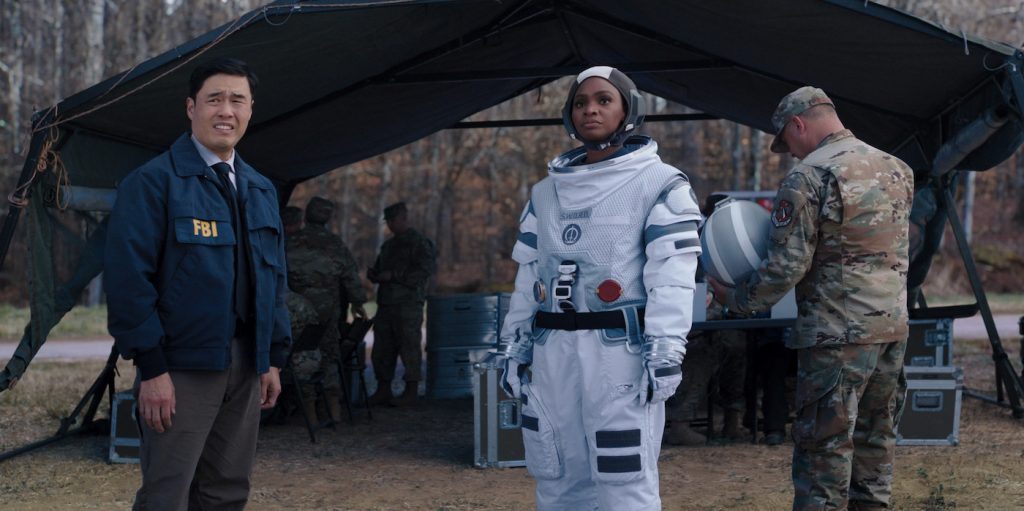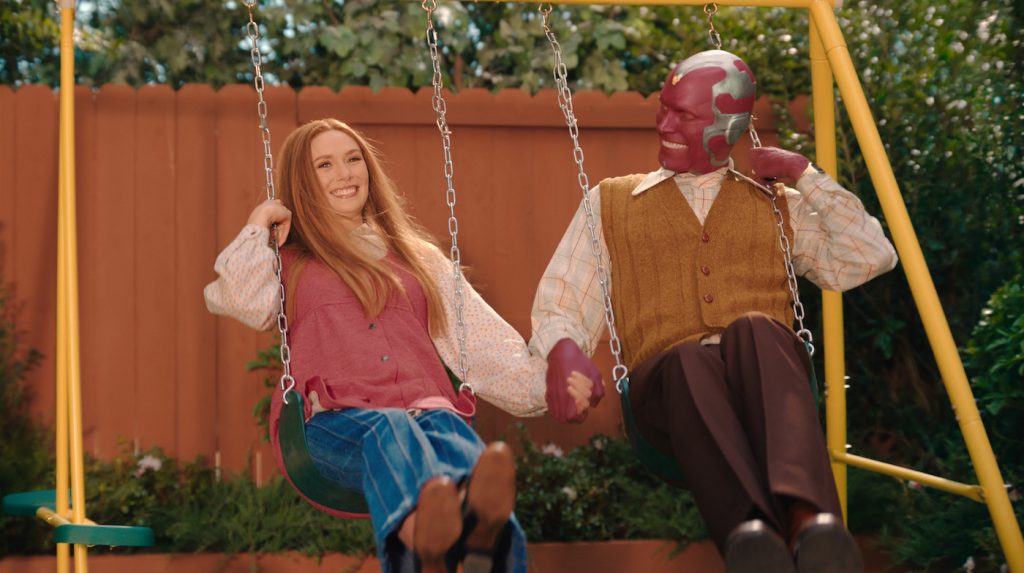 Elizabeth Olsen and Paul Bettany are unsurprisingly great in their roles, but I feel like this interview wouldn't be complete without talking about Kathryn Hahn as Agatha, the nosy neighbor who turns out to be a whole lot more than that.
She's a national treasure, she can do anything. I've known her forever from the theater, she's brilliant, and equally at home in a farce as she is in a Shakespeare play. She was just so happy and excited to play an ancient witch. And as for getting up to speed with filming a Marvel story, there was some wisdom passed down from Lizzy [Elizabeth Olsen] and Paul [Bettany] to Kathryn and Teyonnah Parris. If you're up on the wires for the first time, it's not easy. Lizzy gave them tips on how best to be comfortable. We shot under some difficult circumstances, it was really hot, and we were filming during wildfire season in California. Kathryn was wearing pretty intense clothing, so there's a learning curve to figure out that technical stuff and then be able to perform on top of it.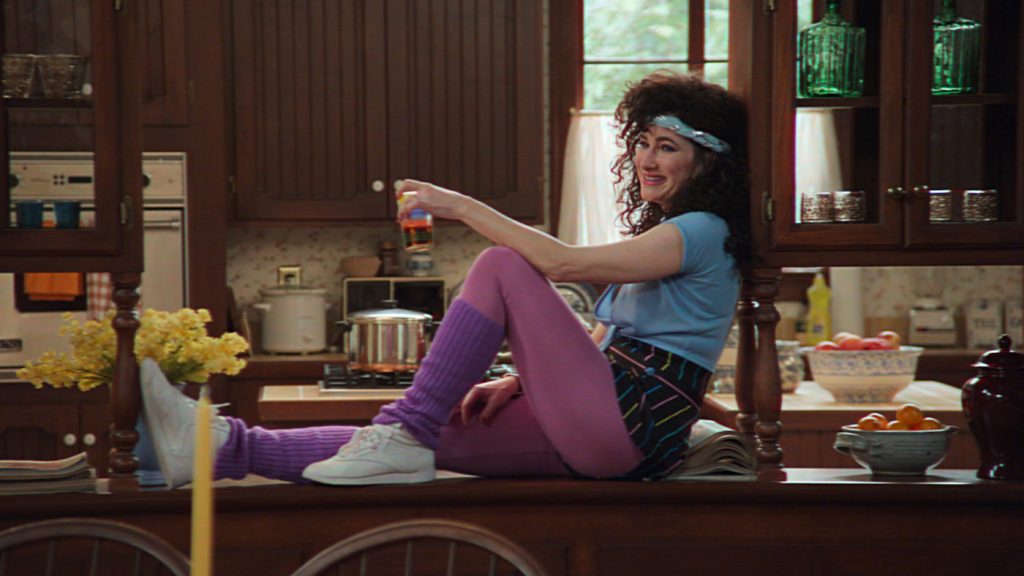 You did a masterful job pacing this series, doling out the right information at the right time. How hard was it to keep your secrets secret?
Some viewers have a lot of comic book knowledge, so you can't stay ahead of everybody, but whenever there's a reveal, you want it to feel surprising but inevitable. With Agatha, we laid a lot of clues down early on. There's a lot in the language she uses where she's suggesting things about the Devil, there are the colors we used in how we dressed her that's based on her comics character, which is purple. We wanted anyone who knew that lore to pick those things up, but if you don't see it coming, great, if you do, we hoped you enjoy that reveal with that amazing song by the Lopez's.
WandaVision debuted at a time of unprecedented global turmoil. I know for me, I was hit particularly hard when the series turned to the trauma and grief and sadness fueling Wanda's creation of the Hex. 
We never could have guessed the circumstances into which we released the show. It added extra resonance, as the show's definitely about whether you can ever really come to terms with grief. It's also a love story, and about honoring those that you lost. It's also about finding and bringing comfort. I think TV has always done that. It's a great way for the family to gather around the hearth. I know I was experiencing that with my family watching WandaVision, my daughter was 5, and it was the first thing she watched. The grandparents get to explain what The Dick Van Dyke Show was to their grandkids, and the grandkids get to explain who the Avengers are to their grandparents. Because of its nature as a love letter of TV, I hope it brought people together.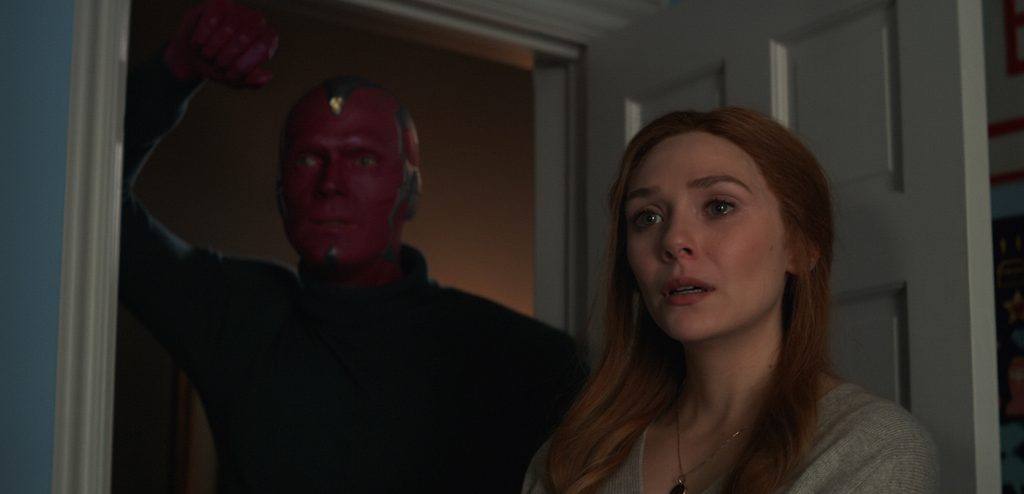 Featured image: Paul Bettany and Elizabeth Olsen in 'WandaVision.' Photo courtesy of Marvel Studios. ©Marvel Studios 2020. All Rights Reserved/Disney+