Maggie Simpson Stars in New Disney+ Short "The Force Awakens From Its Nap"
It's May the 4th—better known as Star Wars Day—and Disney+ is pulling out all the stops to celebrate. In fact, Disney+ has even pulled out Maggie Simpson's pacifier to mark the day. The littlest member of America's most beloved family is going on an epic, galactic quest to help bring Star Wars Day in style. Disney+ had released Maggie Simpson in The Force Awakens From Its Nap, a new Simpsons/Star Wars mash-up short. This will actually be the first of several Simpsons-led shorts that Disney+ will be releasing throughout the year.
Here's the brief synopsis from Disney+:
In a daycare far, far away… but still in Springfield, Maggie is on an epic quest for her stolen pacifier. Her adventure brings her face-to-face with young Padawans, Sith Lords, familiar droids, Rebel scum, and an ultimate battle against the dark side, in this original short celebrating the Star Wars galaxy.
Maggie Simpson in The Force Awakens From Its Nap is now available to stream on Disney+, as is Star Wars: The Bad Batch, the new animated series from The Mandalorian director and executive producer Dave Filoni.
Here's the official poster for Maggie's big adventure in a galaxy far, far away. You just knew Maggie and BB-8 would be instant pals: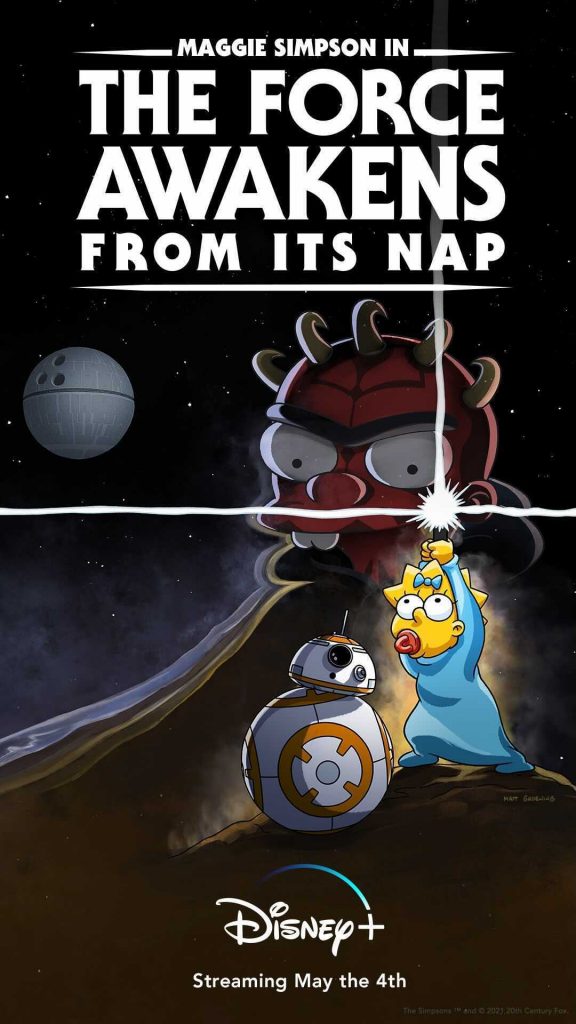 For more stories on what's streaming or coming to Disney+, check these out:
"Star Wars: The Bad Batch" Premieres on May the 4th
Marvel Teases First "Eternals" Footage in an Epic Trailer for Phase 4
Official "Luca" Trailer Reveals Pixar's New Sea Creature Feature
Marvel Reveals First Teaser for "Shang-Chi and the Legend of the Ten Rings"
Mads Mikkelsen to Join Harrison Ford in "Indiana Jones 5"
Featured image: Key art for "Maggie Simpson in 'The Force Awakens From Its Nap.' Courtesy Lucasfilm.