May the 4th Be With You on This Star Wars Day
Happy Star Wars Day, folks, and May the 4th be with you. Today is the first day in history that you can now stream all 9 films in the Skywalker Saga in one place—Disney+. You may also want to brush up on what makes May the 4th a Star Wars holiday. A quick history lesson: the apocryphal story is that the first reference came on May 4, 1979, the day Margaret Thatcher became the Prime Minister of the United Kingdom. The story goes that the Conservatives, her political party, took out an ad in the London Evening News that read "May the Fourth Be with You, Maggie. Congratulations." Yet this advertisement, as far as we can tell, has never resurfaced online. If you can find a photo of it, please share it.
Now, let's take a brief tour of what you can enjoy on this high galactic holiday.
The Complete Skywalker Saga on Disney+
It's all here now. Every film, from the first movie in George Lucas's game-changing original Star Wars trilogy, 1977's A New Hope, through the prequels and right on to J.J. Abrams' The Rise of Skywalker. At long last, you can watch the entire, epic sweep of cinematic history from start to finish.
Take a First Look at Star Wars Legacy Concept Art
"It all started with two droids rolling through an alien desert, a concept art painting by Ralph McQuarrie that brought George Lucas's vision for Star Wars into sharp focus," StarWars.com writes. Starting today, Disney+ will be showcasing the work of concept artists like McQuarrie. So, if you wanted to check out The Empire Strikes Back, for example, you'll be seeing incredible pieces like this from McQuarrie and more on Disney+'s page: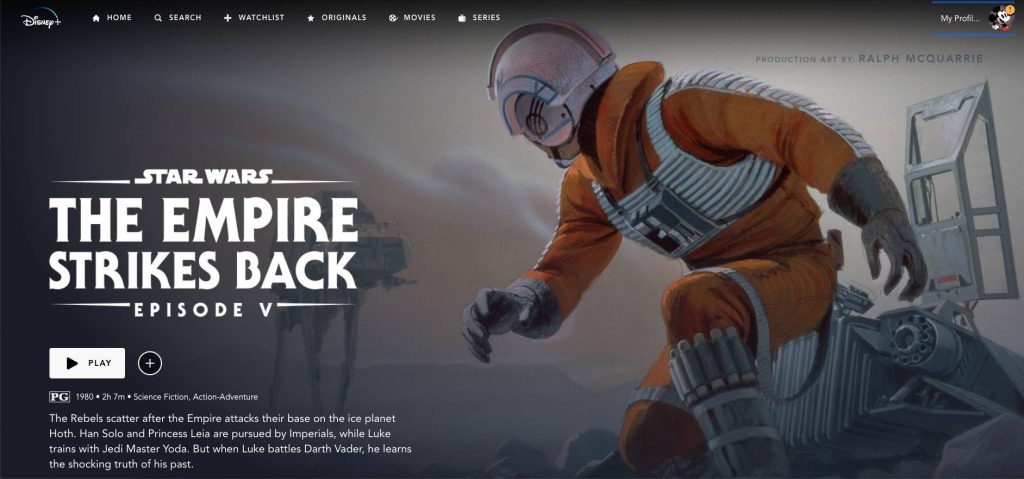 Celebrate Star Wars Day at Home
If you're one of the millions of people now staying at home all day, every day, more or less, there are plenty of Star Wars Day activities for you and the kids. Crafts, recipes, a read-along with Chewie himself, cool new backgrounds for your endless Zoom calls, a recipe for a very special Tatooine treat—blue milk pudding, and even this beautiful tribute from Industrial Light & Magic to the "Heroes of the Pandemic."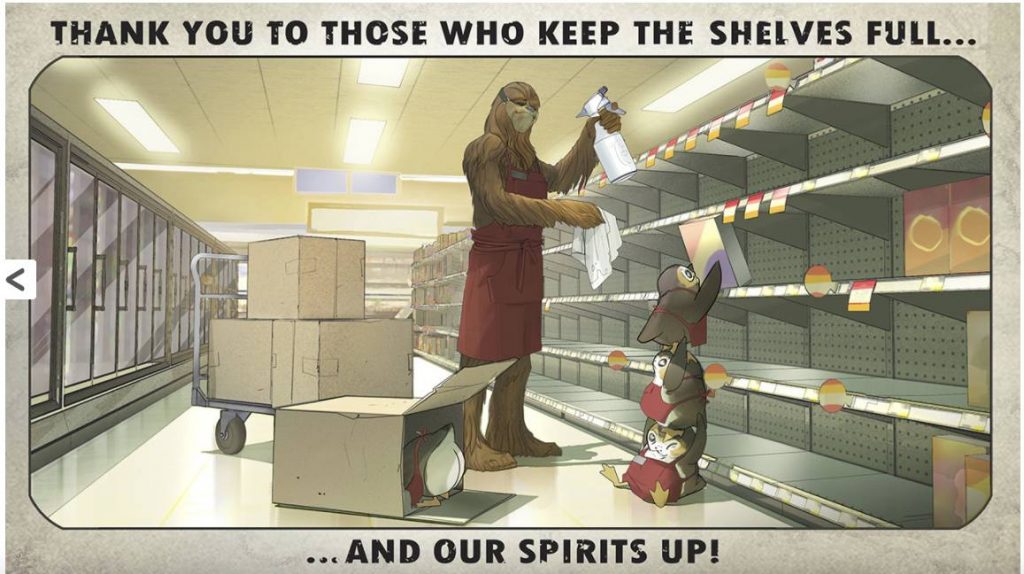 So while you practice social distancing and do your part to help our healthcare workers and essential employees stay as safe as possible during these unprecedented times, May the 4th be with you!
For more on all things Star Wars, check out what many are calling the greatest lightsaber duel in Star Wars history—and find out how it was made.
Check out the new 8-part docuseries Disney Gallery: The Mandalorian, and see how the first-ever live-action Star Wars series was made.
Read about a female-centered new Star Wars series coming to Disney+ from the co-creator of Russian Doll.
Featured image: John Boyega is Finn, Joonas Suotamo is Chewbacca, Daisy Ridley is Rey and Oscar Isaac is Poe Dameron in STAR WARS: THE RISE OF SKYWALKER.