Mid-Season "WandaVision" Trailer Highlights Mysteries Revealed & Pending
Assuming that if you're reading this, you're all caught up with Marvel's first-ever Disney+ series WandaVision, showrunner Jac Schaeffer and director Matt Shakman's gleefully odd show about the MCU's most beloved odd couple. The fourth episode, which streamed this past Friday, began to reveal some of WandaVision's secrets. Or, we should say, began to peel back the edge of their reality—or surreality—that landed Wanda (Elizabeth Olsen) and Vision (Paul Bettany) in a sitcom world. "We now have first-person intel from inside the Westview anomaly," Director Hayward (Josh Stamberg) tells his assorted S.W.O.R.D. tactical team. (S.W.O.R.D. stands for Sentient Weapon Observation and Response Division). That first-person intel comes from Monica Rambeau (Teyonah Parris), the daughter of Captain Marvel's Maria Rambeau, who was sent on a mission inside Westview but ended up going missing. The "Westview anomaly" is, of course, the sitcom universe Wanda and Vision find themselves in. According to the S.W.O.R.D. personnel, that anomaly has been created entirely by Wanda herself. A new trailer from Marvel reveals some of what's to come, and it seems likely that the center of the Westview anomaly might not be able to hold.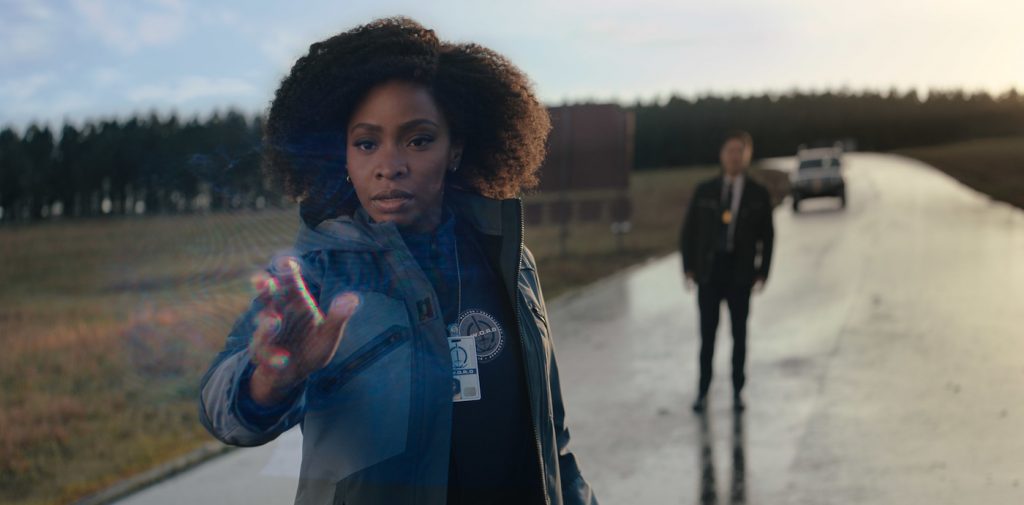 Monica has gone undercover in Westview as Geraldine, a seemingly happy homemaker who feels just as out of place as Wanda often does. There were plenty of bizarre moments in the first three episodes that hinted at Wanda and Vision's growing awareness something was wrong, but it wasn't until episode four that we were given a definitive take—Westview is all Wanda. Or is it?
There's been so much happening on WandaVision, from the sitcom hijinx to the Avengers: Infinity War implications (that Wanda may have created Westview in order to bring Vision, or a version of Vision, back to life) that it's going to take a second viewing, in full, to tie it all together. Should we take S.W.O.R.D.'s word for it, and assume Westview is all on Wanda? There's reason to believe it's credible. In one fairly stunning bit of information, Paul Bettany revealed in an interview with IMBD that there was a plan to include a credits scene in Avengers: Endgame in which Wanda retrieves Vision's corpse from a bodybag, hinting at her WandaVision plans to come.
Check out the mid-season trailer below, which will get you plenty hyped for the series' remaining five episodes. There are plenty of mysteries waiting to be revealed, and as this surprisingly patient, undeniably engrossing show begins to tie itself ever more tightly to the larger MCU, we're guessing the reveals will have a major impact on Marvel's Phase 4 and beyond.
For more on WandaVision, check out these stories:
Worlds Are About To Collide on "WandaVision"
How "WandaVision" Costume Designer Mayes C. Rubeo Meshed Sitcoms & Superheroes
Kathryn Hahn on the Massive Ambitions of "WandaVision"
Watch Wanda & Vision Throughout the MCU & a Brand New "WandaVision" Clip
Early Reactions to "WandaVision" Call Marvel's First Disney+ Series a Game Changer
Featured image: Elizabeth Olsen as Wanda and Paul Bettany as Vision in Marvel Studios' WandaVision. Courtesy Marvel Studios.