Watch Wanda & Vision Throughout the MCU & a Brand New "WandaVision" Clip
So you've heard about how great WandaVision is, and you're gearing up to watch the premiere of Marvel's first Disney+ series on January 15. Great, so are we. But perhaps what you need—and don't have the time to do—is a refresher course on just exactly what path Wanda Maximoff (Elizabeth Olsen) and Vision (Paul Bettany) have taken throughout the Marvel Cinematic Universe? Not to fear, Marvel has released the two videos you need.
If you haven't been following the WandaVision rollout, let us get you up to speed. The show posits a world in which Vision (Paul Bettany) is somehow alive (you'll recall he was killed by Thanos in Avengers: Infinity War), and he's living with his main squeeze and superpowered equal, Wanda Maximoff (Elizabeth Olsen) in the quiet suburban idyll of Westview. Everything sounds great, right? The thing is, something's not quite right—and it's not just the fact Vision is even alive.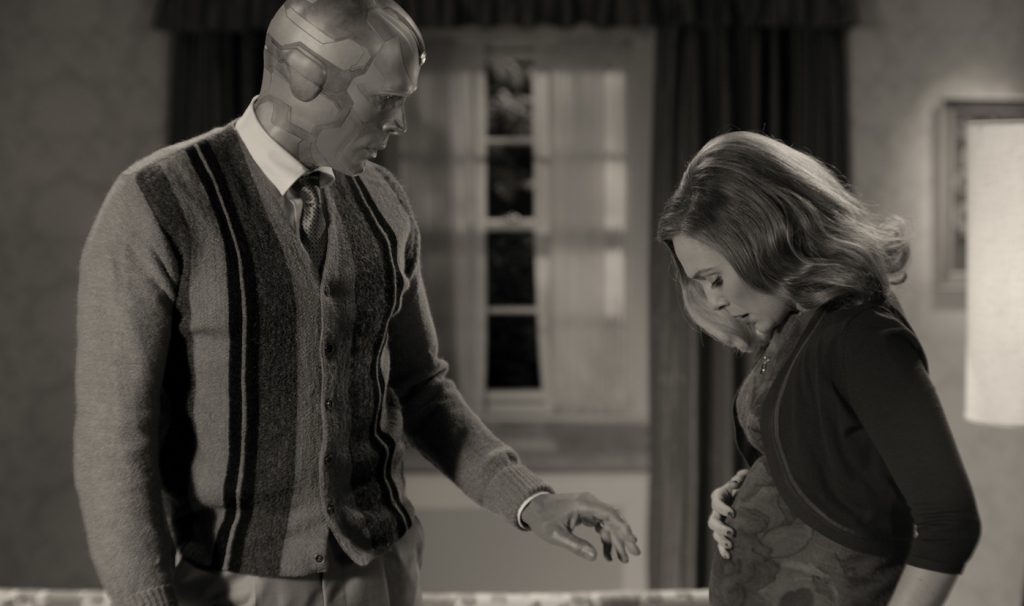 The series, written by showrunner Jac Schaeffer and directed by Matt Shakman, will explore their odd predicament as they exist in a changing world of period sitcoms, mimicking sets from I Love Lucy to Bewitched to Full House. As this is a new world of Marvel series, WandaVision and every other Marvel show coming to Disney+ is directly tied into the Marvel Cinematic Universe, so what happens in these series will have an impact on the larger MCU. This is why you'll see characters from the broader MCU appear here, like Teyonna Parris as the older version of Monica Rambeau from Captain Marvel, Kat Dennings as Darcy Lewis from Thor, and Randall Park as FBI Agent Jimmy Woo from Ant-Man and the Wasp.
Now that you're caught up, it's time to look back. Here are the new refresher videos on the paths both Wanda and Vision took throughout the MCU. We'll start with Vision:
And here's Wanda throughout the MCU:
Now that you're caught up, let's take a look at these two in WandaVision in a brand new clip. Here we see Wanda in her apron and Vision in a suit discussing a special day marked on the calendar. You'll note that beneath the period sitcom aesthetics, beneath the laugh track, there's something just a touch creepy going on here. And that, if the early reactions of the first two episodes are to be believed, is what makes WandaVision so special. There's an undercurrent of weirdness coursing through the series, which will reveal, eventually, just how Wanda and Vision ended up in this bizarre scenario.
Yup, WandaVision really is going to be a different kind of Marvel story. We're intrigued to see what the first series spearheaded by Marvel President Kevin Feige is like. Every indication thus far is that it's a trip.
WandaVision premieres on January 15.
For more stories on what's streaming or coming to Disney+, check these out:
Kevin Feige Confirms That "Deadpool 3" Will be an MCU Film
Early Reactions to "WandaVision" Call Marvel's First Disney+ Series a Game Changer
Here's How They Kept "The Mandalorian" Finale's Epic Surprise a Secret
Kevin Feige's "Star Wars" Movie Nabs "Doctor Strange in the Multiverse of Madness" Writer
Every Marvel Film & TV Series You'll See in 2021
A New "WandaVision" Trailer Highlights 2021's First Must-See Series
The Most Exciting Films and Series Coming From Disney & Marvel
Featured image: (L-r): Paul Bettany as Vision and Elizabeth Olsen as Wanda Maximoff in Marvel Studios' WandaVision, exclusively on Disney+. Photo courtesy of Marvel Studios.