"F9" Drops a Super-Charged Super Bowl Spot
Universal let off the brakes—just a little bit—to reveal a 30-second F9 spot during the Super Bowl. It turns out that this glimpse of Dom, Letty, Han (!!), and the gang's next adventure was way more exciting than the entirety of the game itself. Go figure!
The spot reveals—well, affirms—that Han (Sung Kang) is back, and F9 represents a real family reunion in which just about everyone who's mattered in recent Fast & Furious installments is on hand. Well, almost everyone—there's no Rock and there's no Jason Statham. And this reunion won't only include the folks that Dom (Vin Diesel) considers family, but the huge extended gang of misfits, ner do wells and outright villains. Charlize Theron's big bad Cipher is back, as is Helen Mirren's Magdalene Shaw. And while the nuclear family—Dom, Han, Michelle Rodriguez's Letty, Jordana Brewster's Mia, Ludacris's Tej Parker, and Tyrese Gibson's Roman Pearce—form a formidable crew, F9 promises to test them like never before. Enter John Cena's Jakob Toretto, Dom's "forsaken" brother, who promises to be a thorn in the family's side like no other.
Director Justin Lin is the man behind the mayhem here, and the most seasoned Fast & Furious director of them all seems firing on all cylinders. Check out the Super Bowl spot below. F9 is slated for a May 8 release:
Here's the official synopsis:
Vin Diesel's Dom Toretto is leading a quiet life off the grid with Letty and his son, little Brian, but they know that danger always lurks just over their peaceful horizon. This time, that threat will force Dom to confront the sins of his past if he's going to save those he loves most. His crew joins together to stop a world-shattering plot led by the most skilled assassin and high-performance driver they've ever encountered: a man who also happens to be Dom's forsaken brother, Jakob (John Cena). F9 sees the return of Justin Lin as director, who helmed the third, fourth, fifth, and sixth chapters of the series when it transformed into a global blockbuster. The action hurtles around the globe—from London to Tokyo, from Central America to Edinburgh, and from a secret bunker in Azerbaijan to the teeming streets of Tbilisi. Along the way, old friends will be resurrected, old foes will return, history will be rewritten, and the true meaning of family will be tested like never before.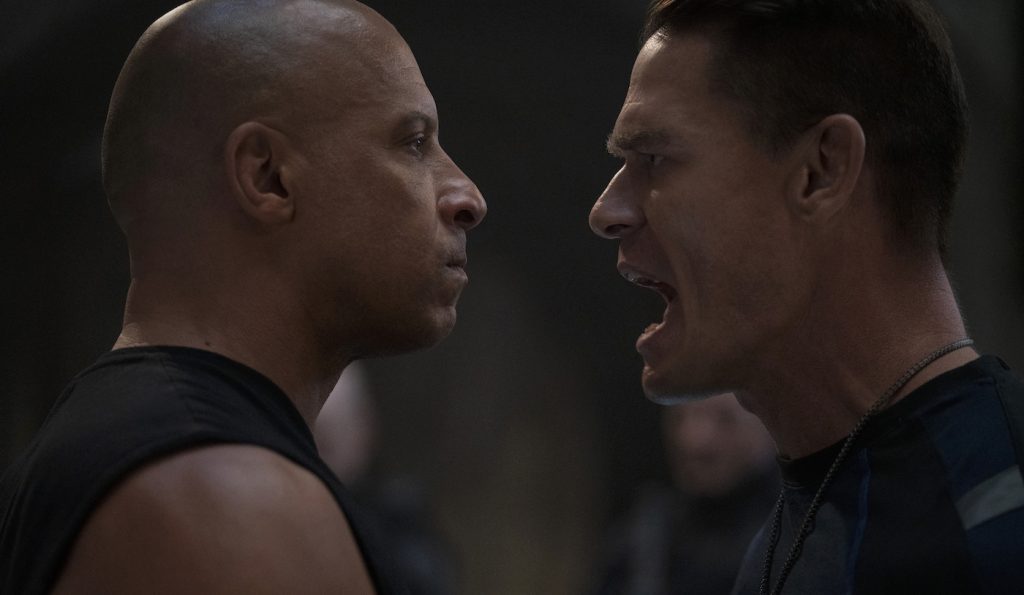 For more on the Fast & Furious franchise, check out these stories:
Justin Lin Will Direct Final Two Films in "Fast & Furious" Franchise
Fast & Furious 9 Teaser Reveals Dom's Family Values
Vin Diesel Shares Video From 1st Day of Filming on Fast & Furious 9
Unpacking the Surprisingly Confusing Fast & Furious Timeline
Start Your Engines: The First Hobbs & Shaw Trailer is Mind-Blowing Fun
Featured image: L-r: Han (Sung Kang) and Dom (Vin Diesel) in 'F9.' Courtesy Universal Pictures.