DP Sean Bobbitt on Framing a Historic Power Struggle in "Judas and the Black Messiah"
The late Fred Hampton, former chairman of the Illinois chapter of the Black Panthers, was renowned for his skill as an orator and his work in his community, though the American government chose to mainly view the young activist as a threat. After convincing competing and even hostile groups as disparate as Chicago's Young Lords and the rural Young Patriots to work together with the Panthers toward the common goal of a better quality of life for all, Hampton was assassinated in his bed by the FBI and the Chicago and Cook County police in 1969. He was 21 years old.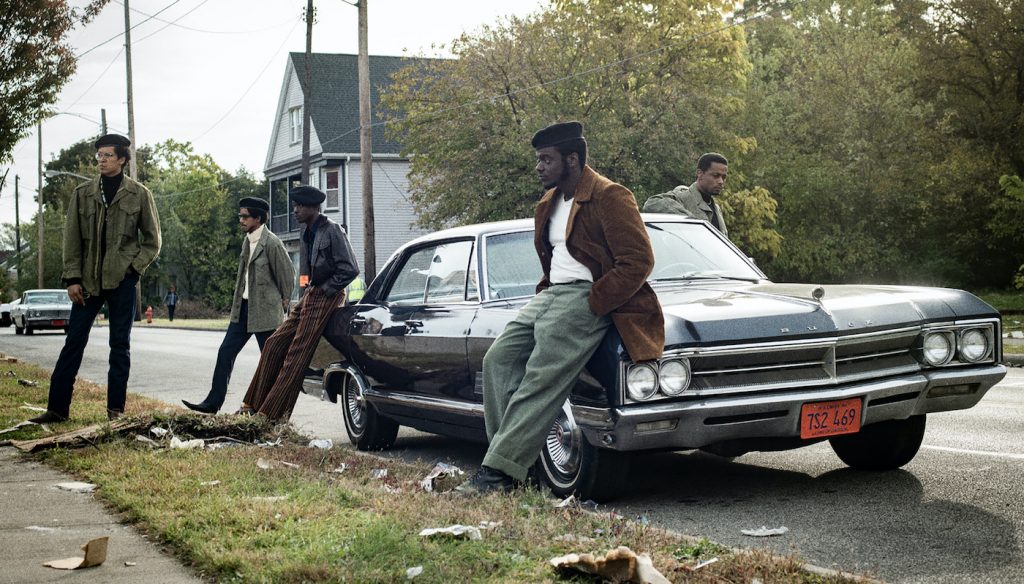 Directed by Shaka King, Judas and the Black Messiah spotlights the mole who greased the wheels for Hampton's (Daniel Kaluuya) brutal murder: the cooperation of a former petty crook turned FBI informant William "Bill" O'Neal (LaKeith Stanfield). Supplied with a car and a disarmingly personable FBI contact, Agent Mitchell (Jesse Plemons), Bill quickly gains entry to Chairman Fred's inner circle. Beginning with a failed car robbery that kicks off Bill's contact with the FBI, Black Messiah contrasts the informant's infiltration of the Panthers with Hampton's growing list of accomplishments and his budding romance with college student Deborah Johnson (now known as Akua Njeri and played here by Dominique Fishback). Though the film is neither a documentary nor a docu-drama, "we wanted to create a believable world," says cinematographer Sean Bobbitt (12 Years a Slave, Widows). "Shaka had amassed hundreds of photographs from that era, which we all carefully combed through. It became a no-brainer that that sort of Ektachrome, Kodachrome look of the period was what we should be going for."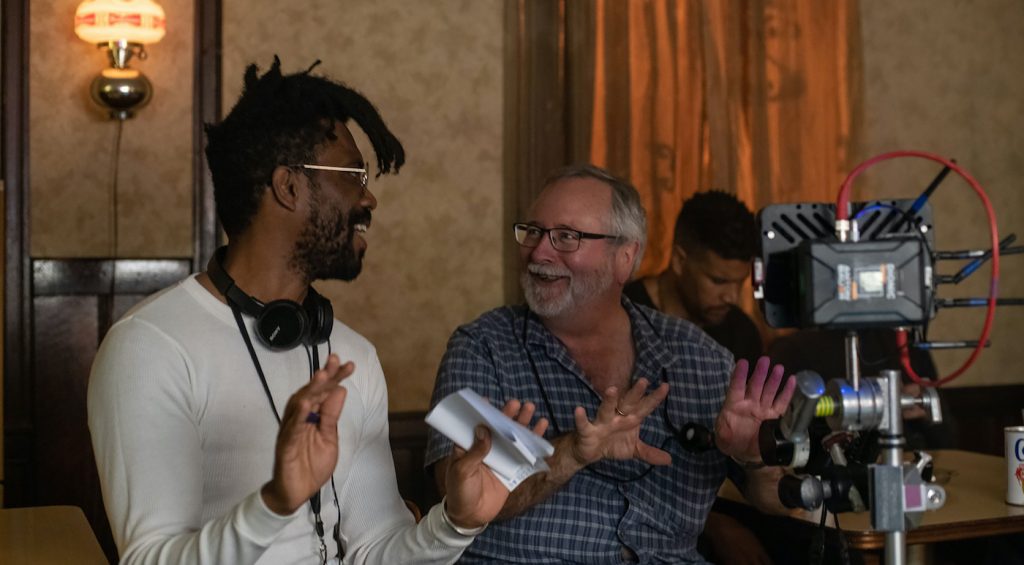 Whether it's the chic, cozy restaurants where Agent Mitchell treats Bill during his reports or the run-down simplicity of the Panthers' own headquarters, Black Messiah was filmed almost entirely on location and conveys a consistent sense of the late 1960s. Cleveland stood in for Chicago, and the city "is quite remarkable and rather sad in a way, in that there are an awful lot of structures that do exist from the 1960s that have been effectively untouched," says Bobbitt. "We were given a remarkable choice of locations that absolutely fit the brief of the look we were going for." One such memorable set piece, the site of a seminal meeting between the Panthers and the fictional gang the Crowns, was filmed in an abandoned church. Ringed by several floors of open archways, each populated by members of the hostile group, it's in this threatening setting that Chairman Fred negotiates an agreement. "We were looking for a space that could fit that many people and had tiers of people around, just to give a sense how overwhelmed the Panthers would have been should the whole meeting go wrong, which was a distinct possibility," Bobbitt explains of the distinct space, lit via a simple top light and a large sidelight that gives the nighttime meeting shape.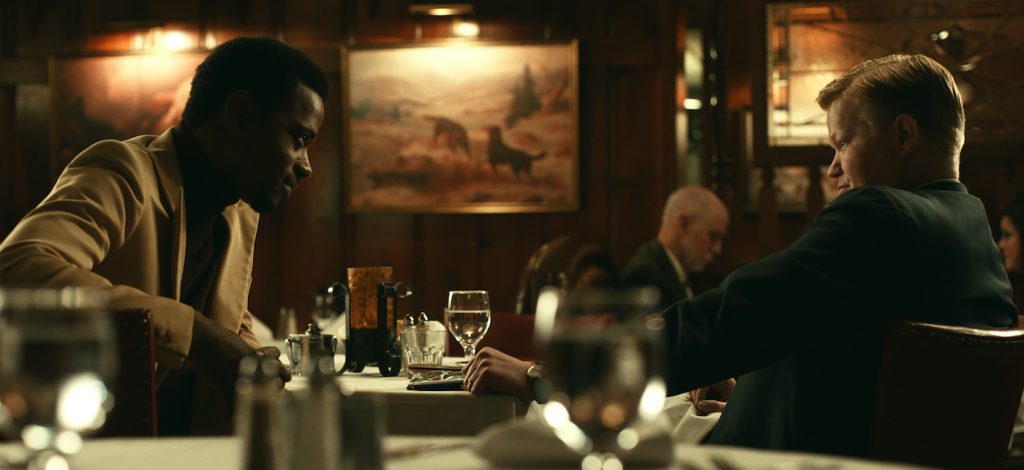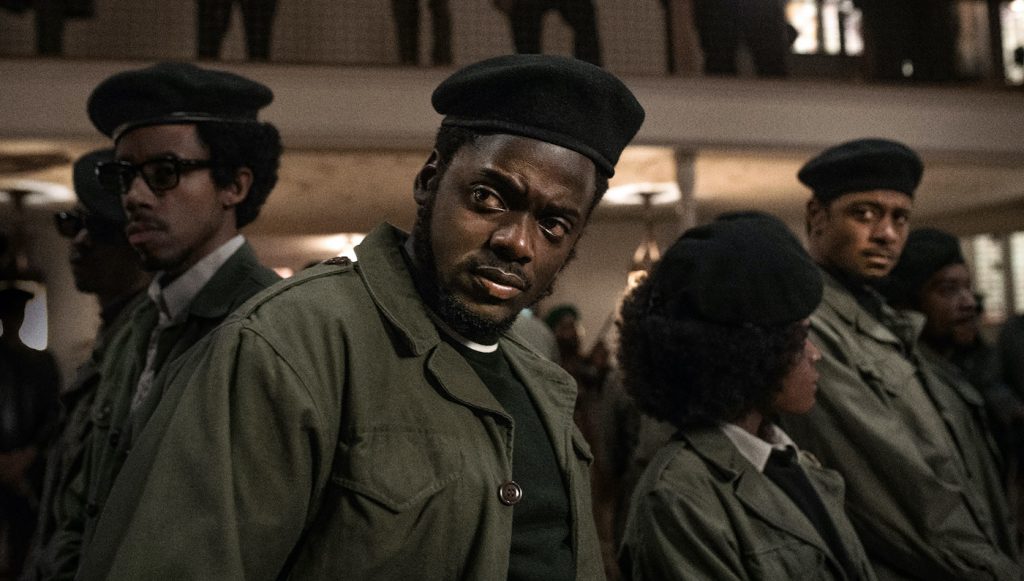 King's overall approach was to make Black Messiah feel like a classic movie from the 1960s, so the crew relied on "the simplicity of composition, nothing too clever in terms of movement and odd placements of the camera," Bobbitt says. "The sheer weight of the federal government that was threatening the very existence of the Panther movement," for example, comes through via a spotlit stage in a huge auditorium where J. Edgar Hoover (Martin Sheen) briefs hundreds of agents on his desire to take down Hampton, sinister in its simplicity. "It's all about power and control and perception," says Bobbitt. Back at the Panthers' basic Chicago headquarters, women file paperwork and local kids eat free breakfast. "That's a very important part of the film, and it's a historical fact," Bobbitt points out. "Most people think of the Panthers as a radical, violent organization whose only role was to kill police officers, whereas in reality, the real threat was that they were taking great care of the community around them. Free breakfasts for all the children, they also set up free clinics, they were a very powerful social movement. And through that power, Fred Hampton was able to create that rainbow coalition, and that was seen as the greatest threat to the authority of the American government."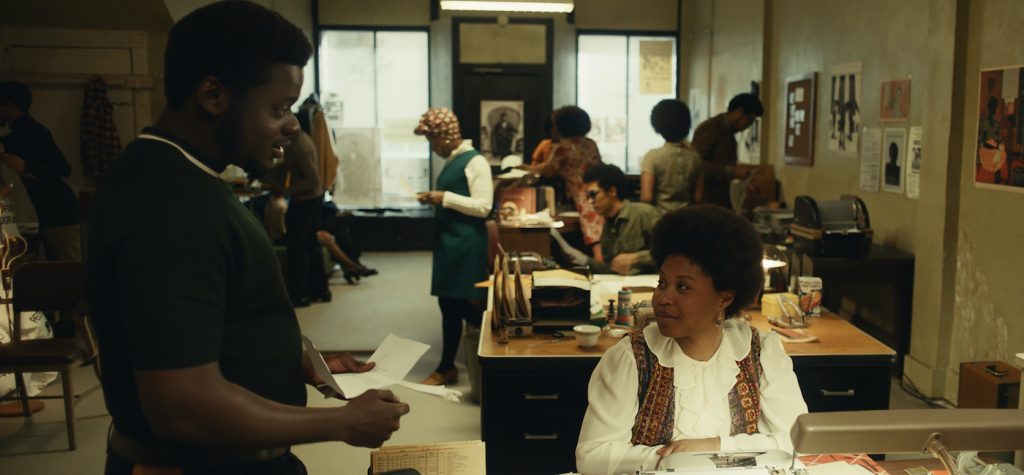 The Feds' way in is O'Neal, here given a fully three-dimensional treatment, both through Stanfield's nuanced portrayal of the informant and the attention the movie gives to the ways the FBI courted their source. "O'Neal is seduced by the FBI. The money is good. And the fact that he ends up in really expensive restaurants and gets treated oddly with respect, to begin with, and even invited into the FBI agent's own home, is a remarkable thing," Bobbitt explains. "So there's a warmth and an opulence to the restaurants. There's a remarkable sort of coziness to Mitchell's house. Everything about it is designed to show contrast. We see just a silhouetted figure of O'Neal in what we imagine to be a wreck of a room where he lives. That world that's being dangled in front of him is a very powerful weapon used to turn him, to reinforce his decision to work with the FBI."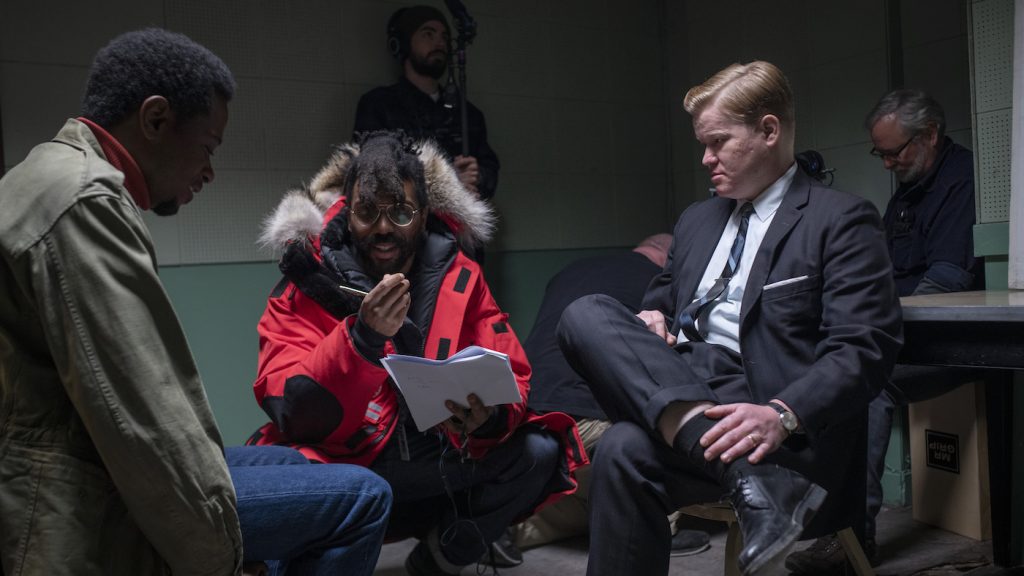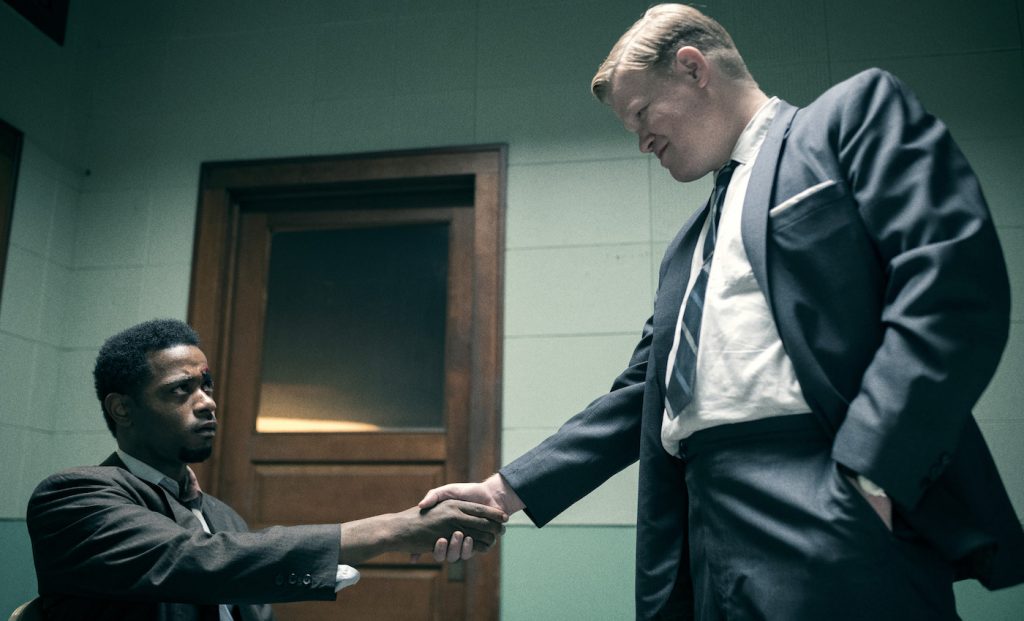 To visually frame Hampton's speeches as close to history as possible, Bobbitt pulled his angles from black and white documentary footage of the young speaker. "What is really powerful are these low-angle tight shots. That was something we took from that historical material and really appealed to Shaka," says Bobbitt. The production also made every effort to remain historically true to what took place during Chairman Fred's assassination, at home with Deborah and others. Having been acquainted with the home's layout thanks to O'Neal, the FBI knew exactly where their target would be. "That was the only set that we built. It was very important to be as accurate as we could be to the layout of the actual apartment and as accurate as we could be to the actual assault itself," says Bobbitt, who got a hold of one of the few existing large motion control machines with an extendable controlled bar in order to travel over the top from room to room. His gaffer, Jeremy Long, constructed a soft light that went across the set, was adjustable for color and intensity, and left no camera shadow. "There was a lot going on for that scene and it was absolutely crucial to get it all right," Bobbitt says. "But it was also very important for it to be terrifying. Can you imagine waking up and people shooting at you with no warning at all? It's a horrific event. The overhead shot was absolutely crucial. The important thing to show was that they were there to shoot Fred Hampton. They knew where he was, and they were shooting through the walls at where he was sleeping."
Judas and The Black Messiah are in theaters and HBO Max on February 12. For more on Judas and the Black Messiah, check out this interview with costume designer Charlese Antoinette Jones.
Featured image: DANIEL KALUUYA (right) as Chairman Fred Hampton in Warner Bros. Pictures' "JUDAS AND THE BLACK MESSIAH," a Warner Bros. Pictures release. Photo by Glen Wilson