"Clarice" Producer/Director DeMane Davis on Seizing the Moment
DeMane Davis, co-executive producer/director of the new CBS series Clarice which premieres February 11, calls her career "incredibly fortunate." But Davis was ready when opportunity arose in the form of Ava DuVernay. When DuVernay opened the door for women directors on her groundbreaking series Queen Sugar, Davis burst through it. On crutches.
"I had broken my ankle and I'd had surgery; the cast had just come off and I was still on crutches," recalls Davis in a phone interview from Toronto where she is shooting Clarice. "I went to my physical therapist and said, 'You have five days to get me walking.' I directed my first episode of television on crutches. What was I supposed to say, 'No'? That was the beginning. I was put into this spaceship by Ava DuVernay and it's been going ever since. It's been absolutely incredible and I don't have any plans to get off."
Davis had made two features that earned accolades at the Sundance Film Festival — Black and White and Red All Over (1997) and Lift (2001), starring a then-little-known Kerry Washington, both shot in Davis's native Boston. She was working as an advertising copywriter/creative director when DuVernay contacted her via Twitter for Queen Sugar since DuVernay had decided to hire only women directors, including first-time women directors.
Davis ended up directing two episodes for the second season of Queen Sugar and served as producing director for season three. DuVernay's endorsement led to Davis's directing episodes of The Red Line;  Station 19; For The People; and How to Get Away With Murder. In 2020, Davis was producing director on Netflix's four-part series Self Made: Inspired by Madam C.J. Walker starring Octavia Spencer. As producing director for Clarice, Davis will helm the last two episodes of the 13-part series created by Alex Kurtzman and Jenny Lumet that follows FBI agent Clarice Starling one year after the harrowing events detailed in the book and movie The Silence of the Lambs.
"I love being a producing director because your boots are on the ground from start to finish," says Davis. She is proud of Clarice's diversity on both sides of the camera. Growing up, she says, her favorite TV show was Mannix. "He was a private detective and he had a black secretary, Peggy, played by Gail Fisher. I remember eating my Captain Crunch, sitting on the hassock in the living room, and watching what [Peggy] did: typing, filing, answer the phone. I said, 'I could do that.' I literally said that out loud. And I became a secretary. That's what I saw so that's what I thought I could be. Representation matters."
Davis worked her way up from secretary to copy writer and creative director at the prestigious Hill Holliday ad agency in Boston. The company gave her time off for the 18 day shoot of  Black and White and Red All Over. "Once we were editing, we were right back, making calls, pitching and winning the Reebok account," says Davis. "During that time, I was submitting to film to festivals, writing letters, trying to get it sold." She had already written Lift when she was invited and accepted into the Sundance Filmmakers and Screenwriters Labs.
Davis credits her work ethic, what she calls her "hustle," to her mother, Betty Davis, who died in 2017. "My mother hustled. She worked two jobs and went to school nights while raising four kids. She is and was and will always be my inspiration."
Davis also counts among her inspirations the legendary Cicely Tyson whom Davis directed in her recurring role of Ophelia Harkness on How to Get Away With Murder. "There are a bunch of things she said that I wrote in my journals. I wished I'd written more. She was moved to see so many black faces and what it means. She said, 'We waited a long time and it's here.' I would hold her hand — even before my mother had Alzheimer's, we'd sit on the couch and hold hands — so I would just put my hand out and [Tyson] would put her hand in mine and we'd walk over to rehearse the scene, because she was 96. You want to make sure she's OK but not make a big thing of it. So I'd just put my hand out."
The high profile 2020 Netflix series Self Made also provided Davis a brush with what a thoughtful superstar can do. Octavia Spencer plays Madam C.J. Walker, the real-life African American hair care entrepreneur who became the country's first female self-made millionaire. Davis remembers the phone call she got from Spencer. "She told me, 'We've got to give this woman this [film]. We are going to be partners in this.'"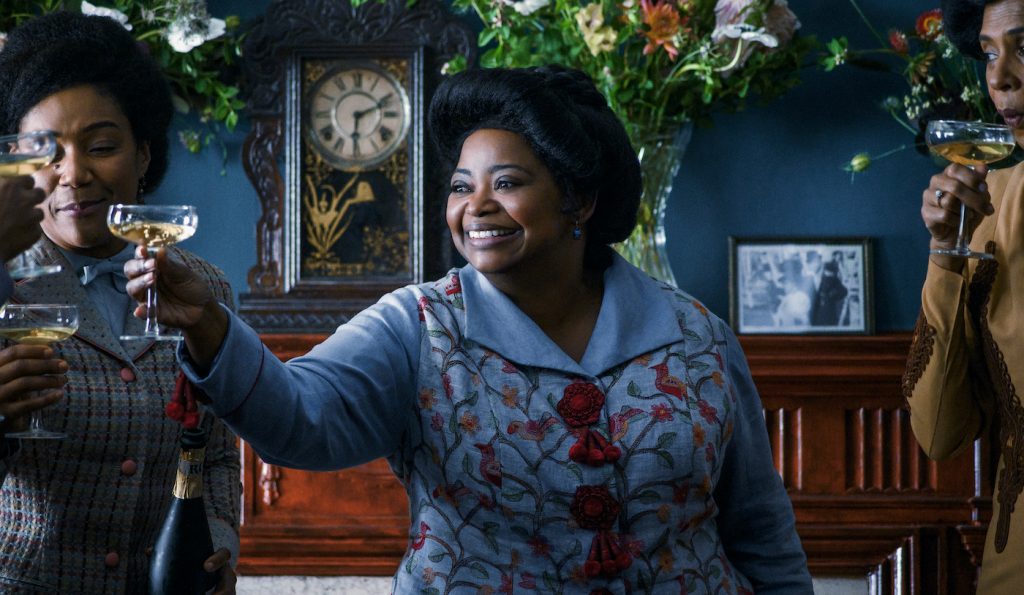 "I like to get to the set early and walk around," says Davis. "Sometimes I have the script open, I say the words, look at the angles. It's the only time that it's going to be that open, before you get two cameras and people in there. When I'd get to the set, there would be Miss Octavia. I'd be there an hour and a half to two hours early. I'd turn around, and there she is."
Then and now, Davis's hustle has paid off. "I feel incredibly fortunate," she says. "My own arms are black and blue from pinching them. It's crazy."