Best of 2020: Meet the Background Actors Who Populate HBO's "Perry Mason" – Part I
We put together our annual "Best Of" list with an eye towards the conversations that weren't just about our particular area of interest—how films and TV shows are made and the people who make them—but delved into broader discussions that were unavoidable in this historic, often heartbreaking year. These conversations include our chat with Laverne Cox about her role in Netflix's Disclosure: Trans Lives on Screen,  Lovecraft Country cinematographer Michael Watson on filming during a pandemic, and our four-part series on the briefly seen and largely unknown background actors, in this case in HBO's Perry Mason, that are such a big part of the entertainment industry.
We hope you've had as happy a Holiday Season as is possible right now, and here's to a much happier, much healthier year to come.
This interview series was first published on September 9: 
For more on our deep-dive into Perry Mason's background actors, check out parts II, III, and IV of this series.
On the west façade of Los Angeles City Hall, Perry Mason (Matthew Rhys) and Della Street (Juliet Rylance) step out of a car and begin to push their way up the long staircase, through a crowd of 200 protestors, angry about the child murder case Mason is working. But while the crowd appears to be jeering and shaking their fists, they are eerily silent.  "It's like we're making a silent film," says one of the extras, George Zaver, who performs as a press photographer. "It's a little surreal, but in a really fun way."
Zaver is one of 200 extras—referred to in the film industry as "background actors"—working that day on HBO's hit series Perry Mason. And like his colleagues, he's not only dressed like a 1932 Angeleno, he looks like he's from that era. His face, his stance, even the way he holds his camera. In fact, they all do. "Whenever you're doing a period piece," says key second assistant director (2nd A.D.) Salvatore Sutera, "everything—the costumes, hair and makeup, production design, and our background—they sell the period. And the background is key."
Having 200 people walk onto set early in the morning and look like they belong in a scene in 1932 isn't simply a matter of ringing up a few folks and asking, "Are you free tomorrow?"  Planning for background for a period show happens far in advance of a day's shoot and involves many departments, all the way up to the director.  "You have to paint the whole picture," notes director Emmy–winning director Tim Van Patten (Sopranos, Boardwalk Empire), who is deeply involved in extras casting and performance.  "If you're just painting the middle of the picture, and you're leaving the rest up to somebody else, you're going to get in trouble."
The process begins during prep for the series, including inviting veteran Extras Casting Director Rich King meeting with Van Patten, the show's producers, and the heads of all departments. This is when the director spells out his or her vision for the look of the show. Each department then begins to assemble research into how every facet of life in 1932 Los Angeles appeared—including the attire and looks of everyday people, as the background actors mostly appear.
Sutera, Van Patten, and 1st A.D. Julie Bloom (who has worked for many years alongside Van Patten, and knows his preferences) then have a background concept meeting, at which the director goes through the details of each scene which will contain extras.  "We go over everything, scene by scene, set by set, and learn what Tim is thinking," Sutera states.  "We break down not only what kind of people he envisions, but also the numbers of people, the feel of it."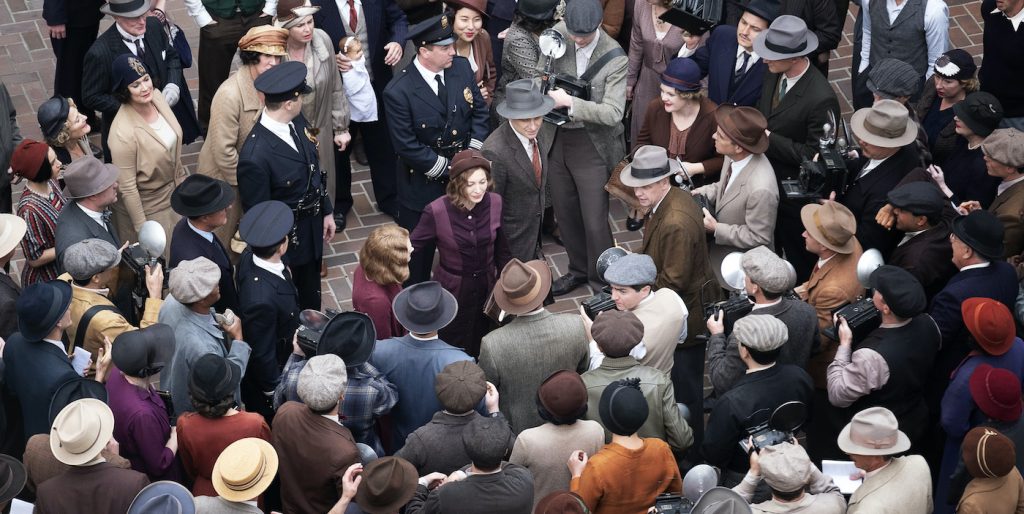 Sutera and Bloom then further break down the makeup of background groups. "For instance, we might have a scene in downtown L.A., and, based on our research and our conversations with Tim, we might have 40 extras doing a day scene on a sidewalk. They might include businessmen in suits, maybe a batch of Eastern European immigrants, maybe a shoe shiner, a newsie on the corner, a street vendor, and a couple of female shoppers and secretaries. So we develop a detailed palette of what will be on that street. The more detailed I get, the more [extras casting director] Rich King will know what type of person Tim's looking for, and the more the costume department will know how to dress that person, and hair and makeup department [to style them], and props will know to give an upscale female shopper a few bags or wrapped boxes."
One additional key person who gets involved around this time is someone known as the second 2nd A.D. – Mollie Stallman. The second 2nd is the person who will be working directly with and directing the background actors on set.
But Stallman doesn't wait until the day of the shoot to start to work on a scene. She'll join the director and department heads on tech scout, during which the team will visit each location and the director will spell out how he or she sees the scene. "I'm always very close with the director, if I can be, during the prep process," Stallman explains. "I'm involved with background very early on, hearing what the director is thinking about for a scene, what they're trying to achieve, and what kind of world he's trying to build, even helping him choose faces. Tim is very specific and vocal about what and who those faces are."
There were two directors for Season 1 of Perry Mason—Van Patten helmed the first three and last two episodes, while Deníz Gamze Ergúven shot Episodes 4, 5, and 6, bringing her own 1st A.D., Kenny Roth, and 2nd A.D., Erik Carpenter. But Stallman's presence throughout all eight episodes created a consistent thread, cultivating relationships with the recurring background family and carrying Van Patten's background vision across all eight episodes, regardless of director.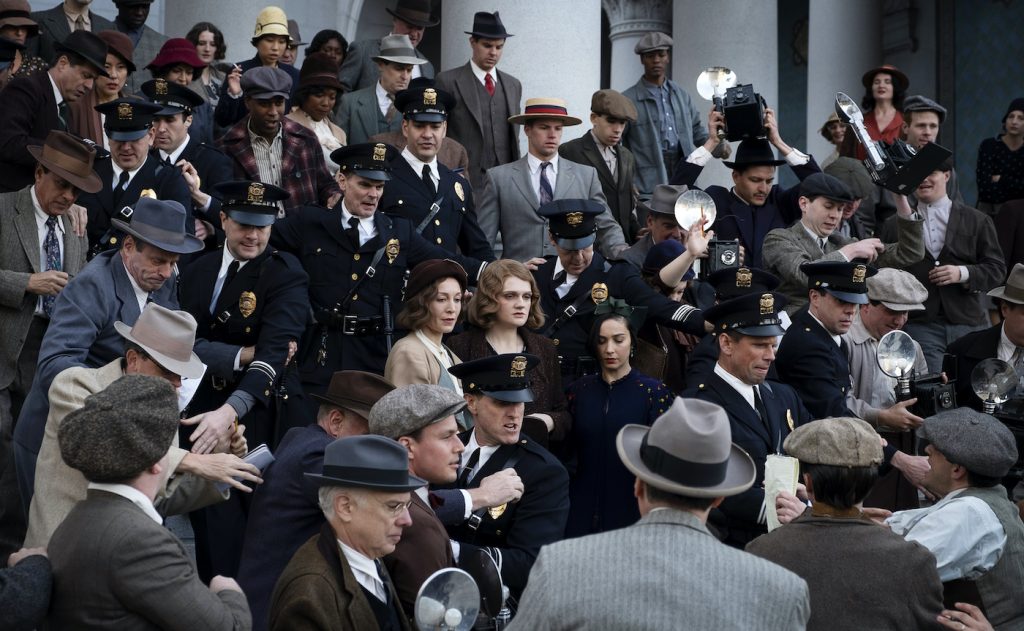 Finding Faces
Finding faces is not a simple process of going through photos of actors and finding the best looking folks. In fact, for Perry Mason, it was quite the opposite. In order to provide a sense of the reality of the time, these faces needed to look like they'd lived through some rough patches. Van Patten notes, "I told them, 'I don't need beautiful faces. I need interesting faces.'" King adds, "Tim wanted to see the broken nose, the weathered face—people who were living through The Great Depression. Anything that was unique, that was different, anything that wasn't Hollywood. Tim definitely did like some character to the face."
There were a variety of types of background actors, too. "Based on our research and Tim's direction," says Sutera, "we wanted to correctly represent 1932 L.A. during the Depression. We had so many categories of people from different socioeconomic backgrounds, as well as ethnic backgrounds." Upscale women's faces differed from the weathered look of mothers of three living in a shantytown, struggling to pull together daily meals for their families. Lawyers and other professionals were cast differently from men lined up outside a soup kitchen, requiring thinner, more gaunt-looking, war-torn men. "Someone with a more haggard face, say, we might make a street vendor," Rich King explains.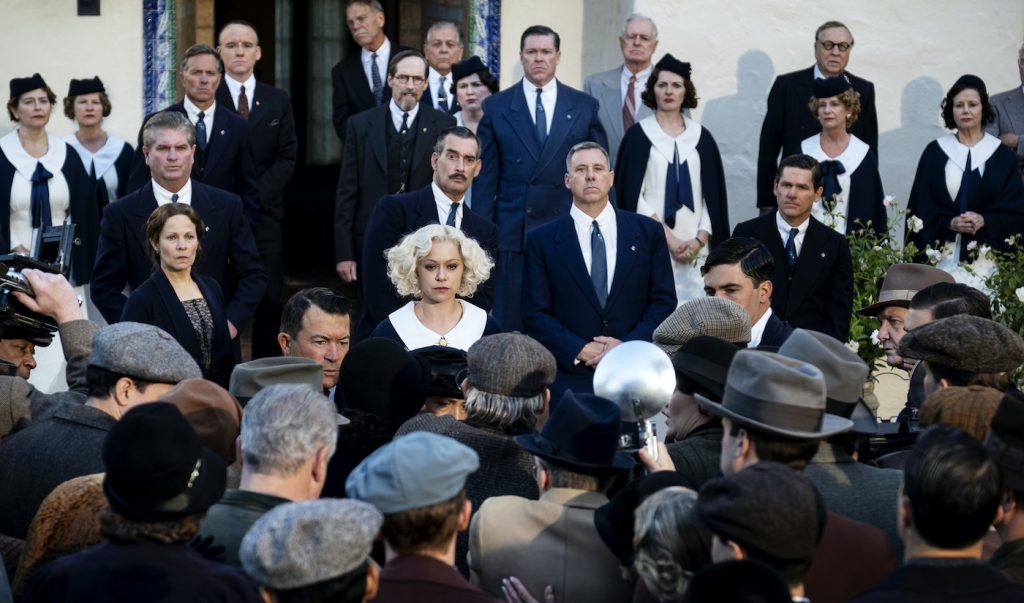 Selections of photos from King's research of faces from the era were assembled and sent to Van Patten for his review, as well as to Costume Designer Emma Potter. "Tim and the A.D. team and producers and I sat down with Rich and looked at lots and lots of these images, and created wish lists of the people that he would want to see and that I would want to dress, in different spaces," Potter explains. And they had to be able to fit the authentic period costumes on hand, as well, based on a costumes size chart assembled by Potter's team. Says King, "Back then, people were smaller, so we had to find people that were smaller to fit into what costumes we had."
Submissions were requested, if possible, from background actors featuring little or no makeup. "The pictures, of course, are all pretty, So we told them, 'We need hair down, and if you have roots showing, don't dye them,'" says King, with, as Hair Dept. Head Miia Kovero notes, as much natural color as possible. And no tattoos or piercings adds King.  "If they're covered by costumes, okay, but otherwise, they were sent home."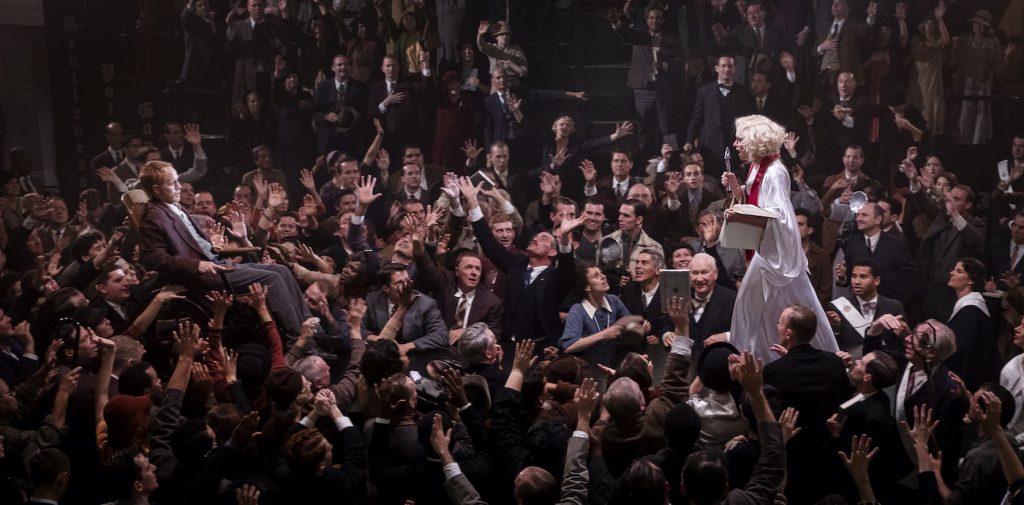 Favorite or repeat background actors were booked ahead for many scenes and episodes. "We would pick some people with really good faces to make a lawyer or a reporter or police so that each time they're seen at the courthouse, that lawyer could be back. Or a reporter, who's following the case would be back," King explains. "It's not only for consistency for the audience's sake but for the background. This is these people's livelihoods. This show was their primary place of employment for all those months."
Some actors with special skills were certainly welcome. For some of the 400+ acolytes cast to appear at Sister Alice's Radiant Assembly of God, it was helpful to have some who were SAG/AFTRA members with some improvisation background.  "We wanted some people who could react to her and 'speak in tongues,'" King explains.  While some with the right look were sent to some improv training, those who already had that kind of experience were placed right upfront.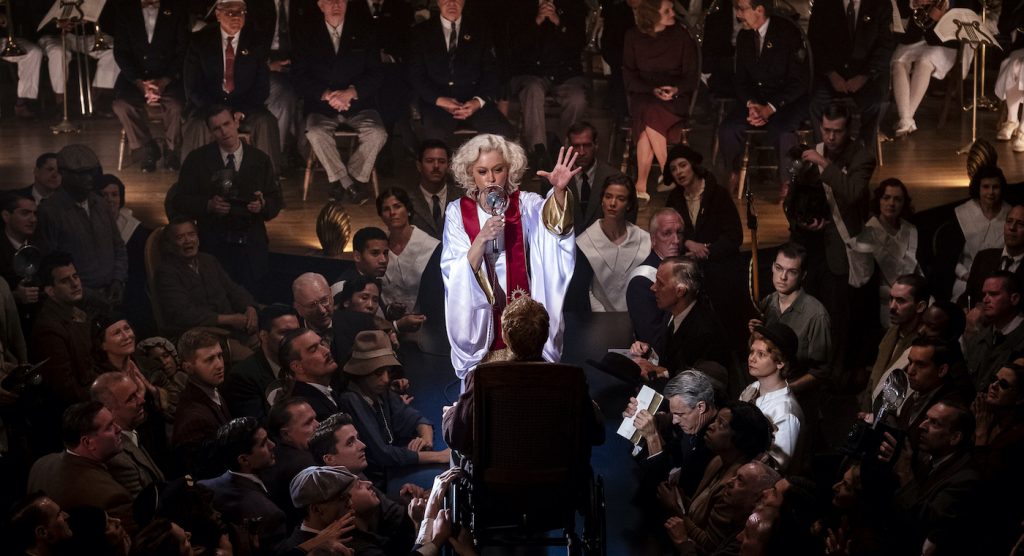 "I had four years of work over at The Groundlings," says background actor Adyr Villavicencio.  "They asked me if I was okay if, when Sister Alice touched me, could I just roll on the floor or speak in tongues, and I just said, 'Yeah, yeah, I'm fine,'" then I researched Baptist church footage on YouTube to see how such people appeared in real life."
For more on our deep-dive into Perry Mason's background actors, check out parts II, III, and IV of this series.