Meet the Background Actors Who Populate HBO's "Perry Mason" – Part IV
Here are Parts I, II, and III of our deep-dive into the casting, costuming and prepping of Perry Mason's background actor cast. 
A large collection of background actors voicing their objections to a case on the City Hall steps or finding themselves under the spell of Sister Alice at the Radiant Assembly in HBO's Perry Mason aren't just dressed, sent over to the set and told, "Okay, yell." These are actors helping to tell a story. They're directed.
That direction comes from the assistant director department (A.D.), whose job it is to translate the director's vision for the scene and what the audience will experience from the background into real life. "Once they get to the set, that's less my job and really that of the 1st A.D.s and 2nd A.D.s," director Tim Van Patten explains.
Van Patten brought his longtime 1st A.D., Julie Bloom, with him from New York, who had worked with him Boardwalk Empire.  "Julie does what we did on Boardwalk and The Sopranos, which is to dial in her whole department so that these extras become characters," he explains.  
Bloom had to leave the show after the first several episodes for another project (replaced by 1st A.D. Darin Rivetti), with 2nd A.D. Mollie Stallman continuing to do what she does best, and loves most – directing background.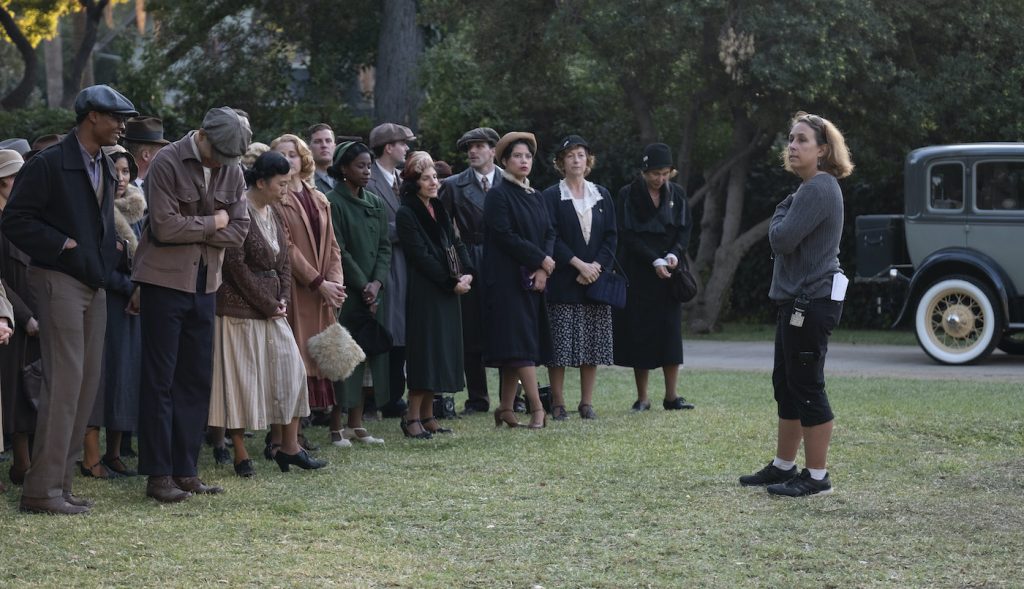 Stallman starts the process with "story hour." "Before the background actors ever come to the set, I go and put myself in the middle of, say, the 400 people we have…and read through the scene they'll be playing in," she says. "I play all the parts. So even before they get onto the set, they knew what they're in for and what acting skills they'll be called on to use. I'm relaying to them what the director of the episode is hoping to achieve. And I put the acting in their hands. I treat them as actors and give them the opportunity to act, and it turns out, boy, a lot of them can."
"She'd read the scene and give us a little direction," says background actor James Tappan. "'You'll need to be very high energy there' or 'You'll be quiet there.' Just things like that, to add some texture to the scene. And then we'd go to set, and they'd give us a little more direction."
"It's really very helpful," says background actor George Zaver. "If I'm a photographer outside the Courthouse, I need to know, who's coming out of the court? Is it the girl who's accused of murder? Is it Perry? It really informs what I'm doing, so I'm not just snapping away. I know the story, and I know why I'm doing what I'm doing."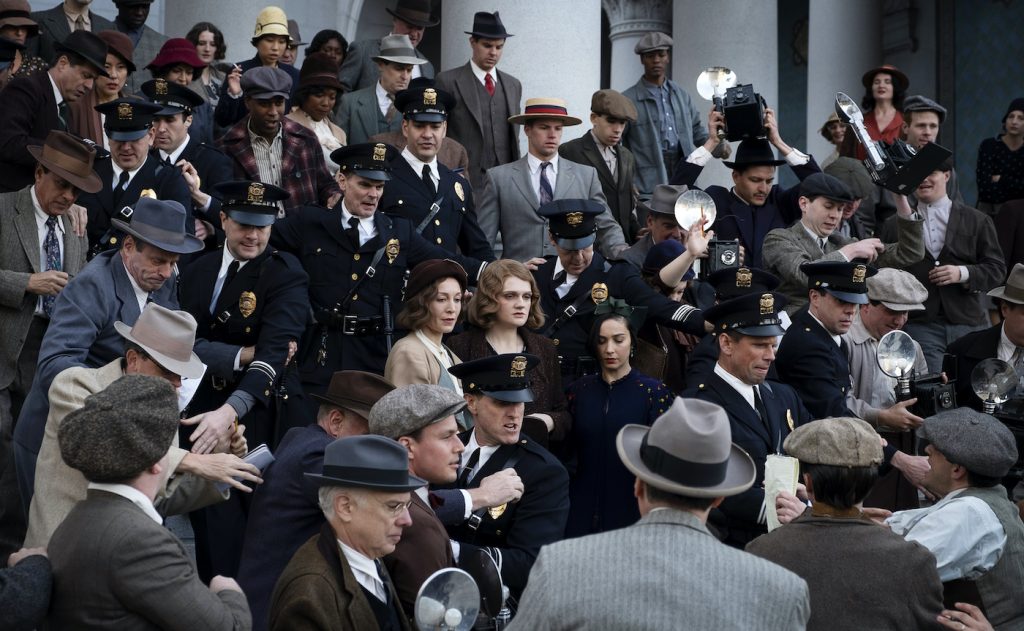 At the end of story hour and before moving to the set, Stallman will assign bits of business to everyone. "I can say, 'Okay, gimme five press guys. Now, you guys are gonna be the ones closest to the stairs. Your job is to mob them as they come up," Stallman says. "Or I'll say, 'You five lawyers, you'll be behind our actors. Let them get out the door first and down those stairs. You don't care about this. You have your own case to do, so you're going home for the day, so you come out and then disperse left or right.' So I try to establish what I think are the best things to do before they ever get to the set. Then, once they're there, they know what they're up against, and we can make adjustments."  
Once that's done, a gaggle of production assistants and A.D.s would "start the train," moving the large group to set, section by section, 50 at a time. "That way, there's not a big logjam of people shutting down a street in downtown L.A.," 2nd A.D. Salvatore Sutera notes.
"She knows how to read the crowd," says background actor Adyr Villavicencio.  "I would watch her, and she knew who to talk to, who's there to make the scene work – and who was just in there for a day's pay. She knew the difference." 
Given the enormous number of players she had to instruct made her job all the more remarkable, Sutera explains. "You have to have the type of presence to be able to instruct people, both small and large masses, and give them sometimes limited but very detailed direction in the quickest amount of time. And Mollie is very good at telling them what she wants them to do—but also giving them the freedom to put their own life into it, as well."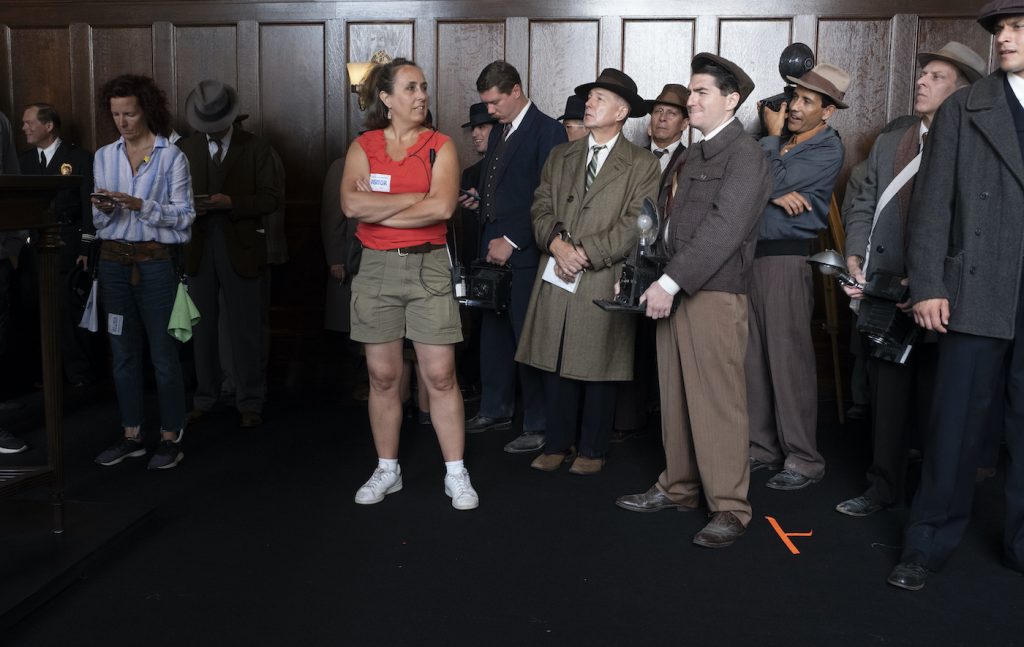 And instead of just "Walk from A to B and then back," Stallman would take the time to give them each little scenarios to motivate their acting.  "They all had a role," she explains. "I might tell someone, 'You're gonna buy some apples, and then you realize that this one is rotten. You're gonna go back, and feel out a few more, and get a better one, and then go on.' Or to one of the lawyer background actors, instead of 'I just want you to walk down these stairs and across the street,' I might tell him, 'You were supposed to meet your wife for dinner, but your case ran late. You gotta hustle home, cause your mother-in-law will not put up with that.'"
Once the background is set, Stallman would run a rehearsal, to evaluate the setup. "Lemme watch one, and see what kind of mess I've made, and then we'll make some changes," she laughs. "We listen to the principal actors, and we hear how the actors are going to play their scenes, and how it will affect their relationship with the background actors, to help them sell whatever the actor's trying to sell."  The first few rehearsals are not just for the background's sake, but for the camera team's, as well. "The camera operators and the cinematographer can now see what it looks like with 200 bodies there that weren't there a half an hour ago. And we want to make sure that we're not blocking camera or getting in the way of the progress of the actors."
Once the cameras roll, the background actors protesting on the City Hall steps as Perry and Della try to make their way up, discussing the case as they walk, are jeering at full volume. But with the two actors wearing FM microphones, trying to provide their lines clean to the production sound mixer, all that jeering has to go. So after a few passes, suddenly, all 225 of those background actors become mimes, appearing exactly like they did a take earlier, looking as if they're shouting at the top of their lungs – but not.  Says Zaver, "All of a sudden, it's like you're watching a silent movie."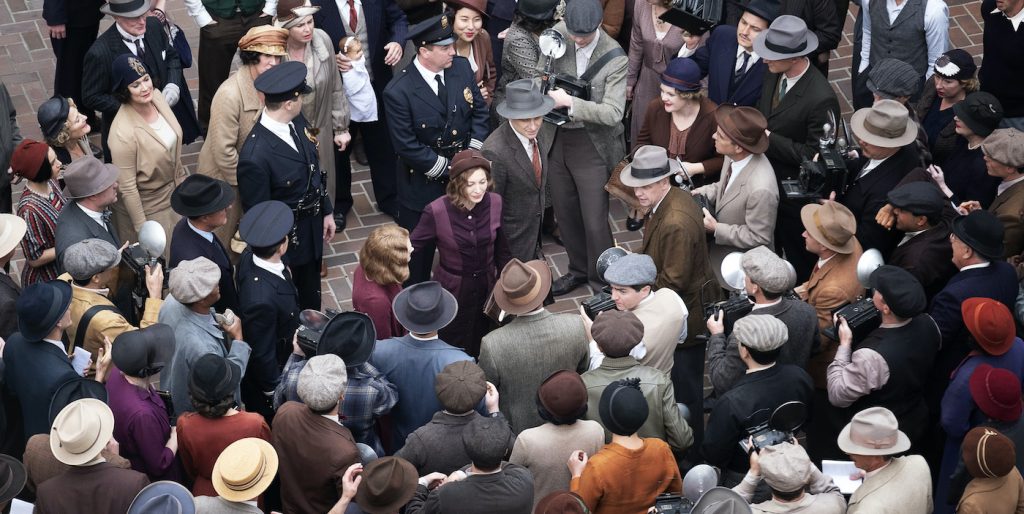 Though it might seem like the production could skip the passes with the background yelling aloud, there is a reason they do it. "We'll do several takes, where it's loud. And you can't hear the dialogue," Stallman explains. "That's actually for the background's sake, so they can get in the groove of it, so they know what it feels like when we ask them to pantomime so that we can get clean dialogue. They know what the energy is—all they're doing is not vocalizing it." Without this full-throated run, the knee jerk method can often be something that doesn't work so well onscreen. "The tendency is to overact. Because you're being quiet, you feel like you're not emoting as you should.  So you go a little overboard, to get across what you're not actually able to express.  So a big piece of direction for that is 'Less is more.'"
Being actors, the background performers also can't help but come up with great business, even creating small "scenes" with adjacent actors. "There's a lot of hand work, a lot of face working," Adyr Vallavicencio explains.  "At City Hall, for instance, the girl next to me would punch my shoulder, and just pointing, so I had to react to her reaction. Whoever starts it, then you react to that more. Or Mollie might tell me, 'We want you to look disgusted when Matthew [Rhys] comes up with the defendant,' and then tell the girl next to me, 'You need to act like you're dramatically physical.' She would give us good pointers. Because if the camera's going to be close to you, you don't want to be doing two separate things. When someone's trying to interact with you, you just go with it."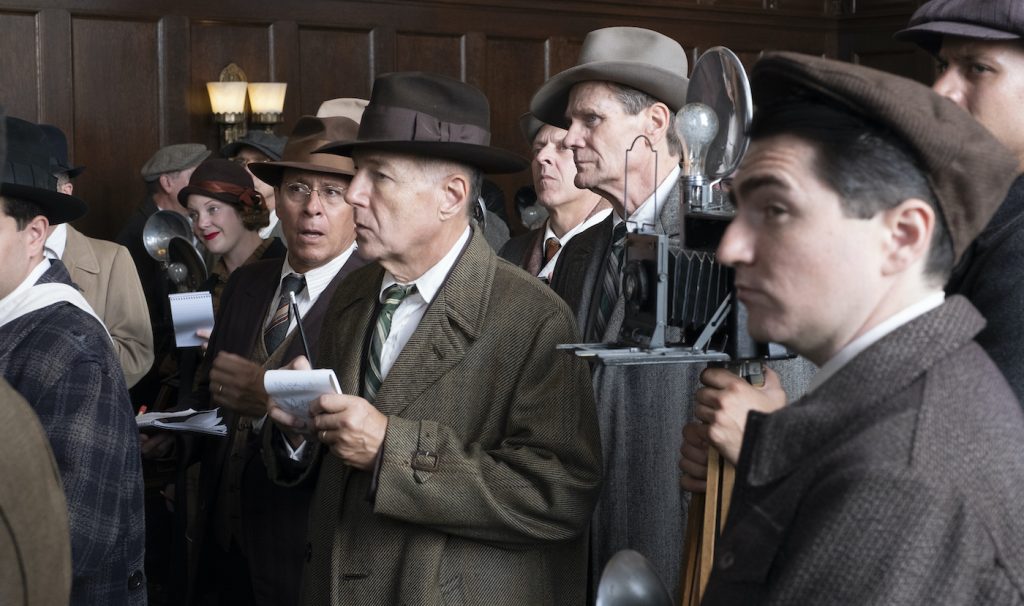 Indeed, treating the background performers like actors, and not simply as placeholders, was something that was key to the whole directorial team, starting from the top down.  "The extras are a part of this painting," Van Patten says. "They need to be embraced as artists. Because inside of every one of those extras is an actor, and you have to tap into their best selves, as performers." Stallman agrees. "One of the things that I always address is to never forget that they're actors. Often they're aspiring actors, or performers trying to stay connected to the TV/film scene, and this is how they can continue to hone their craft and be part of the process. And it's absolutely key to respect that and never forget it.  If you do that, you'll get the very best performance out of every one of them."
All of this effort, involving hundreds of people, is there simply to create the illusion of 1932 Los Angeles, even if the background actor is seen only in passing. And that's the difference between good background and bad. "You don't know good background until you've seen it bad," Stallman notes. "It's distracting. You see the lady in the green dress who's gone by five times because she's just been told to walk around in circles. But when they're good, then you feel like you're watching real life. We're trying to achieve a life that feels so normal that you don't pay attention to it. It may seem counter-intuitive for somebody who wants their work to be noticed, but if you're doing it right, then it's so natural that it's unnoticeable. That's good background."
Featured image: Camera operator Don Devine lines up a shot of Matthew Rhys (Perry Mason) and Gayle Rankin (Emily Dodson) in the Courtroom set on Paramount Stage 27, as background cast performs behind them. The best background are ones audiences don't even notice, Mollie Stallman notes. Photo by Merrick Morton/HBO.