"One Night In Miami" DP Tami Reiker on Regina King's Stunning Directorial Debut
Tami Reiker has had a very busy year. She was the cinematographer on Gina Prince-Bythewood's The Old Guard, one of the most-viewed movies ever on Netflix, and just finished work on One Night in Miami, Regina King's feature debut as a director. The fact-based story is about the night four friends, Malcolm X, Jim Brown, Cassius Clay, and Sam Cooke spent together on February 25th, 1964, and has received rave reviews on the festival circuit, most recently at the Middleburg Film Festival. Bought by Amazon, it is slated for theatrical release on December 25th, and will launch on the streamer on January 15th, 2021.
The Credits spoke to Reiker about collaborating with Regina King and capturing the look and feel of this iconic moment, between these iconic men, on film.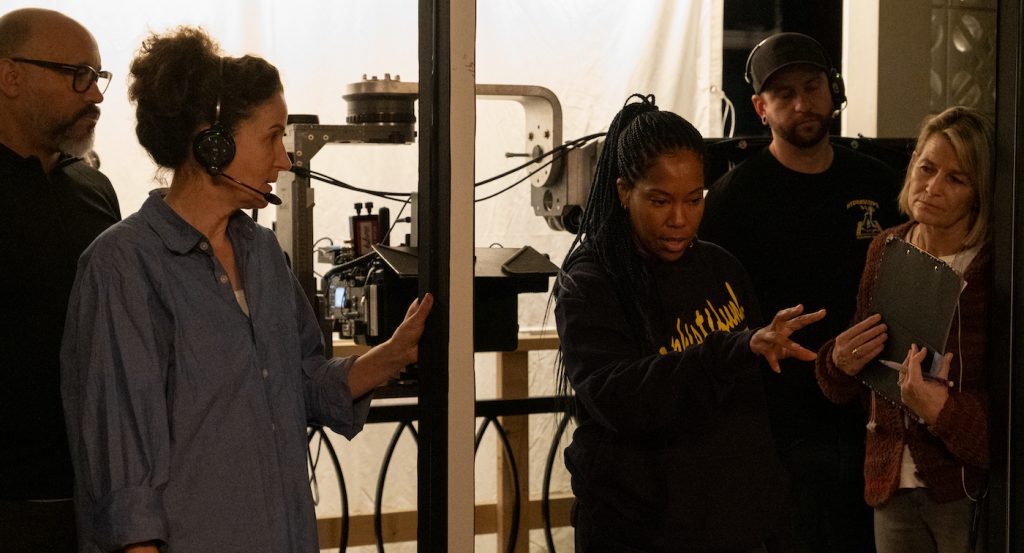 You and Regina King worked with a lot of reference material to build this story.
Regina is incredible to work with and a great collaborator. She has very definite ideas of what she wanted the film to feel like. She really wanted to stick close to the historical references, and we really studied those, wanting to keep very close to what the actual Hampton House looked like. You can see in the film, we were duplicating real images, like Cassius Clay in the swimming pool or the diner, or with Sam on Johnny Carson. There's footage of when he performed that night and what that looked like.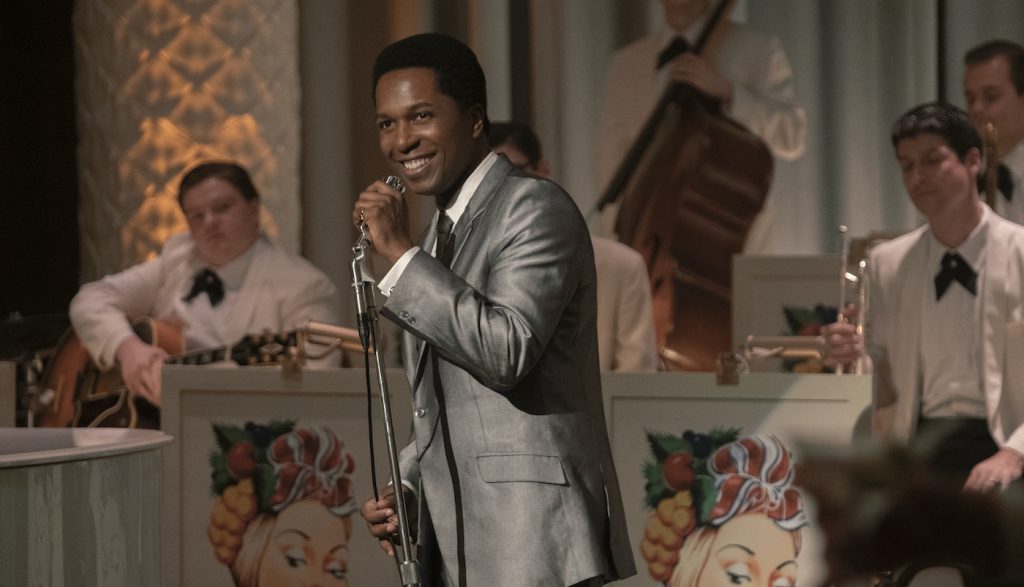 So the Hampton House was based on the vintage photos of the original hotel? 
It was a recreated set that we made in New Orleans. We had a lot of references from what it looked like at the time. The actual hotel looks quite different now because it's been renovated. The production designer [Barry Robison, with additional work by Page Buckner] found an incredible, run-down hotel, about an hour outside of New Orleans, that he transformed to feel and look like the Hampton House.
Your crew members were mostly from New Orleans? 
Yes. One thing that makes me really proud to have worked on One Night in Miami, and something that is really important to Regina, is that we hit 70% diversity with the crew. It's important to her and to me, and it's important to Gina [Prince-Bythewood], too, on all her shoots, and on One Night in Miami, we did it. New Orleans has a fantastic group of people to build a crew with. We got the best.
What did you learn on The Old Guard that helped you on One Night in Miami?
They were both shot with an Alexa 65. Using the Alexa 65 on The Old Guard, I just totally fell in love with the large format and suggested to Regina that it would be incredible for this film. She had used the Alexa 65 on If Beale Street Could Talk, and that was also a small film. I knew it wasn't in our budget, but I went to every rental here in Los Angeles, and presented my case, and gave them my script and Regina came by to visit, and they were amazing. They worked with us to make it so we could afford it.
So with the Alexa 65's large format, you also used Prime DNA lenses for softness. Can you talk about what those do, in terms of achieving the look you're after, and selling the story? 
With the large format, you just have so much more information. The center is three times the size of the Alexa Mini. The fall-off for the Prime DNA, when you shoot wide open, you have a much more shallow depth of field, so it all just presents a creamier, more film-like look. We also shot with the Bronze Glimmerglass #1 filter, which added to the softness. You always have to take away that video edge. I am a huge fan of shooting digitally. I love it, but you do always have to fight that sharp edge it gives you. I had used a Glimmerglass on The Old Guard, but I'd never used a Bronze, which was beautiful. It was beautiful on the men's skin. It just had this incredible warmth to it. That glow, that warmth of the movie, it's the lighting, the wardrobe, and the makeup, but it's also that Bronze Glimmerglass. It made a huge difference.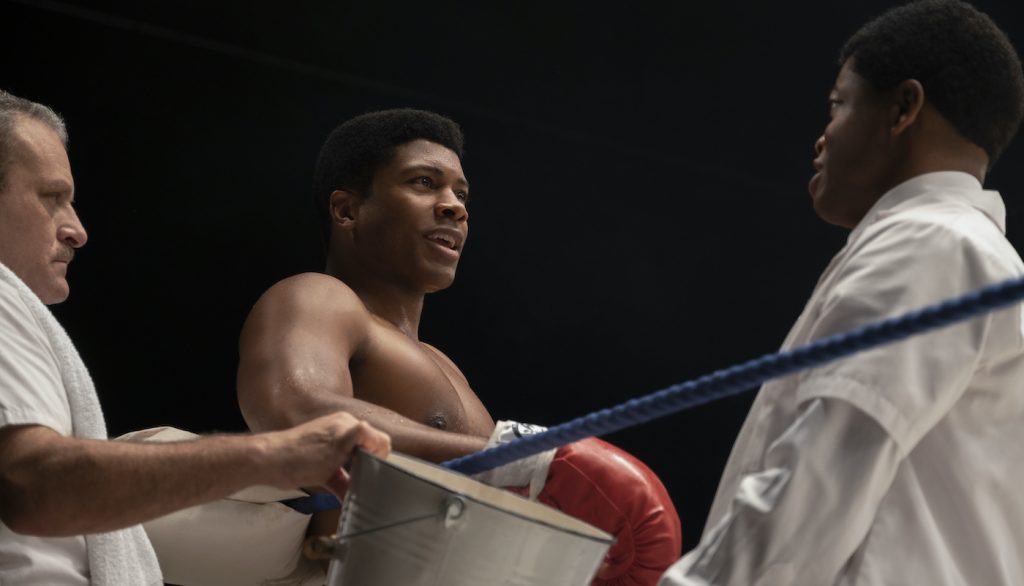 Scenes in Hampton House Hotel feel both expansive and claustrophobic. It's an interior location, at night, with a variety of skin tones. Talk about filming in that room, and your part in bringing life and color to it. 
Definitely the biggest challenge in the film was the amount of dialogue in such a small space, with 10-page scenes of wall-to-wall dialogue. Regina and I, in our early talks, discussed how we wanted to keep the camera floating and moving, and not have it be static. The whole film is either hand-held, or floating on the jib arms. We had two 12-foot jib arms that were manually operated, not on a hothead, not on wheels. The operator was standing with the camera so they could float it right and left, or up and down, or in between characters. We had every window popped, every picture frame had a hole behind it, so one of the cameras could be poking through and always keep this floating movement. We decided to shoot whole 10-minute takes, or however long the entire scene was. First we would shoot the master, and that would help us decide the coverage of how we would float from character to character. Each time, we'd do a 10 or 15-minute take, which the actors loved. There was just so much experimentation, and there were so many discoveries as we were shooting.
It sounds difficult to pull off!
It was a challenge for everyone. Imagine the boom operator, the focus puller, everyone is memorizing 10 minutes of where they're moving around the room, and who is talking, but everyone on the crew was so into this film. They just loved it. Regina really brought this energy that drove everybody. We had a lot of very long nights, but when you have a director and actors that are so dedicated, your crew is 100% onboard.
Working with Regina, what is one example of collaborating in problem-solving? 
When you're shooting a movie with a lower budget, there's constantly something you're trying to figure out how to accomplish that's cost effective, but also done your way. At the hotel, we both really wanted to shoot outside, on the roof. We didn't want to shoot on green screen, but there were limitations, because there was nothing really around there. It was 10 miles from Miami, and it was all 2-story buildings, and any real roof we investigated, they said the actors would have to be on wires for safety. That was never going to work, so we came up with this idea that we would shoot in the parking lot, and we made a roof out of shipping containers. We put a black guardrail around it, because even though it was 10 feet high, it was still too dangerous for crew and cast to be up there. So we collaborated together, and problem-solved how we could shoot outside at night. There was nothing around. We were an hour from New Orleans. I placed neon signs, and little bits of color outside in the fields, so you would get the feeling that there was life out there, or a road out there, and that you were still in Miami.
What stands out as the best part of working on One Night in Miami?
Working with Regina, seeing her dedication and the amount of energy she has, is mind-blowing. Being present to watch the incredible performances by the cast was a highlight, too. Listening to Leslie sing was like being at your own personal concert. Working on a movie with a universal message was the best part, though, as part of the conversation of what's happening right now. This story from 1964 is relevant to this moment in history.
Featured image: (L-R) Leslie Odom Jr., Eli Goree, Kingsley Ben-Adir and Aldis Hodge star in ONE NIGHT IN MIAMI. Photo Courtesy Amazon Studios.