Director Gina Prince-Bythewood on her Netflix Epic The Old Guard
The Old Guard, premiering today on Netflix, is a completely engrossing female-fronted action film that just might blow the doors off your summer. Helmed by director Gina Prince-Bythewood, it also marks the milestone of the first major superhero film directed by a Black woman. Prince-Bythewood, who first made her name as writer/director of the classic Love & Basketball, has become one of the most thoroughly interesting directors working in Hollywood. Whatever the genre, be it romantic comedy, a coming-of-age-story, or an epic action flick led by immortal beings, Prince-Bythewood seems exuberantly alive to her characters' plights.  Ask any young female filmmaker coming up, and they will likely name the quiet, steadfast woman as an inspiration.
Her new film is about a team of mercenaries headed by Charlize Theron who are unable to die. They must welcome new immortal Nile, played by an excellent Kiki Layne, into a tightly knit group that hasn't seen any new members since 1812. The Credits spoke to Prince-Bythewood about The Old Guard's aesthetic, believability, and the importance of diverse audiences seeing themselves reflected onscreen.
In this film, killing has moral meaning and weight, as does how the Old Guard interact with each other and the world. How does that resonate with you as a filmmaker?
The thing that drew me and moved me about these characters, especially Andy [Theron] and Booker [Matthias Schoenaerts], is the fact that they've lost their sense of purpose. They've been given this gift that they see as a curse because they don't know why. Certainly, at times in my life, I was struggling to find my purpose. It felt like such a human thing, and the fact that I connected so strongly made me think that the audience would connect as well. I really wanted to delve into that, about what it would mean to be immortal. I wanted to talk about the tragedy of living past everyone you love, and the loneliness that would be part of your existence, and how hard that would be if you didn't know why.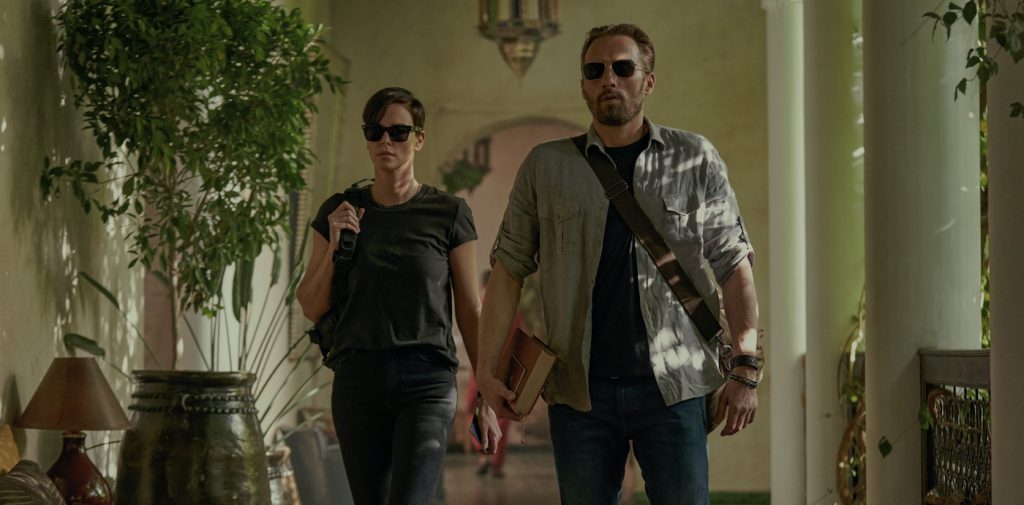 How did you build this world into something that felt so raw and real, despite the fact immortal beings inhabit it? 
One of the things I was excited about was making these characters grounded and real, and having that permeate everything. It really did start with the casting. I wanted to cast great actors for every role, actors that we could believe were alive for thousands of years. It's not just about being a great actor. Do you have that soulfulness, that depth that I can believe? I felt so fortunate in terms of everyone that we cast. They truly embodied that.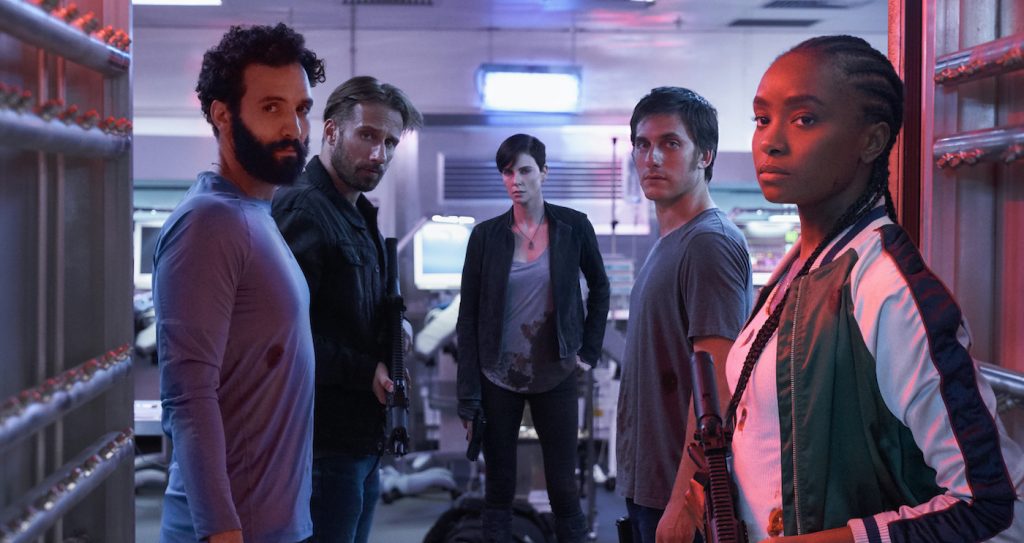 In terms of the stunts, and the way I approached shooting them, I wanted it to always feel real, so I usually shot at eye-level. There was very rarely a shot from down below, or way up high, or where the eye doesn't naturally go to. I didn't want to have the camera whipping around, but to have the camera right there capturing these fights as opposed to dictating exactly what the eye can see.
In terms of the production design, we used so many natural locations as opposed to building them. There's just something to being in a real space, the natural history of it, the look of it, the feel of it. We had an amazing production designer, Paul Kirby. Then we had our director of photography, Tami Reiker. She and I had two phrases we used; 'intimately epic' and 'pretty gritty.' The story starts in the details, it starts in the connectivity in the relationships between these characters, and then we broaden it to having this beautiful scope of these real locations that we're in. 'Pretty gritty' was showing the world as it is, but kicking it up just a notch, given that we wanted to show the beauty within all these locations, like the alleys of Morocco, or a village in South Sudan. Finding that beauty in every area that we shot was essential.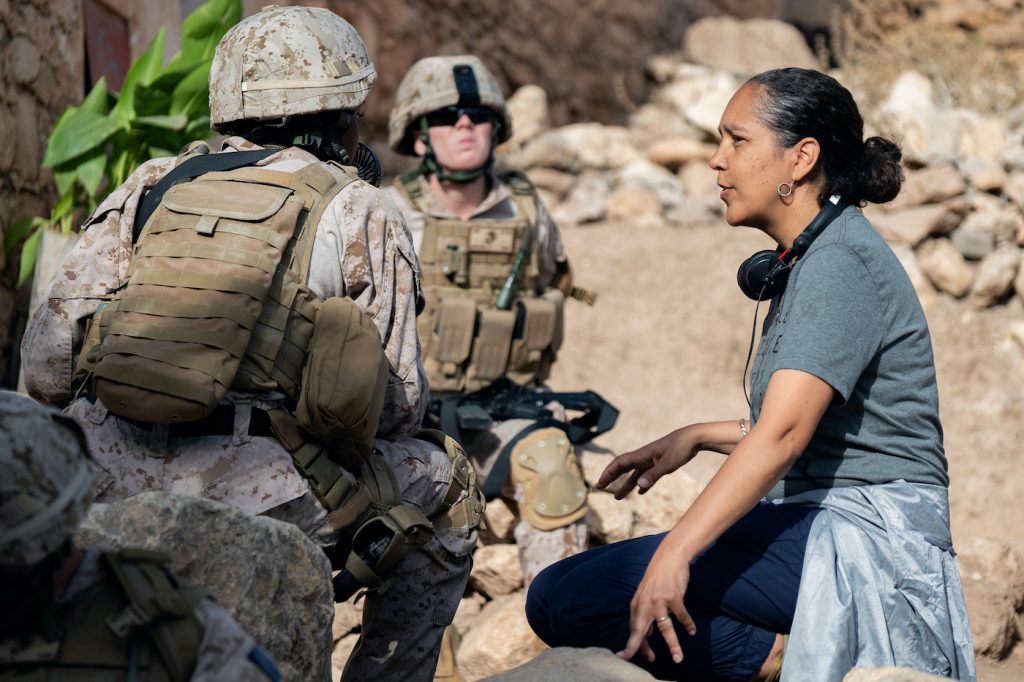 The cast and characters are global, and that adds to the depth of the story. 
There are so many things I love about the story, but one of the things is it just felt so organically diverse and global. We have this group of warriors from different cultures, backgrounds, sexual orientations, and genders, that have come together to protect humanity. I love what that says, the fact that we are all connected globally, but we don't always feel it or see it. I wanted the cast to reflect that as well. I wanted them to reflect the world out there. You see that in the cast, particularly Nicky (played by Italian actor Luca Marinelli). I wanted a man really from there. It's interesting because Luca asked me if we should get a dialect coach to help him because his accent is so thick, but I said, 'I love your voice. I love your accent. I want that. That's what Nicky would sound like.' I love the fact that they all speak each other's languages. That started off-set, because everybody came from a different place in the world, and they started sharing their languages. I said, 'Let's put that in the film. Let's add that element because that's absolutely who these characters would be. They would respect each other's cultures, and share each other's cultures, and live within each other's cultures. Let's establish that through dialogue and action.'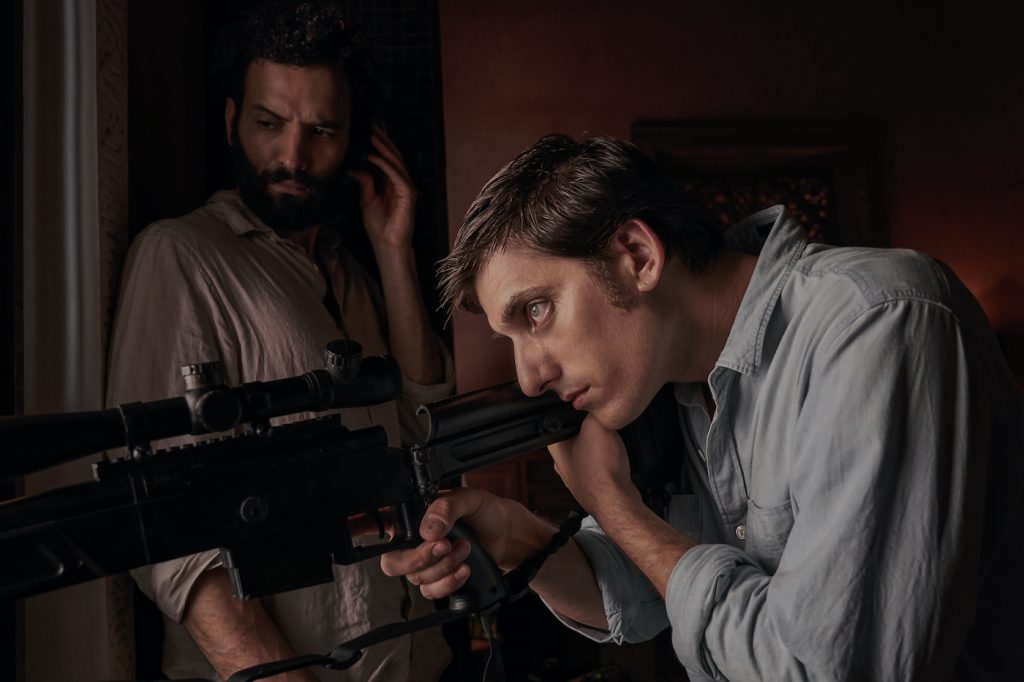 It's not often—it's close to never, really—that we see we get to see two strong male leads in an action movie this epic who also happen to be lovers, in this case, played by Luca Marinelli and Marwan Kenzari as Nicky and Joe.
The cast is great. Luca is wonderful. I love what he brought to his character, and what Marwan Kenzari brought to Joe, what they brought to that relationship. It's certainly a relationship we haven't had the opportunity to see in the genre like this. It was in the graphic novel, and in the first script that I read. When I say the script continued to surprise me, it wasn't just the story, but what was in it. With that relationship, I didn't see it coming, it just came in so easily and naturally, and I just embraced it. The same way I'm excited about the fact that we are putting Nile [Kiki Layne], this young Black female hero, into the world. We don't get to see that enough. We all deserve to be heroes. We all deserve to see ourselves reflected heroically.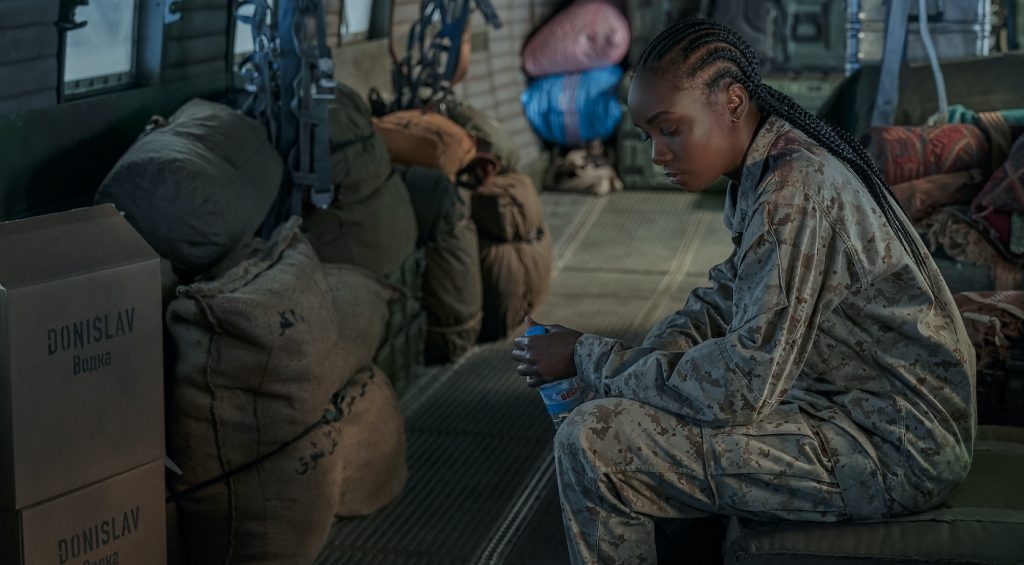 Featured image: THE OLD GUARD (L to R) KIKI LAYNE as NILE, LUCA MARINELLI as NICKY, CHARLIZE THERON as ANDY, MARWAN KENZARI as JOE in THE OLD GUARD. Cr. Courtesy of Netflix/NETFLIX © 2020