Oscar Watch: If Beale Street Could Talk's KiKi Layne on Love, Stillness, & Working With Barry Jenkins
KiKi Layne stars as Tish Rivers in Barry Jenkins's adaptation of the novel by James Baldwin. A beautiful love story layered in social commentary, as relevant now as it was when the novel was originally released in 1974, Layne draws the viewer in with one of the best performances of the year, making you feel her hope, her fear, her potent love and, ultimately, her resolve. A relative newcomer to feature films, the rising star talks with The Credits about the power of stillness, and the benefits of a nurturing director, supportive co-stars and a great crew in building her remarkable portrayal of a young woman in love and in pain.
Preparing as an actress, how did you work out the timing and beats for the scenes in which there was so much silence? 
What helped me with that was to really press into what was in the novel, in terms of what Baldwin writes about what Tish is feeling, thinking, and seeing.  So I used a lot of that to create the necessary things to be thinking about or imagining. Also, I was connecting to things in my real life to make sure, in those moments of silence and stillness, I'm still very much communicating something that's clear, and I'm not just looking at the camera. Tish has something to say at that moment, even if it's not being vocalized.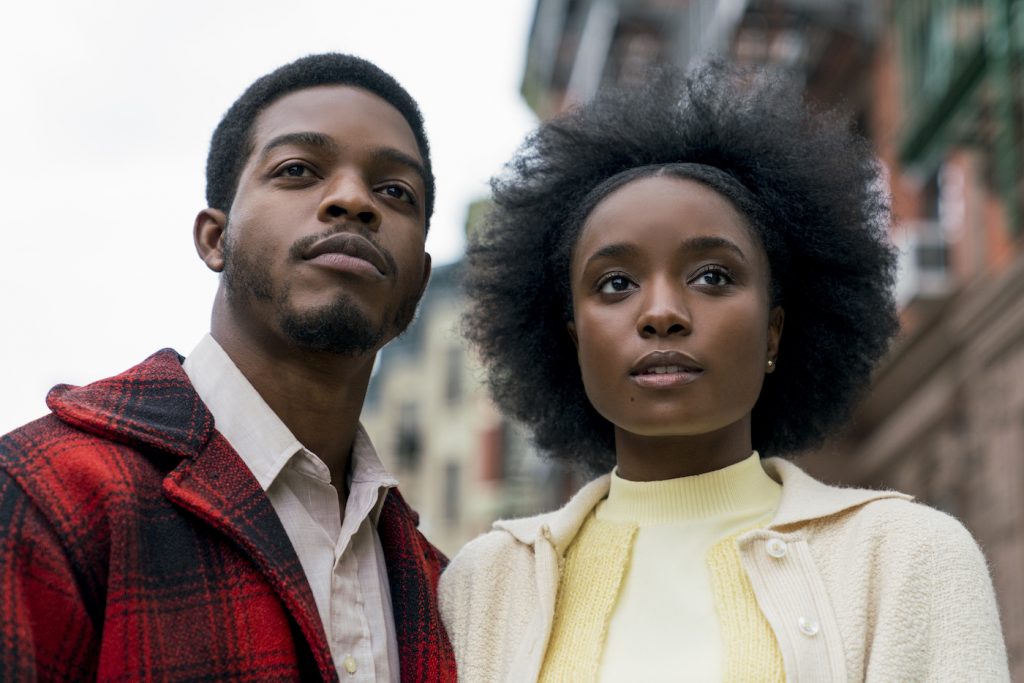 Were there lines that you feel encapsulate the character and helped hook you into her as an actor? 
There is a time I speak in voiceover when I'm at the perfume counter. I say something like "I wonder if he thinks I'm just a helpless baby sister?" There are a couple of lines that Tish has in the novel, where you can tell she recognizes she looks like someone you just want to hold onto or wrap up. I knew that I was doing what I needed to do when the Baldwin family was on set. I think it was one of Baldwin's nephews who said, "Oh my goodness, I just want to give you a hug. I just want to console you." I knew that's that indescribable thing that Tish has, so what does that look like? There's this really interesting line there and it's really cool to explore in the character at what point Tish has to hold herself up? I think that was one of the beautiful things about her. She is vulnerable enough that people will hold onto her, but she has to discover her own strength and her own way to say, "I've got this."
How quickly did you and Stephan James find your rhythm with each other as characters? There are so many moments of stillness in the film, it must have required a huge amount of trust. 
We didn't really rehearse, we just jumped into it. I just think it was essential for us both to come from the place of the powerful love that Fonny and Tish have for each other because it speaks so much of who they are, and how they move through space, and life, and these circumstances they find themselves in. It was a natural thing. As to the stillness, that was trusting Barry. Trusting that if he wants us to sit in it for that long, then we are supposed to do that. Thankfully, working with Barry, you feel really safe on his set to sit in those things. Sometimes we are sitting in the love, and sometimes we are sitting in the pain. It is so critical to be surrounded by people, not just the cast, but everyone on that set was part of creating that environment, filled with so much love and respect that we were able to be in those really vulnerable places with each other, and feel comfortable, and trust that we were being taken care of.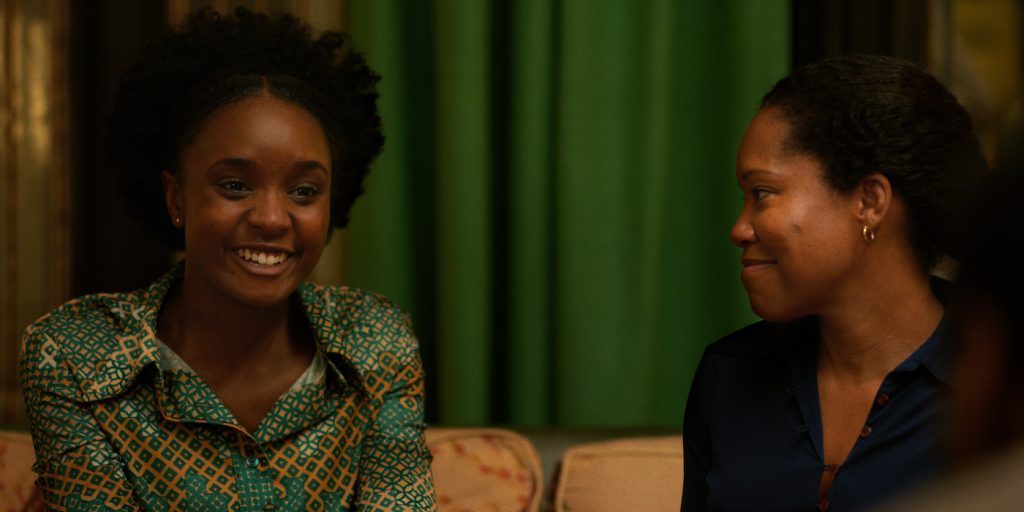 There are so many elements of craft in the film, like costumes, set design, hair, and makeup, that really evoke the era and create the world in which Tish and her family live. How did that help as an anchor for your portrayal of her? 
The world that was created by costumes and sets, that definitely helped to make the world I was playing in more real. One of my favorite things about working on this film is, we weren't concerned about that Hollywood need to be pretty and looking "on" all the time. There were times when I was in the makeup chair and the artist would just dab my face, like "pop! pop! Ok, you're done. Off you go." That's how it should be. Tish isn't going to wake up with a full face of eyebrows and contouring. That isn't authentic to what her life is like. Even with the costumes, we repeated the same costumes multiple times, because they don't have money like that, so you would wear things over and over again. Even the way certain things fit. Tish would have hand-me-downs from Ernestine so they wouldn't fit perfectly. The fact that everyone was so attentive to all those details, it allowed me to focus on who Tish was, and get KiKi out of the way. All of that was a huge part of finding Tish, and also finding this environment she was growing up in.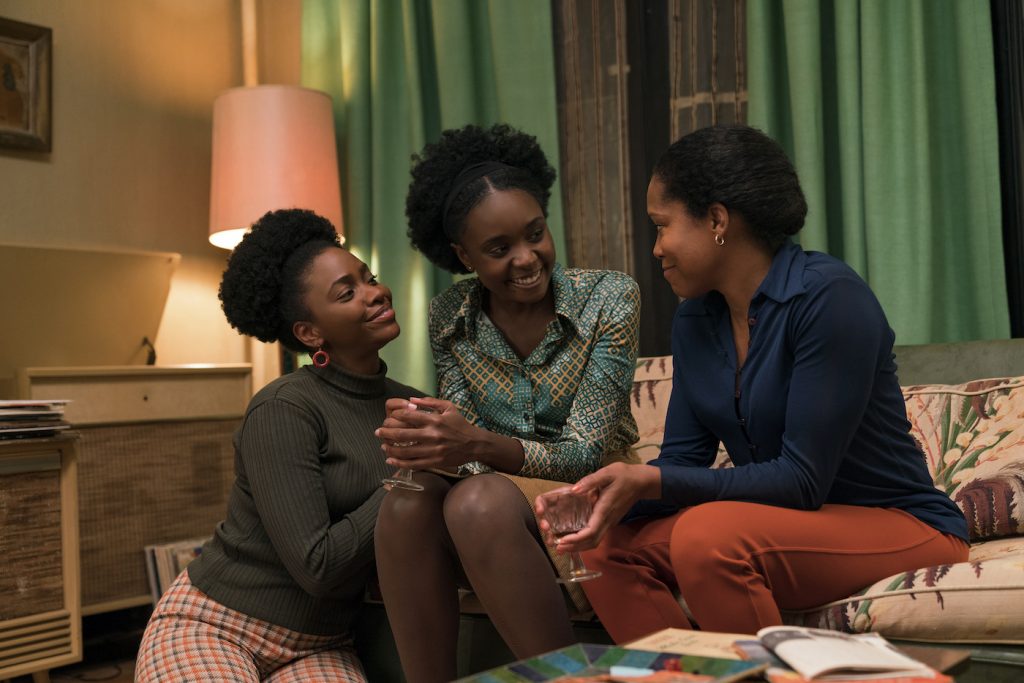 Seeing the way Tish's family supports and gathers around her without judgment when she needs champions is really one of the most inspiring things about the movie.
What I love about her family is they helped to nurture the growth that had to happen in her, but it wasn't a push. There were no demands of toughening up, they just recognized Tish is going through something very painful. The way they encourage her by saying "love is what brought you here, and if it brought you this far, you've got to trust it all the way." That's the thing, to press into the love, not the anger. Don't get overwhelmed by the pain, or get overwhelmed by the loneliness. You keep that love strong. That's what will bring this child to life, and that's the thing that's under attack.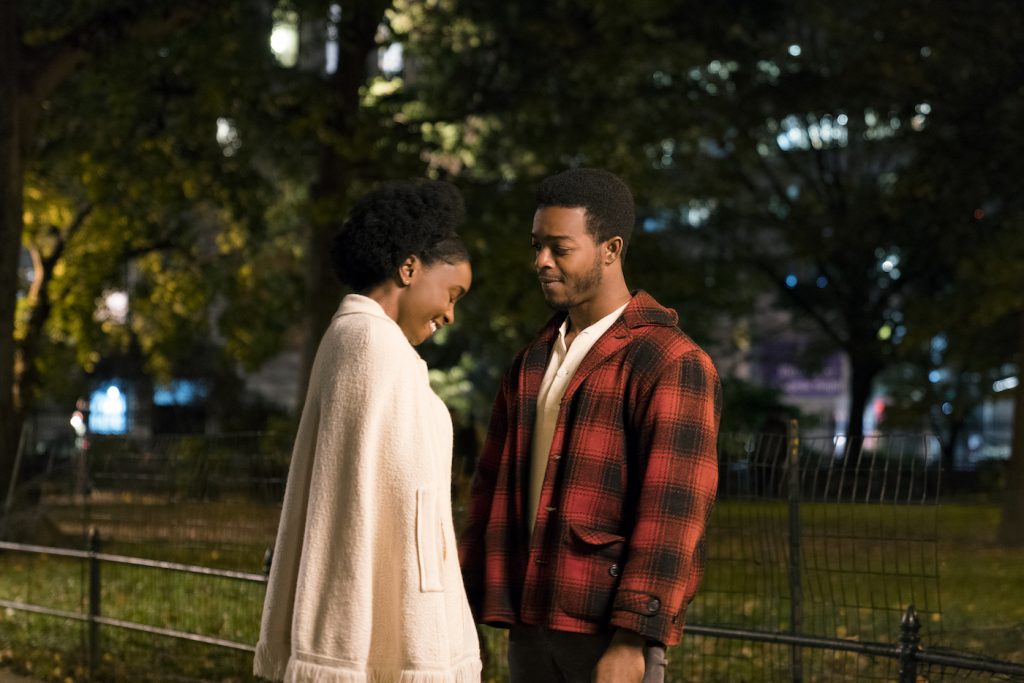 The idea of love and its power is such an important message right now in this country, especially in communities of color. 
I mean, black love is a revolutionary act. I don't know who it was that said that but I do believe that there is so much power in that, that's why it's so under attack in so many ways. When you lean into that, and you use that for your strength and power, I feel like some things try to teach us that it's actually the thing that will make you weak. So many movies have lines about someone's weakness being because they love too much, but that's always a strength. That's the thing that keeps me fighting and pushing. That's how I'm going to survive what may come at me, because I have that love surrounding me.
Featured image: KiKi Layne stars as Tish in Barry Jenkins' IF BEALE STREET COULD TALK, an Annapurna Pictures release. Courtesy Annapurna Pictures.