How Spike Lee's "Da 5 Bloods" Got Its Signature Look
Cinematographer Newton Thomas Sigel, known for his work on films like Bohemian Rhapsody, Drive, Three Kings, numerous X-Men installments, notes that his first feature with director Spike Lee always "felt like a distant dream."
Not because he hadn't crossed Lee's path before, since the two had collaborated on numerous commercials, and he mentions having "known Spike forever it seems—we both came up in New York at the same time. I was making documentaries," and Lee came roaring out of NYU film school with early features like She's Gotta Have It and Do the Right Thing. But working on a feature together remained out of reach. Until the call for Da 5 Bloods came.
The call arrived when Sigel (who usually goes just by "Tom") was in the middle of another Netflix-debuted feature, Extraction. He was on location for that film, which happened to be in Thailand. "How much that played into it," Sigel muses, "I don't know."
But it certainly didn't hurt, considering Thailand, along with Ho Chi Minh City, was also one of the main locales for Da 5 Bloods, a story in which four surviving African American vets reunite in Vietnam to dig up the remains of their fallen squad leader, along with a cache of off the books gold from a wrecked CIA plane.
The vets are also wrestling with the kinds of ghosts that come with a soldier's PTSD, compounded simply by being African American in America, something that Lee has delineated throughout his work.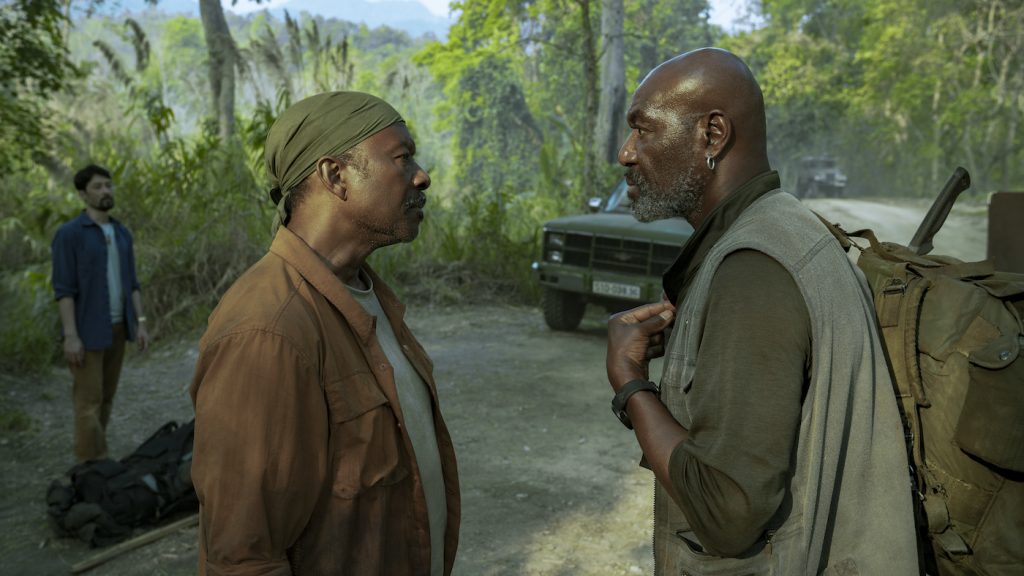 Part of that haunting is shown via flashbacks, though interestingly, the middle-aged actors all play their "recontextualized" younger selves as well (without Irishman-style de-aging, but rather, as themselves, occupying their own memories). Only the fallen leader, played by Chadwick Boseman, is young. Delroy Lindo as Paul, the most haunted of them all, and Clarke Peters as, perhaps, his opposite, the grounded-in-spite-of-the-pain Otis, are particularly outstanding.
In getting ready to tell their story, however, there was, as Sigel says, "accelerated shrunken prep time." His familiarity with Thailand helped. "We looked at a bunch of locations that were being offered up, and while you always want to strive for the best locations you can, you have to choose your battles."
As for the battles they were going to recreate on screen, it also helped that among his many credits, Sigel also shot second unit on Oliver Stone's Platoon.
But that wasn't the only movie referenced during that short, busy prep. The film makes several shout-outs to Apocalypse Now, including a river encounter that almost goes disastrously wrong (serving instead as foreshadowing), and a Ride of the Valkyries musical cue.
And while Sigel also looked at docs like Hearts and Minds and Ken Burns and Lynn Novick's The Vietnam War, Lee had other antecedents in mind, as well: "Spike also spoke consistently about David Lean. This was an epic story he wanted to tell, and he wanted an epic canvas. He'd bring it up if he thought we were going too small."
And while there is certainly some grandeur in the majestic drone-captured overhead shots as the titular Bloods glide their way upriver for the reckoning that awaits them, replete with boat traffic, the busy-ness of on-the-water markets, and an explosion of flora, perhaps it was Lean's Bridge on the River Kwai, with its tropical locales and explosive ending, that comes closest to this current film. Which still managed to go small, in terms of visual verisimilitude, even during some of its fiercest action sequences and firefights.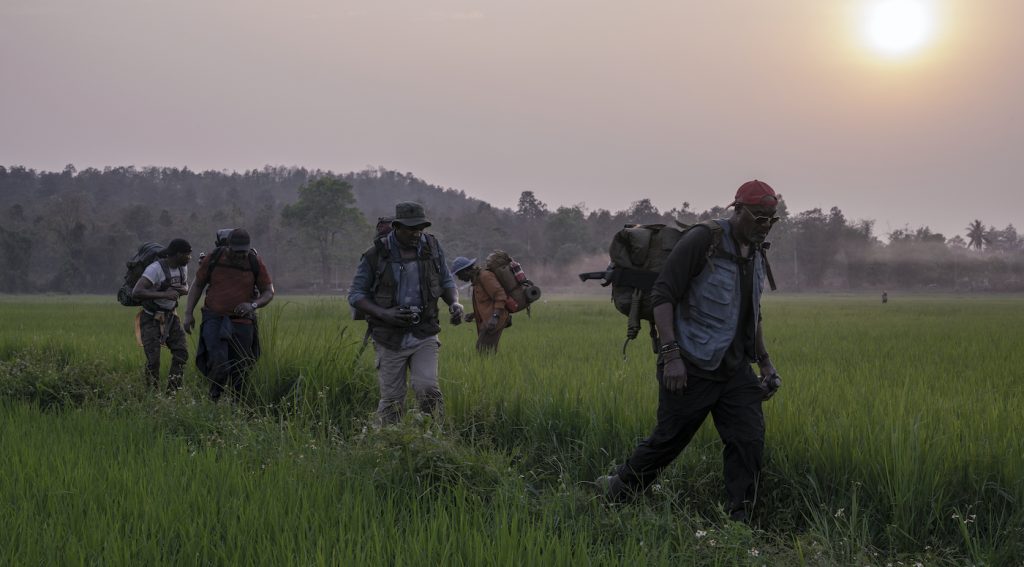 Most of those take place during the flashbacks to the war itself. "I felt that it was best to do it with authenticity," Sigel says, "to do it the way you would do it, were you really a news cameraman, shooting with the military in Vietnam. That sort of war photography is how I started my career. He's referring to early documentary work like El Salvador: Another Vietnam.
"So I proposed 16mm and reversal film stock. (Spike was) familiar with 16mm, and he's familiar with shooting reversal, so he really embraced it. There was some pushback from production," he says, which included the fact there was no lab to process dailies in Southeast Asia, requiring a huge turnaround time for film couriered to the US and back, on top of the fact they only had Boseman for two weeks. "Are you sure you want to do this?" they asked.
But Lee backed him, and Sigel found himself very excited by the green light and took it a step further: "If we're going to do that, stay true to this format, (then the ratio is) 4 x 3. That's what television was in those days." This also helped with all the stock footage they used, which was also 4 x 3.
The liberating aspect for Sigel was to discover that you're not beholden to any aspect ratio, nor to a single type of camera. They used an Arri 416 for the war-era footage, and then both an ALEXA Mini and LF for the contemporary—and widescreen—part of the story. There's even some Super 8mm footage from one of the characters who shoots it in the film.
Sigel says they also made sure to show the pivot from when the Bloods moves from the city to the country in Vietnam.  "We played with creating a distinction between when they first arrive at Ho Chi Minh City [formerly Saigon, when they were first there] and then there's this transition when they hit the jungle and travel back in time." The viewer feels this departure—from the bustling, rebuilt, and expanded city to the jungles that changed the Bloods so drastically when they were young.
It's in the jungle that the Bloods discover the truth in Williams Faulkner's phrase that "the past is never dead. It's not even past." Sigel managed to capture the spirit of this truth with two different generations of film technology, and decades of expertise.
For more on Da 5 Bloods, check out our interview with screenwriter Kevin Wilmott and composer Terence Blanchard.
Featured image: DA 5 BLOODS (L to R) ISIAH WHITLOCK JR. as MELVIN, NORM LEWIS as EDDIE, DELROY LINDO as PAUL, CLARKE PETERS as OTIS and JONATHAN MAJORS as DAVID in DA 5 BLOODS Cr. COURTESY OF NETFLIX © 2020