Cinematographer Newton Thomas Sigel on Shooting Spike Lee's Epic Da 5 Bloods
On its surface, Spike Lee's latest joint, Da 5 Bloods, is about four Black Vietnam war veterans who return to the country decades later to bring home the remains of their leader, Stormin' Norman (Chadwick Boseman), who was killed in action. Secondary to this mission, the remaining four of the five Bloods (played by Delroy Lindo, Clarke Peters, Isiah Whitlock Jr., and Norm Lewis) also plan to locate and dig up a chest of gold bars they'd buried in battle. During the war, their final mission had been to retrieve the bars from a crashed CIA plane, but at Norman's urging, they took possession of the gold as a form of reparations, instead. Now in their 60s, the time has come for Paul (Lindo), Otis (Peters), Eddie (Lewis), and Melvin (Whitlock Jr.) to bring it home, a journey that thoughtfully brings up a range of moral questions.
Cut with historic news footage of the Vietnam War and contemporary coverage of the Black Lives Matter movement, contrasted with speeches from Martin Luther King Jr., renowned activist Angela Davis, and various racist politicians, Da 5 Bloods is a uniquely prescient movie. As he jumps between war-time flashbacks and the men's present mission, Lee's work covers a lot of ground, from reckoning with PTSD and the corrupting power of money to the present-day danger posed to civilians by decades-old landmines. Paul and Otis both have children who show up unexpectedly during their fathers' mission, and though Melvin and Michon (Sandy Huong Pham) are themselves adults, each clearly carries the scars of intergenerational trauma. Much of the film turns on how the past informs the present (even Hedy, a French heiress neutralizing landmines in the jungle, is working to atone for the inherited harm of her colonialist ancestors), and Lee's DP, Newton Thomas Sigel (Drive, The Usual Suspects), invokes distinct aesthetics to set apart past and present and city versus jungle. We had the opportunity to chat with Sigel about his varied choice of aspect ratios used to convey this epic tale, shooting on location in the jungles of Vietnam and Thailand and his first time working on a Spike Lee joint.
Can you tell us about the process and intentions behind developing the film's different aspect ratios?
The most radical of the three choices were the flashbacks, the portion of the film that you see with Chadwick Boseman playing Stormin' Norman and you're back in the war in Vietnam. We decided to shoot on 16mm and to use reversal stock, basically, to reproduce the same process that a newsreel cameraman would have done were he embedded with the U.S. military in the war in Vietnam. It's also where I started as a photojournalist and documentary filmmaker. We thought that that was the most appropriate format for that, and it actually also worked nicely in conjunction with all the archival footage that Spike chose to put in the film. That was the most significant choice of varying the aspect ratio.
Initially, the film starts with a widescreen format which on Netflix was in their 16:9 envelope, so to speak, or display, which means it's letterboxed top and bottom. When the Bloods hit the jungle and they're taken psychologically back to where they had their experience in Vietnam, we open up the letterbox on the top and bottom and go to 1.8:5. So even though it's technically not as widescreen a format, it actually opens the screen up even more.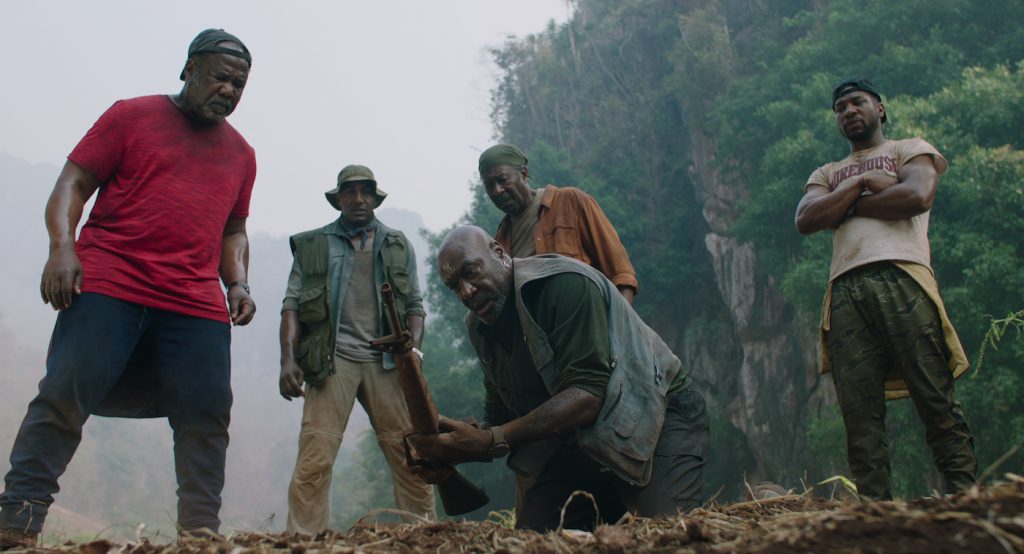 While many viewers will instantly catch the Apocalypse Now reference as the Bloods helicopter into the jungle, what other works influenced the movie?
I think for Spike, David Lean was somebody he referred to a lot, and not just The Bridge Over the River Kwai, but really more specifically that he felt he was telling a very epic story not only about Vietnam but about Black America, as well. I think David Lean was a fairly constant reference to Spike throughout the process of making the movie.
Did shooting on location in the jungle strongly influence your process?
I'm not quite sure how you could have done it without the jungle, you know. I've done my fair amount of shooting in those kinds of environments. It wasn't particularly new or novel to me, but it was definitely a challenge to deal with a story that is about four aging men going back to discover their formative years in Vietnam. You had tremendous heat, distant locations, and steep hills that we were working on, and 50- and 60-year-old men trying to run up and down them like Arnold Schwarzenegger. It was certainly a challenge and honestly, I expected it to be much more of an issue than it proved to be. I was surprised at how well the guys did in prep. But as always, when you're dealing with remote, tropical, jungle-type locations, you're dealing with heat, you're dealing with being able to get equipment in and out of distant locations, and you're dealing with a very harsh, brutal sun. You can either try to get rid of it or you can kind of embrace it as something that really was an actual reflection of what that environment was for these guys when they had their initial experience.
In the scenes where Eddie uses a Super 8 camera, was he actually filming?
The flashbacks to Stormin' Norman were all done with 16mm film and 16mm reversal. One of the characters, Eddie, played by Norman Lewis, was an avid photographer during the war and continues to carry his Super 8 camera that he had back in the day. We gave Norm Lewis a Super 8 camera and Super 8 film and had him shoot when he was pretending to shoot. So the scenes in which he's carrying that camera, taking shots of his mates, really was footage that Norman shot himself.
How was the experience working with Netflix for a big epic film like this?
Spike's movie was the third movie I've done for Netflix, so I'm fairly familiar with their process. I have to say, I think they're great. They're very filmmaker friendly. They have their opinions and they obviously have their concerns about money like every studio does. But I think, especially when you work with somebody like Spike Lee or the Russo brothers, who produced the Netflix movie I did before that, they really are so committed to building relationships with great talent that they're very deferential to filmmakers. I know they were with Spike, and I'm sure that they voiced some of their opinions about the film as it was being cut, but at the end of the day, they were like, you know, it's your movie and you're going to do what you do. Spike made the movie he wanted to make, no question.
This was your first time making a film with Spike Lee. How was it?
I've known Spike for many years, from New York when I was making documentaries and he was coming out of NYU and doing Joe's Bed-Stuy Barber Shop and She's Gotta Have It. And we've done commercials in between movies. I always enjoyed working with him and I obviously have enormous respect for him—he's one of the great American masters. He's one of our great American filmmakers working today. So I was on another movie, and during the Christmas hiatus, Spike called me and asked if I was interested. Initially, I was very concerned about not having enough time from one movie to the next, but he was very confident that it would be all right. I took the bait and I'm very happy I did.
For more on Da 5 Bloods, read our interviews with screenwriter Kevin Wilmott and composer Terence Blanchard.
Featured image: DA 5 BLOODS (L to R) JONATHAN MAJORS as DAVID, ISIAH WHITLOCK JR. as MELVIN, NORM LEWIS as EDDIE, CLARKE PETERS as OTIS, DELROY LINDO as PAUL in DA 5 BLOODS . Cr. DAVID LEE /NETFLIX © 2020