Oscar-Winning Writer Kevin Willmott on Re-Teaming With Spike Lee For Da 5 Bloods
What happens when four Black Vietnam vets re-unit in present-day Ho Chi Minh City to retrieve a CIA shipment of gold left behind in the jungle forty years earlier? As imagined by Spike Lee in his new Netflix film Da 5 Bloods, the old soldiers' quest leads to carnage, flashbacks, greed, and nervous breakdowns. As with every Spike Lee film, Da 5 Bloods manages to be timely, too, thanks to Lee's commitment to investigating how race shapes the lives of every American, whether they realize it or not.
The story was initially crafted by Los Angeles screenwriter Danny Bilson and his late partner Paul DeMeo and developed by Oliver Stone before making its way to Lee about three years ago. Lee then teamed up with writing partner Kevin Willmott to re-shape the dramatic thriller for African American characters played by Delroy Lindo, Clarke Peters, Isiah Whitlock Jr., Norm Lewis, and Chadwick Boseman. Blending influences from Apocalpyse Now and Treasure of Sierra Madre, Lee and Willmott infuse the story with insights about the history of racism illustrated with archival footage of Martin Luther King Jr., renowned activist Angela Davis, and others.
Willmott, who won an Oscar for co-writing Lee's BlacKkKlansman, spoke from his offices at the University of Kansas, where he teaches film history, to discuss Delroy Lindo's transformative performance as a Trump-supporting Vietnam vet and Da 5 Bloods' secret weapon: Marvin Gaye's still-potent 1971 album "What's Going On?" to enhance the emotional wallop of the film's most affecting scenes.
Da 5 Bloods addresses American racism in an especially timely way right now in the aftermath of George Floyd's death. How's it feel for your movie to be landing at this particular moment when people have taken to the streets to address the very themes dramatized in your movie?
You can never plan for these things but you always hope your film speaks to the problems in our society in some direct way. It's great to see that Da 5 Bloods in many ways targets exactly what's going on right now.
Da 5 Bloods draws on a classic hunt-for-treasure plot in the vein of a Treasure of Sierra Madre, but within that framework, you incorporate a lot of facts about the history of racism in America. How did you and Spike arrive at that balance between history lesson and dramatic tension?
The gold in the jungle part of the film came from Danny Bilson and Paul DeMeo's script. What Spike and I did was to link the story to the consciousness of Black soldiers in Vietnam fighting this unpopular war for rights they don't have at home. That's not new for Black soldiers, but what's different about Vietnam is that there was a war going on back home for those rights. The fact that [civil rights] folks are marching, Dr. Martin Luther King is speaking out, the Black Power movement is starting to happen after his death, and the anti-war struggle too, so you have this whole turbulent thing happening in the United States that creates this whole other level of unity and love and brotherhood these Black soldiers feel for one another.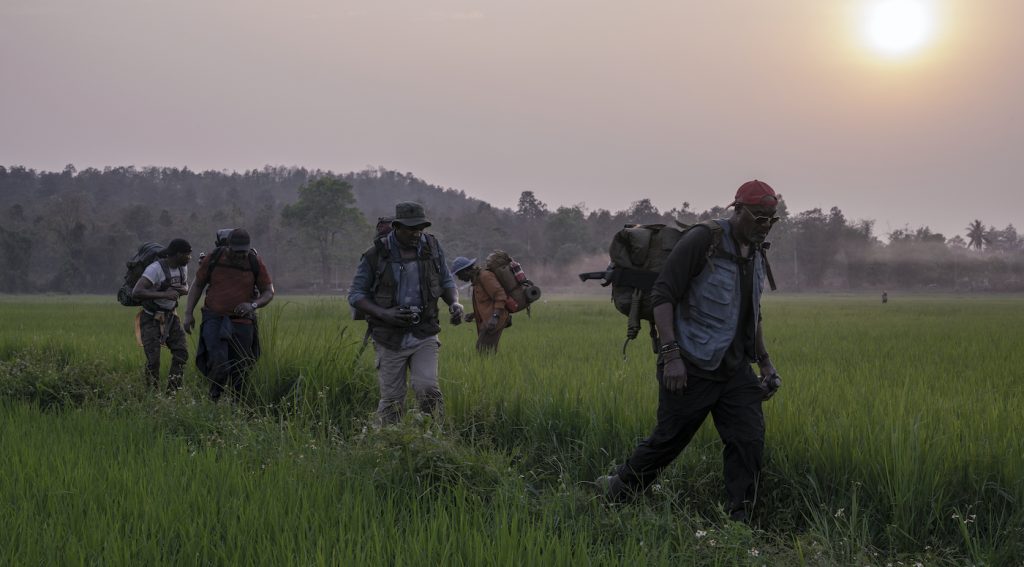 Each vet has his problems but the most damaged character has to be PTSD-afflicted Paul, the MAGA hat-wearing Trump supporter played by Delroy Lindo. What's the psychology behind that character?
All of our main characters have totally legitimate grievances, but Paul is so angry and so estranged from his family, so unwilling to talk about his problems or get help—all these things isolate him and makes him feel like he's gotten a raw deal from America and that's why he's a Trump supporter. I think a lot of these people have gotten a raw deal. But then they blame their problems on immigrants and they blame Black people, they blame gay people, all the mystical left-wing world of things that can be blamed. With people like Paul, Trump harvests all that unfocused anger and feeds it back to them. Some people feel like the world has left them behind, and in a bizarre way, there's a small group of Black people who connect to that. A lot of them are military people. I grew up in a small town called Junction City Kansas. It's connected to Fort Riley Kansas, which is where the Big Red One [Black infantry division] is based. I know these people, and like Paul, some of them are Black. That's the sad reality.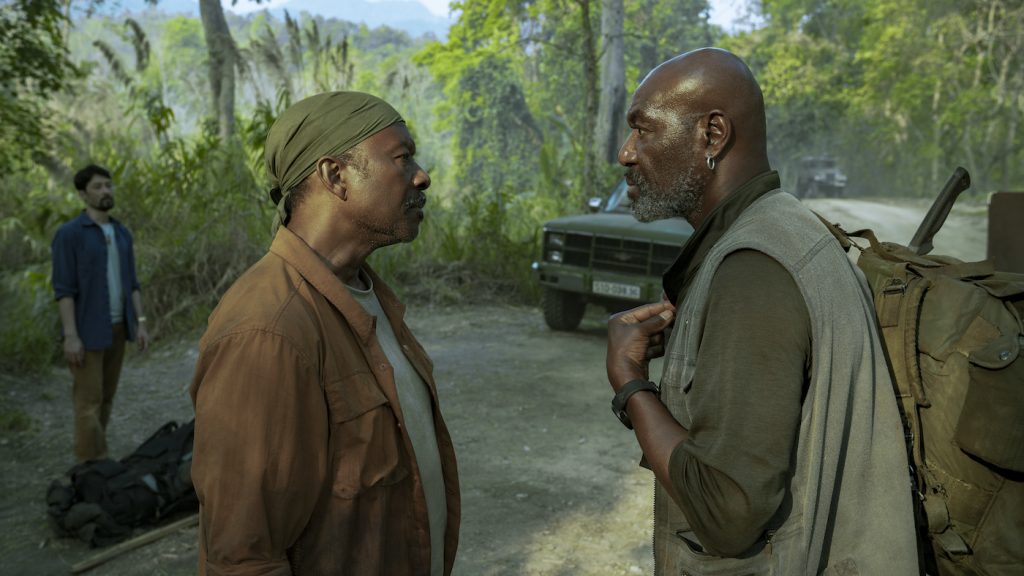 Delroy Lindo had supporting roles in two previous Spike Lee movies but here in Da 5 Bloods, he takes it to a whole new level.
The minute Spike cast Delroy, I knew he'd be great mainly because he has such an amazing intensity, especially in the jungle scenes at the end where he's by himself doing those monologues. I hope this role gets him the attention he deserves because Delroy nailed Paul and really knocked it out of the park.
The film references Martin Luther King Jr., Muhammed Ali, and Black Panthers including Angela Davis and Bobby Seale. In what ways do you see this earlier period of Civil Rights activism reflected this summer following the deaths of George Floyd, Breonna Taylor, and so many other Black citizens.
One of the great things about this moment is that people have been able to take the horrific murder of George Floyd and hopefully turn it into something that will create change. In that sense, there's a link to the horror of 1968, Martin Luther King Jr.'s assassination, Bobby Kennedy's death, the Democratic Convention and all that stuff you see in the film, where people were coming out of this trauma to build something to finally address the legacy of police brutality. I was a kid during that time but it feels very similar to what we're seeing now. People are finally getting so tired of seeing these murders over and over again so they're really motivated to make a change. That gives me hope.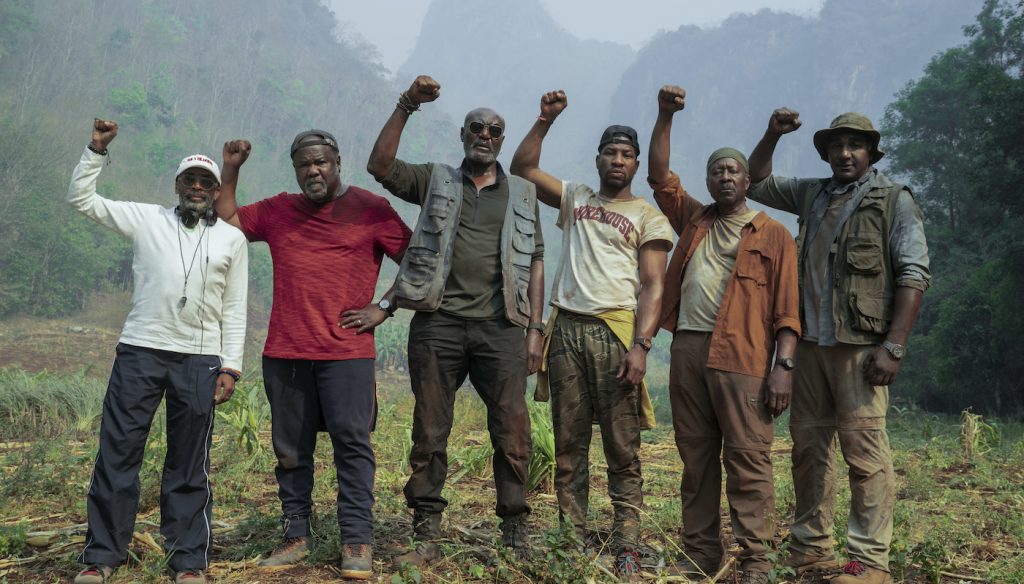 Marvin Gaye's soulful protest songs from his 1971 album "What's Going On?" play a big role in Da 5 Bloods. Were these songs always part of the script?
From the very beginning, Spike said he'd use the whole Marvin Gaye album "What's Going On?" in the movie and I just about blew a gasket because the idea was so great. Marvin Gaye's brother was in Vietnam, writing him letters about it, so "What's Going On?" comes out of the experiences of soldiers who saw the horror of Vietnam and going through all this rejection, not being able to find jobs when they came back home. Black veterans specifically had a hard time of it because people would say to them "Why were you over there fighting when you should have been back home fighting?" It's almost like Marvin Gaye's music was composed for the film. We'd go through the script saying 'This scene is about this song' and 'That scene is about that song.'
Spike Lee has one of the most distinctive voices in American cinema. Having collaborated with him on BlackKKlansman, Chi-Raq, and now Da 5 Bloods, what's Spike like to work with?
He's great to work with. The thing I love most about Spike is that he knows what he wants so there's never miscues about the intent and purpose in what we're trying to do. I think we have kind of a natural shorthand. And the other thing is that Spike truly cares about the cause. He really does care about changing the world through the power of film. That's what I love about film, and so does Spike. It's always great when we can do something that speaks to the world in some kind of way.
Da 5 Bloods is available now on Netflix.
Featured image: DA 5 BLOODS (L to R) ISIAH WHITLOCK JR. as MELVIN, NORM LEWIS as EDDIE, DELROY LINDO as PAUL, CLARKE PETERS as OTIS and JONATHAN MAJORS as DAVID in DA 5 BLOODS Cr. COURTESY OF NETFLIX © 2020