Makeup Artist Matteo Silvi Tries to Rough Up Chris Hemsworth in Extraction
Makeup artist Matteo Silvi is used to traveling the world on film assignments. For example, his recent work with actor Chris Hemsworth on Avengers: Infinity War, Avengers: Endgame and Men in Black: International took Silvi to England, Scotland, Morocco, New York, and Atlanta, Georgia.
Extraction, which debuted this past Friday, April 24, is no different. The high-octane actioner starring Hemsworth as Tyler Rake, a hard-nosed mercenary hired to rescue a crime lord's son kidnapped by the Bangladesh mafia, filmed in India and Thailand. As the makeup department head, Silvi oversaw everything from designing Hemsworth's badass look to creating the blood, scars, and broken body parts left in Rake's wake during the rescue mission.
But recently, the coronavirus has kept the Italian-born Silvi on lockdown. For the past month, he, his wife and daughter have been confined to their Rome apartment. Silvi was in Lyon, France designing the makeup for Ridley Scott's The Last Duel when word came and he traveled back home by car. That's where we caught up with him to talk about Extraction's makeup challenges.
"We were so excited to do this job because there was so much action," says Silvi. "We went through liters and liters of blood. We shot a sequence on the bridge with fighting and explosions, cars on fire everywhere. It was like a war."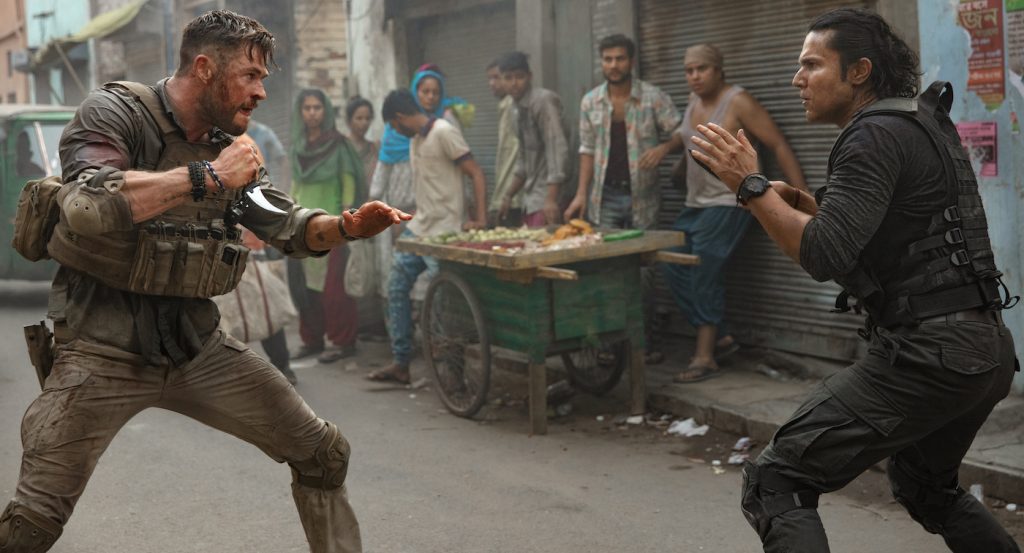 Extraction marks the directing debut of stunt coordinator Sam Hargrave, who worked from a script by Joe Russo. Silvi, who knew Hargrave from the Avenger films, explained that for the fight sequences, Hargrave shot short video guides in advance to map out the action.
"It was very helpful to watch these films to see the back and forth as Chris goes through the many fighting beats," continues Silvi. "We knew what was going to happen. We could tell how bad it was going to get, where he was going to get hit and where he had to be bruised. We saw that we'd have to have some continuity details like dried blood from the previous action sequence."
Silvi particularly cites a twenty-minute segment of nonstop action as an example of Hargrave's split-second timing. "It looks like there are no cuts in it. It's really impressive," says Silvi. "The stunt action in this movie is something that I've never seen before."
Silvi's main responsibility was creating the look for Hemsworth's stone-cold killer. Hargrave wanted a weathered, world-weary look to show the toll the years had taken on the former military specialist turned gun for hire.
"He doesn't have to look so handsome," Silvi remembers Hargrave telling him. But that proved to be easier said than done. "We added dirt and blood and scars and Chris still looked amazing. He was better looking like that."
Silvi opted for three scars on Hemsworth's face — one across his nose and two on the side of his head.  For a scene that called for Rake to remove his shirt, Silvi scattered 25 more scars around his torso. "The scars changed him a lot," observes Silvi. "It definitely made him look more rough and tough."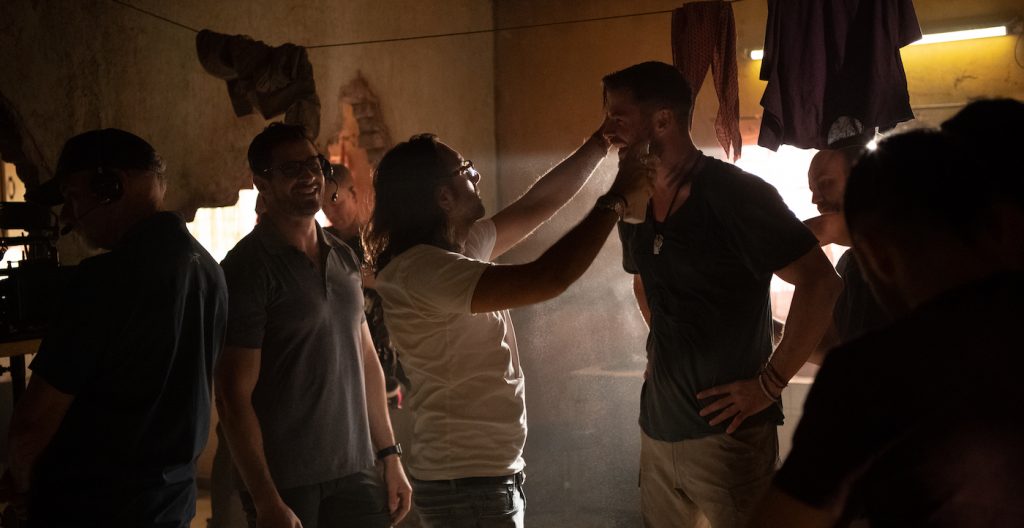 Next came tattoos. Rake sports an extensive tattoo on his neck that can be seen throughout the movie. Silvi estimates 10 or 11 more were added on Hemsworth's back, arms and chest for the shirtless scene. Silvi came up with the original images, calling on Rome-based graphic artist Virginia Lorenzetti to collaborate on the drawings and designs. Hemsworth also weighed in on the selections.
"I would show him ideas and he would say which ones he liked and which ones he didn't. Working from that, I started designing," says Silvi, adding Hemsworth is often involved in the makeup process. "Chris likes to join in the conversation. It was really fun to create this character with him."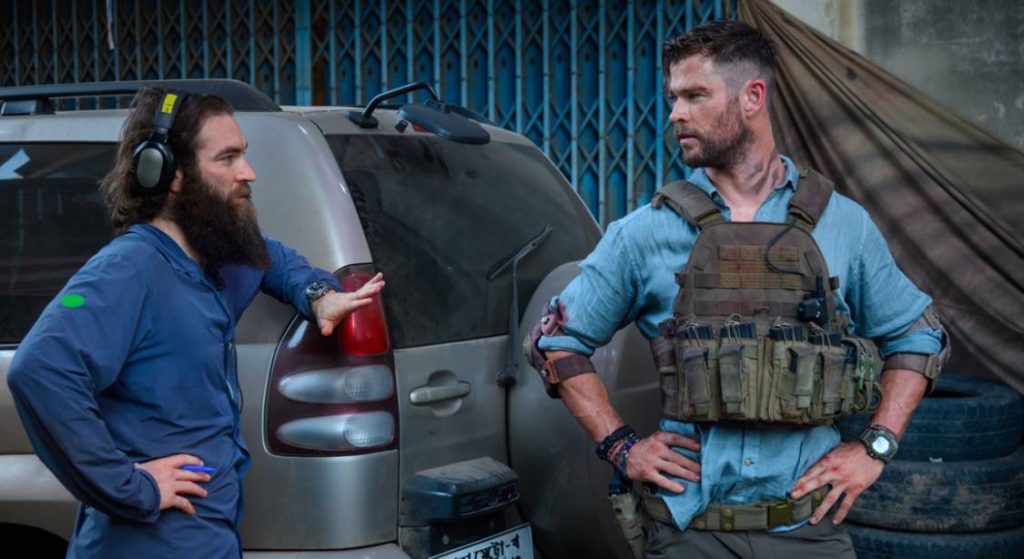 A tattoo on Hemsworth's chest plays a key role in Rake's backstory. "We tried to find an image that was reminiscent of the character's son," continues Silvi. "He was a father who lost his son when he was six years old. So there's a tattoo on his chest to remind him."
Tiberio Nardi assisted Silvi with Hemsworth's makeup which took about an hour each day to apply.
Luca Vannella, Extraction's hair department head, has known Silvi since they met on a movie set when they were fifteen. Silvi's father was doing makeup and Vannella's father, hair. Following in their respective parent's footsteps, they've worked on and off together throughout their careers. Lately, it's been more on as Vannella is Hemsworth's hair guy of choice. (He created the iconic Thor locks for all of Hemsworth's superhero appearances and did Hemsworth's hair on Blackhat, Bad Times at the El Royale and Men in Black: International.)
Hemsworth was convinced that Rake's look pivoted on the hairstyle. At one point, the actor considered shaving his head completely. After several discussions, Vannella ultimately cut it short on the sides and left it long on top so that it would flow down the front of his head.
"I think that bit of length on top was better," Silvi adds. "It was a really cool look. Chris was very happy with the haircut."
Vannella was also instrumental in creating the look for the only featured female in the cast. Iranian actress Goldshifteh Farahani plays Nik Khan, a distaff version of Rake who enlists him to take on the rescue mission. "We decided to give her a really smart and beautiful look," says Silvi.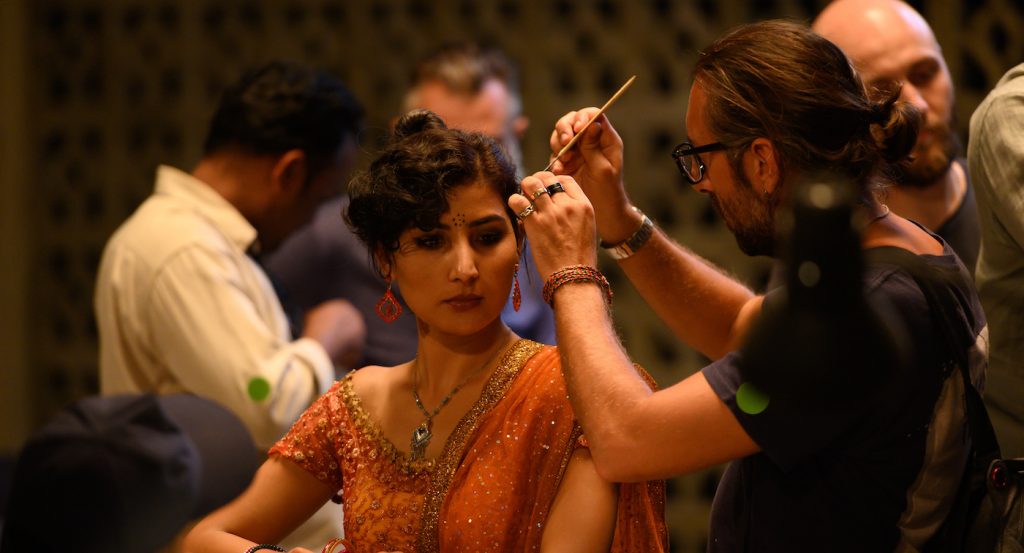 Silvi brought in Mad Max: Fury Road Oscar-winner Damian Martin to create the prosthetics. For a scene where Rake digs a bullet out of his arm, Martin replicated Hemsworth's upper limb and fitted it with a blood rig. "We put Chris in a certain position with the prosthetic arm in his shirt so you can really see him digging in the knife and digging the bullet out," says Silvi. "As he was doing the action, the blood was coming out of the wound. It is pretty impressive."
Cool makeup abounds. Artist Daniele Nastasi fitted Farhad, a Bangladesh bad guy played by Suraj Rikame, with a scar that ran from the corner of his mouth to the side of his ear. Key Dan Lawson Johnston oversaw the complicated makeup for Saju (Randeep Hooda), an adversary who ends up with a broken nose, swollen eye, and broken cheekbone after a knockdown fight with Rake. "That was a two-hour makeup every day," explains Silvi. "He had a prosthetic nose, prosthetic cheek, prosthetic eyelid. It was a pretty big challenge. He was in a lot."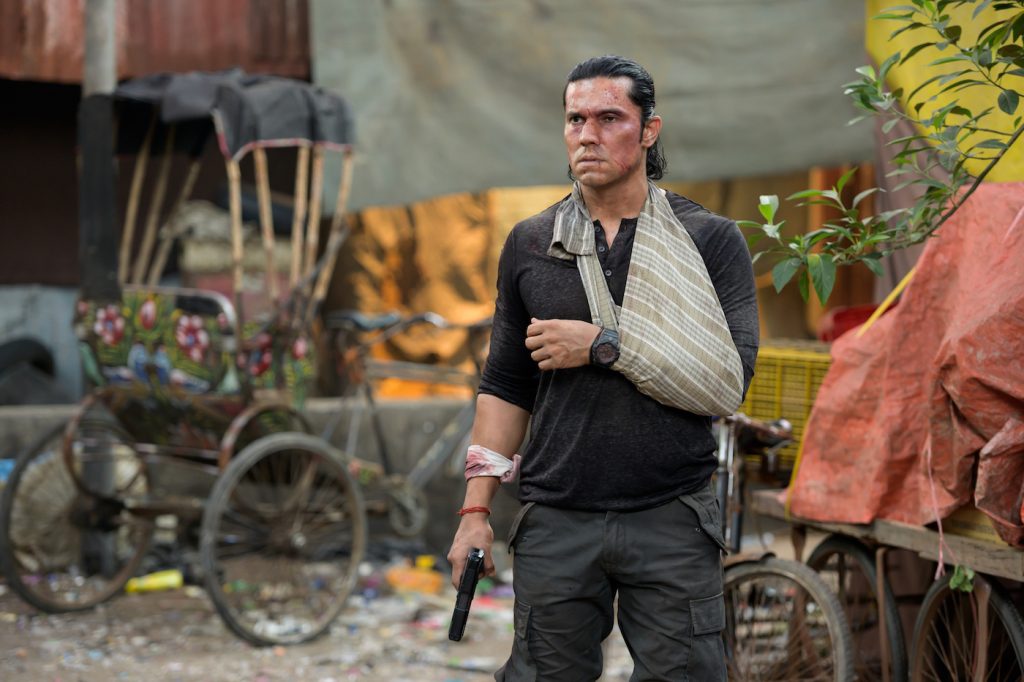 But by far, Silvi's favorite gag involved a prosthetic head hit by a bullet at close range. (We've been sworn to secrecy regarding who takes the hit). "We literally exploded the head," says Silvi. "It was filled with blood and brain material. They put a bit of explosive inside and blew it up!"
Upping the degree of difficulty was the extreme humidity and temperatures which averaged around 35 degrees Celsius (95 degrees Fahrenheit) during the Thailand shoot. Hooda's prosthetic-heavy makeup was the most difficult to maintain. But all the characters needed extra attention to keep their applications from sweating off during filming.
Like everyone, Silvi is waiting for the quarantine to be lifted. Things have taken an optimistic turn in Italy as the rate of daily confirmed cases recedes. Silvi has his fingers crossed that the lockdown will ease up by May. And then, with luck, they'll be able to resume production on The Last Duel.
"We shot half the movie and because of the virus, we had to go home," says Silvi about the film that stars Matt Damon, Ben Affleck, and Jodie Comer. "It's a very important movie for my career. I really hope to be able to finish it."
Extraction is streaming on Netflix now.