Stunt-Coordinator-Turned-Director Sam Hargrave on His Action-Packed Debut Extraction
If you're searching for an edge-of-your-seat movie experience to escape the current COVID-19 reality for a couple of hours, look no further than Extraction, streaming on Netflix beginning April 24. The film stars Chris Hemsworth as Tyler Rake, a fearless mercenary who is called upon to rescue the kidnapped son of an incarcerated crime lord. The seemingly straightforward mission becomes complicated when Rake develops compassion for the kid and is intent on protecting him at all costs.
Director Sam Hargrave describes Extraction as a story of redemption through sacrifice. While the film marks Hargrave's directorial debut, it is far from his first foray into high-action, high-adventure filmmaking. His work as an award-winning stuntman and stunt coordinator is on full display in a number of box-office megahits, including both Captain America films, The Wolverine, The Hunger Games: Mockingjay Parts 1 and 2, Avengers: Infinity War and Avengers: Endgame. For the latter two, he also directed second units.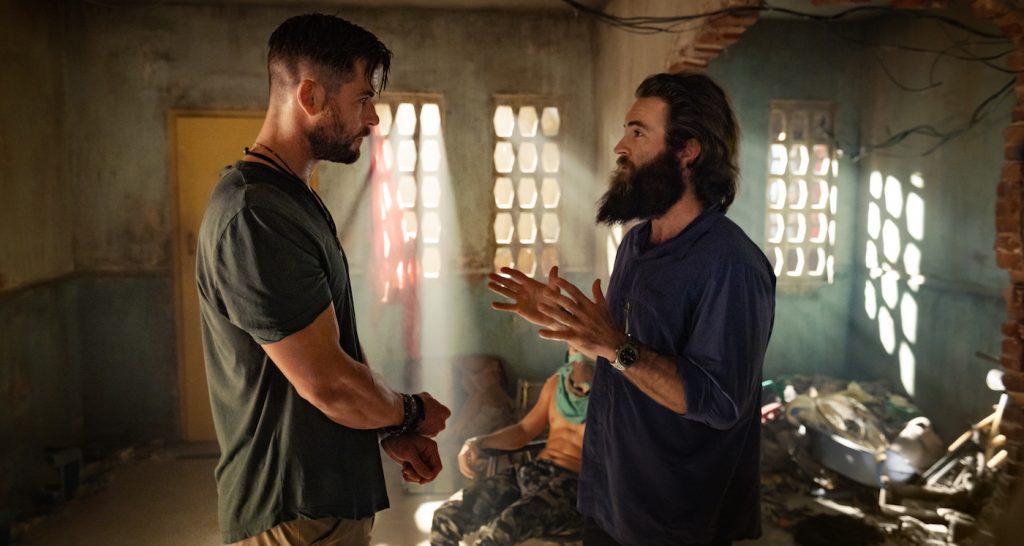 Extraction unites Hargrave with Marvel Cinematic Universe directors Joe and Anthony Russo, who on this ride are producers; Joe also wrote the script. The film necessitated upward of eight months of pre-production for Hargrave and shot in such faraway cities as Ahmedabad, Mumbai, Bangkok, and Phuket. It required him to flex his acting muscles as well in a role that, although small, proved just as taxing as sitting in the director's chair.
"It was the most stressful, difficult time that I had ever been through because you're trying to not only perform and remember your lines but then also you're setting up the shot and you've gotta look at playback," he says.
The Credits chatted with Hargrave about taking the helm, filming abroad, and finishing the film just before the pandemic hit. Edited interview excerpts follow.
How has life been for you during this crazy time in our world? Were you putting the finishing touches on Extraction or had you completed it before the pandemic?
First off, this is a crazy time for everyone and new territory for all of us that we're trying to navigate as best we can. For the movie, it kind of hit right when we were finishing up our visual-effects reviews and the final visual-effects shots. It did limit the number of people who could be in the room at one time, so it was just me, the visual-effects supervisor, and the colorist. Fortunately, it was down to within days of finalizing that when the official lockdown happened and all nonessential businesses were shut down. What it did impact was our planned press tour across the world. We were going to be going to India and Spain and South America and Australia, and so that was put on hold and now all of those in-person press interviews and whatnot are now being conducted via Zoom.
You've directed second units, most notably on the final two Avengers films, but Extraction marks your feature-directing debut. Why was it time for you to take the helm?
Well, I've been directing second units for a number of years starting with The Accountant in 2014 and just building up my skills and relationships. What made this the right movie? It's one of those things where if you're ever really ready, you've waited too long. There's never a perfect time to take the leap, and so this opportunity came. On Infinity War, I was directing second unit and talking with Joe and Anthony and they knew of my aspirations to direct. Joe came to me and said, "Hey, I think I have a script that could be a very good opportunity for your first movie," and I was thrilled. I loved the primal nature of the main character and how it's a redemption story. It's not just an action movie, it's an action movie with a heart and we really wanted to focus on that. I was at times truthfully apprehensive, because once Netflix signed on and talked about the numbers, I was like, man, for a first-time director that's kind of big. You could fall flat. But then I had some great support and mentors.
Extraction was shot overseas, and the cast includes mostly foreign actors. What were the main challenges with filming and casting abroad?
Filming on these locations, it was fantastic and challenging at the same time. The credits run long because instead of one union person that you would have in the States, there are just more people involved in the process, so you have more people in the camera department, more people in the security department. One day we fed 700 people on set. When we were doing these big chase sequences, we had over 200 security personnel locking down the streets so that everyone was safe. So the challenges are there, but then also the passion is there and everyone was on board and really excited to work on this movie.
But the casting of it, I've seen some Bollywood movies but I'm not extremely well versed, so I didn't know all of the talent that was out there. We had some auditions and had some really great people that the casting directors put in front of us. We tried to pick people that had both a following in India, but also had a Western sensibility to their acting style.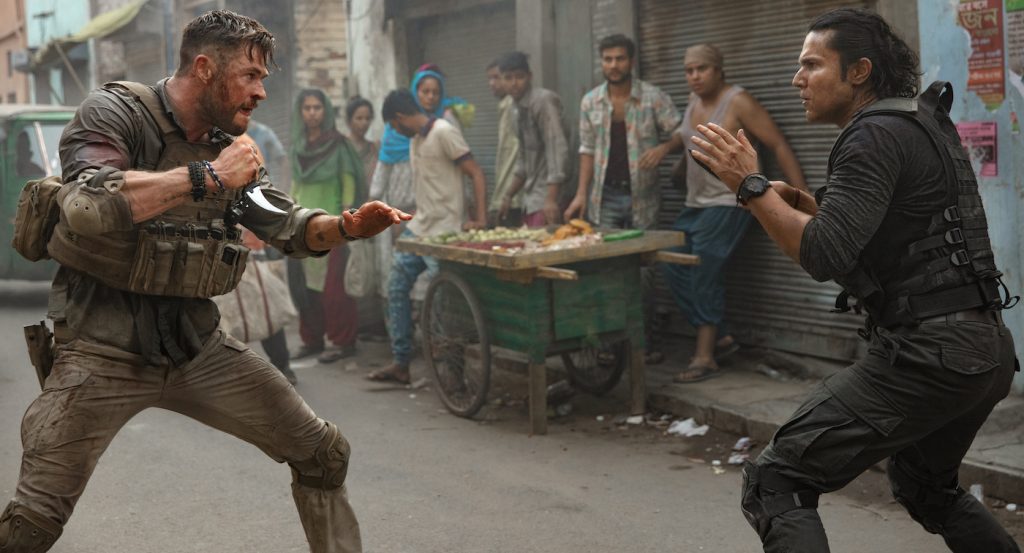 You shot a lot of the fight scenes yourself with a handheld camera. What was involved in choreographing these scenes to create the action while keeping you out of the action and safe?
I would grab the camera during most action sequences. The day I hired our DP, Tom Sigel, I said, "Hey, just upfront, just letting you know there will be times that it will be easier for me to just take the camera myself and shoot what I see in my head than it would be to describe to you what I need and do multiple things. The one long sequence where I operated the camera the most was something we called the "oner," and my reasoning for doing that was because of my stunt background and some of the places and ways I wanted to capture the action. I wanted to put the audience in the seat of a car with the driver, be there right next to Chris as he fights, jump with him from building to building, because I wanted it to be as if an audience member was doing this extraction with Chris Hemsworth in real-time. So to do that, I wanted to put the camera in some very precarious situations. There were numerous close calls that I felt more comfortable putting myself in that position. And then the other side of it is, there's no one to blame when you're operating the camera and you get this sequence. It is exactly what you want people to see.
You've worked with the Russo Brothers on Marvel films as a stunt coordinator. What was it like to do so as a director? Was it odd at first or did it just feel natural?
It was a natural progression for our relationship. They're very open to other ideas from other collaborators and filmmakers. I try to emulate that side of them. But it is a very interesting position to be in when you're directing a movie for the person who wrote the movie who's also a director. Joe wrote the movie almost a decade ago, so he's probably seen that movie, not only in his head while he wrote it, but then probably trying to make it. So it's an amazing testament to how giving and respectful he is to hand over the reins on something that I know he has a vision for. He trusted me to bring that to life. There were definitely moments of tough love, I had some interesting conversations on the phone with him, but he was always supportive in what was best for the movie and I will always be thankful for that.
What experience do you want audiences to have in watching Extraction?
If people can be transported out of their own reality and go on a ride that is entertaining, and yet they can relate to and have an emotional response to it, then the movie will be a success to me. Then I will be a very happy filmmaker.
Featured image: Behind-the-scenes of 'Extraction,' starring Chris Hemsworth. Photo by Jasin Boland/Netflix.