Composer Brandon Campbell on Scoring Netflix's The Letter for the King, Hans Zimmer, & COVID-19
Composer Brandon Campbell remains busy despite the worldwide shutdown of just about every film and TV production due to COVID-19. "I'm doing alright, all things considered, " he says. Although he can't give us the names of his current projects, he's got two he's still scoring and a third that might follow. Campbell's relatively full plate makes him one of the lucky ones in the film and TV world at the moment, but it's still a precarious position. "I'm fortunate that at least right now I'm staying busy. I'm anxious and curious to see how this summer will pan out because nothing's in production right now."
Campbell recently took part in our first virtual event, Film School Friday, alongside fellow filmmakers who were also trying to make the most of the slow down in work. Campbell joined Star Trek: Picard actress Tamlyn Tomita, Fear of the Walking Dead cinematographer Andrew Strahorn, and Watchmen writer Stacy Osei-Kuffour to discuss their craft amidst this unprecedented stoppage of work. They also discussed how they got to the point in their careers where they could take part in a virtual panel and discuss work that millions of people have seen.
Campbell's story of how he became a working composer in Hollywood is camera-ready itself. He came to California the day after he graduated from the University of Rochester to become a tech assistant at the legendary Hans Zimmer's Remote Control Productions. While there, he began collaborating with Game of Thrones composer Ramin Djawadi, with whom he'd ultimately collaborate with on that hugely popular show and one of HBO's other extremely ambitious series, Westworld. Campbell went on to work on CBS's Person of Interest, A Wrinkle in Time, and more. He recently scored Apple TV's reboot of Amazing Stories and Netflix's The Letter for the King.
While COVID-19 has essentially frozen film production, some work continues on series and films that were already shot, as Campbell's own day-to-day attests. He says that because post-production is already a fairly isolated endeavor, with people working in small groups or alone, some of this work can carry on. Yet there are still significant limits.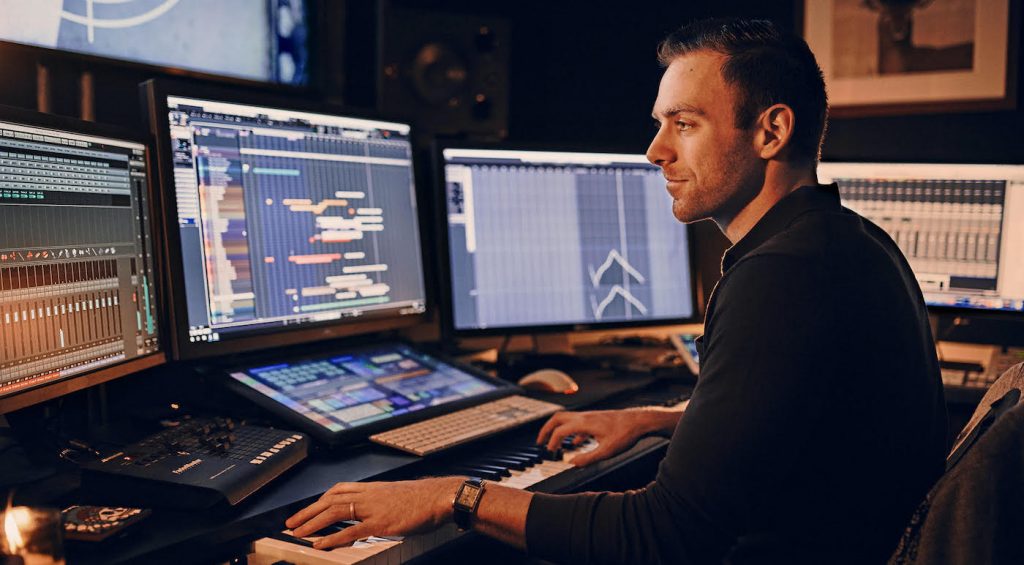 "One thing that's been affected on my end is if I wanted to hire a live orchestra right now, it takes a little bit of creativity for that," he says. "The only thing I can do here in Los Angeles is to ask musicians record from home, so if I have feedback, unfortunately, they have to go back and re-record stuff. Yet it's actually been working great for small ensembles and solos. For larger scale orchestras, some places have slowly opened. I think in Berlin they're recording up to 20 musicians at once, in Prague, about the same thing. So we can record sections of the orchestra, like violas and violins, then in a separate section do the bass, then the brass, so it's not ideal, but it's a workaround."
Campbell charts his career path as taking a considerable turn around the time he was working on CBS's Person of Interest. "That was really towards the beginning of my career, it's when I transitioned from a tech assistant to writing full time," he says. "I wasn't just helping out on the music tech side, preparing parts and getting stuff out, but actually writing music. Most of the music fell on me for that show."
Scoring Netflix's sprawling new fantasy series Letter for the King was another big milestone. The show tracks the quest of a young knight in training named Tiuri (Amir Wilson) whose mission is to deliver a secret letter to the king in an effort to thwart the machinations of a ruthless, evil prince. [You can listen to snippets of Campbell's work here.]
"I'm proud of The Letter For The King score, and that we did this more western-influenced type of music; trumpets and guitars, it's just so not expected, but then once you get used to it, I can't imagine the show without it," Campbell says. "In episode two, when our main character rides through this valley and rides out onto the top of a hill and sees bad guys, it's a big music moment, no dialogue, and it starts off with this spaghetti western type of vocal, then the full orchestra comes in, and the showrunner absolutely loved that scene. The Letter For the King was a big one for me, and while that was going on Amazing Stories came together, then several other projects. So it's the first time in my solo career where I have some kind of momentum, with one project lined up after another. It's been very recently in the last year or so." That was, of course, until everything stopped.
Campbell fondly recalls starting off his career at Hans Zimmer's studio and meeting Ramen Djawadi. "I was his tech and writing assistant for four or five years when I took my first step out of the door," Campbell says. "We get along really well, we're really good friends, he was a groomsman at my wedding. He's also kind of my mentor in a way, when I write a piece of music, if it's not working for him he'll explain why, so I get to see how to approach film and music through his perspective, which was wildly helpful. I saw the way he ran an orchestral session and the way he ran his business, which is actually a big part of it. He's helped me transition to the next phase of my career."
Campbell's background isn't that of the pure music geek. He grew up loving film scores, but he never imagined a career in it. He was just as into sports as he was into listening to orchestral music, and he went to college to play soccer. The one thing that may have made you wonder if this athlete was a budding composer was the fact that, between soccer practices, he was listening to the Pirates of the Caribbean soundtrack.
"The University of Rochester has an amazing music school, so I doubled majored in economics and music composition, with the latter really just a creative hobby for me," Campbell says. "When I was stressed out, I wrote music on the side for myself. While I was in school, I knew someone who knew someone at Hans Zimmer's studio, and I got an internship winter break of junior year, which led to a summer internship, which led to a paid position. Hans Zimmer was a massive inspiration for me, him and John Williams were the composers I listened to the most often. Once I stepped foot in that internship, I knew it what's I had to do with my life."
When he was growing up, the scores that got to him were Back to the Future, Braveheart, Forrest Gump—hallmarks of a kid of the 80s and 90s. Yet Campbell also says that the first time he heard the soundtrack for Lawrence of Arabia, director David Lean's 1962 epic, he was hooked.  "I was like, 'Oh my god," he says. He had the same feeling the first time he heard E.T. "Even at 9 or 10 years old, the music grabbed me."
Then there are Zimmer's scores, like his work on Pirates of the Caribbean: At World's End. "This is when I started thinking that there's actually someone who has written this music for a movie and it's incredible," he says. "Then I first showed up in Los Angeles, Inception had just come out [directed by Christoper Nolan and scored by Zimmer]. That was another score that just blew me away."
Now it's Campbell's turn to blow people away with his work, which he fully intends to continue to do…whenever work starts back up again in earnest.
Featured image: Amir Wilson in THE LETTER FOR THE KING. Photo by Nicola Dove/Netflix