TIFF 2018: Hans Zimmer on The Dark Knight, Wonder Woman 1984 & More
Hans Zimmer is no stranger to working with directors who have a ferocious passion. Yesterday, we published our interview with the Oscar-winning composer about his score for Steve McQueen's thrilling crime drama Widows. Zimmer's minimalist, intimate score blended perfectly with McQueen's film about three women navigating the criminal underworld in Chicago to pull off a nearly impossible bank heist. They're attempting to pay off their dead husband's deaths and forge their own paths, and their predicament is both fantastically thrilling and searingly personal. Zimmer's score, eschewing bombast for nuance, manages to convey their struggle in ways both surprising and moving.
During our conversation with the affable composer, we couldn't help but dip into his long, astonishing career and discuss his work on what are now iconic films. Here is that part of our discussion, which had to be cut from the first interview due to length, beginning with Zimmer's experiences working on Christopher Nolan's Dark Knight trilogy, specifically the game-changing second film in which Heath Ledger turned in arguably the most exceptional performance of any actor in any superhero film, ever.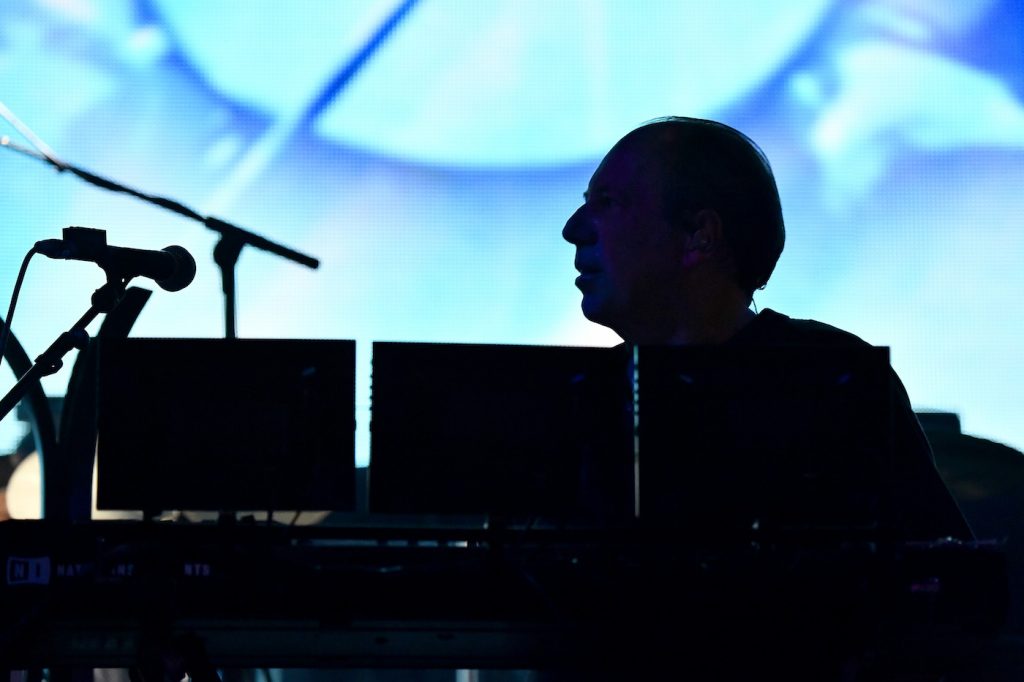 I've got your score for The Dark Knight in a Spotify playlist—can you tell me about your experience working on what turned out to be a game-changer for the superhero genre?
I'm sorry if I've ruined your day sometimes. I'm sorry to throw you into a really dark mood. The whole point of especially that score, I was trying to create a world. Obviously Gotham doesn't exist itself, but I had fun creating a world that we might or might not live in, so yes, when you're on the subway, you will listen to it differently, and you will have a different experience.
How much of your time working on The Dark Knight was spent thinking about the Joker? 
I'm probably not supposed to answer it this way but I will, my main focus was the Joker. I spent crazy amounts of time writing ideas. So many different versions of getting to what this character could be about, it was impossible to listen to all of it sitting down in one go. I knew Chris (Nolan) had to go finish the shoot in Hong Kong and had a long plane ride ahead of him, so I bought him an iPod and literally filled it up with the Joker stuff. He diligently and dutifully listened to it all the way to Hong Kong and all the way back to London. And he said listening to it really didn't make him a better person. It was pretty disturbing.
Heath Ledger famously got very deep into the character, keeping a journal and generally plunging himself into that role. Did you find spending that much time in the Joker's headspace strange?
I was living there; you didn't want to be around me. Trust me. I have no right to be a composer, and I didn't go to music school, I didn't do any of this. I had two weeks of piano lessons and thrashed on guitar in a band. I have no right to be a film composer, so the only way I know how to do it is to sort of become the movie for a while, which can be a bit odd. When Ridley said Thelma & Louise, and I'm going, 'two strong women in the middle of America, I have no idea what that is [laughs]. You can't do research, but the thing with the Joker was, and this is the thing I kept hanging on to; he's the only character in the movie who always speaks the truth. The Joker never tells a lie. I always thought, first of all, he should be quiet. It's scary because how quiet some of it is. It's insidious. It really was sort of a parallel journey; it was very much Chris's vision, very much Heath doing his thing and very much me doing my thing. We obviously all thought in the same direction, down to the makeup, down to the way Wally [Pfister] lit every scene. It's one of those few times where I think everything adds up to something, even though everything we did we couldn't really put into words.
You spent a long time in Gotham…
The Dark Knight trilogy was twelve years of my life. Then I did Man of Steel, and then Batman v Superman, where I had another Batman! I very stupidly said a few years ago that I was done with superhero movies. Ron Howard, who is very wise and I consider a friend, told me not to say I'll never do a superhero film again, just that I'll only do a great superhero film.
Switching gears for a second, was the score for Nolan's Dunkirk as challenging and ambitious as the rest of the film?
Chris came to me with this idea…basically, Dunkirk exists in a [single] piece of music. The whole movie was originally written as one 100-minute piece of music, which seemed like a really good idea at the time, and nobody had done it before, and then we suffered for our ambition when it came to how are we actually going to make this work.
Time and time again you work with directors with really exacting, singular visions. What have you learned from all these years of collaboration? 
When I was working with Steve [McQueen] on 12 Years a Slave, there was a scene I couldn't figure out a way out of. I just didn't know how to write my way out of this moment. Steve said to me, 'Think of it like painting, where your brush stroke goes right off the edge of the canvas.' Ah, I thought, exactly. I took that same mentality into Widows. It doesn't have to be perfect. It's okay to have a little dirt under our fingernails. Ridley Scott told me a long time ago to avoid sentimentality. It's easy to fall into sentimentality with music. You can manipulate people's emotions in one way or another with music quite easily.
You've got—surprise—some huge movies coming up, including Patty Jenkins' Wonder Woman 1984. What can you tell us about that project, aside from next to nothing? 
What I can say is I'm not actually new to Wonder Woman. I was working on Wonder Woman's theme for Batman v Superman, and I couldn't get it. For two weeks I tried and I tried and I just couldn't find it. Then I thought of Tina Guo. Now Tina is the gentlest person I know…until she picks up a cello. Tina uses the cello like a sword. She got it.
Featured image: Heath Ledger in The Dark Knight. Courtesy Warner Bros.