The First Birds of Prey Poster is Gleefully Loco
One of the most exciting newcomers to the world of superheroes and supervillains alike appeared on the big screen way back in 2016 in David Ayer's Suicide Squad. While we are definitely living in a Marvel Cinematic Universe, this particular character hailed from the pages of DC comics, and later in her animated avatar in cartoons. She was often playing second banana to a better-known lunatic and her nominal main squeeze, who you may have heard of (he goes by the Joker). Yet once she hit the big screen, as played by Margot Robbie, Harley Quinn became everybody's favorite psychopath. A (crazy) star was born.
Now we've got a whole movie that'll revolve around her, and Warner Bros. has given us the first, wonderful poster. We're talking about director Cathy Yan and star/producer Robbie's Birds of Prey (And the Fantabulous Emancipation of One Harley Quinn), of course. The film will follow Quinn and a bevy of female superheroes, including the future Batgirl (Ella Jay Basco), the Huntress (Mary Elizabeth Winstead), and Black Canary (Jurnee Smollett-Bell) as they ply their trade on the seedy streets of Gotham. The aforementioned and very talented Yan directed from a script by the also very talented scribe Christina Hodson (Bumblebee).
The poster emphasizes Quinn's gleefully zany personality, and the rogue's gallery she'll be surrounded by in the film. The film's main villain is one of Gotham's craziest—Black Mask (Ewan McGregor). In the comics, Black Mask created a cult called The False Face Society, who acted as his brutally loyal mob. Chris Messina is also on board as Victor Zsasz. Production wrapped this past April, so we should be getting a teaser or trailer soon-ish.
Birds of Prey flies in theaters on February 7, 2020. Check out the first poster below: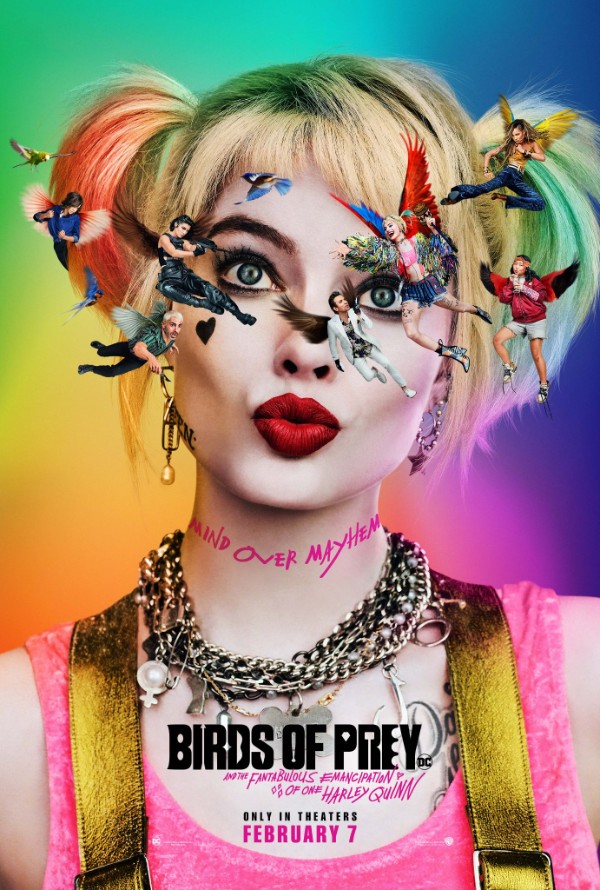 Featured image: The first poster for Birds of Prey. Courtesy Warner Bros.