The Lion King Trailer is 2nd Most Watched in History in 24 Hours
Perhaps you caught The Lion King trailer while in a state of well-fed sedation during Thanksgiving? That's when Walt Disney Studios decided to drop the first teaser trailer for their upcoming live-action take on one of their most beloved animated classics, and it was enough to rouse anyone from turkey-induced catatonia. Jon Favreau's film, at least from what you can see in the minute-and-a-half teaser trailer, is a photorealistic wonder. It has taken the rich, now iconic look of the 1994 film and turned it into a marvel of visual effects, rendering Simba (Donald Glover), Nala (Beyoncé), Mufasa (James Earl Jones, reprising his role) and the rest of the cast into gorgeously realized and realistic animals. The result, at least as far as YouTube views go, is that the new The Lion King teaser trailer is the second most-watched debut in the first 24 hours, hauling in some 224.6 million views around the world. The only teaser trailer it didn't top was Avengers: Infinity War, which still holds the title with 238 million views.
In case you somehow haven't seen the trailer yet, we've got you covered:
If you're curious how closely the new teaser hewed to the 1994 classic, you can check out this side-by-side comparison. They match up really closely. It seems a fair bet that what will make the new Lion King stand out will be the beautifully realized photorealistic rendering of the beloved characters, and the hugely talented cast giving voice to those characters. The original had an excellent cast, too; Matthew Broderick as Simba, Jeremy Irons as the villainous Scar, Moira Kelly as Nala, and Nathan Lane as Timon to name a few. The new cast, with none other than Bey as Nala, has the better singing chops. Keeping James Earl Jones (there is no better voice in the business, period) was an obviously savvy move, but so too was choosing the British Chiwetel Ejiofor, another actor with a mellifluous voice, to play the villain Scar, and to tap comedic heavyweights like Rogen and Eichner to play Simba's trusty pals Pumbaa and Timon.
The rest of the cast includes Alfre Woodard as Simba's mother, Sarabi, Keegan-Michael Key as Kamari, John Oliver as Zazu, JD McCrary as young Simba and Shahadi Wright Joseph as young Nala.
The Lion King roars into theaters next summer on July 19, 2019.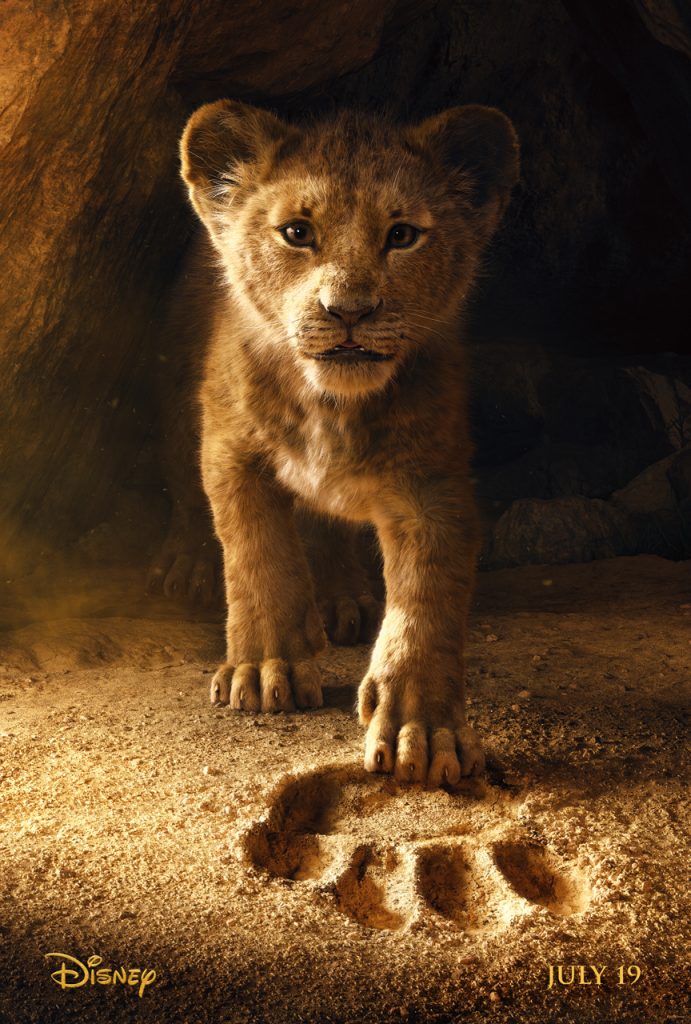 Featured image: The Lion King one-sheet. Courtesy Walt Disney Studios.