On Set With Alfre Woodard
June, 2011
INT. APARTMENT, BROOKLYN, NY – DAY
Alfre Woodard is on the set of a small, independent film in the Bedford-Stuyvesant neighborhood of Brooklyn. She's sitting on a couch in a cockroach infested apartment next to the actress DeWanda Wise. The apartment had already been checked for bedbugs.
Wise's scene isn't until later on that night, so perhaps she's come just to meet Woodard. The crew is preparing for the next set-up, involving Woodard's character, the fearsome matriarch Sheila, and there are script pages for Woodard's scene on the couch and scattered around the small room.
Woodard isn't looking at the pages for her scene, however. She's got Sheila down. The warm, open Woodard has caught the venomous Sheila like a fever, something she needs to sweat out on camera but seems to try and shake off between takes. She's interested in what Wise's character will be doing later on that night, specifically, having sex on the very couch they're sitting on.
The crew is almost done setting up. The director, Ben Bowman, is conversing with the cinematographer, Soopum Sohn. Woodard reads the pages Wise has brought for her own scene, brow furrowed. Finally she looks up at the screenwriter, who sits directly across from her at a small table by the window.
WOODARD
(to the writer)
You write this?
SCREENWRITER
(wary)
Yes?
WOODARD
Why are they having sex this way? You know, why isn't she the one in control?
The cast and crew pretend not to hear the question, but the room's small, the cast and crew are small, and everybody's paying attention. Under Woodard's withering stare, the screenwriter shrinks.
SCREENWRITER
Well, I think because she likes to do it that way. She chose that way.
He's taken a total flier. An unbearable silence follows. Woodard's expression looks more or less like this: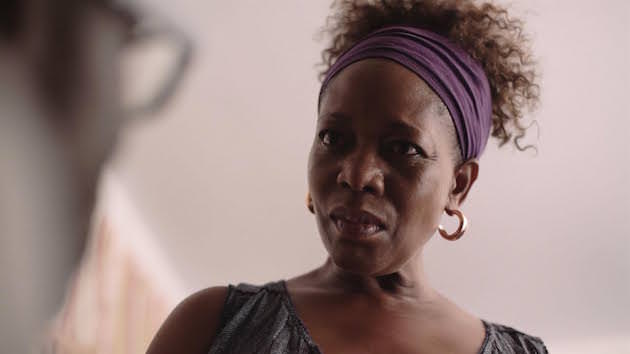 After roughly a century, a smile breaks out on Woodard's face. Then a laugh. The crew laughs. Everyone laughs. The screenwriter breathes again. She was teasing him.
March, 2015
"People think I'm a lot more serious than I really am," Woodard said to me on the phone last week. She was taking advantage of a rare break in her schedule to clean out her home office. "I'm sincere, but I don't take myself seriously or life that seriously." I knew this to be true, as I was the screenwriter she was teasing four years ago.
Woodard came to New York in 2011 to star in a independent film I co-wrote with Bowman and had been working on for years. Knucklehead, starring Woodard and Gbenga Akinnagbe (The Wire, The Following, The Good Wife, etc.), is the story of Langston Bellows (Akinnagbe), a mentally disabled 30-something year old living under the thumb of his explosive mother Sheila (Woodard) in Brooklyn's housing projects. Langston searches for a cure for his incurable disorder. The story follows his attempts to cure himself in order to get out from under Sheila's thumb and into the world around him. The film premieres tonight as the kick-off film for the New Voices in Black Cinema Festival at Brooklyn's BAM Cinema, exactly ten years and a day after Ben and I first met and set out to write this script, on March 25, 2005.
The deeper we got into the story, and the more we got to know Sheila, the more Woodard became our first choice for the role. When you look at what she's done in her career and where she's heading, it's less surprising that she would have rearranged her schedule to appear in Knucklehead, as she's gravitated from the big films and TV series towards the small and the personal. "I don't care how long somebody has been at their discipline in terms of years in the business," she told me. "You just have to come correct, if you bring it, then we're colleagues. I don't care if it's your first year of acting, your first film as a director, you're first time doing costume design, if you come correct, we're good."
Woodard's been coming correct for decades. In the 80s, she got her first major attention with her Oscar-nominated performance in Cross Creek (1983). On TV she worked in some of the decade's best shows, including Hill Street Blues, L.A. Law and St. Elsewhere. In a fun bit of fictional universe crossover, Woodard reprised her role on St. Elsewhere, Dr. Roxanne Turner, a decade later for a sixth-season episode of Homicide: Life on the Street, a series based on a book by David Simon (who also worked on the show), the creator of The Wire that also co-starred our lead actor. She only got busier in the 90s. From Lawrence Kasdan's Grand Canyon (1991) to Primal Fear and Star Trek: First Contact in 1996. There was the lauded performance in HBO's Miss Evers' Boys (1997) that won her every acting television award available—including beating out Meryl Streep, Helen Mirren, Glen Close and Stockard Channing for a Primetime Emmy.
For our purposes, we could have looked at her work in John Sayles' indie Passion Fish (1992), Spike Lee's Crooklyn (1994) and Maya Angelou's directorial debut Down in the Delta (1998) to embolden us to ask her to star in our film. Intimate, small scale, heartfelt, scrappy; these were some of the adjectives Ben and I had been using for years, and they jibed with the projects Woodard gravitated towards again and again.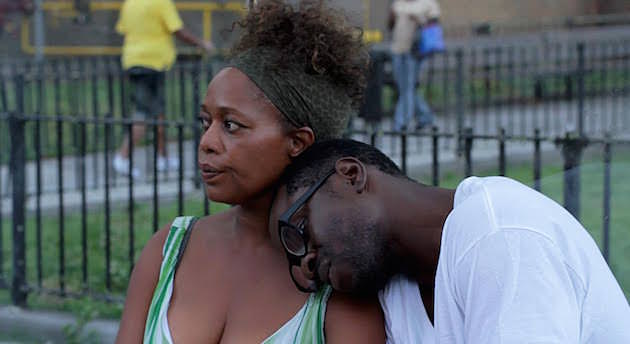 The first time I met Woodard was at a production studio in Chelsea. It was a surreal encounter. After five years of working on the screenplay with Ben in total obscurity, after five years of revisions and fundraising events (in the pre-Kickstarter era), after five years of endless script meetings, after five years of near misses and false starts, Alfre Woodard had re-arranged her schedule (she was working on the TNT series Memphis Beat) and flown to New York to be in our film.
When I asked her last week if she had any concerns that first day in Chelsea, whether working with a first time director in Ben gave her pause. She said no. "I don't care if you've got $40 million or two dollars and no pot to piss in. When I met Ben, I thought that we deserved to work together."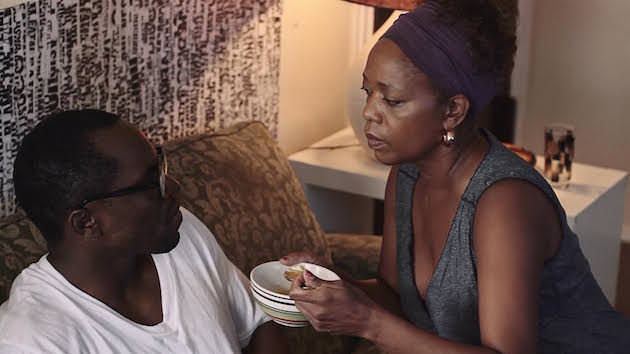 Woodard speaks of her work in film in musical terms. That day she told Ben and me the script "was in her key." She spoke in the language of music about a slate of current projects that she's spearheading, along with her husband Roderick Spencer. One is an adaptation of Sheila Williams' novel "Dancing on the Edge of the Roof," which her husband is adapting, tentatively titled Juanita. "People have not really heard me play a full piece of music," she said, and she believed Juanita could be that piece.
Yet she's hardly precious about her acting. When she was on the set of Knucklehead, she was approachable, easy going, and funny. "The truth is, I'm a regular woman, I'm an artist but I'm not arty. I tell the stories of the people, and I've got the taste of the people, I think that's why I communicate well with people."
Woodard's also working on a film she describes as "The Jamaican Braveheart," tentatively titled Redemption Song. She regaled me a full blown action movie revolving around an incredible piece of history; the time an escaped slave, known as Queen Nanny, fought the British military to a standstill as a leader of the Jamaican Maroons in the 18th century. Then there's a project that's been near and dear to her heart for ages, a film about Fannie Lou Hamer. She calls Hamer the 'Godmother' of her own activism. "Somebody just has to have the balls to say, 'This is an important story.' Every day people are working to dismantle the Voting Rights act, and it resonates internationally, it's an international story being played out all over the Mideast, being played out all over the world."
Woodard's Fannie Lou Hamer project is of a piece with the work she does away from the camera. "When I'm not acting before a camera, I'm busier doing my life work," she says. "My obligations don't end with making art as my way of being useful in the world," she says. She co-founded Artists for a New South Africa, a non-profit that works to reverse the spread of HIV/AIDS as well as further human rights and democracy in South Africa and the United States. She serves on the National Film Preservation Foundation Board, the Motion Picture Arts and Sciences International Outreach Committee, and is a member of the President's Committee on the Arts and Humanities. "We integrate arts into the curriculum in the lowest performing schools in the nation," she says. "It's called the Turnaround Arts initiative. "It brings in maybe five professional art people in the area to work daily with a school." The initial research on the program, collected between 2011 and 2014, shows that the schools that participated showed significant progress in student achievement.
While she works on her independent projects and her social outreach, she continues to appear on screens big and small. In the last fifteen years, she's done a slew of memorable TV (Desperate Housewives, The Practice, True Blood, Grey's Anatomy, Private Practice) and major films. In 2013 she had hugely potent appearance in Steve McQueen's Oscar-winning 12 Years a Slave. Woodard was Mistress Harriet Shaw in McQueen's masterpiece, phenomenal as slave who has managed to circumvent her owner's savagery by becoming his mistress, using her ranking position within the caste system to try and help other slaves, including Lupita Nyong'o's tragic Patsey. She's currently President Constance Payton on NBC's State of Affairs, which began to come into its own as the season progressed. The fate of the show will be decided in the coming weeks. "I'm waiting on word of whether or not we'll get a second season," she says. "I'm confident that we will, even in a business where nothing is guaranteed, because first of all, we've got the sets, they haven't torn down the sets, so you feel like, hey network? We've got the sets, and we've just got our legs in the middle of the season," she says.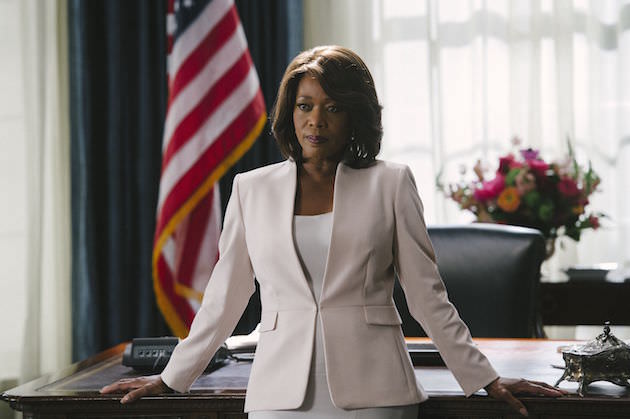 Woodard's governing principle is to follow the script. When I asked her about the first time she read Knucklehead, she described an emotional process she experiences anytime she reads something that doesn't lose her on page one. "If it's something that organically clicks, and I'm emotionally connected to it when I read it, I'll start to pray," she says. "I'll get to page forty and think, 'Oh please don't let something stupid happen!' Then at page sixty I'm like, 'Come on, let's bring this baby home!' And finally, if it's a character I feel like might be missed if don't play her, that's when I come to work."
When she had felt properly connected to our story, she was given added incentive to come aboard in the form of our star. "I'll follow Gbenga Akinnagbe to hell and back," she says. "He could tell me we're going to the moon in a cardboard box, and that he'll pick me up at three in the morning, and I'll be out there the curb with my sack lunch. I just think he's one of the most gifted and versatile actors of his generation, and we see what he can do in Knucklehead… he's just playing the score of Langston and bringing music we could not possibly hear unless it was through Gbenga's instrument."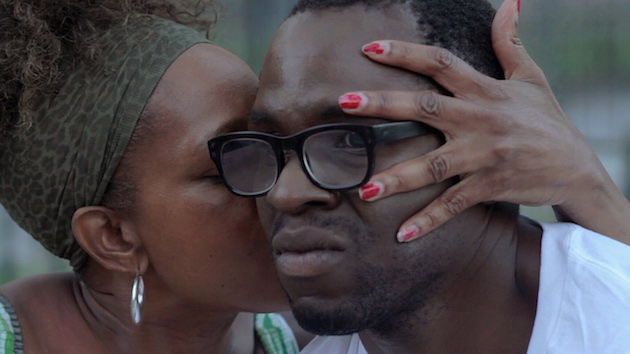 To be on set with Woodard was, to put it mildly, a career highpoint. She gave everything she had in her portrayal of Sheila, and it was a remarkable transformation to witness in person. "Even though Sheila made my stomach hurt so much—I'm not a yeller, a drinker, I never attack people, and I'd especially never hit my children—she has a story and she has to be fully delivered, because nobody wakes up and says, 'I'm gonna be an a asshole today,'" Woodard says. "Everybody thinks they're right and living their life in response to the way it's happened to them. My job is to find Sheila, not as Alfre the actor, but as Sheila. If I'm not going to go there then I need to keep my ass at home."
In the weeks since we found out we'd be opening this festival, I've become a little more comfortable with the idea of it all. It's only slightly less surreal to think that today Woodard's on a plane from Los Angeles, coming to take part in the premiere. Perhaps this is because she gave me a good piece of career advice at the end of our call about how you have to put yourself out there and not be afraid. "I like the ballsiness of you guys asking me," she said. "Most people don't ask, and the people who do ask are the ones with the half baked bullshit, but when you have the goods you always must go to the people who are best and ask them. When you know you've got the goods, you've got to circumvent the reps, the agents…it's like the pretty girl standing there that no one asks to dance, and so she ends up standing around doing nothing. I don't want to finish my career doing that, I want to be dancing with y'all."
Featured image: Alfre Woodard on set of Knucklehead. Courtesy Ben Bowman.