The Gang is Back in First Toy Story 4 Teaser Trailer
Disney has released the first Toy Story 4 teaser trailer, supplying you with a reminder of why this was the franchise that changed the game for animation. The film picks up after the events of Toy Story 3, which gave Woody (Tom Hanks), Buzz Lightyear (Tim Allen) and the gang a new life when Andy gave his beloved toys to his little sister Bonnie. In Toy Story 4, Woody and his friends are off on another adventure (this time in Bonnie's room), which includes an odd "toy" named Forky (Veep star Tony Hale)—whose not even a fork but a spork—and whose facing an existential crisis over his role.
Toy Story 4 has been in the works for a while. Officially confirmed in 2014, the film has undergone several changes with the creative team, ultimately ending with Pixar moving ahead with Incredibles 2 and giving Toy Story 4 extra time so they could rework their concept and come up with something everyone was happy with it.
That lead to Inside Out co-writer Josh Cooley making his feature directorial debut. Cooley's working off a script from Stephany Folsom (Star Wars Resistance), with Jonas Rivera (Inside Out, Up) producing. In a Disney press release, Cooley had this to say about his film:
"Woody and the rest of the toys are back for an all-new adventure in Toy Story 4, welcoming new friends to Bonnie's room, including a reluctant new toy called Forky. Like most people, I assumed that Toy Story 3 was the end of the story. And it was the end of Woody's story with Andy. But just like in life, every ending is a new beginning. Woody now being in a new room, with new toys, and a new kid, was something we have never seen before. The questions of what that would be like became the beginning of an entertaining story worth exploring. The world of Toy Story is built upon the idea that everything in the world has a purpose. A toy's purpose is to be there for its child. But what about toys that are made out of other objects? Forky is a toy that Bonnie made out of a disposable spork, so he's facing a crisis. He wants to fulfill his purpose as a spork, but now has a new toy purpose thrust upon him."
Here's the new Toy Story 4 teaser trailer and poster. Joining Hanks, Allen and Hale are Joan Cusack, Don Rickles, Estelle Harris, Wallace Shawn, John Ratzenberger, Jeff Pidgeon, and Blake Clark. Toy Story 4 hits theaters on June 21, 2019.
Here's the official synopsis for Toy Story 4:
Woody has always been confident about his place in the world and that his priority is taking care of his kid, whether that's Andy or Bonnie. But when Bonnie adds a reluctant new toy called "Forky" to her room, a road trip adventure alongside old and new friends will show Woody how big the world can be for a toy. Directed by Josh Cooley (Riley's First Date?) and produced by Jonas Rivera (Inside Out, Up) and Mark Nielsen (associate producer"Inside Out), Disney•Pixar's Toy Story 4 ventures to U.S. theaters on June 21, 2019.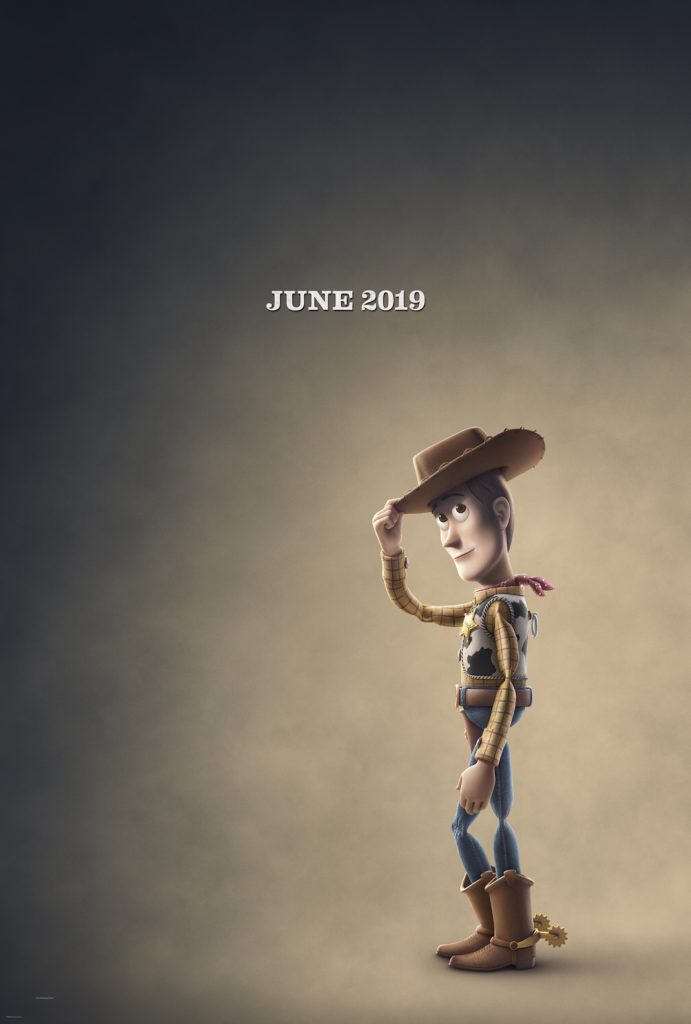 Featured image: NEW TOY? – Everyone's favorite pull-string cowboy sheriff Woody, along with his best friends Buzz Lightyear and Jessie, are happy taking care of their kid, Bonnie, until a new toy called "Forky" arrives in her room. According to Forky, a spork-turned-craft-project, he's not a toy at all—and he'd rather skip this big adventure completely if only they'd let him. Tom Hanks, Tim Allen and Joan Cusack return as the voices of Woody, Buzz and Jessie, and comedian Tony Hale lends his voice to Forky.  ©2018 Disney•Pixar. All Rights Reserved.