Here's the Official Creed II Poster & Synopsis, Trailer Coming Tomorrow
A few things have changed for writer/director Ryan Coogler and star Michael B. Jordan since he their 2015 hit Creed. In that film, their second collaboration (after 2013's moving Fruitvale Station), Coogler and Jordan took the Rocky franchise into fresh, thrilling territory. Since then, they went on to make a little film called Black Panther, which has gone on to become one of the most successful movies in history. While Coogler didn't get back in the ring to direct Creed II, he's on board as a producer, and we've still got Jordan reprising his role as Adonis Creed, son the late, great Apollo (Carl Weathers). In Creed II, Adonis will be taking on Viktor Drago (Florian Munteanu), the son of Ivan Drago (Dolph Lundgren), the man who killed his father in the ring in Rocky IV.
Steven Caple Jr. (The Land) directs from a script by Sylvester Stallone and Luke Cage writer Cheo Hodari Coker. Stallone is also back in front of the camera as well, mentoring the newly minted light heavyweight champion Adonis. Here's the official poster: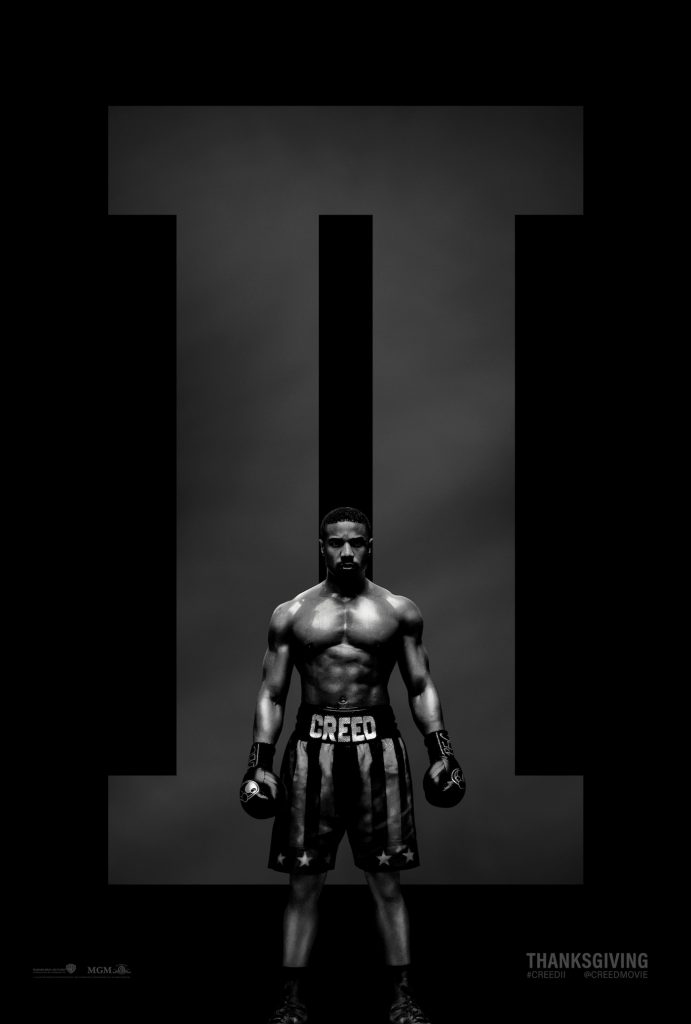 Courtesy MGM/Warner Bros.
Creed II also stars Tessa Thompson, Wood Harris, Russell Hornsby, Andre Ward, and Phylicia Rashad. The film opens on November 21st.
Here's the official synopsis for Creed II:
Life has become a balancing act for Adonis Creed. Between personal obligations and training for his next big fight, he is up against the challenge of his life. Facing an opponent with ties to his family's past only intensifies his impending battle in the ring. Rocky Balboa is there by his side through it all and, together, Rocky and Adonis will confront their shared legacy, question what's worth fighting for, and discover that nothing's more important than family. Creed II is about going back to basics to rediscover what made you a champion in the first place, and remembering that, no matter where you go, you can't escape your history.
Featured image: Theatrical poster. Courtesy MGM/Warner Bros.