Black Panther Continues Historic Run With Star Wars-Sized Second Weekend
The king continues to reign supreme. By now you're likely well aware just how massive Ryan Coogler's Black Panther has become. The young auteur's first film for Marvel was already a history-making epic before it entered even more rarefied air this past weekend. Now Black Panther is only the fourth film ever to surpass $100 million in the U.S. for the second weekend in a row, with a haul of $108 million. This gave Black Panther the second largest box office for a film entering its second weekend in film history, behind only Star Wars: The Force Awakens. The only other films to pass $100 million in their second weekend are Jurassic World and The Avengers. This thing has legs.
Black Panther has also made more than $700 million globally, again, in just two weeks, without having even opened in China or Japan. CNN Money reports that it'll also cross the $400 million mark domestically, in only its 10th day of release.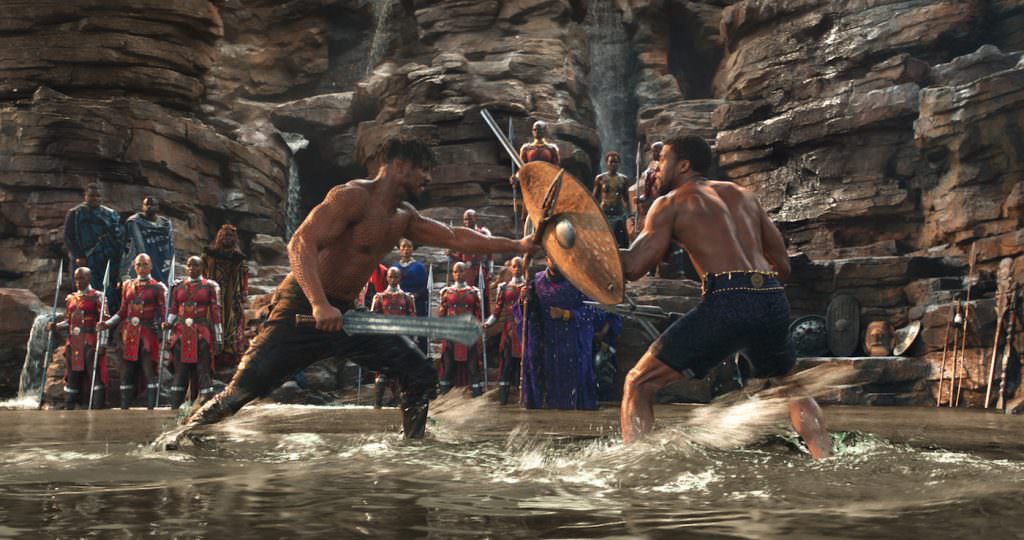 Following the rise of T'Challa (Chadwick Boseman) to the Wakandan throne, protected by his super elite all-female fighting force the Dora Milaje (now beloved and iconic characters, led by Lupita Nyong'o's Nakia and Danai Gurira's Okoye), and challenged by Erik Killmonger (Michael B. Jordan, fantastic), one of the best Marvel villains, ever, Black Panther's historic run is based on great filmmakers and performers delivering their A-games. It's the first Marvel film to be directed by an African-American and star a predominately African-American cast, and boasts not only a large number of women in pivotal roles in front of the camera, but also many in key positions on the crew, like cinematographer Rachel Morrison, production designer Hannah Beachler and costume designer Ruth E. Carter. All of these folks combined forces to create the fifth highest grossing Marvel Studios film in history, with Captain America: Civil War and Iron  Man 3 in its sights. It boasts a 97% fresh rating on RottenTomatoes, the highest ever for a Marvel film.
As CNN Money reports, the film only lost 47% of its domestic audience after its record-smashing opening weekend. That drop is less than many other films in the Marvel Cinematic Universe, including Civil War and Avengers: Age of Ultron. 
It's good to be the king.
Featured image: Black Panther/T'Challa (Chadwick Boseman) with Nakia (Lupita Nyong'o) and Okoye (Danai Gurira) Ph: Film Frame. ©Marvel Studios 2018