"The Holdovers" Screenwriter David Hemingson on His Tetchy Yet Tender Tale of Chosen Family
The Holdovers (in theaters now) has the potential to become a holiday classic. It's a movie that delves into themes of depression, loneliness, loss, and regret. Yet this bittersweet concoction has a tremendous if subtle, undercurrent of tenderness. Friendship and love are given their due, adding a touch of sweetness to Alexander Payne's new film.
Screenwriter David Hemingson tells the story of the embittered professor Paul Hunham (Paul Giamatti), who possesses the quick wit and quiet depression of a stand-up comedian. Set in the 1970s over the holidays, Hunham — along with a grieving mother and school employee, Mary Lamb (a wonderful Da'Vine Joy Randolph) — is tasked with looking after students left behind during the break. One of the students is Angus (Dominic Sessa), who matches the unloved professor in prickliness. Together, the three holdovers embrace one another over a bitterly cold Christmas season.
Hemingson has crafted a story that would have made the likes of Hal Ashby blush. It's a true and thorough 1970s movie, with the patience and unspoken observations that define the greatest character-driven films of that period. It's a remarkable story from Hemingson, who imbues the deeply personal tale with a clear-eyed warmth.
Not only that, the screenwriter got to pay tribute to his mother and uncle, two figures that continue to inspire him. Consider The Holdovers a love letter to family, both blood or chosen. In the case of The Holdovers, it's the chosen family that saves the day.
As someone who's written a lot on television, was it a relief to write at such a patient pace for The Holdovers?
Oh my God, man, I got to tell you, it's hard. I love television, and I will continue to write television, but there's a beauty in being able to write a movie where the four corners of the world and the universe are going to be contained in those two hours. But the key thing is to pace it in such a way that the reveals feel organic and unrushed. The imperative is different because you've got to create a world and sustain a world, so the idea of trying to accomplish all that and make it seem unhurried—that is the hardest thing.
There's such a beautiful simplicity to the movie. Mostly, these three characters are in one location. How delicate was that simplicity?
There are two things that leap out of me. I knew I had wanted to get most of the kids [out of the school] pretty early. I wasn't interested in writing a movie about five boys at school with this curmudgeonly professor. I saw Dead Poets Society. I don't need to do that. Who wants to go up against Peter Weir? Once I got rid of the kids on the helicopter, I was like, okay, now I got my three characters, which is what I wanted to do. Alexander was like, "I love your impulse. I love that you did that." But then I was like, "What am I going to do? I got these three people; what do I do for myself?"
So where'd you go from there?
I didn't know until I initially broke Angus's arm [in the gym accident] because I needed some way to drive them all together. How do I start to tell you, the audience, this movie's a love story? It's just a love story. So, how do I uncouple them from their respective preconceptions about themselves and each other and get them close? Well, it is always good if somebody gets hurt, but not too badly. Getting hurt in comedy is good as long as it's not too serious, hence the dislocation.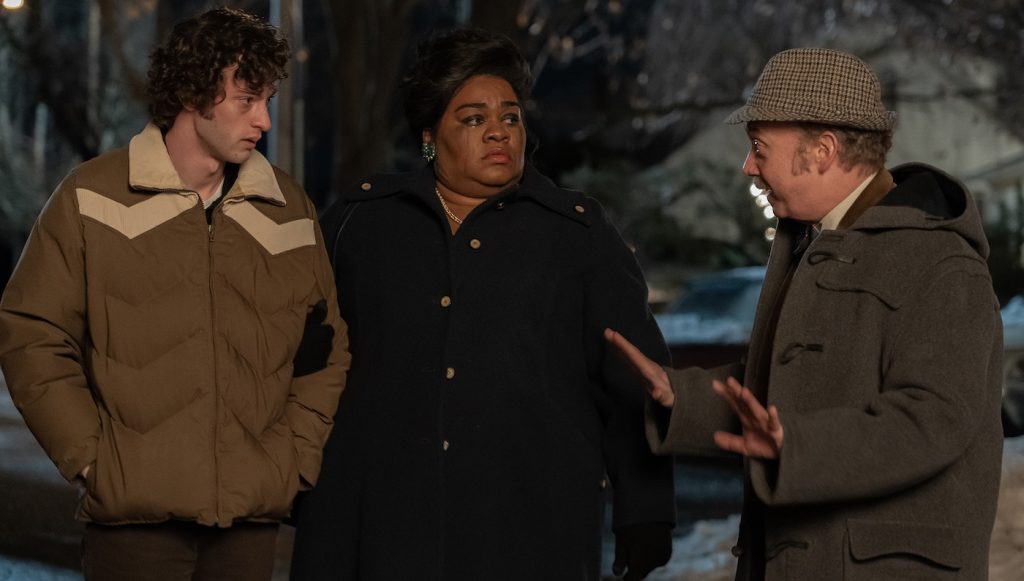 What was the other idea that leaped out at you?
So the other thing was Mary and the box. That was really hard but really necessary. I struggled to figure it out because I based her around my mother, who was just an extraordinary woman and such a loving, caring, ferociously strong woman. What would happen if my mother had lost me? She would've been devastated.
How'd you want to communicate loss with the box?
This is the tragedy, this is the reason behind the tragedy, but what is she trying to let go specifically? What is the particularity of her journey? Her son is gone. I realized that that's not something you accept. That's something you hold onto the ghost of that person for as long as you can. The grieving process is not a straight line. She'll never lose Curtis. Curtis will always be with her. I think about finding the box; that idea honestly came from J.J. Abrams talking about mystery boxes he'd received from DC or Marvel or whatever it was, and his uncle once said to him, "You always open the box, and you're always disappointed. What if you never opened the box?"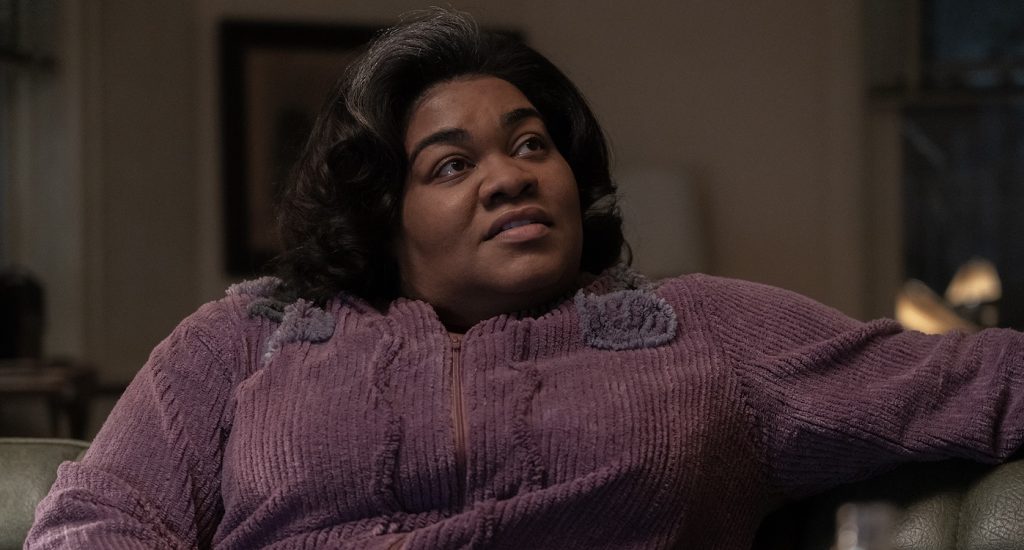 You crafted such a tender movie about depression, loneliness, and loss without sugarcoating those emotions. How'd you pull off that tone?
Just writing what I know, man. You just hope, and honestly, you rely on a genius filmmaker and brilliant actors. I tried to wire it up in the script as hard as I could. I tried to wire that up hard, and I didn't know until I saw it. You can have a burst of genuine laughter, thank God, and then a burst of genuine emotion and have them especially accelerate from about the midpoint to the end of the film. Those bursts accelerate as story complications pile up, as well. I wrote it almost like an action movie. Honestly, I just want to keep the incident going. How many organic incidents can I put in here that don't feel manufactured but feel organic to the world, that don't seem convenient but push the characters?
Where'd you specifically want to push them?
Push the characters to confront their depression, confront their loneliness, examine it, because as anybody who's been depressed or lonely knows, it doesn't look like it looks like in the vast majority of television shows or movies, whatever. It's a different thing. And I think it's a testament to the genius of Alexander Payne that he was able to depict that with such utter clarity on screen. And I think it's absolutely a testament to the genius of Divine and Paul and Dom that they were able to portray that.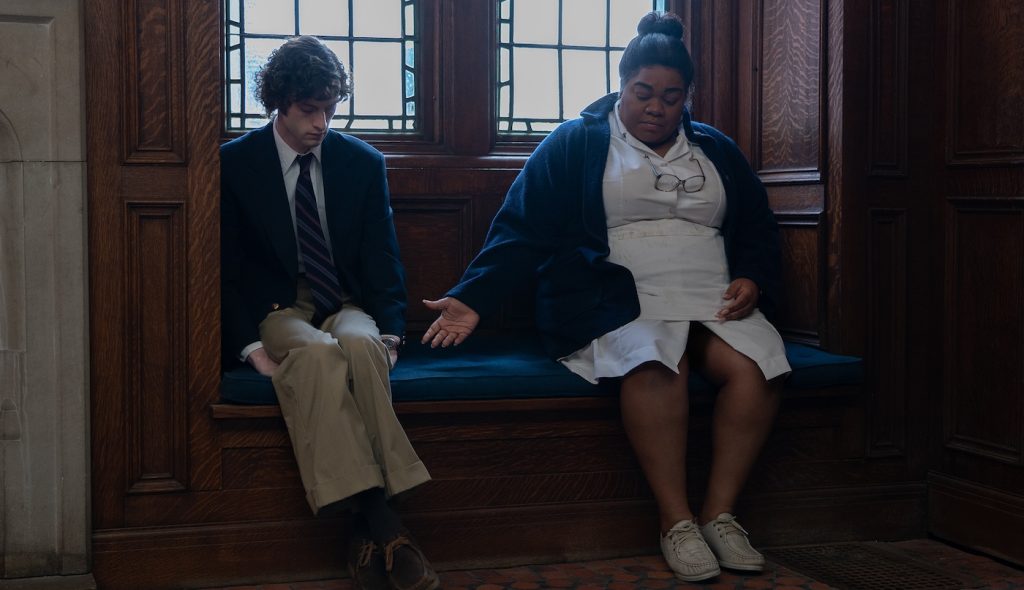 Your mother inspired Mary, so who inspired Paul Hunham?
He's my uncle. He is the guy who raised me, who was born in 1920; had to leave school to fight in Saipan and World War II, so he was the same age. Paul's character would've been born in 1920. That kind of baroque profanity, that sort of incredible knowledge, but also this sort of dyspeptic, curmudgeonly toughness and the way of expressing love, that's my uncle. "For most people, sex is 99% friction, 1% goodwill." That's my uncle. He would just say these things like this weird Dickensian character that stepped out of a time machine. He was just great. I mean, he polluted and destroyed my imagination in a fantastic way. I carry him around with me all day long every day, and I just let him out, and then I put him in Paul.
The Holdovers is in theaters now.
For more on Universal Pictures, Peacock, and Focus Features projects, check out these stories:
Ryan Gosling Takes a Beating in First "The Fall Guy" Trailer
Family, Friends, and Fellow Stars Remember Matthew Perry
"Saturday Night Live" Thrives in Bad Bunny "The Age of Discovery" Spanish Sketch
Featured image: HO_14895_R (l-r.) Dominic Sessa stars as Angus Tully, Paul Giamatti as Paul Hunham and Da'Vine Joy Randolph as Mary Lamb in director Alexander Payne's THE HOLDOVERS, a Focus Features release. Credit: Seacia Pavao / © 2023 FOCUS FEATURES LLC