"Saturday Night Live" Thrives in Bad Bunny "The Age of Discovery" Spanish Sketch
Bad Bunny brought his multifaceted talents to Saturday Night Live this past weekend as host and musical guest in a buoyant episode that made excellent use of not only his Spanish but Spanish-speaking SNL cast members, too. One sketch in particular, "The Age of Discovery," finds Bad Bunny playing the King of Spain in the 16th century alongside his son, the prince (Marcello Hernández). They're seated in the throne room, eager to hear about the incredible riches, things like silk and spices, that their explorers have brought back from China. Those explorers (Mikey Day, speaking passable Spanish, and Fred Armisen, fluent) have some incredible news; however—they never made it to China. Instead, they bumped into an entirely new world and returned with a king's ransom of magical beasts, incredible foods, and more.
What follows is a series of hilarious astonishments as the two explorers reveal one New World horror after another—a turkey (we'll leave it to the SNL crew to explain what they believe this bizarre animal is afflicted with), a llama (like a horse, but worse, the prince complains), a tomato (looks like an apple, but is "all good inside!"), a pumpkin (the prince and the king are convinced it's diseased), and tobacco, which is packed into a cigar and looks like, well, we'll again leave that to the comedians to describe.
It was a night of big laughs and surprise cameos, with Lady Gaga, Mick Jagger, and Pedro Pascal making surprise appearances. Bad Bunny is only the second Latin artist to host the show—the first was Desi Arnaz back in 1977. He's performed on SNL before, however, appearing in an episode during the pandemic when it was "Saturday Night Live at Home," and he was the musical guest during an episode in 2021 hosted by Regé-Jean Page.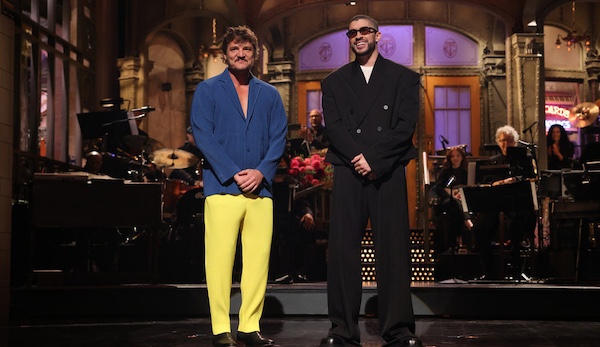 This past Saturday night, however, was all Bunny all the time, and the superstar made the most of his performance.
For more on Universal Pictures, Peacock, and Focus Features projects, check out these stories:
Hilarious "Saturday Night Live" Sketch Forces Pete Davidson to Revisit a Humiliating Moment
How "Quantum Leap" DP Ana M. Amortegui Keeps the Show Dynamic Across the Centuries
Official "Night Swim" Trailer Unveils Blumhouse's Deep Dive Into Madness
"SNL" Returning With Pete Davidson Hosting the Season 49 Premiere
Featured image: "Bad Bunny" Episode 1846 — Pictured: Host & musical guest Bad Bunny during Promos in Studio 8H on Tuesday, October 17, 2023 — (Photo by: Rosalind O'Connor/NBC)