How "Quantum Leap" DP Ana M. Amortegui Keeps the Show Dynamic Across the Centuries
The past is prologue, but on Quantum Leap, the past is also the present and the future as Dr. Ben Song (Raymond Lee) and his team embark on dangerous lifesaving excursions through history. The time travel epic is back with more mysteries that continue to escalate and may even threaten the project itself.
Director of photography Ana M. Amortegui kicked off the style of the series last season working on the pilot and several other episodes. She continues her work on episodes 2, 4, 6, and 8 in season two. The reboot picks up decades after the beloved classic that originally ran from 1989 – 1993. "Quantum Leap 30 years ago was a show that was really heartfelt," Amortegui reflected. "It was a show about doing right when things were wrong. It was about bringing what feels like home to you. You want to always go back to your home. That part of the show remains the same. Time has changed, technology has changed. We want to revamp it and give it its own feeling visually and story wise. I think this new season has so many different turns that go way beyond what it was."
By leaping into the bodies of people in the past, guided by computer intelligence system Ziggy (Deborah Pratt), Ben can correct tragic events before they occur. Of course, it is a hazardous occupation as every leap drops Ben into a crisis. The targets have included a doctor, an astronaut, and an undercover police officer, giving each episode a different tone.  
"Sometimes we have more action-driven stories, sometimes more drama, sometimes it's in between. It's always different. That's the beauty of this show. It can always be different," Amortegui noted. "One episode took place on a battleship. We don't do zap zooms, but that episode was great because it was such a fast-paced episode with so much going on. We said, 'Why don't we just do a kind of zap zoom to create that kind of hurriedness in between what has been said and what they're going to do?' We can change every leap that we do with the camera. Everything is permitted. We can get as creative as we want within our limits."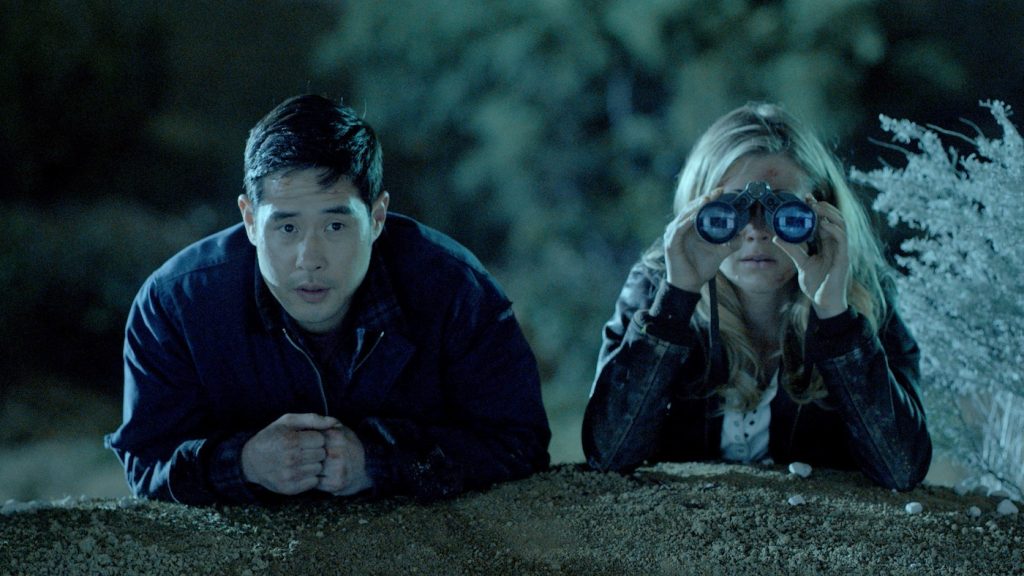 Although Ben can traverse time and space in an instant, there's one major flaw with the quantum leap technology. He can't remember who he is or why he's there. Luckily, Ben's fiancé Addison (Caitlin Bassett) and teammates Ian (Mason Alexander Park), Magic (Ernie Hudson), and more are on hand to assist. Amortegui explained that having the headquarters as a standing set and consistent period throughout the series is grounding.
"The main thing for the headquarters is it's the place where a lot of the information is said," she explained. "A lot of what the story is about or what's going to happen or what Ben needs to do to succeed on the leap is set there. It has a lot of important information. There's so much to say that we need to be very dynamic and very creative with the camera so that space doesn't become boring or uninteresting and people don't become lost in so much information."
The scientific team was spread thin at the close of season one. Ben found himself split between three times, and the crew suspected an imposter among their own ranks. Both the course of history and the accelerator project were at risk. Amortegui lensed the thrilling episode.
"I did the finale of last season, which goes to the 50s, the present, and the [future]. It's the same place, but you've got to make it look different in three different time periods with different colors," she said. "That was really special. I did a lot of work on it because we really needed to make sure it was right because it was the same exact place in three different time periods."
The return of the series will see Ben leaping as far back as 1692 to the age of the witch trials. A leap that is nearer in time but one of the most distant filming locations took the film crew to Cairo.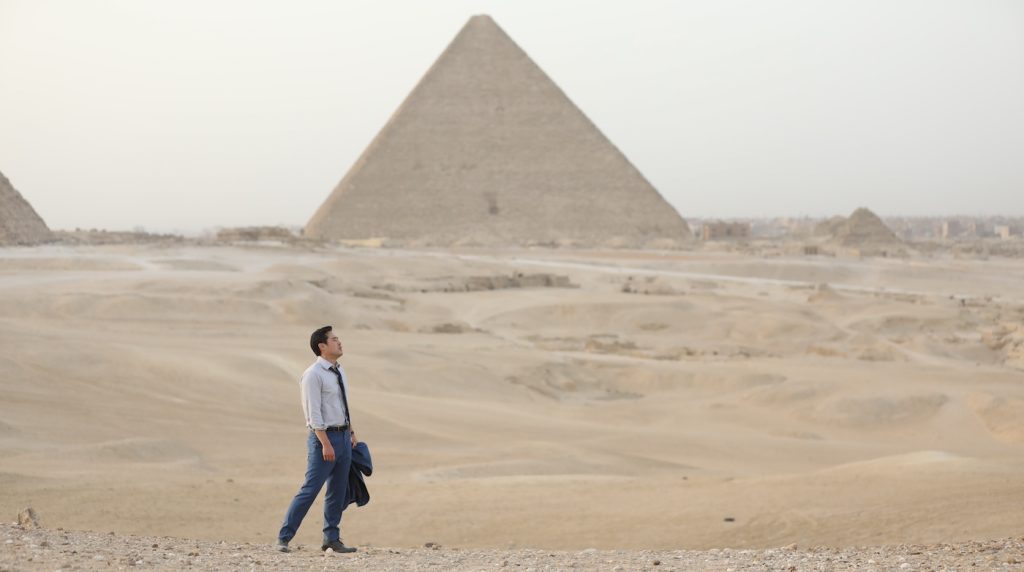 "We went to Egypt to shoot, which was a dream," Amortegui revealed. "You could think maybe they shot it in blue screen or VFX, but we actually did go to Cairo. We were in the pyramids; we were in the markets and the mosques. It was the most beautiful experience being able to work with people from another culture. It was magical. That episode has my heart. I feel super proud. I think it looks gorgeous. The beauty of the show is it's always so diverse and so different. Shooting a time period is really amazing every time. Cairo was in the 60s. The wardrobes, the colors, the places we shoot at – everything has to honor that time. It was really wonderful. All my episodes have been so beautiful to shoot."
From futuristic cyber technology to high-flying stunts in space, Quantum Leap calls for large-scale visual effects. Amortegui compares each episode to the scale of a feature film. With a dozen and a half episodes in the first season, production was on a tight schedule.
"TV goes so fast. We have to be super prepared. By the time I get to start my episode, I need to make sure I have everything ready that needs to be done camera and lighting-wise," she explained. "We have all these meetings, and we read the script, so we know there's an explosion or we are in Greece. We all read the script. We know what things are going to be VFX. Then we have a meeting in general with everybody. Then, we have a meeting with the VFX team, and we decide what to do. I just need to be sure whatever they need to be successful with the effect that I shoot it. Lock the camera and take the information. It depends. Whatever they need, but when I put foot on set to do that effect, I know exactly what they need from me to make it happen."
Season two teases even bigger adventures and more leaping in both the past and present. As the stakes escalate, the show further sculpts the Quantum Leap legacy.
"A lot of new things are going to happen [this season] that is going to make this Quantum Leap unique and its own show," Amortegui promised. "It will always honor what it was but take its own nature. It's going to be really, really cool."
Quantum Leap airs on NBC Wednesdays at 9/8c. Episodes are available to stream the following day on Peacock.  
For more on Universal Pictures, Peacock, and Focus Features projects, check out these stories:
Official "Night Swim" Trailer Unveils Blumhouse's Deep Dive Into Madness
"SNL" Returning With Pete Davidson Hosting the Season 49 Premiere
"Oppenheimer" Has Reached Another Milestone for Christopher Nolan
Featured image: QUANTUM LEAP — "One Night in Koreatown" Episode 205 — Pictured: (l-r) — (Photo by: Casey Durkin/NBC)