"Rustin" Producers Tonia Davis and Bruce Cohen on the Urgent Message of Bayard Rustin's Life
In director George C Wolfe's follow-up to his critically acclaimed powerhouse Ma Rainey's Black Bottom, he shines a light on the long-overlooked civil rights luminary Bayard Rustin. Rustin was one of the lead architects of the March on Washington but was also a gay Black man who was out and proud in the 1960s. Although he was awarded the Presidential Medal of Freedom posthumously by President Barack Obama in 2013, too few people know his importance to American history. That seems likely to change now.
In theaters briefly before streaming on Netflix on November 17th, the film is the first narrative feature produced through President and Michelle Obama's company, Higher Ground. Co-written by Dustin Lance Black and Julian Breece, it takes place during several months leading up to the March on Washington and features a truly exceptional performance by Colman Domingo in the title role. 
The Credits spoke with producers Tonia Davis, head of film and TV at Higher Ground, and Bruce Cohen, who is best known for his Oscar-nominated films Milk and Silver Linings Playbook and American Beauty, for which he won the Academy Award for Best Picture. Davis and Cohen discuss why Bayard Rustin is not just a hero of the civil rights movement but a man who deserves his place in history and why this film is even more important today than when they began bringing it to the screen five years ago. 
Tonia, first, can you talk about the directives for features Higher Ground has and how Rustin, about a man director George C. Wolfe calls "the ultimate American," is perfect as the project for it? 
Davis: Higher Ground was started around five years ago now by President and Mrs. Obama, with the directive of telling stories that embody their values, which so many of us Americans have always known about. They wanted to do that in a whole range of ways by talking about our shared humanity, whether we're making a biopic, a comedy, or a science fiction film. When we first started the company, we were looking for projects like any producing entity would, and we got a call from Bruce, whose work we knew about from Milk and Silver Linings Playbook, and he said, "I have the perfect project for the Obamas, a film about Rustin." That hit so many different things that we were trying to do. First, it was an unseen story about a man who absolutely should be known. Second, it was with exceptional collaborators, Bruce and also George C. Wolfe, whose work we all loved and admired. It felt like a perfect way for the Obamas to launch the company. That was five years ago. We would have loved to put the film out sooner, but because of Covid, it just took this long to get it out the door.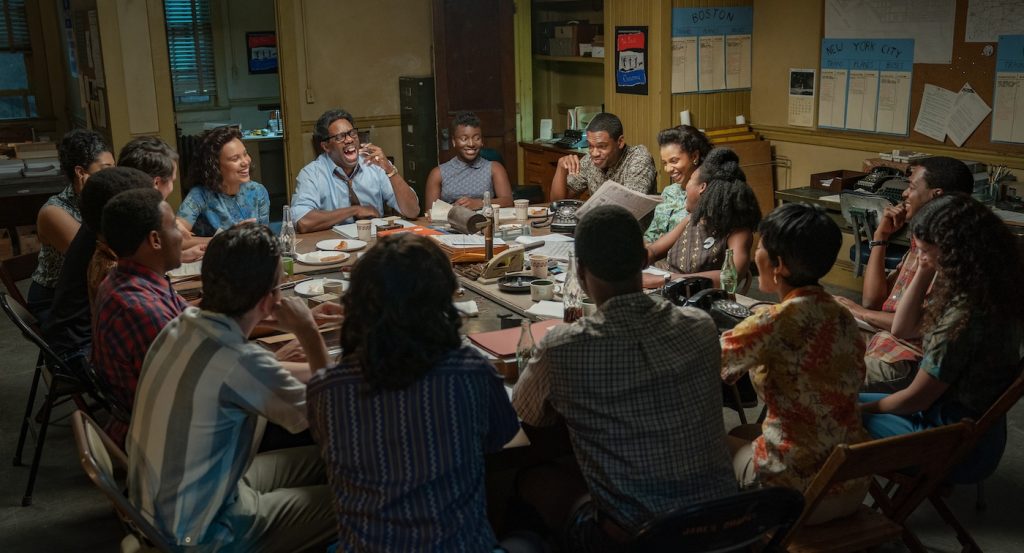 Bruce, what did you know about Bayard Rustin before this production, and why do you think it's so important for him to be celebrated and remembered?
Cohen: I had seen Brother Outsider, the documentary about him that came out in the 90s. It made the rounds in gay and lesbian film festivals. There was a moment at that point where a lot of queer people did know who Bayard Rustin was and had embraced him as this incredible, iconic hero of ours. He was responsible for the March on Washington, one of the great historical events of the 20th century. When Lance Black sent me the script, which he and Julian Breece had co-written, I was thrilled because I felt he was very underserved, undeservedly unrecognized, and needed to be. What really shocked me was is It felt like it hadn't even been passed down in the queer community. Today, even fewer people know about him. I think it's hard to overstate how important it is for Bayard not to be lost in history and for this story to make it down through the ages, which we're really hoping the film will help accomplish, in part because it is so much more relevant now than it was five years ago when we started making it. There are many things that have happened in this country that just make his message, what he stood for, and what he accomplished even more important for everyone to know.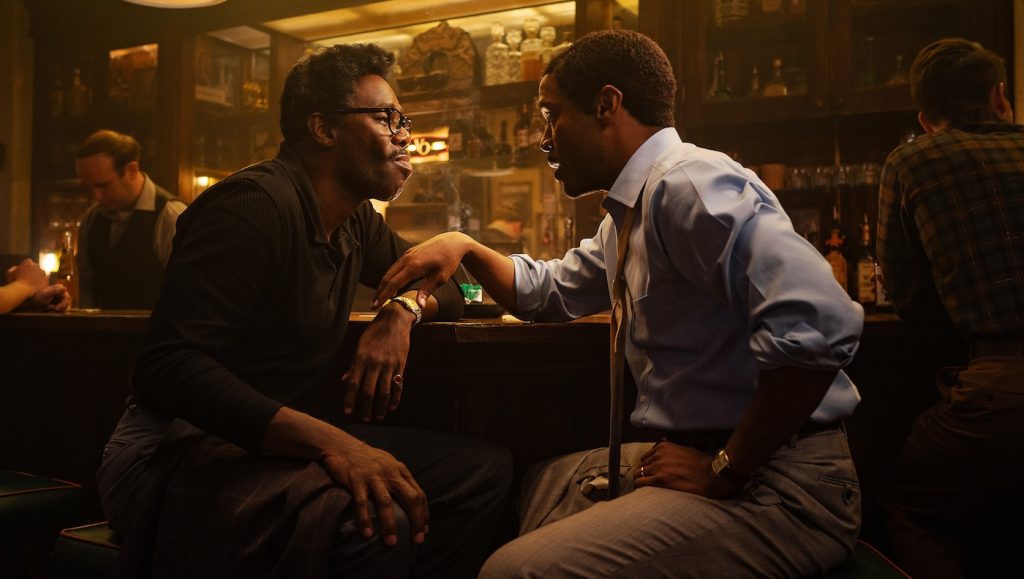 Tonia, how did Colman Domingo come to the project, and what did he bring to the character? 
Davis: Colman was aware of the project really, really early on, and everybody involved in the project was aware of Colman from day one. As George began the process of prepping the film, starting to make notes on the script, starting to really get involved with Netflix and the financing entity, he started hearing Colman's voice in his head as he was reading through the screenplay and making those director notes. There was almost never a question about who was going to play Bayard. Colman embodied him so perfectly. He was the right age. He was an out gay man who was personally aware of and inspired by the history. Colman, to his credit, had begun research on Bayard himself many years prior out of curiosity and in hopes that he would end up playing him. By the time George officially cast Colman, and they started their official collaboration on the project, he was already incredibly knowledgeable about Bayard. Of course, he and George had worked together before on Ma Rainey, so he was part of George's world. We were so excited when he said yes.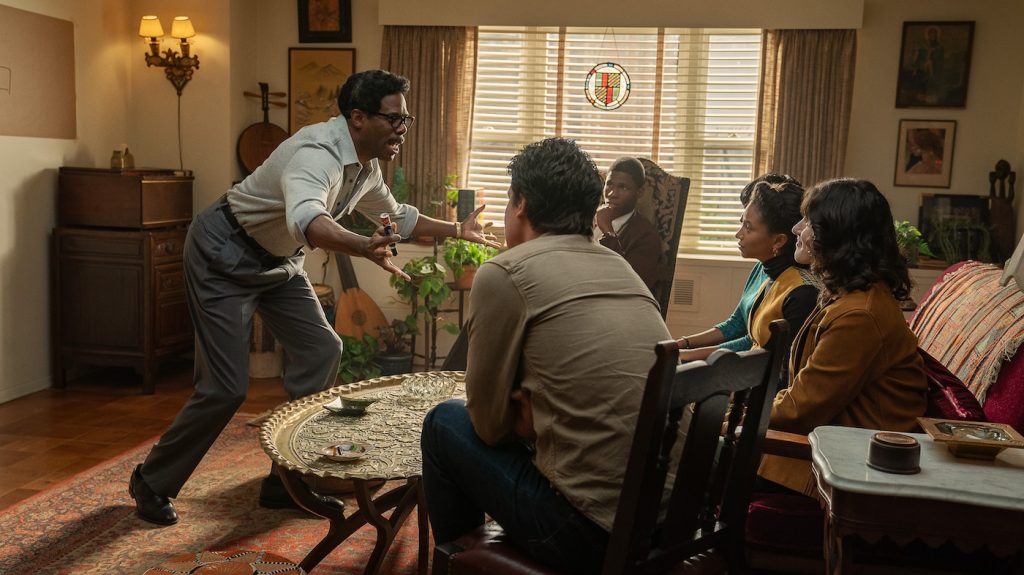 What was it like to watch him transform into the role?
Cohen: It was the best of both worlds because, on the one hand, we were around in pre-production, so we started to get a sense through the wardrobe fittings, speaking with Colman, and hearing the research. One of the things that George always talks about is the incredible job Colman did in transforming his voice. He's a baritone, and Bayard was a tenor, so Colman changed his voice to be Bayard. That's appropriate because we feel the film is so musical. George directs it like a musical composition, and along with his great collaboration with the composer Branford Marsalis on the film score, the whole film has a musicality. We were not in the rehearsals because that's a very sacred private space with just George and the actors, and George has always been very adamant about doing two weeks of rehearsal. We didn't get to see the full embodiment of Bayard Rustin back with us in the flesh until the first day of shooting. That was an electrifying moment once we understood what Colman had conjured and would be bringing to the table for the film.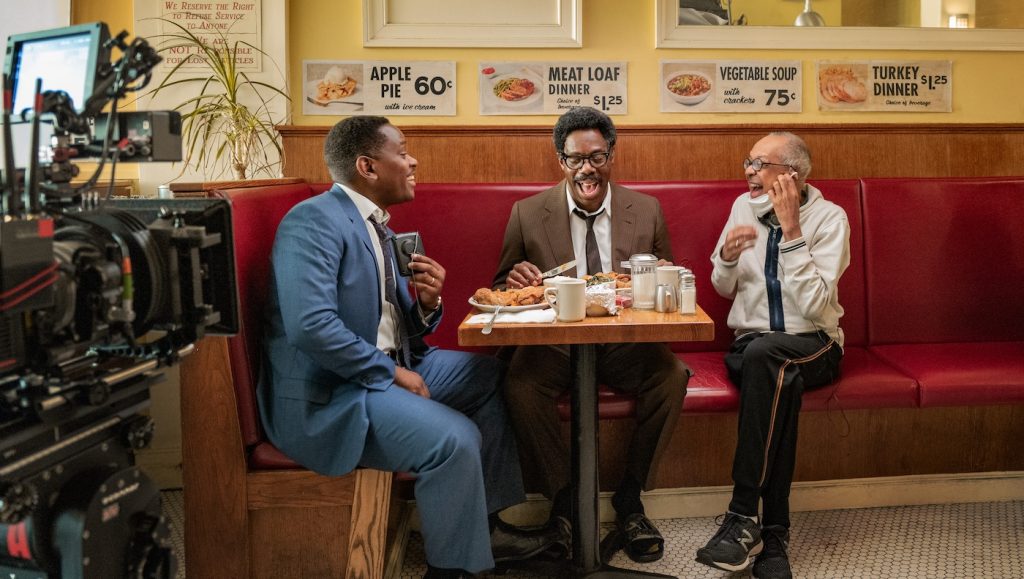 What are you hoping audiences are going to come away with? 
Cohen: My strongest hope is that people will not just know who Bayard Rustin is; they will love him. They will understand his charisma, his joy, and how entertaining he was. Both George and Colman, at different times during the filming, felt that Bayard's presence was definitely with them, and we started to get the strong sense that if this movie was not as entertaining and joyous and charismatic as Bayard had been, he would roll over in his grave and never want to speak to any of us again. It was super important that we pulled that off because we also think that's part of how and why people will hopefully love the film, and his name will get its rightful place in history, which he one thousand percent deserves.
Davis: It's also our hope that whoever you are, and whatever your background or sexual orientation, race, gender, or creed might be, you will understand through seeing this movie that you are in history and you could have been a leader in that history. We always talk about how important it is for people to see themselves reflected, and I think for this story to be told in this big way on this big screen with this beautiful cast and iconic director lets you know a little bit about how much you might have mattered in a different generation, and that wherever that generation is, you were present and you were accounted for. That's really important. 
There's a great message that you can actually do something about things you feel strongly about in a nonviolent and peaceful way, as Bayard Rustin did. 
Davis: Bury your differences. Grab a hold of your neighbor, and you can march for change. 
Cohen: Bayard put together this incredibly powerful, never before seen coalition of young, old, Black, white, rich, working class, poor, and when you add to that now LGBTQ, that's a coalition that needs to come together right now, again, if we're going to save this country. We're at a moment where we are either going to pull it together or we're not, but Bayard has much to teach us and much inspiration to give us to understand that that's what we need to do. 
Rustin is in select theaters and streaming on Netflix. 
For more on big titles on Netflix, check these out:
"The Killer" Cinematographer Erik Messerschmidt on Re-Teaming With David Fincher
How Cate Adams' Costume Design Helped David Fincher's "The Killer" Disappear
It's Millie Bobby Brown vs. a Dargon in First "Damsel" Trailer
Featured image: Rustin. (L to R) Frank Harts as Jim Farmer, Glynn Turman as A Philip Randolph, Colman Domingo as Bayard Rustin, Maxwell Whittington-Cooper as John Lewis, Melissa Rakiro as Yvette, and CCH Pounder as Dr. Anna Hedgeman in Rustin. Cr. David Lee/Netflix © 2023