Costume Designer Ruth E. Carter on Stitching Together Her Legendary Career
With more than 70 films to her credit, including Malcolm X (1992), Amistad (1997), Selma (2014), Black Panther (2018), and Dolemite Is My Name (2019), costume designer Ruth E. Carter has created a visual representation of Black history and the Black experience for generations of moviegoers.
"Costumes can be another character in the film. For Do the Right Thing, Ernest Dickerson's cinematography and my costumes created the tone for the film. The whole cinematic idea of the art form means sometimes the colors become a character, like the light in the story. I learned that through theater," said Carter in a phone conversation with The Credits. "I had to be careful that the costumes didn't wear the actor; the actor wore them."
Nominated for Best Costume Design Academy Awards for Spike Lee's Malcolm X and Steven Spielberg's Amistad, Carter won the Oscar in 2019 for creating the iconic Afrofuturist design for Ryan Coogler's Black Panther and its sequel, Wakanda Forever (2022), becoming the first Black woman to win two Oscars and the first person to win for a film and its sequel.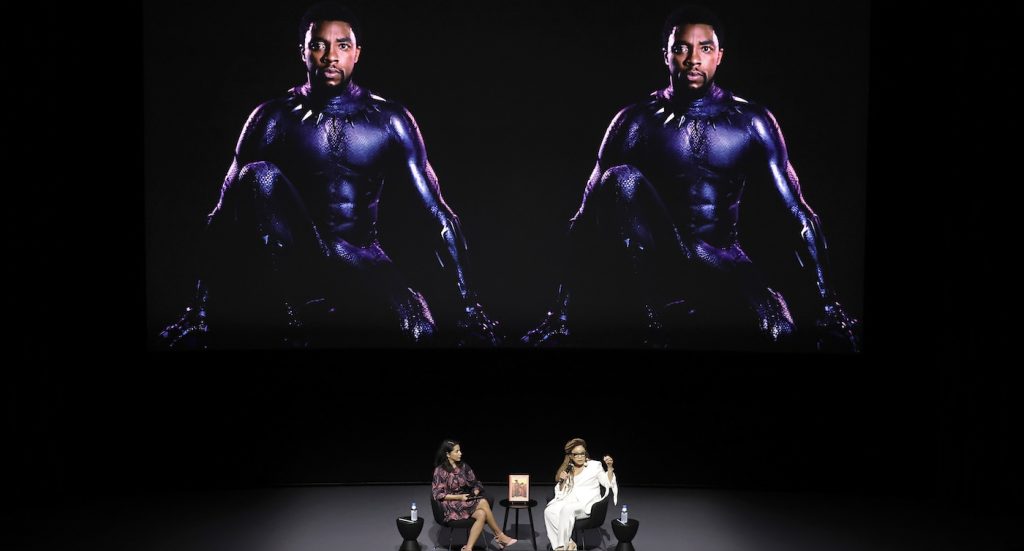 In 2021, Carter became the second-ever costume designer to receive a star on the Hollywood Walk of Fame, joining the legendary Edith Head. "She received her star in 1960, the year I was born," said Carter. "It was a groundbreaking moment because costume designers have been overlooked for so many years. I'm happy to break that glass ceiling."
Now Carter, a native of Springfield, Mass., joined another select group on October 15 at Boston's historic Coolidge Corner Theatre, where it honored her with the Coolidge Award. Previous honorees include Meryl Streep, Werner Herzog, Jane Fonda, Michael Douglas, Julianne Moore, Liv Ullmann, Zhang Yimou, Viggo Mortensen, cinematographer Vittorio Storaro, and film editor Thelma Schoonmaker.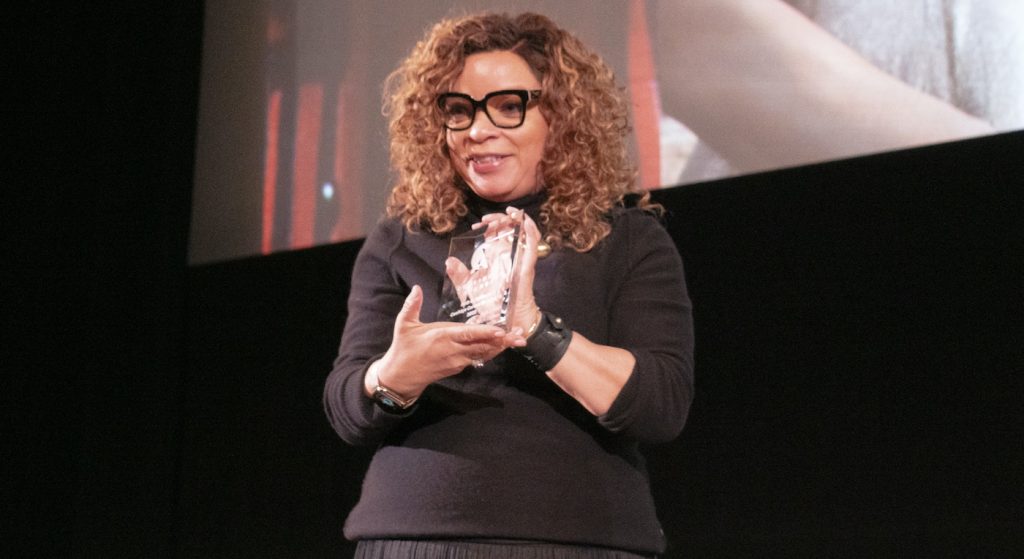 "I'm touched to be in the company of such artists … It's a lifetime of hard work and labor for me. When I think of myself starting out — from a single-parent household, discovering art and costume design — to be honored for that is mind-blowing," Carter said. At the ceremony, Carter engaged in a Q and A and signed copies of her book, The Art of Ruth E. Carter: Costuming Black History and the Afrofuture, from Do the Right Thing to Black Panther.
Carter's creativity is grounded in collaboration, a process that dates back to her early work in the theater. "I don't want to be on my own island creating costumes. The director is the ultimate decision-maker. We would not have Black Panther or Mo' Better Blues without the visual guidance of the director."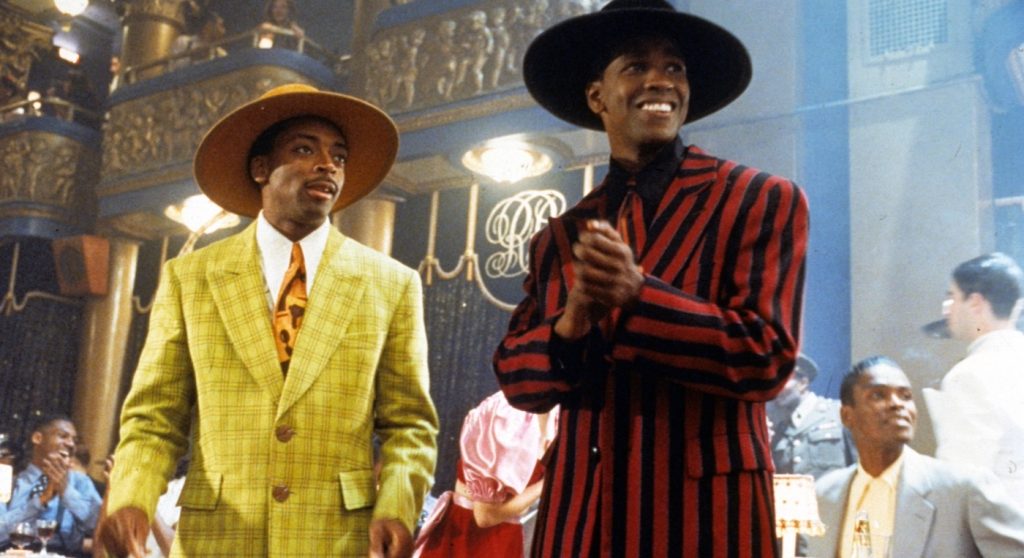 She decided to focus on costume design after studying theater at Hampton University in Virginia. "I was self-taught and wanted more formal training but there was no curriculum for costume design. So I looked for internships across the country." It just so happened that the best one she found was StageWest (later renamed City Stage), right in her hometown of Springfield. So after graduating, Carter "went home to do a season."
"I ran the shows at night. I did all the plays, all the musicals, all the step shows. I was that girl. I found my identity. I remember bringing my mom to see the play one night. She waited for me, I had the laundry basket and was heading for the costume shop. She said, 'You mean to tell me you went through four years of college just to come out and do laundry?' I said, 'Mother, this is costume design!'"
StageWest recommended Carter for the Santa Fe Opera for a season. "So I packed up my Volkswagen Rabbit and drove across the country," she said.
Theater and opera honed the importance of the meticulous research that distinguishes Carter's work on dozens of high-profile period films.
"For Malcolm X, Rosewood [and many other films], I studied picture collections in libraries and galleries; I immersed myself in art and art history. I looked at photographers and visual artists such as Gordon Parks and Romare Bearden. I thought, maybe I can use their ideas, technique, or style to create a palette and tell a story that was uniquely mine."
That immersive research resulted in her dazzling work on the Black Panther films. "We designed Afrofuturism with those films … it was both an ancient and modernized tribal look, an aesthetic that defined Afrofuturism. It was a long process before the actors arrived, painting on the bodies of others, putting textures and colors together. I'd look at a rack of fitted clothes and see it coming together; it becomes this hugely immersive process."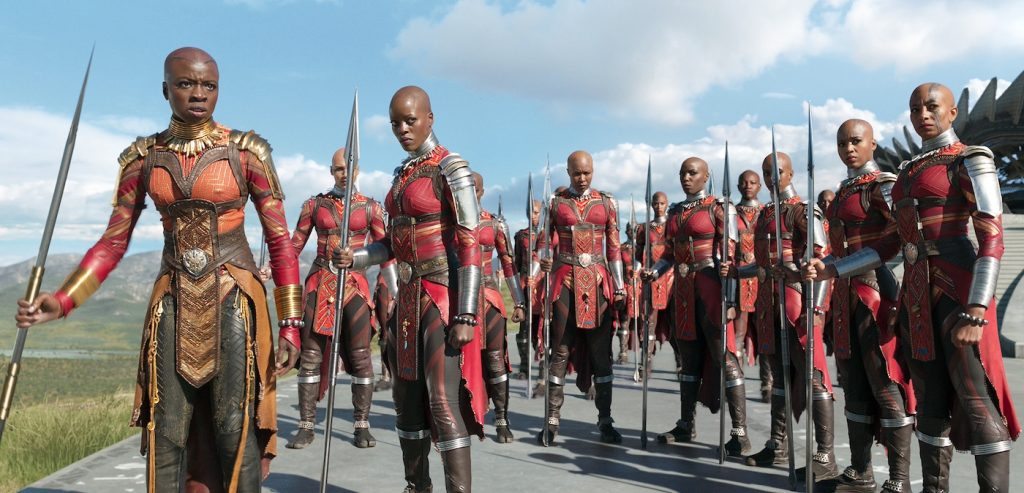 Carter cites costumer designer Ann Roth as an early inspiration. "I liked her films; I studied Places in the Heart and Silkwood. I liked how she had a color palette that she was very intentional with her choices. I admired what I could see in her work. I hold her in the highest esteem."
Roth has a brief but memorable scene in Barbie. Carter recalls her brief onscreen appearance in The Butler (2013), for which she designed the costumes. "[Director] Lee Daniels wore pajamas all the time, kind of like Huge Hefner. So I put some on that I had designed and came on the set, and he laughed so hard, and he put me in a scene in the pajamas," she said. "But there is so much work to be done [on the set], it's hard for me to step outside and [be on camera]. Once you are in the scene, you're stuck there, and I'm the kind of person that needs to be here, there, and everywhere."
In bringing so many individual stories to life onscreen, Carter hopes her legacy will be that she inspired young people and "changed the way they see themselves. That's what makes me feel good inside when someone like the Coolidge wants to bring my work to the foreground and give me an honor."
Featured image: HOLLYWOOD, CALIFORNIA – MARCH 12: (EDITORS NOTE: Image was shot in black and white. Color version not available.) Ruth E. Carter attends the 95th Annual Academy Awards on March 12, 2023 in Hollywood, California. (Photo by Emma McIntyre/Getty Images)