"Mission: Impossible – Dead Reckoning Part One" Production Designer Gary Freeman Creates an Artificially Intelligent Palace
The bespoke work of production designer Gary Freeman on Mission Impossible: Dead Reckoning Part One might be overlooked by most moviegoers. A few of the reasons might be because of a then 60-year-old Tom Cruise out stunting himself yet again or the scene-stealing performances by Hayley Atwell as a wily thief and Pom Klementieff as a deliciously evil mercenary. Yet Freeman's work insinuates itself in the action, his designs are intrinsic to the chaos as well as to the lusciousness of the foreign locations. They immerse you in the unraveling story rather than pulling your focus away. Lucky for us, Freeman has been at it for some time with stops as an art director on films as harrowing and disparate as Alfonso Cuarón's nearly flawless Children of Men (2006) and Kenneth Branagh's live-action Cinderella (2015). He then made the jump to production design for Maleficent (2014), Allied (2016), and Last Christmas (2019).
However, the point here is to put the focus squarely on his work and celebrate the subliminal. One such sequence in this witty, relentlessly inventive jaunt from co-writer and director Christopher McQuarrie (Rogue Nation, Fallout) takes place in Venice, Italy. To be specific, at Doge's Palace, a sprawling 14th-century landmark built with a Venetian gothic flair.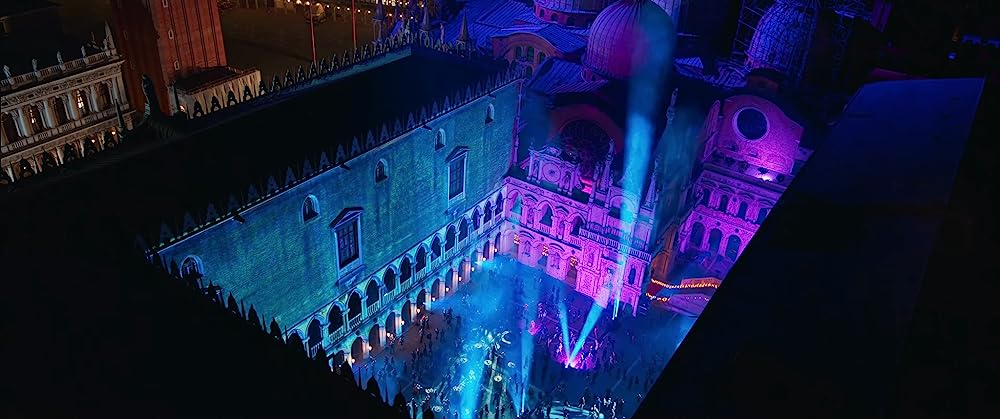 To set the scene, it's the party of parties that makes Michael Rubin's annual bash look a bit meh. Ethan Hunt (Cruise) has already accepted his mission to find a key that may or may not control a powerful form of artificial intelligence dubbed The Entity. Everyone – friend and foe – wants this key, and it's at this point all the players involved meet at Doge's Palace for a quaint little chat about who's going to die for it.
What's galvanizing about Freeman's work in the sequence is that The Entity has symbolically devoured the palace and, if you will, acts as the life form of artificial intelligence. Essentially, the entire building is the living version of The Entity. To pull this off, production shot on location and combined a set build for the plot-driving dialog. "We wanted it to have a feeling of horror about it," says Freeman in creating the mood. "But on the flip side, we wanted to embrace the glamor, color, and beauty of Venice."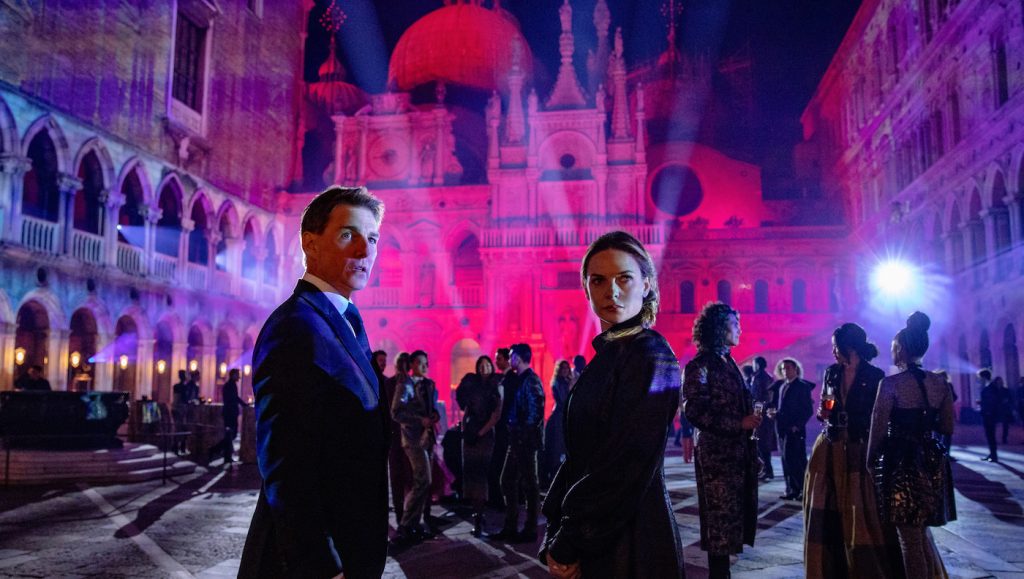 Freeman started out by projection mapping the entirety of Doge's Palace. The process involves scanning the surface of an object, in this case, the massive landmark, where you can then overlay video, graphics, etc., giving the impression that they are painted on. Exterior shots were drowned in a prism of pinks, purples, and blues, with candles lining entryways. Once Ethan makes his way inside, Freeman and set decorator Raffaella Giovannetti let the location "speak for itself," electing to cover smaller areas to motivate the scene. But the bigger trick was recreating the interior of the palace as a set build.
"We only had limited time to work there because it's such a prolific monument," notes Freeman. "We would prep for two hours in the evening before shooting the rest of the night. And because of the way Chris and Tom like to work, we had to build a safe set for them on a stage."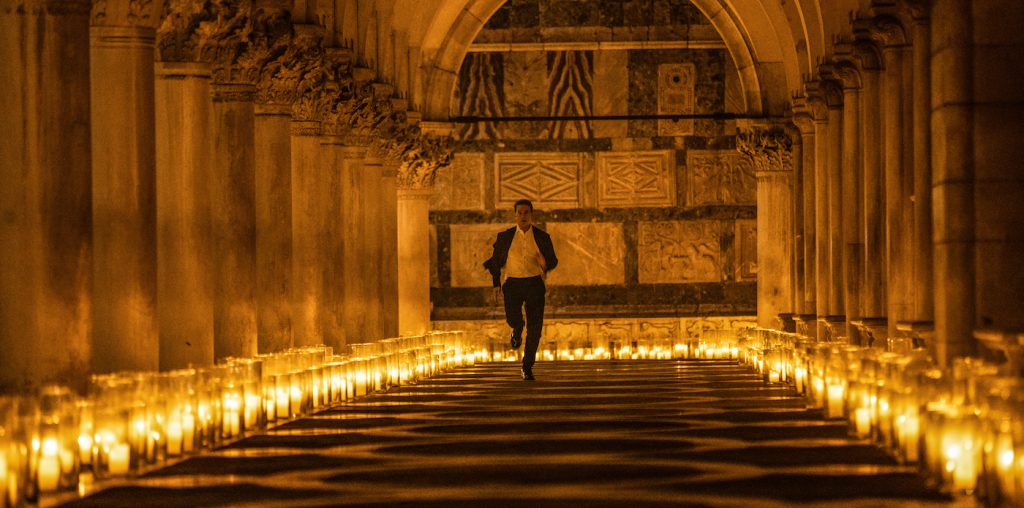 Freeman tells The Credits that despite being a big-budget movie, the art department had limited resources and needed to be "clever" about their builds. The interior set was created using polystyrene and covered in a silver material that allowed McQuarrie and cinematographer Fraser Taggart to light everything using any color of their choosing. "Chris likes it when we give him options so he can make changes on the day," says Freeman. "I decided to make the set silver, so if they did light it with red, green, or blue, then the set would be red, green, or blue."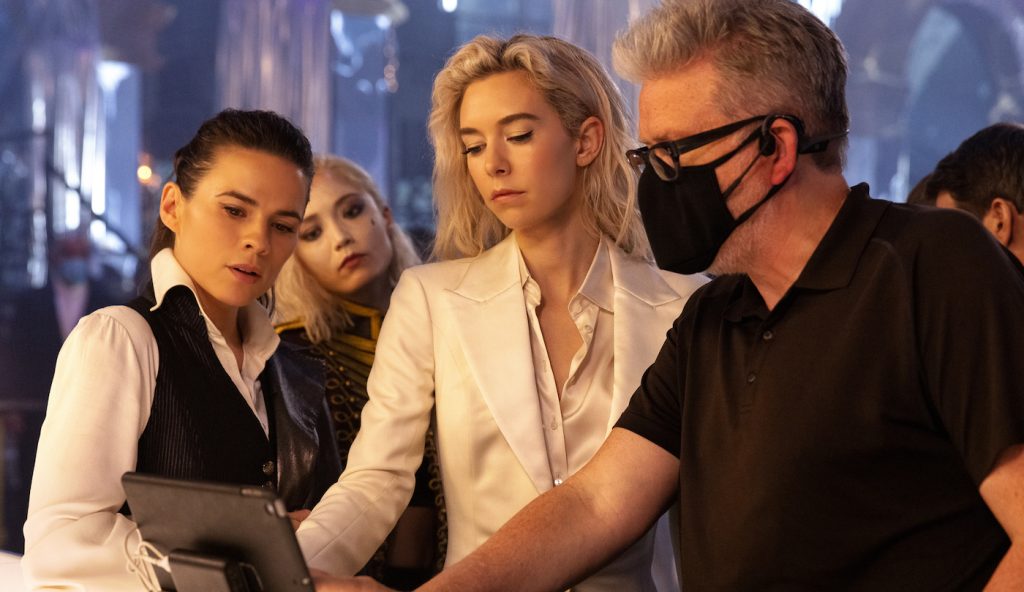 The Entity is crawling throughout the building. Its life form is projected onto different screens, almost like a music visualizer but creepier. The eerie effect is completely practical. "I found a company in Istanbul called Ouchhh that creates digital artwork that adapts to its surrounding atmosphere. It's a type of artificial intelligent artwork," says Freeman. "I contacted them and asked if, instead of it being a learning piece of artwork if they could rewrite it so it could be a repeatable piece of artwork to give us continuity in our coverage. Chris loved the idea as it felt like the room was being controlled by The Entity." Punctuating the imagery of villainous AI was an acidy bluish-green hue. Each screen The Entity was projected onto [a surface] it gave off a ghostly quality because of the gray reflective material of the screens.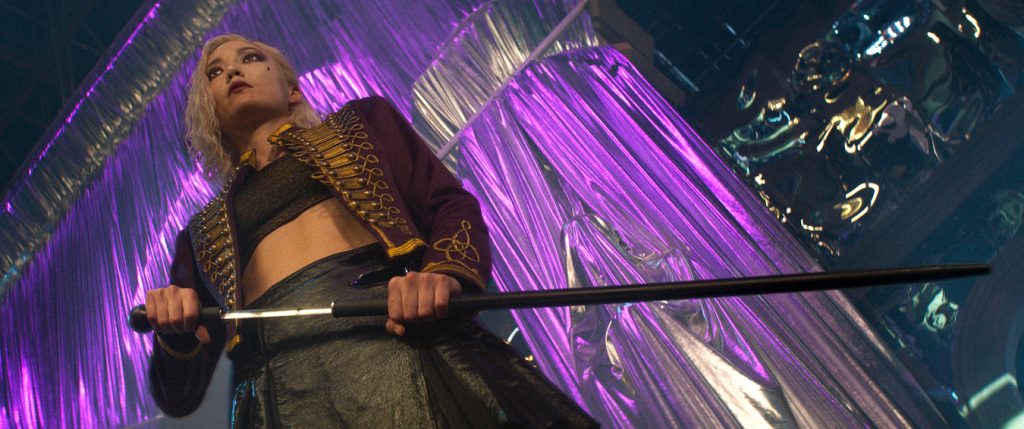 The underlying task for Freeman was keeping epic scale between practical location and set build. "It's always about convincing the audience that they are at the location even though we might be on a soundstage in London. We built everything as financially large as we could, so it felt like the two worlds were the same," he says. "It would have felt contradicted if it went from Doge's Palace to this affordable, detailed set. We forged detail for scale, and for me, that's always the mantra."
Mission Impossible: Dead Reckoning Part One is in theaters now. 
For more on Mission: Impossible – Dead Reckoning Part One, check out these stories:
"Mission: Impossible – Dead Reckoning Part One" Reviews: Cruise & Co. Have Done It Again
Mission: Must Watchable – 10 of the Biggest Remaining Summer Films
New "Mission: Impossible – Dead Reckoning Part One" Images Include Closer Look at Tom Cruise's Craziest Stunt
Why Tom Cruise's "Mission: Impossible – Dead Reckoning Part One" Motorcycle Stunt Was Filmed Day One
Featured image: Tom Cruise and Rebecca Ferguson in Mission: Impossible Dead Reckoning – Part One from Paramount Pictures and Skydance.