Why Tom Cruise's "Mission: Impossible – Dead Reckoning Part One" Motorcycle Stunt Was Filmed Day One
Death, taxes, the physical laws of the universe, and Tom Cruise and his Mission: Impossible team topping whatever the craziest stunt in their previous film was with one even more death-defying—these are a few of the certain things in life. This is why, while it's not surprising to hear that the most technically challenging and dangerous stunt Cruise and his team have attempted thus far is one they set up for Dead Reckoning Part One, the reasons behind them attempting the stunt on the very first day of filming are still quite chilling.
Co-writer and longtime M:I director Christopher McQuarrie told Empire this past May that Cruise's biggest stunt for the upcoming film—riding a motorcycle off a cliff and into a BASE jump—was done on day one to give the cast and crew "all the time in the world to understand why [Ethan] was doing what he's doing." McQuarrie added: "If we sat around and tried to figure out these movies the old-fashioned way, you'd never find it, simply because it's such a living, breathing thing."
Yet Cruise himself was even more straightforward and darkly practical when he described the decision to do the stunt on day one—because it could have gone horribly wrong. Instead of filming a large portion of the movie and then losing Cruise to injury—or worse—Cruise and team figured that attempting to clear the hurdle right from the jump would have given them more flexibility going forward if it went awry.
 "Well, we know either we will continue with the film, or we're not. Let's know day one!" Cruise told Entertainment Tonight. "Let us know day one what is going to happen: Do we all continue, or is it a major rewrite? I was training, and I was ready. You have to be razor-sharp when you're doing something like that. It was very important as we were prepping the film that it was actually the first thing. I don't want to drop that and go shoot other things and have my mind somewhere else. Everyone was prepped. Let's just get it done."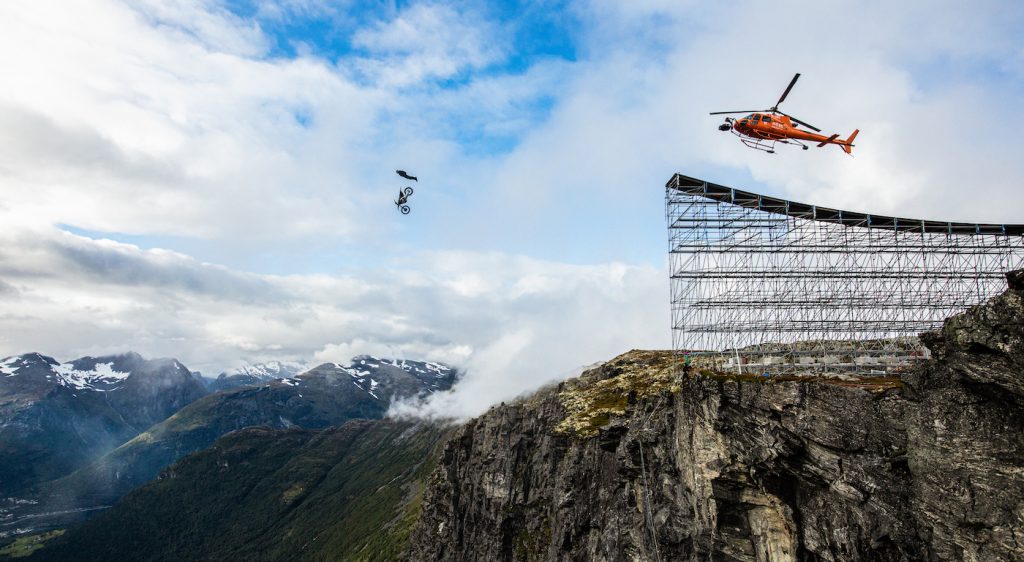 Being razor-sharp for massively complex stunts is the core ingredient of the Cruise-led franchise. He scaled Dubai's half-mile-high Burj Khalifa tower in 2011's Mission: Impossible – Ghost Protocol. Then in 2015's Rogue Nation, Cruise topped that by hanging from the outside of an Airbus A400M Atlas airplane as it took off. There's more. In 2018's Fallout, we spoke to stunt coordinator Wade Eastwood about how he helped prepare Cruise for two wildly difficult sequences. One was his HALO jump (high-altitude low-open) from 25,000 feet. The second saw Cruise pilot his own helicopter in a dizzying, insanely daring chase scene for the movie's climax.
The motorcycle-to-base-jump stunt tops all of those in complexity. It'll be featured in the two-part Dead Reckoning story, which finds Ethan Hunt and his IMF team trying to track down an A.I.-based weapon that could destabilize the entire world.
Cruise is joined by familiar faces and newcomers alike. The returning champs are Ving Rhames, Simon Pegg, Rebecca Ferguson, Henry Czerny, Vanessa Kirby, and Frederick Schmidt. Newcomers include Hayley Atwell, Pom Klementieff, Cary Elwes, Rob Delaney, Indira Varma, Shea Whigham, Mark Gatiss, Esai Morales, and Charles Parnell.
You'll be able to see the big stunt, which, happily, went off without a hitch, and a whole lot more when Mission: Impossible – Dead Reckoning Part One opens in theaters on July 12.
For more on Mission: Impossible – Dead Reckoning Part One, check out these stories:
"Mission: Impossible – Dead Reckoning Part One" Early Reactions Marvel at Jaw-Dropping Action Epic
"Mission: Impossible – Dead Reckoning Part One" Will Be Longest Film in Franchise History
"Mission: Impossible – Dead Reckoning Part One" Trailer Unveils Tom Cruise's Deadliest Mission Yet
"Mission: Impossible – Dead Reckoning Part One" Poster Reveals Tom Cruise's Craziest Stunt
Featured image: Tom Cruise plays Ethan Hunt in Mission: Impossible Dead Reckoning – Part One from Paramount Pictures and Skydance. Courtesy Paramount Pictures.