"Atlanta" and "P-Valley" Costume Designer Tiffany Hasbourne's Singular Style
Costume designer Tiffany Hasbourne began her journey as a stylist to some of the biggest names in music, including Missy Elliott, 50 Cent, French Montana, and Busta Rhymes. She got the attention of gatekeepers in Hollywood by styling the cast of High School Musical, and then rose to prominence by designing costumes for shows like Shooter, Raising Dion, and Ballers. It was her work on Ballers that got her the gig on Atlanta, where she both styled and built costumes, starting with the 2nd season. Her most recent projects include the last season of Atlanta and the second half of season 2 of P-Valley on Starz. 
On Donald Glover's brilliant, consistently surprising Atlanta, one of her challenges was outfitting the lead performers in attire that was often worn the entire episode. On creator Katori Hall's P-Valley, a show centering the lives of strip club dancers working at a Southern club called Pynk, she created a lot of custom builds. This is especially true for one of the most dynamic characters currently on television, fan-favorite Uncle Clifford (Nicco Annan). Though she identifies as she/her, Uncle Clifford is non-binary. She is the tough-talking proprietress of Pynk, alternating between playing taskmaster and den mother to the girls working there. The Credits spoke to Tiffany Hasbourne about using her considerable skills as both a stylist and costume designer on both projects.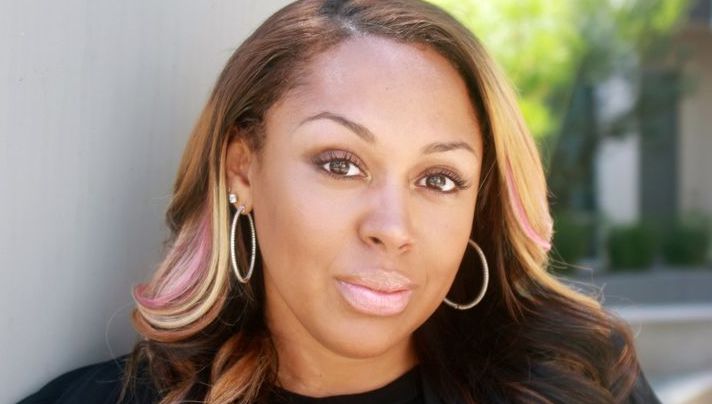 What did you learn from being a stylist that has most benefitted you as a costume designer? 
One thing is actually something I learned in season two of Atlanta. I had come from a show Ballers, which was known for big-budget clothing, and one of the concerns the line producer on Atlanta wanted to stress was the budget wasn't nearly as high. I knew from my experience as a stylist that when an artist blows up, people start giving them free things, so I was able to pitch Donald (Glover) the idea that Paper Boi [Brian Tyree Henry] has been on tour, he's on the radio now, and so if there isn't room in the budget to buy these clothes, then we can use my relationships as a stylist to get brands to give us free product. We started bringing in brands like Adidas and PRPS to offset the budget. I chose brands that in real life would work for me if I were Paper Boi's stylist.  
In Atlanta, the four leads often wear the same outfit the whole show. How does that impact or influence your choices?
I'm super passionate about the clothes and always get excited. A lot of times, I would go to Hiro [Murai, Atlanta's longtime director and executive producer] and pitch something I knew in my head was going to be perfect for the entire episode. Sometimes I would pick stronger looks for episodes knowing they had to have an impact long-term. Sometimes, I'd consider if the character was making a statement. In the episode with Paper Boi, where he goes to his farm, he has a New Jack City t-shirt with Nino Brown on it. That t-shirt reflects what he's going through as the city person hiding out in the wild.  Often costume is about storytelling.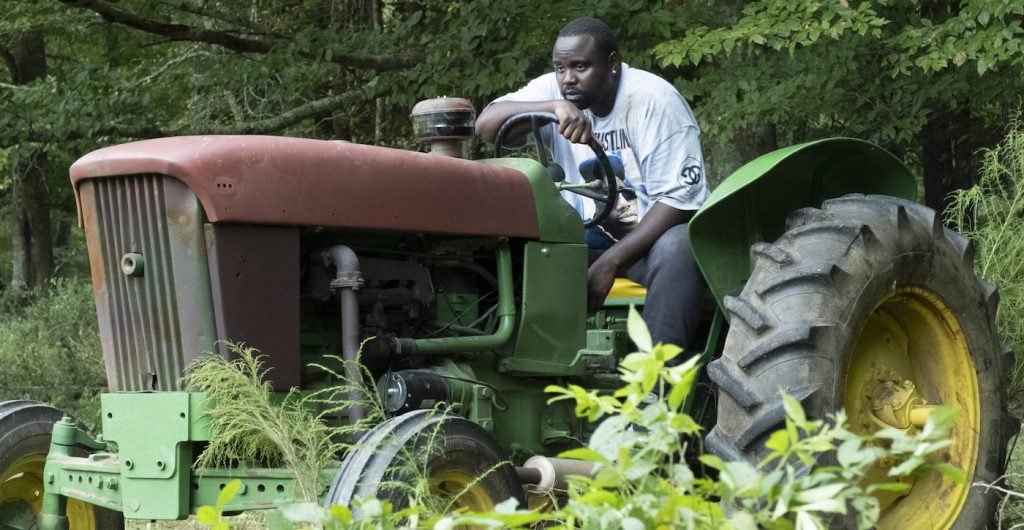 You designed the last five episodes of Season 2 of P-Valley. Episode 9, "Snow," features Megan Thee Stallion as Tina Snow performing with Lil' Murda. That performance scene has some spectacular builds.
The full circle moment of that episode was that I had styled Megan before, and so knowing what her aesthetic was, I used my experience as a stylist to elevate what I thought Lil' Murda, if he had the opportunity to perform with her, would wear. Of course, I collaborated with Katori Hall, our showrunner. She was looking for this regal moment. She needed them to look like kings and queens walking into the club, so we created these custom mink robes. We actually made them twice because the first time, she said they weren't dramatic enough, and I said, "Don't threaten me with a good time!" I went back and redid them to create something even bigger and more flamboyant. 
Nicco Annan's character Uncle Clifford has lots of custom builds. 
I was just talking to Nicco last night, and we were laughing about some of his looks. They're all very collaborative. He'll give me an idea or show me what his hair will look like, and we figure it out from there. For one, I pulled up an old Dapper Dan look and figured out how to make that more feminine. Another was this Versace sweatsuit, and we made it custom by adding ruffles down the side of it, which was based on asking myself, "If Uncle Clifford went to buy a Versace sweatsuit, how would he make it his own at the Pynk?"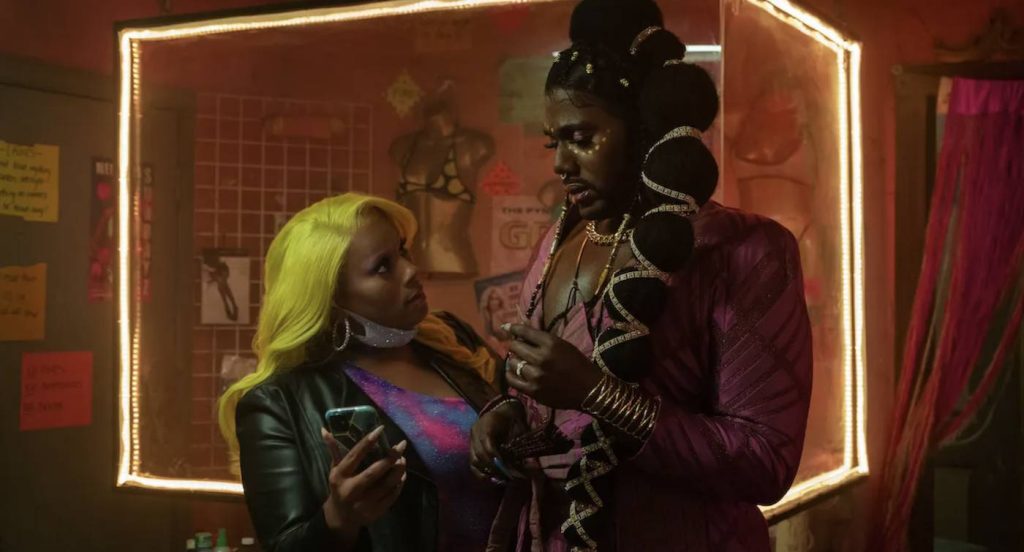 How did you handle coming onboard P-Valley as costume designer halfway through the season? 
One of the things I got to do was create something for Autumn when she goes to this masquerade ball. I'd loved what they'd done for her before, but here was an opportunity to pivot to show my creative aesthetic. She's in a gown and a mask, and so we went with this fierce red dress to go with her shocking red hair, and that choice allowed me to pivot her into her expressing herself in a more political way. She's starting to make political real estate moves, she's no longer just a dancer, and she's going into this whole business mindset, so that allowed me to do a lot of custom suits on her. 
And you brought something new to Uncle Clifford, too. 
With Nicco, his style as Uncle Clifford is so over the top and extravagant that there was a lot of pressure to match that energy. One of the things that I brought to the show is that I'm known as a sneaker head. One day I asked if he'd ever worn sneakers, and he said, "No. What fly sneakers could I wear?" We ended up doing a Versace sweatsuit with some Dunks. There's this great picture he sent me of him onstage showing his sneakers, and when he posted it online, it was like everyone knew I was on the show because Uncle Clifford is in Dunks. 
Can you talk about your collaboration with Jamaica Craft, the choreographer on P-Valley? 
The outfits the dancers wear were really fun to create because Jamaica and I go back 20 years. We did the Amerie "One Thing" video together. A lot of people still mention how great she looked in that video, and that was collaborative between me and Jamaica. On P-Valley, we were able to talk about everything. I would sit in the dance rehearsals, and that gave me information. "Oh, ok, she's going to drop there." That would inspire me to create something with more flow, and the girls would get really into it and play with it onscreen, which was great to see. There was one pair of shoes for Mississippi's dance double that were so high, but she loved them and just looked like a goddess. 
All episodes of Atlanta are streaming now on Hulu. 
The first two seasons of P-Valley are on Starz now, and the show has been renewed for Season 3. 
Featured image: 4-Lil Murda (J. Alphonse Nicholson) and Tina Snow (Megan Thee Stallion) in "P-Valley." Courtesy Starz.